Newsletters, Webinars and Online Resources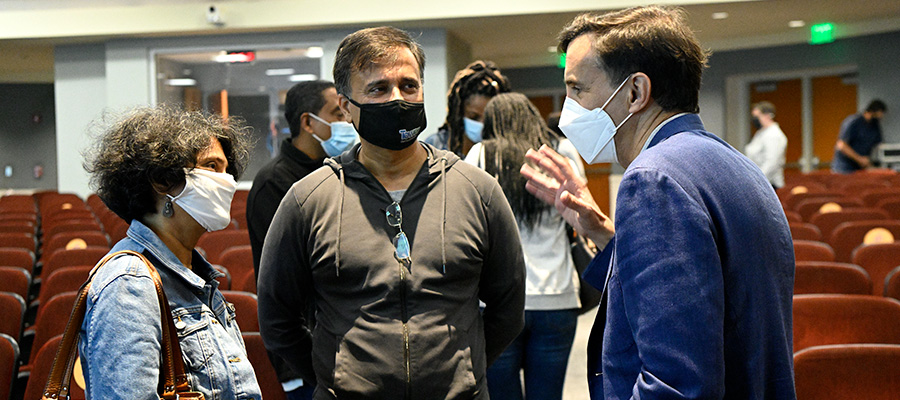 Stay on top of the latest news, events, resources, and happenings at JHU.
Publications
Parent and Family Guide
The JHU Parent and Family Guide is released each year and provides a broad overview of the campus and relevant campus and community resources.
College Ready Guide
Blue Jay Families have an opportunity to receive the College Ready 2021 guide for free! The guide addresses top-of-mind concerns including packing, money, staying connected, promoting responsible independence, and supporting academic success. Each chapter is written by a college or university official who works with parents to enhance student success at the collegiate level. To receive your copy, please click here and use the promo code Hopkins2021 at checkout.
Newsletters
The Blue Jay Family Flyer is published monthly and provides well-timed updates on student life, academic support services, family events, involvement opportunities, and much more. The Blue Jay Family Connection is published each semester by the Vice Provost of Student Affairs. JHU also communicates campus updates as needed throughout the year. Family members will automatically receive newsletters and email communication at the email address provided by your student on the Student Information System (SIS).
If you are a family member of an incoming student, you will also receive the Blue Jay Family Welcome, a series of weekly emails during the summer leading up to your Blue Jay's arrival on campus.
Updating Your Email Address
Social Media
"Like" us on Facebook to receive frequent updates on JHU happenings, events, and approaching deadlines.

Webinars
The Blue Jay Family series are monthly webinars developed to help Blue Jay Families Jay support their Jay while at Hopkins.
Date
Program
Wednesday,
October 27,
7:00 pm EDT
Mid-Semester Check-in: Strategies on How You Can Support Your Jay
This presentation will familiarize families with all of the academic support opportunities that we have available for students. It will also introduce to families two professors that are in the classroom. Families will learn more about the expectations of the student in the classroom as well as some tips and tricks on how to learn most effectively in a virtual or hybrid environment.

View Recording






View Slides (PDF)

Wednesday,
November 17,
7:00 pm EDT
Bouncing Back: Understanding what your Jay needs
The purpose of this webinar is to inform Blue Jay Families about tips and strategies on how to help students and families refocus, and put more time into their well being.

View Recording






View Slides (PDF)

Wednesday,
December 8,
7:00pm EDT
Pre-Med Planning for your JHU student
Please join the Pre-Professional Advising Team as they discuss pre-med services, review traits of a successful medical school, introduce you to pre-medical students that need additional support.

View Recording






View Slides (PDF)

Wednesday,
February 16,
7pm EDT
FLI Compass #4
This session will address a question that is always on families minds. How does a Hopkins Education set my student up for success? What are the outcomes we should be focused on? What messages are my students hearing from other students on-campus?

View Recording




Wednesday,
February 23,
7pm EDT
Intro to Life Design: Designing an Intentional Journey at Hopkins and Beyond
Join us as we cover life design and how our office supports your student. If you wonder how Hopkins supports your student's journey to a fulfilling career, well-aligned graduate program, or a healthy well-balanced life, this session is for you. We will also cover support opportunities for internships and experiences this coming Summer. We hope to see you as we delve into these topics with the Executive Director of the Life Design Lab Matthew Golden.

View Recording






View Slides (PDF)

Wednesday,
March 9,
7pm EDT
A Conversation with the Deans and Disability Services
Meet the administrators to learn more about the Advisory process, academic support resources, and how to collaborate with the office of Academic Advising and student Disability Services to ensure accommodations are implemented and modifications are considered to make education equitable and foster success inside and outside the classroom

View Recording






View Slides (PDF)

Wednesday,
April 27,
7pm EST
Preparing Blue Jays for Life Beyond Hopkins
A glimpse into how real-world experience, undergraduate research, and on-campus internships help support your Blue Jay's trajectory to a fulfilling life after graduation. Attend this session to hear from the Hopkins Office of Undergraduate Research, the Life Design Lab, University Experiential Learning, and current Blue Jays who have benefited from their support and services as they prepare for life after Hopkins.

View Recording






View Slides (PDF)
Previous Webinars
Contact Us
We encourage you to contact Parents and Family Relations with questions or concerns. Please email or call us at (410)-516-7355 anytime!
If you are interested in making a gift to the Hopkins Parents Fund, please email Parents Programs and Giving or call (410) 516-3413.
Other Resources