Newsletters, Webinars and Online Resources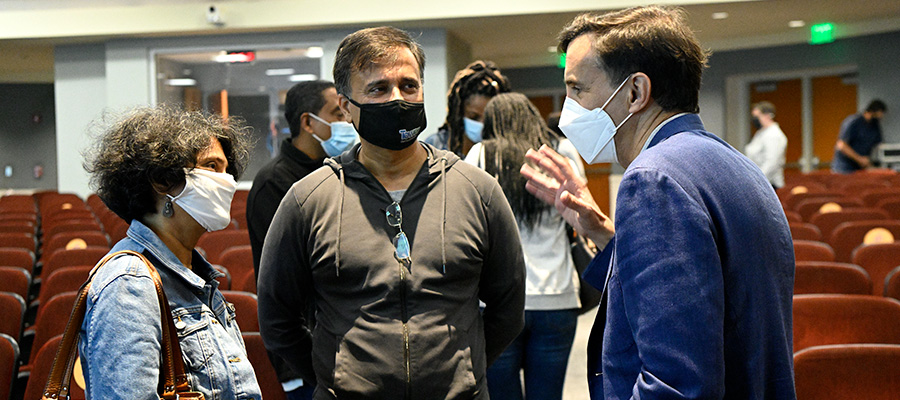 Stay on top of the latest news, events, resources, and happenings at JHU.
Publications
Parent and Family Guide
The JHU Parent and Family Guide is released each year and provides a broad overview of the campus and relevant campus and community resources.
Newsletters
The Blue Jay Family Flyer is published monthly and provides well-timed updates on student life, academic support services, family events, involvement opportunities, and much more. The Blue Jay Family Connection is published each semester by the Vice Provost of Student Affairs. JHU also communicates campus updates as needed throughout the year. Family members will automatically receive newsletters and email communication at the email address provided by your student on the Student Information System (SIS).
If you are a family member of an incoming student, you will also receive the Blue Jay Family Welcome, a series of weekly emails during the summer leading up to your Blue Jay's arrival on campus.
Updating Your Email Address
Social Media
"Like" us on Facebook to receive frequent updates on JHU happenings, events, and approaching deadlines.

Webinars
The Blue Jay Family series are monthly webinars developed to help Blue Jay Families Jay support their Jay while at Hopkins.
Date
Program
Wednesday,
November 30,
8:00 pm EST
Pre Professional Advising Webinar
Please join us as we discuss our pre-med advising services, review traits of a successful pre-med student, and highlight ways in which you can support your student.

View Recording






View Slides (PDF)

Wednesday,
December 7,
8:00 pm EST
FLI Compass Webinar
Please join us to engage with a panel of FLI students, staff, and parents on what to anticipate during the winter break and firsthand experiences in supporting and connecting with students during this extended time when students often return home. FLI students frequently share that their families are a primary source of support; and yet, winter break can be a challenging experience to navigate for families and students. At times, students return home with new and different experiences, boundaries, and expectations after some time away at college. In this session, our panelists will share how to make the most out of the winter break as a time of rest and reconnection to support students midway through the academic year.

Register

Wednesday,
February 8,
8:00 pm EST
Off-Campus Housing Webinar
Representatives from the Off Campus Housing office will present information to families of second year students who are in the process of securing their housing off campus for their third year residences.

Register

Wednesday,
February 22,
8:00 pm EST
On-Campus Residence Hall Room Selection Webinar
Representatives from the Housing office will present information to families of first year students who are in the process of selecting their on campus rooms for their second year residences.

Register

Wednesday,
April 12,
8:00 pm EST
Life Design Lab Webinar
At Hopkins, the Life Design Lab has worked with your student to ensure they intentionally navigated the experiential learning opportunities to set them up for success after they graduate. Whether they are going to graduate school, are set in their plans for their first career, or are still searching for the right next step, life design and the Life Design Lab are available to help them move forward.

Register
Previous Webinars
Contact Us
We encourage you to contact Parents and Family Relations with questions or concerns. Please email or call us at (410)-516-7355 anytime!
If you are interested in making a gift to the Hopkins Parents Fund, please email Parents Programs and Giving or call (410) 516-3413.
Other Resources