Blue Jay Family Feature: Meet the Ramakrishnas
Posted: August 30, 2019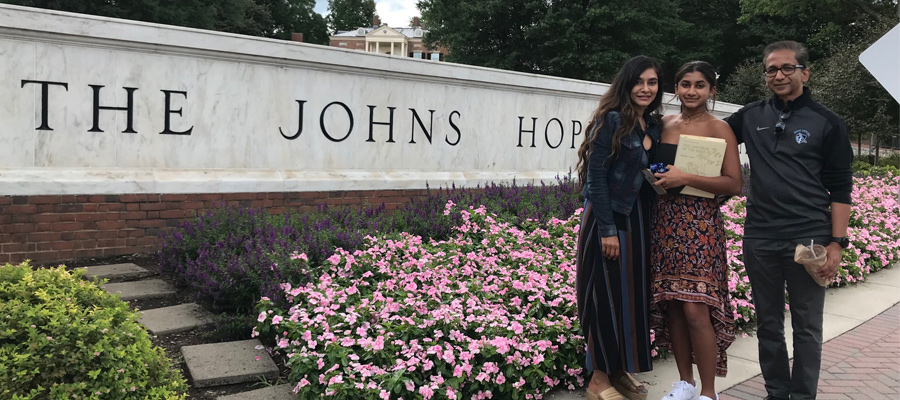 Written by Koye Berry
Looking around at any first-year student move-in day, it can be hard to tell whose emotions are running highest—the students' or their families'. The excitement for a new beginning is paired with a fear of the unknown. The joy of meeting new people is tinged with the sadness of saying goodbye to loved ones.
It's an understandably charged moment, the culmination of months and years of planning, preparation, and even some wishful thinking. For Naren and Nandini Ramakrishna, having their daughter Shanthi attend Johns Hopkins was a longstanding dream. Naren received his bachelor's degree in biology from Hopkins in 1985 and has shared stories of his experience with Shanthi and her younger sister throughout their lives.
"Shanti has heard about my learning to write short stories and poetry in Contemporary American Letters and learning about the mysteries of physics and cosmology in the Philosophy of Space and Time," Naren says. "She's also seen the long-term impact of Hopkins on my life. The combination of world-class science and humanities established the basis for me to go on to receive my MD-PhD at Cornell, complete my residency training at Johns Hopkins, and obtain a faculty appointment at Harvard Medical."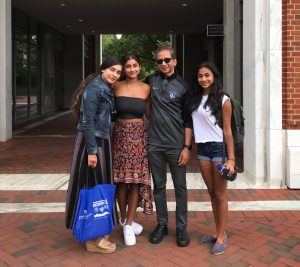 Nandini received her master's degree in computer science at the Whiting School of Engineering and worked for the Sidney Kimmel Comprehensive Cancer Center (SKCCC) from 1996 to 2016. She took a more hands-on approach in passing along her love of Hopkins to the next generation. For 16 of her 20 years with the SKCCC, Nandini telecommuted from the family's home in Orlando, Florida and brought her daughters along for her in-person visits to the medical campus. "Shanthi and her sister accompanied me on many of those trips, and I proudly showed-off the 'best of the best' hospital system. We even visited the Homewood campus a few times to revisit the places from their daddy's stories."
Shanti, however, needed more convincing. "Initially, I was against going to Hopkins because my parents were extreme advocates for it," she says. "I wanted to do the opposite of what they wanted."
Shanti's priority was finding a school with an emphasis on interdisciplinary learning and a place where she could explore her athletic, artistic, and social interests as well as her academic. She describes her high school class as "very tight-knight, like one big family," so a college environment where she felt at home was essential.
"Some of the stereotypes associated with Hopkins were hurdles initially," Naren says. "One of those is that Hopkins is a cutthroat environment and only good for pre-med students. As a result, Shanthi was initially leaning towards other universities."
During the process of visiting Shanthi's shortlisted schools, she and Nandini came to the Homewood campus in the spring of 2018 for an information session and campus tour. "We heard a brilliant student speak eloquently about her life-shaping experience at JHU," Nandini says. "She largely focused on her access to meaningful and collaborative multi-disciplinary opportunities, which enabled her to combine her seemingly disparate interests to create a vision for her future. I kept looking over to where Shanthi was sitting with a 'This is exactly where you belong' look."
The subsequent campus tour introduced Shanthi and Nandini to some of Hopkins' innovative facilities, such as the Swirnow Computer-Integrated Surgical and Interventional Systems Mock Operating Room in Hackerman Hall. It also gave them an unexpected encounter with a bit of Homewood hospitality.
"After the tour, we got lost while trying to make our way to the bookstore," Nandini says. "I stopped a couple of young men and asked for directions, which one of them said were a bit complicated, so he offered to walk us to the closest street. Shanthi and I were happily taken aback, especially when we discovered that it was a good 10 minutes out of his way."
Their impromptu guide was an undergraduate student at the Whiting School, and he talked with Nandini and Shanthi about his passion for computer science as he walked alongside them, dispelling any preconceptions about the "cutthroat" Hopkins climate. Knowing the value her daughter places in human kindness and connection, Nandini is confident that this moment played a key role in Shanthi's decision-making process.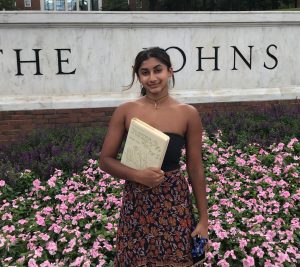 In the end, the combination of flexible curriculum, welcoming atmosphere, and campus location led Shanthi to realize that Hopkins was the place she needed to be. "And when I decided on Hopkins as my early-decision school, "she says, "my parents were—predictably—just as excited as I was."
Joining the Class of 2023 this fall, Shanthi looks forward to exploring many avenues of study before declaring her major. "I have a deep appreciation for history," she says, "and I also enjoy the study of physics especially in relation to space and time. I also realize that I haven't yet been exposed to many fields that I might be interested in, such as anthropology."
She has already been accepted into the BA/MA program at SAIS, which presents international studies as another possible direction. She is certain, though, that whatever she ultimately chooses will reflect her belief that "innovative and effective solutions are generated by cross-disciplinary thinking."
In the meantime, she will have her extracurricular interests to keep her busy, particularly the piano, which she has studied for 15 years, and track and field. "I definitely want to join some type of team at Hopkins," she says. "I think being able to uplift, encourage, and support one another are crucial traits required in athletics, academics, and eventually one's career."
In the final weeks before the start of school, Shanthi spent as much time with friends and family as possible, and she and her parents stocked up the dorm-room essentials—a medical kit, according to Nandini; a David Bowie poster, according to Shanthi; while both say that comfortable bedding and a coffee maker are must-haves.
Shanthi also emphasized mental and emotional preparation for her transition to university life. "I am trying to become more aware of how I judge and see myself," she says, "so that I don't feel too daunted or intimidated. Hopkins is such a prestigious institution and all my peers there will be performing at very high levels. I think retaining confidence and assurance in myself is key to taking full advantage of the opportunities I'll have."
Her parents are not at all worried about Shanthi's prospects for success. "She has been going from strength to strength," Nandini says. "She is ready to strengthen her skills, knowledge, mindset, and vision for her future even further."
But as always, new starts come with mixed emotions. For Naren, Shanthi's choice to attend JHU has made the coming adjustments easier. "Somehow, the knowledge that she will be on familiar ground, using the same libraries and classrooms, and walking the same quadrangles as I did makes me feel more comfortable about her leaving home," he says. "It enables us to share the experience of this next phase of her life in a way that would not have been possible at another school."
Nandini, on the other hand, says she is "shamelessly ill-prepared" for Shanthi's departure. "Oh, nothing can prepare me for the day my baby leaves home for her new life as a young adult! That said, I am comforted by the knowledge that Shanthi is ready to launch."
Indeed, Shanthi had already made some connections with her fellow Blue Jays on Instagram prior to Orientation week, and she has expressed her excitement "to start connecting with people in person and getting to know them at a deeper level." Nandini and Naren, meanwhile, are already looking forward to Parent and Family Weekend.