The Rec Center: Your Student's Home Away from Home
Posted: January 29, 2018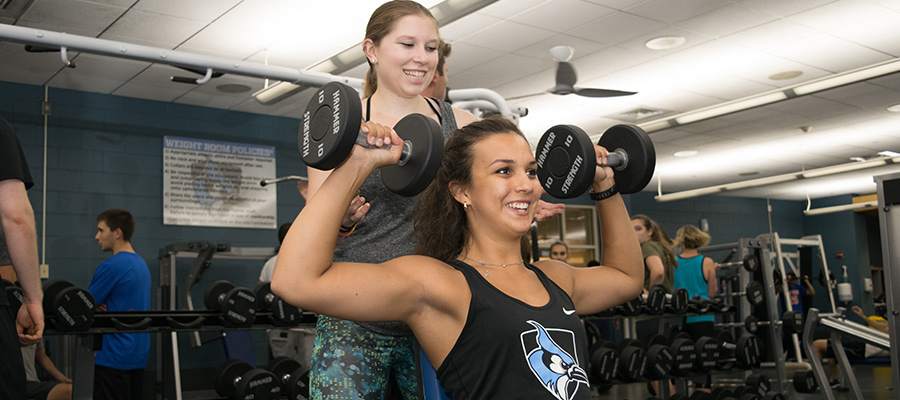 Yoga, kickboxing, intramurals, costume climbing competitions, sports clubs, fly fishing, whitewater kayaking — these are just a few of the experiences offered through the Ralph S. O'Connor Recreation Center. Not only is the Rec Center the source for on-campus fitness and wellness opportunities, the Rec is also your son or daughter's home away from home: the place where your student goes to meet their friends, blow off steam, and hang out when there is nothing else to do! Since the Rec Center is run by students, the Rec Center rarely closes. During inclement weather and holidays when the University is closed, the Rec remains open so students have a place to go.
Rec Center Fun Facts
The second largest employer on campus, our student staff is trained to offer a variety of services ranging from Group Fitness Classes to Personal Training to exciting outdoor trips that encourage and develop leadership, teamwork, environmental stewardship, character development, and transferable life skills.
Routinely, the Rec Center offers certification courses for CPR, AED, First Aid, and Lifeguarding for enhanced knowledge and career skills.
Even after graduation, students can continue to use the Rec Center with an Alumni membership for only $23/month!
Give the Gift of Fitness
Parents can contribute to their student's wellness in a variety of ways. Call the Office of Recreation at 410-516-5229 to set up any of the following services:
Personal training. One-on-one personal training costs only $20/hour for students. All personal trainers are Hopkins students themselves and have obtained a national certification.
Group Fitness Class Pass. For as little as $60/semester, a class pass grants your student access to 45 classes/week from yoga to Zumba to the newest addition…F45!
Private classes. For a birthday celebration or team-building event, a private class can be purchased for your student and a group of his/her friends for only $40-$50/hour.
Stay Connected
The Rec hosts a ton of special events each semester including the Career Fair, Student Involvement Fair, Free Fitness Assessments, Ladies Night in the Weight Room, Freshman High Table and Culture Show. You can find these and more at the Recreation Center website or Facebook page.