Recreation Center: Training, Certification & Continuing Education
Posted: August 2, 2018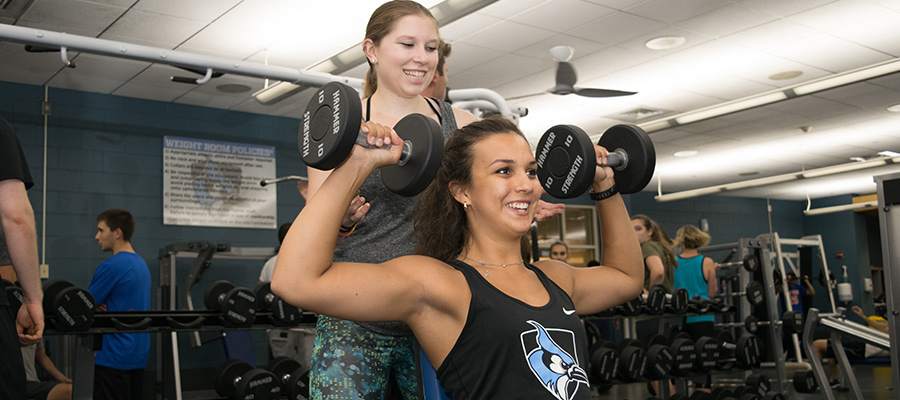 The Rec serves many functions for students on the Homewood campus. It is a source of self-care and stress-relief, a hangout spot with friends, and a place of work for many. The Rec is also a provider of trainings and certifications ranging from CPR to Outdoor Leadership.
Emergency Response & Lifeguarding
The Rec maintains high safety standards; all lifeguards, fitness instructors, personal trainers, and full-time staff hold certifications in emergency response. The Rec provides these certifications for staff and members of the JHU community. Red Cross CPR & AED courses help participants recognize and respond appropriately to cardiac, breathing, and first aid emergencies. The courses will provide the knowledge and skill necessary to provide immediate care in emergencies.
Personal Training & Group Fitness
Students interested in becoming personal trainers should take the Personal Training Prep Course during Intersession. The course provides students the knowledge and understanding necessary to take the American Council on Exercise (ACE) Certification Exam. This course includes both theoretical and practical components to prepare your Blue Jay to become a successful personal trainer. Group Fitness certifications are as numerous and varied as the instructors who teach them! From Pilates to yoga to dance and kickboxing, the Rec offers classes for everyone. Certified instructors can audition for a spot on the instructor team.
Experiential Education
Students working as Outdoor Trip Instructors or Climbing Wall staff participate in multiple outdoor industry trainings. Outdoor Trip Instructors earn their Wilderness First Responder Certification through SOLO Wilderness Medicine. Whitewater Kayaking and Canoe Instructors train to American Canoe Association (ACA) standards in paddling instruction and Swiftwater Rescue. Rock Climbing Instructors train in Top Rope Site Management to American Mountain Guide Association (AMGA) standards. All Instructors participate in the Hopkins Outdoor Leadership Training that focuses on Team Building, Risk Management, and Outdoor Technical Skills. Climbing Wall Staff have the opportunity to become AMGA Climbing Wall Instructors.
Does your Blue Jay have an interest in any of the roles mentioned in this article? Encourage them to inquire at the Rec for a schedule of upcoming trainings!