Security Personnel Across the JHU Campuses
Posted: October 2, 2019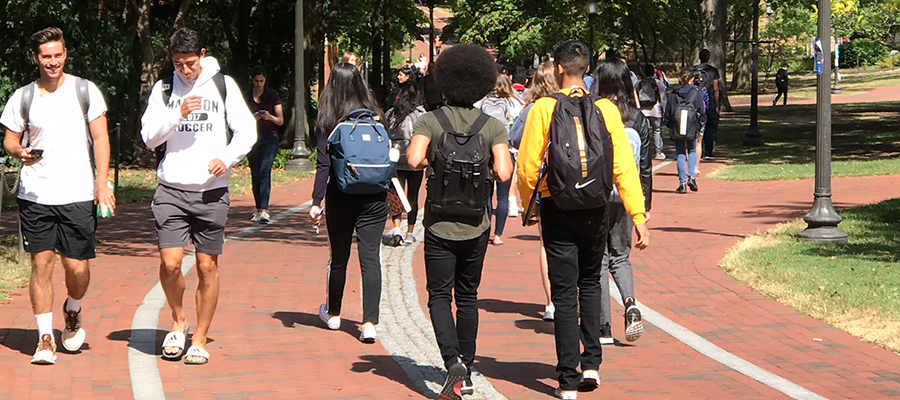 The safety and security of all our communities, both on our campuses and in our surrounding neighborhoods, is a critical priority at Johns Hopkins University. Johns Hopkins Security has a comprehensive security program in place that leverages the latest in security technology and provides numerous safety resources for students, faculty, and staff. One of the most important resources is the more than 1,100 highly trained security personnel who work around the clock, every day of the year across our multiple campuses.
At the Homewood and Peabody campuses, the university employs unarmed Campus Police Officers who patrol the campuses and adjacent streets in white SUVs marked "Campus Patrol," as well as carts, bikes, and Segways. Campus Police Officers can be identified by their dark blue uniforms, and have the authority through the Maryland State Police to make arrests on campus or other JHU property. To support the Campus Police Officers, JHU also has a cadre of unarmed Security Officers who perform similar duties, but do not have the authority to make arrests. These officers wear light blue shirts and dark blue pants.
JHU has also established a contract with private security firm Allied Universal to provide additional unarmed Security Officers who are stationed throughout campus and the surrounding neighborhoods and drive vehicles marked "Allied Security" or "Allied Universal." They wear bright green or yellow shirts with black pants. The primary job of these officers is to act as a visual deterrent and to observe and report security issues as they arise.
Additionally, longstanding partnerships with the Baltimore Police Department and the Baltimore City Sheriff's Office allow Johns Hopkins to hire armed, off-duty sworn officers to provide security on and around its Baltimore campuses. City police officers and sheriff's deputies wear their official uniforms while on duty at JHU, where they patrol on foot or in small white SUVs marked "Campus Patrol." They can arrest suspects both on and off campus. Prior to working in this capacity for JHU, the officers receive specialized training that orients them to JHU values, policies, and geography of the campuses.
In order to better address safety concerns and ensure sustainability of personnel, JHU supported legislation to allow the university to create a small police department, which will replace the current off-duty Baltimore Police and Sheriff's Deputies with full-time JHU police officers. This legislation, the Community Safety and Strengthening Act, was approved by the Maryland General Assembly in April and went into effect July 1, 2019, and authorizes Johns Hopkins to establish a small, accountable university police department subject to the highest standards and mandates of constitutional community policing and public accountability, while also providing support for community and economic development efforts, youth engagement, and job training that can help address the root causes of crime in Baltimore.
The process to establish the Johns Hopkins Police Department will unfold over several years, with multiple steps, and there will be numerous opportunities for input into the process. Before the university implements the JHPD legislation, it must first recruit a new vice president for security to oversee global security operations for both the university and health system. A search committee has been convened to consider candidates and a decision is expected later this year. For updates on both VP for security and the JHPD implementation process, and to offer your feedback, visit the Public Safety Initiatives website. For more information on the current security program and the resources available, visit the JHU Campus Safety and Security website for Homewood Campus or the Peabody Institute Campus Safety website.