Self Care During Finals
Posted: May 4, 2018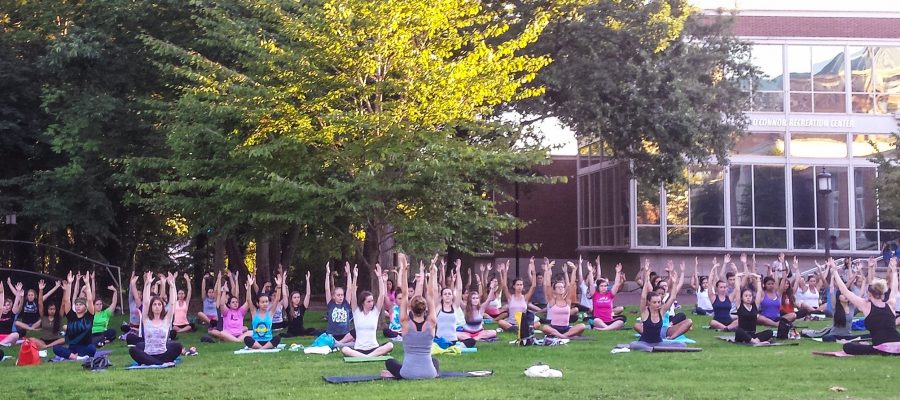 With finals quickly approaching, it is important to encourage your Blue Jay to make time to practice self-care. Personal well-being is often sacrificed to get in more hours of studying. Your encouragement, especially during high-stress times like finals, not only helps your student to perform better but also builds life-long coping skills.
Please discuss with your Jay these takeaways from three key offices invested in your Jay's self-care:
Student Health & Wellness Center
Take periodic breaks: Designate specific times for study and for breaks (e.g. "I'll get up and walk around for 5 minutes once an hour", "after two hours, I'll watch an episode of a short show," "I'll make sure I stand up for ten minutes each chapter," etc.").
Plan ahead for snacks: Toss some granola, fruit, crackers or other healthier options in your bag. Eating well can help maintain energy and focus when it's needed most. Some foods can give you quick energy boosts but leave you crashing later on, especially foods high in sugar.
Schedule a meal with a friend—even if it's only 30 minutes! The food, break, and social time will recharge you. If you are able to, try to avoid consuming foods high in sugar, highly processed foods, and fast foods. Instead, choosing foods with whole grains, high protein, healthy fats (such as olive oil, avocados, and nuts), and fruits/vegetables can keep you fuller longer, give you more stable energy, and provide your body nutrients to help cope with stress.
Get moving: Try to find ways to move your body that you enjoy during study breaks, even if it's just taking a walk around the library. If you go to a gym, you can try reading your notes while you're on the treadmill, bike, or whatever you enjoy if you can't take time off from studying. Exercise helps relieve stress and promote good mental health. It also helps prevent illness—no one wants to come down with a cold or flu in the middle of finals week. See below for more details about Recreation Center programming.
Recreation Center: Committed to Your Student's Wellbeing
Health, wellness, fitness and community—these are the guiding principles of the programs offered through the Ralph S. O'Connor Recreation Center. Our staff is here to engage your student in experiences to improve well-being, ranging from yoga classes to help build inner strength and reduce stress to exciting outdoor trips and courses that encourage and develop leadership, teamwork, environmental stewardship, character development, and transferable life skills. We also offer extensive sport clubs and intramural programs year-round to quench a thirst for competition and to provide an opportunity to build friendships with others who love the game.
Yoga Under the Stars
Stress is a constant presence for the majority of Hopkins students. While we cannot directly reduce many of the stressors in their lives, we can provide activities for stress reduction and self-care. One such activity is our annual Yoga Under the Stars class. We kick off each fall semester with a free outdoor yoga class so students can experience a taste of the group fitness classes at the Rec and so they can start the new academic year with a clear mind. Look for Yoga Under the Stars in August.
Free Fitness Assessments
Being physically healthy is about so much more than the number on the scale. We know that bodyweight does not provide enough information on one's health, so we developed the Free Fitness Assessments. Twice in the fall and twice in the spring the personal training team (all of which are nationally certified Hopkins students) measure resting heart rate, resting blood pressure, body composition, body mass index, and circumference. We wanted to offer a more extensive system for students to analyze their body weight, body fat, and body shape. Arguably, the most helpful portion of the event is the opportunity to chat with a personal trainer about the testing results. Look for the Free Fitness Assessments in September, November, February and April.
Ladies Night in the Weight Room
In response to feedback from many of our women and non-binary members, we have introduced an event called Ladies Night in the Weight Room. Our members indicated that they were not using the weight room as much as they wanted to because they felt uncomfortable. It is true that there is a much higher percentage of men vs women in the weight room, so we wanted to find a solution to that problem. We also wanted to teach our members how to use the equipment so that they would feel empowered to use the weight room on their own without fear of looking like they didn't know what they were doing. At the start of each semester, Hopkins women and non-binary members are invited to join the personal trainers for a fun night of instruction and private use of the weight room. Look for the Ladies Night in the Weight Room in September and again in February.
Student Outreach & Support (Office of the Dean of Student Life)
In order to best support students as the end of the semester approaches, case managers will have daily walk-in hours from 11 a.m. to 3 p.m. starting on April 30. This marks a shift from their normal, by-appointment-only model during the school year. Walk-in appointments will be at most 30 minutes in duration, unless absolutely necessary. This is done in order to better meet the needs of your student during this hectic time. For more information, please review the finals FAQ or reach out to the office by calling 410-516-8208.
Parents are critical partners for us as we seek to support your student and help them thrive at JHU. If your student has any indication of being unwell, please advise them to visit the Student Health and Wellness Center. Furthermore, if your student contacts you in a crisis, reaching out to the Counseling Center would be the best approach to getting them the care that they need.