Welcome Families of the Class of 2025 and 2021 Transfer Families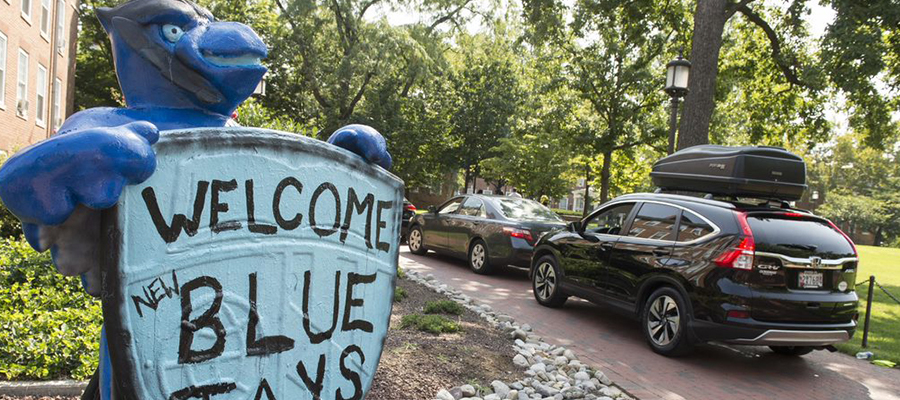 Congratulations Blue Jay Families! We are delighted that you are joining the Johns Hopkins family and excited to be partnering with you. We want to ensure that both you and your student have a positive experience here at JHU.
The Office of Parent and Family Relations supports families in their transition to Hopkins by providing programs, services, and resources. As you continue on this journey, you and your student may at times feel overwhelmed with information. We have created a timeline to make it easier to understand the expectations and requirements for our incoming families.
Additionally, there is a portal called Blackboard that is specifically for your student that will assist them with all timelines, deadlines, and information leading up to New Student Orientation and beyond. If your student feels comfortable sharing this information with you they are welcome to do so.
This webpage will be updated frequently. Please check back periodically to ensure that you have the most up-to-date information.
Below we have highlighted many resources that can assist you in supporting your student.
Blue Jay Family Communications
The following publications are available for families both in the lead-up to Orientation and throughout the year:
The Blue Jay Family Welcome is a publication specifically for families of incoming first-year, transfer, and international students. It is published throughout the summer as part of Orientation leading up to Move-in.
The Blue Jay Family Flyer is a monthly newsletter sent throughout the academic year to all family members whose students have signed them up on our distribution list. This publication goes beyond Orientation, giving families information about valuable university resources and updates on campus and student life.
In order to receive both publications, your student must sign you up on the distribution list via the Student Information System, otherwise known as SIS. Your student will be given a JHED ID, which will allow them to log in to SIS. Below are the procedures for your student to register you so that you can receive the publications and be listed as an emergency contact:
To add a parent or family member as an authorized user, your student will need to log into SIS, navigate to the "Personal Info" menu, then select "Authorized User". From here, they can add a new user or edit/delete an existing user and modify access levels. By being an authorized user you will be placed on the distribution list for the Blue Jay Family Welcome and Flyer.
To add or update emergency contact information, your student will again need to log into SIS, navigate to the "Personal Info" menu, then select "Emergency Contact". From here, they can add or modify emergency contact information including name/relationship, phone number, and email address.
You are also welcome to visit the Blue Jay Family Flyer archives to view past issues.
Summer Send-Off Parties
The Johns Hopkins Parents Programs and Giving Office is throwing a virtual party in your honor! Join us via Zoom to meet current Blue Jay families, students, alumni, and staff as well as other 2025 Blue Jay families in your area. While we can't all be together in person, that's not stopping JHU from welcoming you to your new family. Event details to be announced this spring. We can't wait to welcome our families virtually this summer!
University Housing and Community Living
Living on-campus at Hopkins is an important part of your student's experience. It provides them with an opportunity to engage with their peers and to participate in various programs planned by the Residence Life staff. You can explore the JHU residence halls and find the latest updates on housing and dining on the Community Living website.
Housing Assignments for Fall 2021
The Housing Office application will be available on the Housing Portal beginning at 12 p.m. EDT on Monday, May 24. Please visit the Housing website to learn more about living on campus. Rest assured, All first-year students will have the ability to request a roommate, rank building preferences, select a meal plan, and sign their housing contract.
Move-In for Fall 2021
For the latest information on Move-In, including details on what to expect and what your student should and shouldn't pack, visit the Move-In section of the Community Living website. Important dates and deadlines for Move-In are listed further below.
Pre-Orientation
Prior to attendance at New Student Orientation, which is expected of all new students, there are several optional Pre-Orientation programs offered. Pre-Orientation programs allow new students to connect with a small group of their peers and upper-class students around a shared area of interest. There will be pre-orientation offerings with varying dates and program lengths. If you have further questions please email firstyear@jhu.edu.
New Student and Family Orientation
New Student Orientation is the program that will help prepare your student to successfully transition to JHU. Your Blue Jay will learn about academics and student life, meet with an advisor and a First-Year Mentor (current student), and connect with their new community.
Parent and Family Orientation 2021 will be offered virtually in July and August. Participation in Parent and Family Orientation is highly recommended, but not required.
Important Move-In and Orientation Dates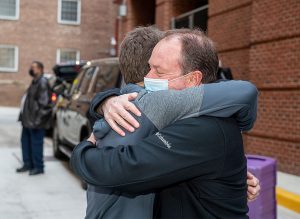 Aug. 15: First-Year Mentor Move-In
Aug. 16: Pre-Orientation Move-In (HopkinsCORPS, HopkinsLEAD)
Aug. 18: Pre-Orientation Move-In (Baltimore Arts, Innovate Towards the Future, Hodson Scholars)
Aug. 20 International Move-in (Optional)
Aug. 21 and 22: First-Year Move-In
Aug. 22 (Evening): Full New Student Orientation Schedule Starts
Aug. 26 and 27: Second-Year Move-In
Aug. 27–29: Second-Year Onboarding
Aug. 28 and 29: Welcome Weekend
Aug. 29: Convocation
Aug. 30: First Day of Classes
Family Weekend
Family Weekend is a time for families and students to engage and learn more about the Hopkins culture and community. Faculty and administrative leadership are also involved. Family Weekend 2021 is scheduled for October 15–17. Additional information will be provided closer to the event.
Blue Jay Family Ambassadors
The Blue Jay Family Ambassador program gives interested families an opportunity to assist in the programs and services we offer to all Blue Jay Families throughout the year. Ambassadors play a vital role in helping the Parent and Family Relations office better understand the needs of our Blue Jay Family community.
The Blue Jay Family Ambassador program is for parents and family members who would like to volunteer their time in programs and provide insight and feedback. The program is made up of three committees; volunteers can choose a single committee to participate in or take part in all three.
To become an ambassador, simply fill out the interest form and submit your information. A follow-up confirmation email will be sent to the email address you provided. If you have signed up in the past and are unsure whether your membership is still current, please re-submit the form. This will help us update your information.
Health & Well-Being
Here at Johns Hopkins we are not just concerned with your student's academics, but their overall health and well-being. There are many resources available that support and educate your student in staying healthy. Please become familiar with these various websites to ensure you can support your student:
Health Benefits
Coronavirus Update from Cigna
If you are a Cigna customer, they will waive all co-pays and cost-shares for Coronavirus (COVID-19) testing as recommended by your health care provider. Please click here for more information.
It is policy of Johns Hopkins University that all full-time students in the schools of Arts and Sciences and Engineering maintain adequate health insurance coverage to provide protection against unexpected accidents and illnesses.
Additionally, please note that there is a Health Requirement "To-Do" List that your student is required to complete before attending classes. Your student will have this same list in their student portal that will be sent on April 1.
As a full-time student, your student will be automatically enrolled in the university's student-sponsored health benefits plan, and the plan premium will be charged to their university student account, unless proof of comparable health insurance is provided for students eligible to waive. They are also eligible to enroll in dental and vision coverage, if they so choose.
If they have private health insurance coverage comparable to the university plan, then they may be eligible to submit a waiver request form via the Student Information System (SIS) during the open enrollment period. Please be aware that a waiver request form must be submitted each academic year regardless of if their insurance information has changed or not. If they want to maintain dental and/or vision insurance, they also need to re-enroll in each year.
If they do not complete a waiver or the waiver submitted has been denied, the student will remain enrolled in the Student Health Benefits Plan and the student account will be charged for individual coverage. No exceptions to the waiver criteria will be made.
Open Enrollment and Deadline Dates
The open-enrollment period will begin on July 1st and end on September 15th each academic year.
Waivers can only be accepted during open enrollment and will not be accepted after September 15th. Dental and vision enrollments can only be made during open enrollment unless you experience a qualifying life event, such as marriage, loss of coverage, or birth/adoption of a child.
All international students with a F1 or J1 Visa status are ineligible to waive and are required to purchase the university plan.
Details about the student health benefit plan offered by the university are provided in the following documents:
To locate the nearest hospital or health care provider who is part of the Cigna PPO Network, visit the Cigna website or contact CHP at (877) 657-5044.
For information regarding the new vision plan and dental plan options available to students, please visit the Student Health Benefits Plan page on the JHU benefits site, or submit a ticket to Shared Services. Log in with your JHED ID, click "Records & Registration" then click "Health Insurance Inquiry" to submit a ticket.
Additional resources and cost of coverage can also be found on the JHU benefits website.
ID Cards
Incoming students: A copy of your CHP Insurance ID card will be available to print through your SIS at the start of the plan period, beginning August 15th.
Continuing students: To print a copy of your current CHP Insurance ID card for the 2017/2018 plan period during open enrollment, visit CHP's Online ID Card Login.
Online Waiver Instructions
Follow these steps to waive out of the university insurance plan (during open enrollment only, the deadline to submit a waiver is September 15th):
Log into your SIS self-service main page
Select the "Personal Info" menu
Choose "Student Insurance Benefits" from the dropdown
Select "Click here to go to Health Insurance Screen"
Click on the "Waive Health Insurance" link, which will take you to the waiver processing page
Note: If the waiver request form meets all waiver criteria and is accepted then you will be waived for the entire plan period. Contact the Office of the Registrar if your insurance coverage changes during the academic year.
Please be aware that a waiver request form must be submitted each academic year regardless if your insurance information has changed or not.
If you do not complete a waiver or the waiver submitted has been denied, you will remain enrolled in the Student Health Benefits Plan and your student account will be charged for individual coverage. No exceptions to the waiver criteria will be made.
Questions on Health Insurance and Benefits
Answers to frequently asked questions are listed on the "Health Insurance" page of your SIS self-service account. You may use this contact form for additional questions regarding enrollment in the student health plan. Concerns regarding enrollment in the student vision and dental plan should be directed to JHUStudentBenefis@jhu.edu
For questions regarding the student health benefits plan, contact the Student Health Benefits Team in the Office of the Registrar at 410-516-8080.
President's Parents Roundtable
The President's Parents Roundtable consists of a small group of families, hailing from across the country and around the globe, who serve as special advisors to JHU's president and his leadership team. This program is sponsored by Parents Programs and Giving. Please contact Parents Programs and Giving for more information.
Hopkins Parents Council
The Hopkins Parents Council provides those Blue Jay Families who would like to be involved philanthropically an opportunity to provide support for student leadership programs, host special events, and engage with university leadership and faculty. The Council is sponsored by Parents Programs and Giving. For more information, please contact Parents Programs and Giving.
Other Departments and Resources
The Office of International Services is a great resource for international students. You can learn more by contacting them via their website, email, or phone at 667-208-7001.
The Office of Multicultural Affairs (OMA) promotes diversity and inclusion by providing opportunities for students to engage in conversations about race and ethnicity, multicultural initiatives, cultural celebrations, and educational programs.
Academic Advising: Students' professional advisors are assigned according to their last name, and advisors will begin connecting with new students in May. Whiting School of Engineering students also begin the academic year with an assigned faculty advisor from their department who will connect with them in August. Krieger School of Arts and Sciences students will connect with their departmental faculty advisor when they declare their major in the spring of their first year. Read more about Academic Advising in our blog post.
The Registrar's office is the keeper of our student records. This is also where you will find the JHU academic calendar. You will also find information about Health Insurance and FERPA.
The Office of Financial Services supports students and families by providing federal grants, loans, and scholarships. Your student will be assigned to an advisor. To schedule an appointment, please click here.
The FLI Network consists of people, offices, and programs dedicated to helping our first-generation, limited-income students meet their full potential throughout their time at Hopkins.
If you have further questions, please visit the FAQ and Support your Student sections of our website.