Welcome Families of the Class of 2024 and Class of 2020 Transfer Families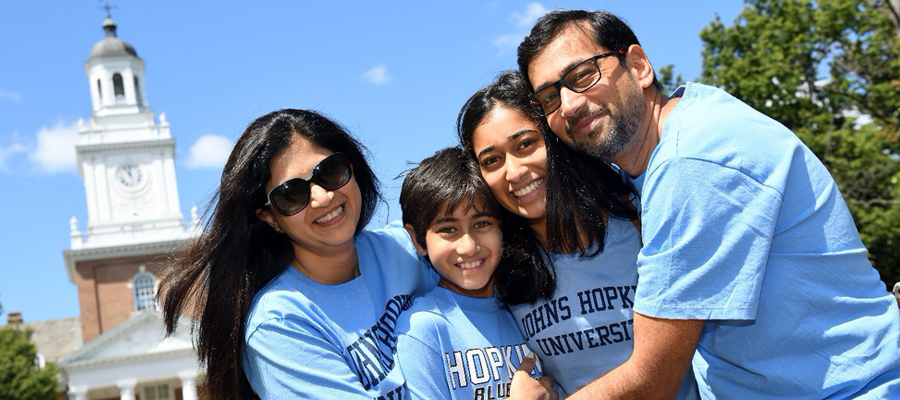 Congratulations Blue Jay Families! We are excited to be partnering with you!
The Office of Parent and Family Relations supports families in their transition to Hopkins by providing programs, services, and resources that help ensure a positive experience for both you and your students. As you continue on this journey, you and your student may feel overwhelmed with information at times. However, a timeline has been created to make it easier to understand what is required.
There will also be a portal specifically for your student that will assist them with all timelines, deadlines, and information leading up to student orientation and beyond. Your student is welcome to share information from the student portal with you if they feel comfortable doing so.
Below are additional programs and resources that can assist you in helping your student.
Summer Send-Off Parties
Throughout the summer, Send-Off Parties are held in many cities across the country and around the globe to welcome incoming Blue Jay families. These parties provide an opportunity to gather with fellow incoming families as well as current families, alumni, and university staff. The summer send-off schedule will be available later in the spring. We look forward to meeting you!
Blue Jay Family Communication
The following publications are available for families both in the lead-up to Orientation and throughout the year:
The Blue Jay Family Welcome is a publication specifically for families of incoming first-year, transfer, and international students. It is published throughout the summer in preparation for Orientation and Move-in.
The Blue Jay Family Flyer is a monthly newsletter sent throughout the entire year to all Blue Jay Families whose students have signed them up on our distribution list. This publication goes beyond Orientation, giving families information about valuable university resources and updates on campus and student life.
In order to receive both publications, your student must sign you up on the distribution list via the Student Information System, otherwise known as SIS. Your student will soon be given a JHED ID, which will allow them to log in to SIS. Below are the procedures for your student to register you so that you can receive the publications and be listed as an emergency contact:
In order to receive the Blue Jay Family Welcome and Flyer, your student will first need to log into SIS and provide your most current email address.
To add a parent or family member as an authorized user, your student will again need to log into SIS, navigate to the "Personal Info" menu, then select "Authorized User". From here, they can add a new user or edit/delete an existing user and modify access levels.
To add or update emergency contact information, your student will again need to log into SIS, navigate to the "Personal Info" menu, then select "Emergency Contact". From here, they can add or modify emergency contact information including name/relationship, phone number, and email address.
By being an authorized user you will be placed on the distribution list for the Blue Jay Family Welcome and Flyer.
You are also welcome to visit the Blue Jay Family Flyer archives to view past issues.
Orientation and Move-In
The Orientation and First-Year Experience office provides support for new students and encourages a successful and enjoyable first year at JHU. Orientation occurs immediately following Move-In to the residence halls.
New Student Orientation is a five-day program that will help prepare your student to transition to JHU successfully. Your Blue Jay will learn about academics and student life, connect with their new community, and meet with both a faculty adviser and a current student who will act as their First-Year Mentor.
There is also a Pre-Orientation and Move-In Orientation for Blue Jay Families. As the program draws closer, there will be a tentative schedule provided. Registration is not required for families, and attendance is not required but highly recommended.
Families and students will have different schedules during Orientation. A webinar organized by the New Student and Family Engagement and Transition team will be available prior to Student and Family Orientation and provide more details on what you can expect.
The Orientation experience is designed to ensure you and your student's transition to Hopkins is smooth. Participation in all New Student Orientation programming is expected of all new students. Prior to Orientation, there are several optional Pre-Orientation programs offered. In tandem with these experiences, there are three distinct parent and family orientation programs offered. While the dates may differ, the content of these parent and family orientation experiences are duplicative. We encourage you to select the program that fits your schedule, particularly as it connects to your student's assigned move-in date. Parent and Family Orientation is not required but highly recommended. There is no formal registration. A full schedule will be provided in late spring.
Week-Long Pre-Orientation Program Move-In: Saturday, August 15
Week-Long Pre-Orientation Program (optional): 8/15-8/21
Parent and Family Orientation: 8/15-8/16
2.5 Day Pre-Orientation Program Move-In: Wednesday, August 19
2.5 Pre-Orientation Program (optional): 8/19-8/21
Parent and Family Orientation: 8/19-8/20
International Student Move-In: Thursday, August 20
International Student Orientation Program (mandatory for international students): 8/20-8/22
International Parent and Family Orientation: 8/20-8/22
First-Year Student Move-In: Saturday, August 22
New Student Orientation Program (mandatory): 8/22-8/28
Parent and Family Orientation: 8/22-8/23
University Housing and Community Living
Living on-campus at Hopkins is an important part of your student's experience. It provides them with an opportunity to engage with their peers and to participate in various programs planned by the Residence Life staff. You can explore the JHU residence halls and find recommendations for what your student should bring at the Community Living website. You will be receiving more details on roommate selection and billing from University Housing in the near future.
Family Weekend
Join us for Family Weekend to explore the campus community, connect with faculty and staff, meet fellow Blue Jay Families, and experience JHU with your student. This annual three-day event is packed with tours, class lectures, meet and greets, cultural events, and much more to connect you to the campus and your student's new home. Family Weekend is October 2–4, 2020, and will be combined with our first inaugural Hopkins Day!
Blue Jay Family Ambassadors
The Blue Jay Family Ambassador program gives interested families an opportunity to assist in the programs and services we offer to all Blue Jay Families throughout the year. Ambassadors play a vital role in helping the Parent and Family Relations office better understand the needs of our Blue Jay Family community.
The Blue Jay Family Ambassador program is for parents and family members who would like to volunteer their time in programs and provide insight and feedback. The program is made up of three committees; volunteers can choose a single committee to participate in or take part in all three.
To become an ambassador, simply fill out the interest form and submit your information. A follow-up confirmation email will be sent to the email address you provided. If you have signed up in the past and are unsure whether your membership is still current, please re-submit the form. This will help us update your information.
Health & Well-Being
Here at Johns Hopkins we are not just concerned with your student's academics, but their overall health and well-being. There are many resources available that support and educate your student in staying healthy. Please become familiar with these various websites to ensure you can support your student:
Additionally, please note that there is a Health Requirement "To-Do" List that your student is required to complete before attending classes. Your student will have this same list in their student portal that will be sent on April 1.
Johns Hopkins University requires that all students have comprehensive health insurance. Students are automatically enrolled in the student health benefits plan at the beginning of each academic year. However, students may waive enrollment in the school plan if covered by a plan that is comparable to that offered by the University. The deadline date to waive insurance is September 15. International Students with an F1/J1 visa status are required to purchase the student health benefits plan and are not eligible to waive out of coverage. To waive the school-sponsored health insurance plan, students must please log into your SIS account and click the link for the waiver form.
For questions regarding the student health benefits plan, contact the Student Health Benefits Team in the Office of the Registrar at 410-516-8080.
President's Parents Roundtable
The President's Parents Roundtable consists of a small group of families, hailing from across the country and around the globe, who serve as special advisors to JHU's president and his leadership team. This program is sponsored by Parents Programs and Giving. Please contact Parents Programs and Giving for more information.
Hopkins Parents Council
The Hopkins Parents Council provides those Blue Jay Families who would like to be involved philanthropically an opportunity to provide support for student leadership programs, host special events, and engage with university leadership and faculty. The Council is sponsored by Parents Programs and Giving. For more information, please contact Parents Programs and Giving.