Support Your Student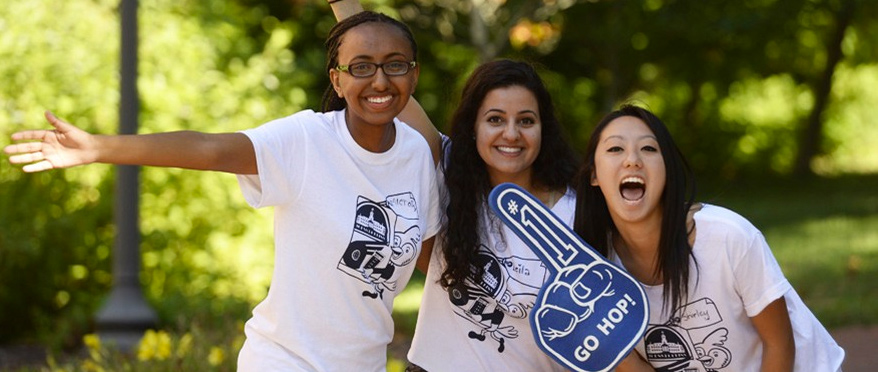 As a family member, you are undoubtedly concerned about and invested in your student's academic and personal success in college. You want to continue to have a major role in your student's life, but you also know that your relationship will change as your Blue Jay grows and develops. There are many ways you can support your student at JHU. First, you are your student's biggest champion. The motivation and support you provide is essential. When your student encounters unexpected challenges, your encouragement will help them troubleshoot and persist. Next, we encourage you to become a knowledgeable resource. When your Blue Jay reaches out for help, share some resources and services that may be able to help. Explore and learn more about many resources available to help your Blue Jay make the most of their Hopkins experience and the support services in place to help them when they encounter challenges. Read the Blue Jay Family newsletters and follow us on Facebook. Finally, please don't ever hesitate to reach out if you are concerned about your student.
Encouraging Independence
The transition from dependence to independence can be challenging for family members, especially those who have been highly involved in their student's daily life throughout high school. This transition is also an adjustment for your Blue Jay. Many students will look to their families for support and guidance during this time.
Assuredly, your unconditional guidance and support has helped your Blue Jay to achieve their goals thus far and has prepared them to enter this next stage of life. We encourage you to talk with your student about the type of relationship and level of family involvement that feels right as they enter and move through college. Each family and family member will have a unique experience with this adjustment.
At JHU, students are held responsible for their academics, finances, physical and mental health, and more. Additionally, they are held accountable for their actions and decisions. Families can support their students through open communication, encouragement, and motivation. It is important to be involved in your student's life and show concern, while also allowing your student to make their own decisions and focus on new responsibilities.
Recognizing Students in Distress
Reporting a Concern
While we encourage students to become independent and manage their own personal and academic affairs, the safety and security of our students is our utmost concern. If you are concerned about a student's health or behavior, please let us know right away. Complete a HopReach report or call the Office of the Dean of Students at (410)-516-8208. In case of an emergency, call Campus Safety and Security at (410) 516-7777.
HopReach provides comprehensive outreach services to identify and support students in managing all aspects of their JHU experience and their overall well-being. Case managers provide coordination, advocacy, referrals, and follow-up services for students who are experiencing significant difficulties related to mental health, physical health, and/or psycho-social adjustment.
We encourage you to check in with your student regularly about their overall wellness and mental health. Encourage your student to get involved in activities that provide a healthy balance to the rigorous academic life at JHU. As a family member, you may be the first to notice changes in your student's behavior. If you think your student may be in distress and need to see a counselor, please contact us. The following are signs of student distress:
Behavioral or emotional changes
Withdrawal from friends, family, and favorite activities
Change in hygiene or public appearance
Decline in academic performance
Alcohol or drug abuse
Talking or thinking about suicide
Anxiety and fear
Excessive anger
Others feel worried about them
Change in functioning (not attending class, not sleeping, sleeping too much)
Wanting to harm self or others
Apathy and indifference
Feelings of worthlessness and hopelessness
FERPA & Student Privacy
The Family Educational Rights and Privacy Act of 1974 (FERPA) is a Federal law that protects the privacy of your student's educational records and prohibits the university from sharing this information without their consent. Education records include grade reports, transcripts, and other academic files.
Parents and family members are interested in their student's academic success and progress toward graduation. Under the terms of FERPA, the university may not share their educational records with you without your student's permission. If your student wishes, they may establish an authorized user for their family. Alternatively, we encourage families to provide support and be involved in the academic process, while also promoting their student's growth and independence. Maintain an open dialogue with your student. Discuss your expectations. Establish an agreement for how often you would like to touch base about grades. Ask your student how they feel about their performance and if changes are necessary.