VP for Security seeks input from Students, Families
Posted: October 2, 2018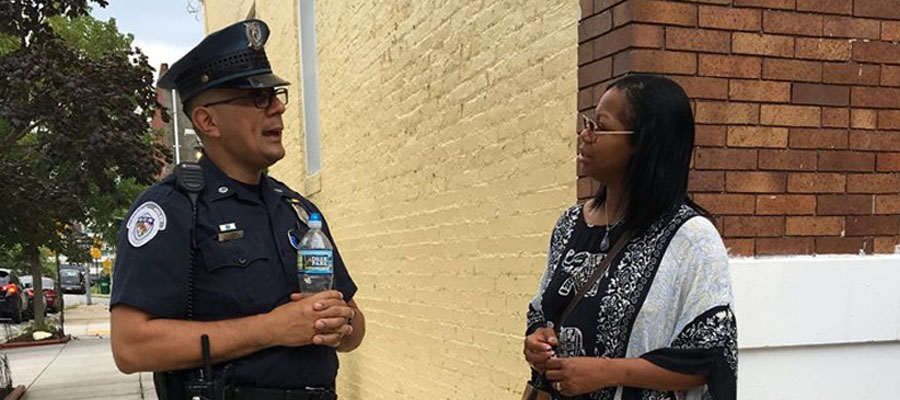 Johns Hopkins' Vice President for Security Melissa Hyatt is establishing new channels of communication to ensure the Johns Hopkins security operation is accessible and responsive. "The focus on safety at Johns Hopkins must be an inclusive partnership," she said in an email to students Sept. 20 "and I look forward to building strong relationships throughout our community."
Hyatt is actively seeking feedback from students on all campuses by creating a new Student Advisory Committee for Security. In her message to students, she said the committee will focus on strengthening current security operations and address a variety of subjects related to safety and security—including recruitment and training of security personnel, security-related communications and reports, and safety policies.
Hyatt said she is seeking diverse perspectives from both undergraduate and graduate students for the committee, which will include individuals from 10 organizations that represent students in each of the university's schools, plus five at-large members chosen by the vice president for security in coordination with the vice provost for student affairs. Initial appointments are for a one-year term, and members can be re-appointed. Students are encouraged to apply for the advisory committee via the vice provost for student affairs website. Applications are due Sunday, Oct. 7.
Hyatt has also created a new email address, VPSecurity@jhu.edu to receive suggestions, concerns, and observations regarding safety issues from students and their families, faculty, staff, and visitors.
"Safety on all Johns Hopkins campuses is my top priority," Hyatt said in her email. "Our security team works diligently to provide a safe environment for students, staff, faculty, and visitors. Our staff embraces the core values that guide our institutions' work, and we aim to move forward by engaging in best practices, demonstrating a high level of professionalism, respecting freedom of expression, and exemplifying both diversity and inclusion in the performance of our duties."