Why New-Student Orientation Matters
Posted: July 24, 2019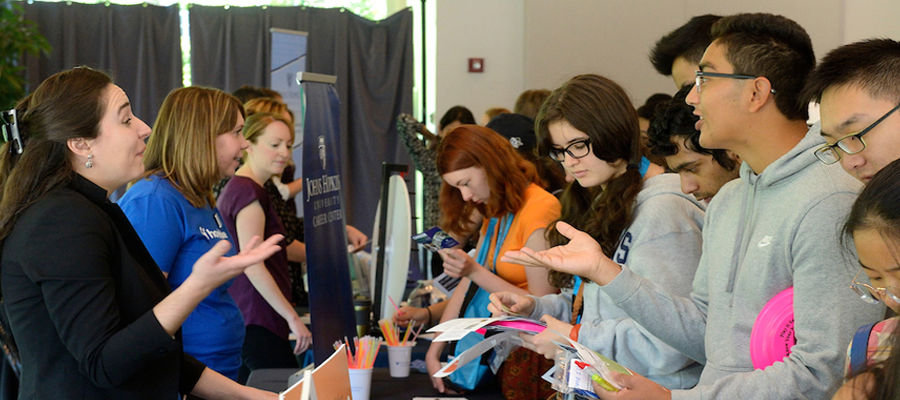 The transition to college can be disorienting. Students move from the familiar routine of high school into a new and unfamiliar environment. It's a big change for their families, too.

Johns Hopkins University recognizes this adjustment that students and families are facing and supports them by offering New Student Orientation before the official start of their first year.
What Happens at New Student Orientation?
Orientation is a chance for students to learn how things work at JHU and meet other Blue Jays as well as faculty and staff members. The goal of our Orientation program is to help students feel excited about starting college and smooth the transition to campus life.
Getting Informed
For many students, Orientation is their first chance to meet members of the Johns Hopkins community. JHU administrators and staff welcome students, conduct information sessions, and participate in social events to answer questions and explain more about different departments.

During Orientation, students become familiar with their new home and its rules and expectations. As they find their way around campus and learn more about JHU, students can become more comfortable in their new role as a college student.
Orientation is for Family Members, Too
At Orientation, parents and families have a similar opportunity to get to know the campus and the people who will be working with their student. Families will learn:
How the university will communicate with parents and families

How billing is handled

Who to contact if they have concerns

How parents can stay appropriately involved on the college level
A New Community
It can be overwhelming! But by the end of Orientation, both students and family members should feel like they belong and are part of a new community. Having met college personnel, family members should be more comfortable when they drop their student off on move-in day, and more at home when they return for Family Weekend in the fall.