Winter Weather Safety Tips
Posted: January 8, 2019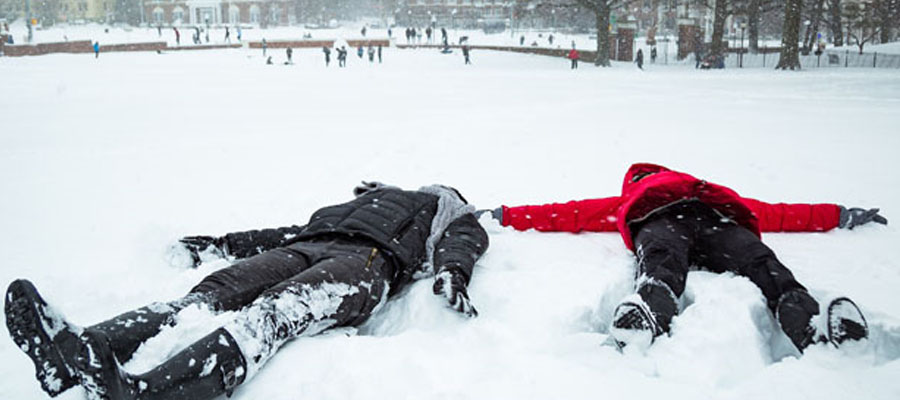 Winter can bring anything from icy rain to several feet of snow to Baltimore. Help your student be ready for the weather by sharing these seasonal tips from Campus Safety and Security.
Wear appropriate layers of clothing and footwear for the conditions. Be ready to head out to class when conditions are less than perfect: Johns Hopkins remains on a normal operating schedule whenever possible to minimize interruption to teaching and research and because so many university employees and students are involved in patient care. So have a warm jacket, hat, gloves, scarf, and boots handy.
Build in extra travel time. In the case of severe weather conditions, Blue Jay Shuttle service may be temporarily suspended, but it will resume normal scheduling as soon as possible. Notifications will be kept up to date on various sites including the TransLoc website, Transportation Services website and Transportation Facebook page.
Warm up your muscles prior to any physical exercise. Routine things like going for a run are more physically taxing in cold or snowy conditions. Taking part in an epic snowball fight on the quad? Be sure to check on your friends for signs of cold-weather injuries such as frostbite or hypothermia.
Living off campus? Remember to use caution when shoveling snow. Never leave your car unattended with its engine running, even if its just for a few minutes. Test your smoke alarm and carbon monoxide detectors, replace old batteries, and ensure their proper placement.
Stay informed. The latest information about changes to normal university operations will always be available in two places: The Johns Hopkins emergency hotline at 410-516-7781 or, from outside the Baltimore area, 1-800-548-9004, and the Johns Hopkins emergency notices web page at https://www.jhu.edu/alert/. It's a good idea to program at least one of those phone numbers into your mobile phone and to bookmark the web page. Information on a closure or delayed opening is posted on the web page and phone line as soon as a decision is made. After an overnight snowfall, that's normally around 6 a.m.