Your Guide to Baltimore
Posted: May 4, 2018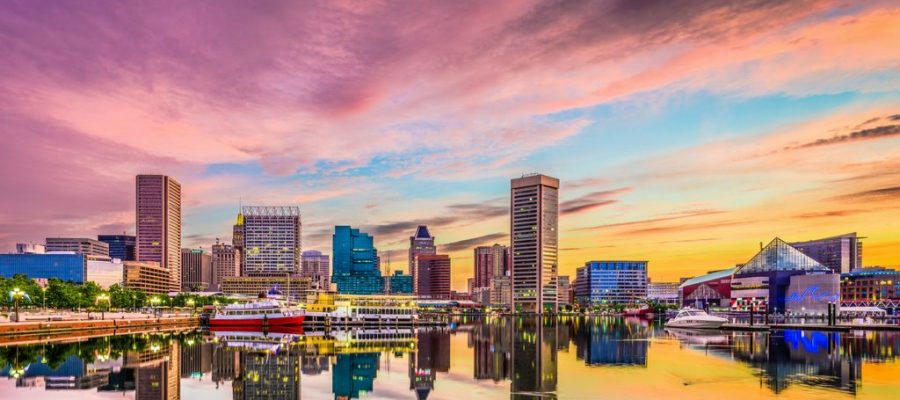 Graduation is coming soon—are you ready? Many Blue Jay Families choose to spend a few days in Baltimore before or after commencement. We want to make sure you are able to fully explore the many wonderful and charming facets of the city.
Eats & Drinks
Whether you love a good hamburger or prefer fancier fare, Baltimore is a food lover's paradise! Here are some of our favorite spots all around Baltimore:
Hampden
Hampden is a popular place to go when visiting Hopkins because it's charming and close to campus—only a 15-minute walk! One of the classic places students take their parents when they visit is The Food Market. They serve upscale food in a comfortable setting. Wicked Sisters, also in Hampden, is a great place for fare with a modern twist. Their burgers are awesome, but so are their sweet and spicy Brussels sprouts! For families who brunch, The Five and Dime offers bottomless brunch with delicious eats. If pies are more your thing, Dangerously Delicious pies offer both sweet and savory options, so they've got your dinner and dessert covered! Speaking of dessert, The Charmery is your place to go for amazing ice cream and unique flavors. If you're gluten-free or vegan, Harmony Bakery is your safe haven. Waffie serves up delicious waffles loaded with all the toppings your heart desires!
Fell's Point
Abbey Burger Bistro has a killer B.Y.O.B (Build Your Own Burger!) menu. Have you ever wanted to put peanut butter and grilled pineapple on your burger? The possibilities are endless here! Their milkshakes are a must-try, too! Kooper's Tavern resides right next to Abbey Burger in Fell's Point, and has equally great burgers! If you're not feeling burgers, Thames Street Oyster House serves up (obviously) seafood! The Point in Fells offers great drinks and great food, all with a great view! For dessert, you can't miss Pitango Gelato. Their sorbets and gelatos are out-of-this-world amazing and put ice cream to shame!
Federal Hill
Abbey Burger also has a location in Federal Hill, and you really can't go wrong with either location! If you're more in the mood for Mexican food, Blue Agave has an amazing menu. If you're really up for a (huge) challenge, why not try the 4-lb 'El Toro Grande' burrito? If you can finish this monster of a burrito in under 30 minutes, you get it for free plus a free tee shirt and your name on the wall. The Local Fry is a restaurant that specializes in French fries, but they don't serve up your basic fry! They offer poutine, kimchi fries, Mexican fries, and more!
Canton
Verde isn't your typical pizza joint. Their Neapolitan pizzas feature perfectly crispy, chewy crusts. They've even got gluten-free and vegan options, so the whole family can feast! After dinner, make sure to take a five-minute walk on over to B'more Licks, a new ice cream shop that's taken Baltimore by storm with their wide variety of hard-packed and soft-serve ice cream flavors! Seafood is a must-do in Baltimore, and why not eat in a boat-themed restaurant? Captain James Crabhouse serves up classic seafood dishes in a fun and unexpected setting! Dangerously Delicious Pies also has a location in Canton; so if you're craving pie after pizza, stop on by!
Mount Vernon
Just a short JHMI ride away, Mount Vernon is a classic B'more neighborhood. Dooby's offers delicious, Korean-inspired dishes and café classics. Right next door is Sugarvale, a gorgeous bar with inspired drinks and light eats. Ceremony Coffee Roasters is a student study favorite. Mount Vernon Marketplace is a food hall with ramen, dumplings, burgers, charcuterie, and more!
Inner Harbor
For those who are staying Downtown, there are two classic (and cheaper!) options than the ones mentioned above. There's Shake Shack, famous for their smashed burgers and custard. Right across the street is Five Guys Burgers & Fries, famous for their, well—burgers and fries! You can't go wrong with either chain when you need a faster meal. There are quite a few familiar names at the Inner Harbor, including Brio Tuscan Grille, The Cheesecake Factory, F Changs, Fogo De Chao, Hard Rock Café, Bubba Gump Shrimp Co., Chick Fil A, and M&S Grill.
Other Neighborhoods
Near/in Charles Village are a few gems! R. House is a food hall with a variety of options—pizza, sushi, fried chicken, vegan, tacos, arepas, and more! R. House is also within walking distance of campus, so no need to call an Uber or Lyft if you're staying near Charles Village. Right next to R. House is Papermoon Diner, which offers diner-style eats in very eclectic digs! This place is funky in the best way, and their milkshakes are not to be missed! If you love meat – then Parts & Laboris for you!
Located in Woodberry (near Charles Village) are Woodberry Kitchen, Cosima Mill No. 1, and La Cuchara. Woodberry Kitchen is a bit pricey but great for celebrating! Everything on the menu here is great—you really can't go wrong! They also offer amazing gluten-free biscuits for gluten-free eaters during bread service, so no one will be left out! Cosima is a somewhat hidden gem that specializes in Sicilian food. Try their delicious roasted cauliflower and their mouth-watering pizzas. La Cuchara does Spanish food—look out for tapas-style eats in a cozy setting.
Things to Do & See
Charm city truly has something for everyone. From the arts to the sciences to maritime fun, why not see what Baltimore has to offer?
The Arts
The Sciences
If you've got a younger one in the family who's into science, make sure to see the Maryland Science Center in the Inner Harbor. Current exhibits include Cells: The Universe Inside Us, Life Beyond Earth, and the SciLab. Younger explorers may also enjoy Port Discovery, also in the Inner Harbor. It's a hands-on children's museum with exhibits like the Royal Farms Convenience Store and Fill'er Up Station, Tiny's Diner, Wonders of Water, and more!
The Harbor
The National Aquarium, located in the Inner Harbor, is a must-do for anyone visiting Baltimore. Check out a dolphin show, admire puffins, and observe jellyfish!
There's nothing quite like a stroll around the Inner Harbor, especially in the springtime! Take advantage of Baltimore's May weather and take in the beauty of the harbor. If you're a history buff, there are some great ships to check out, including the USS Constellation and the USS Torsk.
Speaking of ships, if you feel like getting out on the water yourself, there are a few great options for you. You can pedal your own Dragon Boat or pretend to be a pirate for a day on an Urban Pirates cruise!
Places to Stay
Luckily for you, JHU has already done your homework for you! Here's a list of hotels and accommodations around Baltimore that have special rates for those coming in for Hopkins commencement!