Diplomas
Paper Diplomas
Johns Hopkins University diplomas are original, engraved, legal documents and cannot be copied, reduced in size, or reproduced by the Office of the Registrar.
When you apply to graduate in SIS make certain all information is correct. Your diploma is a legal document, therefore, the printed name must match what is listed in your student record.
Frequently Asked Questions
Certified Electronic Diploma (CeDiploma)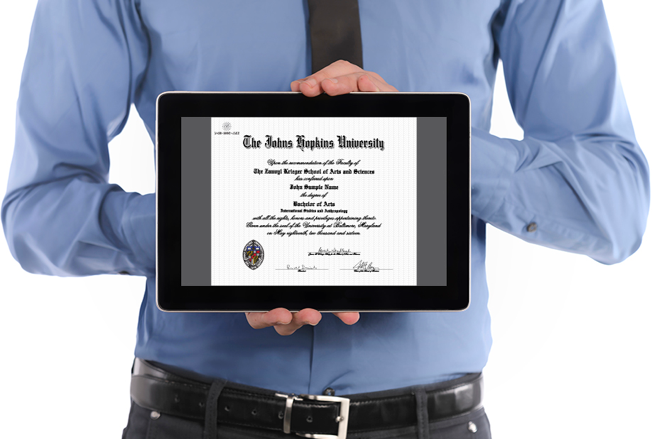 Johns Hopkins University now offers the Certified Electronic Diploma (CeDiploma) for 2016 graduates and forward!
Overview
Key Benefits
More than a paper diploma.

An official, portable and verifiable electronic version of your accomplishment that can be shared for a lifetime!

CeDiploma holds your 12-digit CeDiD (Certified Electronic Document Identifier)
Using Validation Services, your CeDiD is the key to your degree information for employers, agencies and more…

Provide your CeDiD* and school URL on your resume to highlight your achievement and expedite the verification process for potential employers.

Unlimited Sharing with employers, family, friends and social media.
Reserve or purchase now through SIS.
Highly Secure
The CeDiploma can be independently validated through the JHU website by future employers, State Government Licensing Agencies and any other entity that wishes to validate your achievement.
The document is digitally signed and encrypted such that it is trusted and more readily accepted.
For more information, click here.
A CeDiploma may not be available for all conferral dates.
CeDiploma® is a Registered Trademark
CeDiD™ and CeCredential™ are Trademarks
Features
How to Validate the CeDiploma
A CeDiploma can be validated online one of two ways:
Diploma Validation Page
To ensure the degree information is still valid, we highly recommend you visit the school's official website to perform an additional validation. Enter the 12-digit CeDiD found in the upper corner of the CeDiploma, along with the first two letters of the name as it appears on the diploma.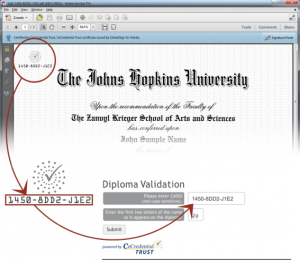 Digital Signature
A CeDiploma from Johns Hopkins University is digitally signed by CeCredential Trust. When the document is viewed through Adobe Reader or Acrobat versions 9.0 or higher, it will reveal that a digital signature has been applied to the document.
Adobe Reader and Acrobat use a blue ribbon across the top of the document to indicate document has not been tampered with, and is therefore authentic.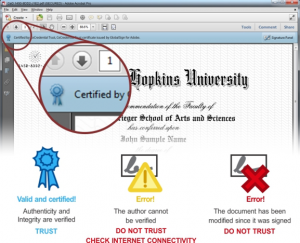 Frequently Asked Questions
If you have any further questions, or need additional help, please contact ASENVerify. For all inquiries, we ask that you kindly include the CeDiD number, and the name of the alumni as it appears on the CeDiploma.