Student Health Benefits
It is policy of Johns Hopkins University that all full-time students in the schools of Arts and Sciences and Engineering maintain adequate health insurance coverage to provide protection against unexpected accidents and illnesses.
As a full-time student, you will be automatically enrolled in the university's student-sponsored health benefits plan, and the plan premium will be charged to your university student account unless proof of comparable health insurance is provided for students eligible to waive.
If you have private insurance coverage comparable to the university plan, then you may be eligible to submit a waiver request form via SIS during the open-enrollment period. Please be aware that a waiver request form must be submitted each academic year regardless if your insurance information has changed or not.
Open Enrollment Dates & Deadlines
Open Enrollment period for submitting waiver requests will begin on July 1 and end on September 15. Late waivers will not be accepted after September 15.
International Students
All international students with a F1 or J1 Visa status are ineligible to waive and are required to purchase the university plan.
Student Athletes
Be sure you are aware of the Athletic Medical Insurance Policy before waiving coverage.
It is the sole responsibility of the student athlete and his/her family to verify that their insurance plan meets the criteria set forth and to alert the athletic training department if there are any changes to their insurance coverage.
JHU will not cover any expenses generated by insurance coverage that does not meet the waiver criteria.
Plan Details
Details about the university's student health benefit plan offered by the university are provided in the CHP PDF Document: Student Health Benefits Plan brochure andPDF Document: CHP Plan Flyer.
To locate the nearest hospital or health care provider who is part of the Cigna PPO Network, visit the Cigna website or contact CHP at (877) 657-5044.
Online Waiver Instructions
Follow these steps to waive out of the university insurance plan (during open enrollment only):
Log into your SIS self-service main page.
Select the "Personal Info" menu.
Choose "Health Insurance" from the dropdown.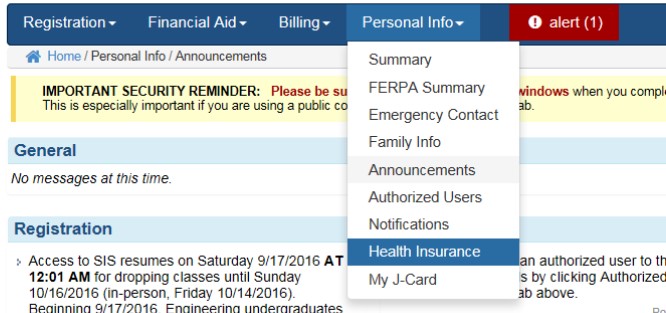 Click on the "Waive Health Insurance" link, which will take you to the waiver processing page.

Note: If the waiver request form meets all waiver criteria and is accepted then you will be waived for the entire plan period. Contact the Office of the Registrar if your insurance coverage changes during the academic year.
Please be aware that a waiver request form must be submitted each academic year regardless if your insurance information has changed or not.
If you do not complete a waiver or the waiver submitted has been denied, you will remain enrolled in the Student Health Benefits Plan and your student account will be charged for individual coverage. No exceptions to the waiver criteria will be made.
Questions?
Answers to frequently asked questions are listed on the "Health Insurance" page of your self-service account.