CSC Staff and Student Award Winners
Posted: May 2, 2017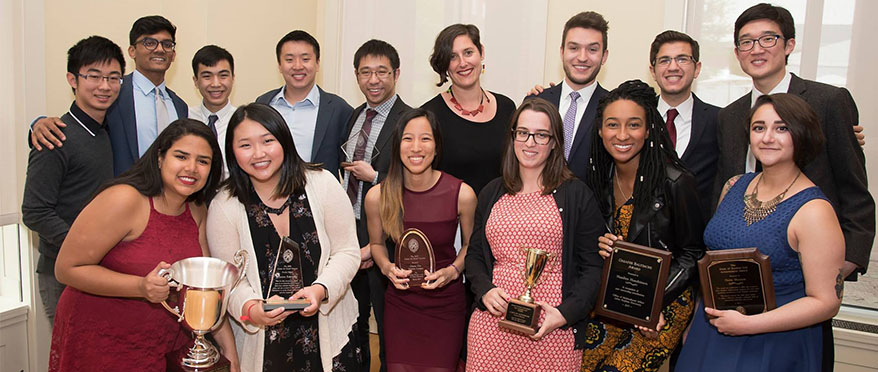 Several members of the Center for Social Concern team have been honored with awards at several year-end award ceremonies on campus.
Center for Social Concern Student Awards
Lucy Delgado, CSC Program Assistant, was the Barton Cup recipient and recognized for her student leadership. Read more on the HUB. Both Lucy and Della Xu, CSC Intern, were finalists for Student Employee of the Year which is awarded through the Student Employment Services Office and recognizes undergraduate and/or graduate students who have made a significant contribution to the university through their student job by consistently demonstrating good work ethics, reliability, initiative, creative thinking, and professionalism; either on-campus or off.
The Center for Social Concern also presented awards to outstanding student leaders during the annual Homewood Student Leadership Awards. Tony Yang won the Unsung Hero Award. The Urban Health Award for extraordinary group or individual service in urban health was presented to Nina Modanlo and Clarissa Chen. Preston Ge and April Lugo were honored with the Baltimore Award. Charm City Science League won the Urban Education Award for extraordinary group service with urban schools. Lastly, to commemorate the Center for Social Concern's 25th Anniversary, Carissa Zukowski, Maggie Weese, and Natalie Hernandez received the 25th Anniversary Award, honoring outstanding seniors whose efforts have embodied the CSC's civic values of applied learning, diversity and connectivity, and sustainable partnerships.
Center for Social Concern Staff Awards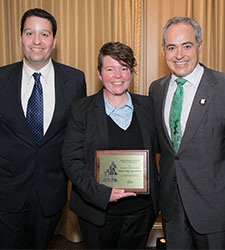 Senior Assistant Director, Abby Neyenhouse was named Supervisor of the Year by the Office of Student Employment. This prestigious award was given to Abby since she is an outstanding supervisor who has made a significant contribution to their student staff by demonstrating extraordinary leadership, professionalism, and guidance.
In addition, each year at her alma mater, George Mason University, fourteen alumni are awarded the title of Distinguished Alumnus/a on behalf of their affiliated academic unit or alumni affinity constituency. On Wednesday, April 26th, 2017, Abby was honored with ​the Distinguished Lambda Alumni Award. The Lambda Alumni Chapter Distinguished Alumnus Award recognizes the dedication and accomplishments of an alumnus within the university and the Lesbian, Gay, Bisexual, Transgendered and Questioning community at Mason. This award celebrates the great contributions of an alumnus and the impact their work has on the overall experience and connection with the University.
Assistant Director, Caroline Ouwerkerk, received the Gilman Cup from the Class of 2017 for outstanding service to students outside the classroom. Caroline works with and for students every day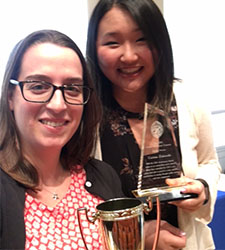 as the category coordinator for over 50 service student organizations, the advisor for multiple alternative breaks and the HopkinsCorps Pre-Orientation programs, and much more. She was nominated by Osiris Mancera who wrote "it is difficult to list just one way, or even a few ways, that Caroline has impacted students because she is so constantly helping them. She is always providing opportunities for students to learn about topics they would not come into contact with normally. It is because of her that I want to pursue a career in higher education myself after I graduate."
Congratulations to all of the award winners!