2017 Pre-Orientation Recap
Posted: September 14, 2017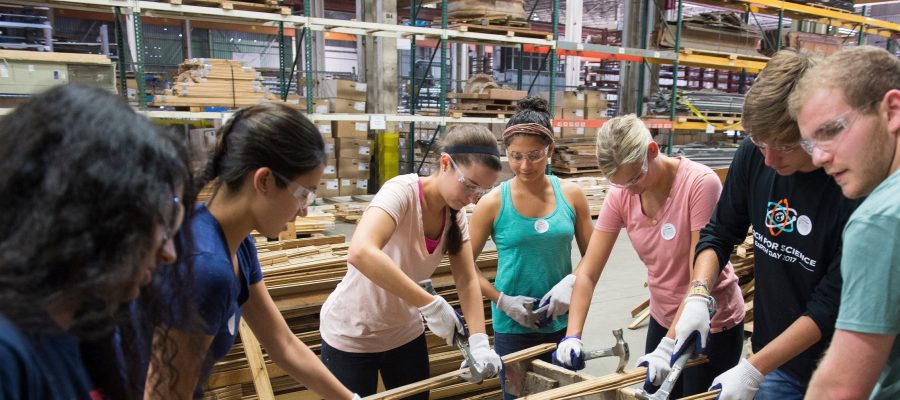 The HopkinsCORPS 2017 pre-orientation group of 40 incoming freshmen chose to volunteer in various neighborhoods in Baltimore in the week before classes started. From Friday, August 13 to Friday, August 25th, the HopkinsCORPS participants had a week packed with volunteering, learning about specific issues in Baltimore, and opportunities to get to know the city better through evening activities such as going to an Orioles game.
Caroline Ouwerkerk, assistant director of the Center of Social Concern, and six returning undergraduate students served as leaders for the teams into which the incoming students were split. Each team was focused on a specific neighborhood: Federal Hill, Canton, Hampden, Highlandtown, Station North, and Fell's Point. HopkinsCORPS collaborates with community organizations to provide direct service work and site visits. This year's community organizations were Paul's Place, the Maryland Book Bank, Second Chance, The Monument Quilt, and the Living Classrooms Foundation.
Though each day throughout the week was slightly different, the daily schedule included a direct service project, a conversation or exploration of a neighborhood with community leaders, leadership workshops, and other activities designed to cultivate strong relationships within the group as well as learn about and understand issues engaged with through service. Students became familiar with Baltimore and its basic history, were challenged to critically examine why they felt compelled to engage in community service, and gained knowledge of how to continue their involvement throughout their time at Hopkins.
Learn more about HopkinsCORPS and how you can get involved in this awesome Pre-Orientation program!