2017 President's Day of Service Recap
Posted: September 26, 2017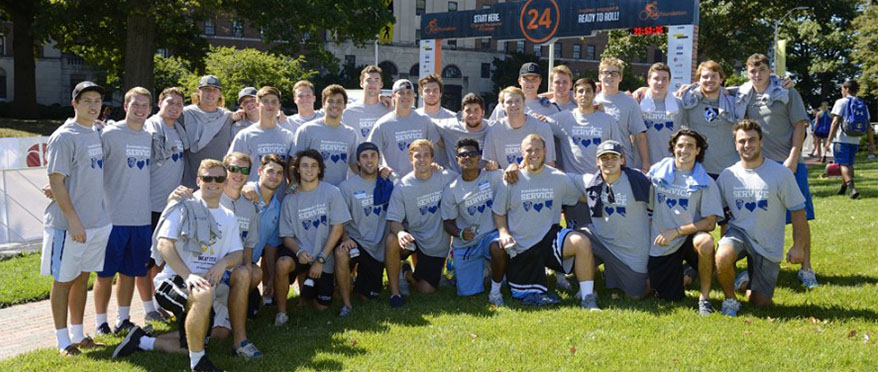 Now in its 9th year, the President's Day of Service was a huge success. On Saturday, September 23, over 1000 students and affiliates from Homewood and other Hopkins campuses such as the School of Education and Peabody Conservatory gathered at the kickoff at the Ralph S. O'Connor Recreation Center. After a welcome given by Dean Wilson, President Daniels spoke about the importance of community involvement. Student members of the President's Day of Service Executive team dismissed teams to 37 different project sites, where volunteers worked alongside community partners such as Marian House, The Book Thing, Chase Brexton, and FORCE. Students were involved in various activities, including planting trees and seeds, beautifying a vacant lot in North Baltimore, setting up for a fundraising gala, pruning a community garden, and participating in a neighborhood clean-up.
After the event, volunteers reconvened at the Recreation Center for a post-event celebration and a time of reflection led by team leaders, where participants were encouraged to think about why service matters, what they learned from the day's experiences, and how they could continue their involvement in the community.
The annual event is made possible through the generous support of the Hopkins Parents Fund, the Center for Social Concern's Assistant Director, Caroline Ouwerkerk, and The President's Day of Service Student Planning Committee, Lauren Ralph '20, Evan Drukker-Schardl '20, Gillian Miller '20, and Shannon Romig '17.
The President's Day of Service is a great way to get involved in the beginning of the year, and HopServe50, a service initiative run by the Center for Social Concern, challenges students to continue committing to serve the greater Baltimore community throughout the academic year. Registration for HopServe50 closes on October 31st. Read more about the day on the JHU HUB.