2018 Alternative Breaks Intersession Recap
Posted: February 13, 2018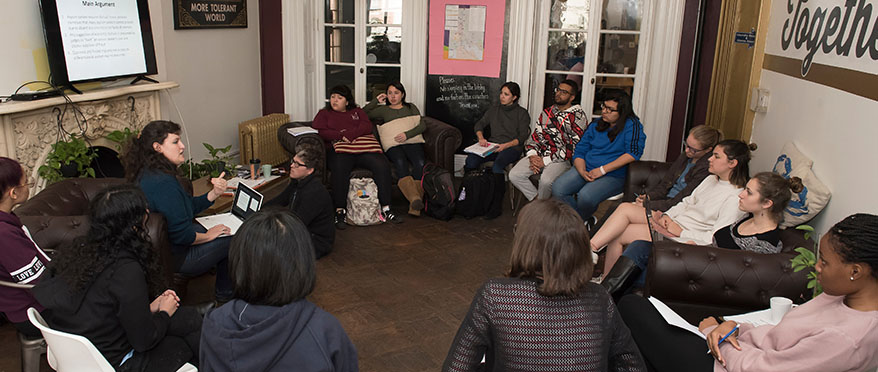 Our annual Intersession Alternative Breaks program is a great way for students to engage in service with the community right before the start of the spring semester. In January 2018, 33 students participated in one of three trips that focused on the following social justice issues: HIV and AIDS, Urban Education, and Immigrant and Refugee Rights. Each trip was led by 2 student leaders and a faculty instructor.
HIV and AIDS
Led by Abby Neyenhouse, CSC Senior Assistant Director, the HIV and AIDS trip was a truly unique experience for everyone involved. The group volunteered for 117 hours, collectively, at organizations such as Moveable Feast, FORCE, STAR TRACK, Chase Brexton, the Maryland Department of Health, and Power Inside.
When designing the trip, Abby wanted to expose students to marginalized communities that were impacted disproportionately by the issues. She felt that these organizations did a great job of meeting people where they were and implementing innovative education and prevention efforts. Students had critical conversations about the issue while learning about its history and the gains that have been made. For Baltimore specifically, where the rate of those infected with HIV can be as high as 1 in 20, it is important that the students have a good understanding of sexual health and harm reduction practices for themselves and others.
Immigrant and Refugee Rights
The Immigrant and Refugee Rights trip, made up of 13 students and led by Bob Francis, totaled 91 volunteer hours during its Alternative Breaks trip. Each day was packed with activities, including volunteering, having discussions and reflecting on the experiences of the day, and forming relationships with other group members through fun evening social activities.
The group kicked off the week with a day trip to Washington, DC and volunteered with the Church World Service and the UNHCR (the UN Refugee Agency). Students also volunteered with the Refugee Youth Project at various sites in Baltimore, including Patterson High School, the Goodnow Community Center, and Moravia Park Elementary School.
Urban Education
The Urban Education group visited Henderson-Hopkins, Eastern Senior High School, the Steinbruck Center, and Margaret Brent Elementary School. Two great students from Southwest Baltimore Charter School also presented to the group. By the end of the week, the group had volunteered for a total of 50 hours.
The trip was led by Shawntay Stocks, CSC Assistant Director of Engaged Scholarship, who taught in Baltimore for 3 years and is passionate about urban education in Baltimore. She challenged students to look past the "single story narrative" and acknowledge issues such as lack of funding and resources but also to see positivity in motivated and goal-oriented administrators, teachers, and students. Throughout the course of the trip, the students learned to engage with issues of race, class, and power and think critically about the impact of these issues on Baltimore City and Baltimore City education. It was an eye-opening experience for the participants, who had the unique opportunity to get an inside look into the Baltimore education system.
Karen Chen '20
"Overall, this alternative break was extremely educational. I gained a broader view of educational issues and a more nuanced understanding of the ways that factors such as poverty, cultural differences, and the influence of charter schools affect student outcomes. Because of this class, I hope to approach community engagement and service in a more thoughtful way as I continue to volunteer in Hopkins student groups, especially in situations where I work directly with children."
Krysten Garcia '19
"What I have learned this week has in general pushed me to become a more active citizen in Baltimore. Specifically, I want to have more one on one conversations with people in the community so that I can feel more integrated with the community as opposed to a Hopkins outsider. In addition, these conversations will help give me a fuller understanding of the community itself and will reduce the impact of the single story narrative."