2018 Week 6: Youth and Family Wellness
Posted: July 25, 2018
AUBREY ROLAND | STAR TRACK
In the sixth week of my time at STAR TRACK, I spent most of my time researching different information to help my fellow coworkers with planning their events, as well as for the clients that they are directly serving. Luckily, thanks to the brochure that CIIP has put out, I was able to find many different organizations such as the many community farms around Baltimore. And thanks to the interconnectedness of our cohort, I was able to reach out directly to different organizations that had CIIP interns and thereby quickly and easily connect STAR TRACK to other community partners. Aside from that, I also got to table an event on Friday at the University of Maryland's School of Pharmacy. The event was hosted by the Patients Program, which seeks to connect different organizations in Baltimore that are dedicated to the health of Baltimoreans. To my surprise, STAR TRACK was one of the only organizations directly related to UMD. Getting to hear about different health outreach groups' missions and methods, I gained a deeper understanding of the plethora of issues and solutions surrounding the health of Baltimore's residents. But most interestingly, I had the pleasure of meeting a woman who was the first African American woman to ever attend the university she went to, who then went on to nursing school and did research in cardiology. Her inspiring words about facing one's fears and continuing on no matter what adversity we face left me with a greater sense of purpose and grit.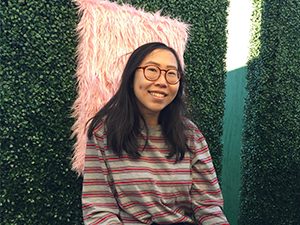 OLIVIA CHAN | FRANCISCAN CENTER
The Franciscan Center intersects with many other placement areas since it works to address basic needs of those in crisis, connect folks to resources that other placements cover, and bridge the government sector and most vulnerable populations of the Baltimore community. For example, many do not have healthcare or adequate coverage. One of our services is providing dental referrals, but we've only been able to offer extractions and there aren't any other organizations which we know that provide other dental services at free or reduced cost. What's frustrating about situations where people request dental assistance that we can't fulfill is that it doesn't seem like there is anything in place to help; not only are not adequate grant funding for nonprofits to provide these services, but there isn't economic security or flexibility for our clients to seek these necessary services. There's no preventative care due to the instability of unemployment, of housing, and of various government and nonprofit assistance–which all affect a person's overall health and likelihood of future health complications. It's nothing new that our safety net in this country isn't expansive or strong enough, but it just seems like there are too many gaps to jump over and potentially fall in.
Of course, I've seen that the nonprofit management placement is also a big part the Center's operations. My supervisor demonstrates every day the networking, outreach, fundraising, and conversations that are necessary to run the Center. One placement that isn't so clearly a part of the services we provide has to do environmental sustainability. It is frustrating to think about the donated produce and non-perishables which fail to be distributed or cooked into meals and wind up being thrown away. I understand that our small organization is only small contributor of the food waste that occurs in this country and that the real frustration is the great food insecurity in the city which could be addressed with such wasted food. The Center does not have the most environmentally sustainable practices when it comes to recycling, reducing or preventing waste, and composting. Although I personally was uncomfortable with not recycling, using Styrofoam, or throwing away a slightly bruised banana, all those things began to appear to be small, insignificant things to harp on in the midst of working with people in crisis. It seemed like something only a person in a position of extreme privilege could think about. It also seemed arrogant to come in as a Hopkins student, criticize people who have worked there for years, claim to know better, and demand change. It seems silly to worry about the future results of our current impact on the environment, while many are simply looking for their next meal or worried about sleeping in the rain. Even so, issues of environmental health affect the most vulnerable and economically insecure populations. It's unfair to ask for them or the Center to worry about their carbon footprint, amidst concerns of survival; however, the lack of redress of environmental issues will be most harmful to them. They are the populations who will find their access to clean water, nutritious foods, and migration most restricted; they are those who rely most on physical labor for economic livelihoods and will find such livelihoods in danger due to climate change. So although I've come to terms with my own privilege and discomfort with engaging in environmentally unsustainable practices, I'm still concerned with how much complacency is appropriate—and how much is a barrier to change.
CLAIRE ZOU | BY PEACEFUL MEANS
As the campers busily set to work on their masterpieces, I walk over to the lead art teachers to make some small talk before the kids started asking questions again. The teachers are from Art with a Heart, another local nonprofit that comes to peace camp every Monday and Wednesday bearing creative ideas and mounds of supplies. They always put together a unique project that exposes the campers to new art mediums while incorporating themes from our weekly peace heroes. For our past week on Colin Kaepernick, that meant having the kids paint peaceful protest stances and paste them on bold flags created with colorful charcoal and black paper, and these will be displayed during our closing ceremony for their parents and caretakers to see.
This summer we also started partnering with University of Maryland's 4-H Youth Development Program, an organization that instills life skills in children through experiential education. They donated several bags of Legos and provided lesson plans to peace camp so that I could teach the campers in my STEM and coding studio about engineering. With 4-H's support, I have been able to introduce the kids to teamwork building as they create bridges and stores and their own imaginative structures, tasks that engage them so much so that they sometimes want to miss lunch if it means they can keep building.
Finally, our partnership with Gather Baltimore has been one of my favorites. Gather Baltimore is another non-profit operation that takes the leftover produce from grocery stores at the end of the day and gives them away to families in blue bags for free. Every week we get seven or eight bags, spread the produce on a table like a farmer's market, and allow the parents to take home as much as they need when they pick up their children. It's an efficient process that the parents always seem to appreciate, especially since many of them seemed unaware of Gather Baltimore before, a resource they can use beyond peace camp. Seeing the impact of all these collaborations, I've really come to love how my placement actively seeks partnerships with other nonprofits to enrich and support the kids we serve in more ways than most camps do.
JANAYA BROWN | YOUTH EMPOWERED SOCIETY
After another chaotic week, I have learned that my placement experience has been different from others. Now, I walk into work expecting something off-the-wall to happen. Yet, each week, I just have to remember to take care of myself despite the craziness.
Towards the beginning of the week, I experienced slight harassment from youth in the space. Being within the same age range as our youth, I find that I do get hit on and this week got called "boo". This has left me in an odd place, because in the area we are in people found such attention as complimentary to a woman. So I have to remember that people do what they know and have thought was appropriate. But, it has also had me yearning for respect as a staff member, as well as a friend. Luckily, my fellow staff members have helped me calm out the incidents and approach them sensitively based on our demographic which I did appreciate.
As the week progressed, the ups and downs continued. By Thursday, only one other coworker and I were in the office to deal with youths before drop-in on our own. While getting food for one youth, I opened the door to a sobbing youth running into my arms. She was crying too hard to breathe or speak, and as I loosened the hug, she fell to the ground. I crouched by her, rubbing her back, as she prayed to God about her life falling apart around her. Knowing that I alone could not deal with this, I called her case manager to come to us. As her sobbing died down, she started telling me about her whole life. She told me about how she wanted to be a face of homeless advocacy but still feels as if she is not yet ready. We talked for over an hour about everything. I did not care what we spoke about as long as she was okay in the end. This week has shown me again just how much I care about our youth. So many have been ignored and wronged by those around them, deserving so much more from life. But, with what they have been provided, many are persistent and do not give up on the plights. While I admit I cannot often get my own projects done in the office, I still can leave saying I have helped our youth in some of the worst times of their life. Each day just makes me grateful for what I have been provided in my life, and opens a future career path that I previously did not see myself pursuing.
KELSEY KO | OFFICE OF THE PUBLIC DEFENDER
Around the time when I first started at OPD this summer, we met a girl who was charged with assaulting her mother. I've been on her case with Mark since the beginning. On her adjudication on Friday, the judge tells her that she'll be detained in juvenile jail because she's too dangerous. She starts screaming and wailing and kicking.
As the officers handcuff her and shackle her legs to take her out of the courtroom, she yells through tears, her voice anguished, "I'm not a bad person."
One of the officers, who looks like she might have a child the age of our client, puts her hand on the kid's shoulder and tries to murmur something soothing before she handcuffs her. Mark has his head bowed, looking away. The judge's mouth is set in a hard line.
I hear our client yelling as they take her down the hall. I don't think I'll ever forget that moment, how her screaming felt like a jackhammer to my heart. I see the judge get up and turn to face where our client is being helped out of the courtroom. It looks like she might feel bad, but she's frozen, watching the exit. Everything feels still, and so, so heavy.
Afterwards, Mark and I go into intake. We eat some leftover cupcakes that we find in the office in silence.
"That hurt," he says. "I tried my best."
He just looks at me and I look back, my eyes brimming with tears. He gives me a tissue.
Later that day, like every other day, I walk past our "Kudos" white board. It celebrates the victories. This week, one of the attorneys walks around the office, telling everyone excitedly about how he got one of his clients who was charged with handgun possession out of detention. We write it on the board, reveling in his win. It's our win.
Earlier that week, some of the public defenders and I stay late to put the finishing touches on a puzzle that we've been working on during breaks for the past month. It's an endearingly hideous puzzle of a huge, flowery cat that is nestled in a tapestry, aptly named "Tapestry Cat" on the box. We name the cat Baxter and hang the puzzle above the desk of the new attorney as a welcome gift, laughing and taking pictures of it the next day.
These are the moments that have characterized my summer at OPD — the joys, the sorrows, the laughs. For each heartbreaking moment, there is the deep, intrinsic knowledge that we're all fighting the good fight. In the moments where we all shake our heads and share in each other's disappointments, it's a special kind of solidarity. And when there's a victory, it's that much sweeter.
WOUDESE BEFIKADU | FORCE / MONUMENT QUILT
This week was bittersweet because one of my supervisors who I became close to left for vacation on Wednesday, but I began to work closely with the studio supervisor who came back from her vacation. I really appreciate my supervisor because after I told her that I am having trouble deciding what I want to do after graduation, she reached out to people in her network who are professionals in Baltimore working in fields that span from art to public health.

On Monday I got coffee with the community organizer of the Baltimore Harm Reduction Coalition. We were supposed to meet up at Dovecote Cafe, however, when we bought arrived there, we noticed that there was a production being filmed. Although they closed the coffee shop because they were filming a scene, I saw Tasha from the show Power on HBO acting in an upcoming film about black love (pretty lit).

After speaking with the community organizer, I learned a lot about the opioid epidemic in Baltimore, the US, and the world. The BHRC uses such an important public health approach by trying to reduce the harm and stigma surrounding the use of drugs. There is this opioid overdose reversing life-saving drug called naloxone which the BHRC can train people (people who use opioids/their family or friends) to enable them to have access to it. Although this doesn't combat a person's addiction, it is a life-saving method if someone is experiencing an overdose. I think that this is really important because opioid addiction is an addiction first and should be treated as such. Someone can't help that they are addicted to a drug, so rather than blaming the person and they end up dying because they took too many pills or injected too much heroin, their life can be saved through this medication. Hopefully, they can be rehabilitated in the future but reducing harm is a very significant step. One pretty wild thing that the community organizer mentioned to me is that police officers are supposed to carry naloxone but a lot of them are afraid to approach someone who is a heroin addict. Like how can you, a person carrying a gun/taser/received training (hopefully) be afraid of approaching someone? Also, it's very interesting how cities like Amsterdam set up areas where drug users can safely use their drugs with supervision (not allowed in the US), whereas in the U.S. naloxone is not widely accessible to people in many states unless it's through a medical professional. With that being said, I didn't know much about the opioid epidemic or the work of BHRC until I spoke with the community organizer, but now I definitely plan on volunteering at the neighborhood pop up tents they have this summer.

On another note, it's crazy how quickly this summer has flown by. Since CIIP is wrapping up in two weeks, I am starting to finish up some of the projects that I began at the start of my internship. I finally completed a quilt on behalf of someone who experienced sexual violence in prison. An artist began the quilt by writing the survivor's complete story on a white quilt with red paint. Then I added blue, yellow, and white velvet fabrics to frame his story. I also painted colorful peace signs which he requested to be on his quilt. I'm not really an artistic person but it was really fun making his quilt and I'm happy that I was able to help him bring his story to light.

Tags: 2018, By Peaceful Means, CIIP, CIIP 2018, FORCE, Franciscan Center, Monument Quilt, Office of the Public Defender, STAR TRACK, Week 6, Youth Empowered Society