2019 Orientation: Community Arts Programs
Posted: June 12, 2019
SEHEJ PARMAR | BALTIMORE YOUTH ARTS
I'll admit that when we were first provided with dates of all the CIIP events, I had to read through twice to confirm orientation was a full week from 9 a.m. – 5 p.m. every day. I mean that was like a full week of work, was it not? And orientation is only like a 1-2 day type of thing. I prepared to be bored and yawning the entire time as different lecturers would come tell me what and what not to do during the summer as if it wasn't just all common sense. But that wasn't what orientation was about…like at all.
Looking back now, I realize that, if given more time, orientation could have lasted at least another week because, while we had gone through multiple trainings and lectures, we had only begun to grasp a very surface-level understanding of the job we would be diving into headfirst that coming Monday. Frankly, I have so many more questions now than I did at the beginning, and that has nothing to do with orientation not preparing us well or lacking in substance, and everything to do with orientation making me much more aware of exactly what it means for me to work in the non-profit sector in Baltimore. Now, I am asking more of the "right questions" that I have found everyone has their own answer to. I hope that by the end of the summer, I can also answer some of these questions from my own experiences.
Throughout orientation, one question in particular plagued me: what was my place in all of this as someone who is considerably privileged? In more unambiguous wording: Coming from a background and identity that does not reflect the population I will be working with, how would I be able to best understand, connect, and approach the population I hope to serve? Surprisingly, the best answer I got during orientation, from the Creating Change panel, was to stop making this question such a big deal in my head and just be myself. I was told that by constantly worrying about my approach to Baltimore youth, I am automatically assuming my privilege puts me above others and I need to "get down to their level" to be relatable. That last sentence shook me and still does. I know it will be something I reflect on during my internship and will lead to more questions. However, as I said before, at least as time goes on, I am asking more of the "right" ones.
Lastly, I just want to thank everyone in the cohort and all of the amazing speakers we had for sharing, even when it was difficult. I have already learned so much from and about each of you, your experiences, and your identities.
NIKKI GARCIA | LIBERTY ELEMENTARY SCHOOL
Orientation was a beautiful week spent with inspiring people including the interns of the cohort, the CSC staff, and our esteemed guest speakers. As a peer mentor, the most challenging part of orientation was finding the balance between challenging quieter folks in my group to speak and allowing those who were more comfortable to share their thoughts in the space. I thoroughly enjoyed being able to share the space with folks who are as passionate about social change as I am and learning and growing with them. I was particularly inspired by those who shared their ideas openly with the larger group, especially when they made the choice to be vulnerable in doing so. My favorite activity was the Theatre Action Group's workshop. There was so much community and celebration of everyone's unique identities in that activity. I learned a lot about some of my peers and the identities they feel most comfortable talking about, the ones that make them uncomfortable, and the ones they want to learn more about. I would reflect on which identities I chose for these prompts but, truthfully, this is the second time I've done this activity and my answers were different. If I did the activity today, my answers would probably change once again. One of the prompts I had to challenge myself to be open about was "which identity is hardest for you to talk about." I picked race. As a white (or white-passing) Latina, I struggle with the notion that I am white to some people. The reason for this is that I do not feel that I share the same experiences with white Americans. I identify as a woman of color, but I acknowledge the fact that my fairer complexion than many Latinx folks affords me some privileges in my day-to-day life. Another part of the TAG workshop which I really enjoyed was the Soul Train where everyone performed their "Entering Community Dance." It was lovely to cheer on my peers and have them cheer for me.
Much like last year, Reverend Doctor Brown's talk to us was very inspiring. He designed his presentation to us around different hip-hop legends including Queen Latifah, Wu Tang Clan, and others. He encouraged us to list our privileges and asked us to share them with the group. Many people mentioned privileges which I share with them but had not considered. One of these was 'able-bodied.' He asked us to take this knowledge of our privileges with us to our sites and communities and bend it towards justice. It reminded me of the importance of 'knowing thyself' for the sake of working towards a goal. We must be aware of the space we take up in order to work within that space in a productive manner. That was another one of my challenges during orientation, making sure that I wasn't taking so much space that I was hindering others from sharing and participating. I think it is a learning process and that I am growing from the experience.
All in all, orientation week was an amazing experience and I cannot wait to hear about all the wonderful things all the interns do at their sites. I also cannot wait to continue working at Liberty Elementary with Mr. Manko and to use these newfound skills of bending my privilege towards justice to enact social change.
JEVON CAMPBELL | DENT EDUCATION
The Orientation week for the CIIP internship was great in my opinion. I saw the hours they sent for us to be there on the week before orientation and was not sure how I would like it to be honest. Was not sure if it would be a long and dragged out experience. In a lot of ways, it was very long and dragged out. But, on the other hand, I did find it to be a week that was very meaningful and full of connections. All the interns that I interacted with seemed to be genuine and kind and passionate about making a difference and I really appreciated that. It was rare in my life to meet such a collective that I felt truly felt in their heart of hearts that they really wanted to make a difference in the communities that they were a part of and I thought that was special. A lot of the connections I made with people felt organic and not forced at all and even though I do not think I know each person's name yet, I still felt like I was able to connect with many people. There were multiple days where I just ended up walking with people home and just talking about random stuff that people were passionate. Even though that is not something I would regularly do it felt extremely natural with this group of interns. For the scavenger hunt too, I thought it may be kind of boring and dragged out, but it was surprisingly fun for me. I felt like my peer mentor group really got along well, especially because I was already friends with my peer mentor beforehand. Exploring the different areas of Baltimore, while it felt a bit touristy was a meaningful, educational, and fun experience for me and helped me get a better understanding of all the things the city had to offer. Thank you to all the speakers, faculty, leaders, interns, and the city itself for making the week feel special.
ZAKIYA CARTER| 901 ARTS
I think being in a group with so many new people challenged me this week. It did help that I had come to know a few of the people in this year's cohort through other avenues so I was not completely lost. However, I am very shy about dancing in public and it often makes me feel very self-conscious. The encouragement of the staff and my peers really helped me to step further outside of my comfort zone to be able to express myself with others. The Challenge by choice rule was one I had to keep in mind often since I wanted to connect further with the people in the cohort by doing all the activities to the best of my ability. I particularly like Reverend Dr. Brown because he brought a new perspective to my identity as a Christian. Additionally, he was engaging and the activity felt very genuine and relatable. The music activity gave me something to look back on as a great period in black history as well during the golden age of hip hop. This also brought into an orientation a discussion about what religion is, which is usually never discussed on campus. Orientation overall was a bit draining though with the schedule packed with activities but the time went by so quickly. Navigating Baltimore was good as a small group because we could see the neighborhoods as a collection of friends and not a larger mob. It was a close setting in which we could form bonds with both our cohort and the community. I saw an entirely new side of the city I am slowly starting to call home and one which I want to explore further. The Avenue Bakery is high on my list of recommended sites on a very long list. This week was an experience I will not easily forget. Looking forward to starting tomorrow and a great summer.
EMMA ELIAS | WIDE ANGLE YOUTH MEDIA
If I were to use a single word to characterize the entire week of orientation, it would be "community." As interns, we are part of the Hopkins community, the Charles Village community, and, hopefully, the larger Baltimore community. While we have many different communities we belong to, the community we spent the most time with this week was our CIIP community.
According to an online dictionary, a community is "a social group of any size whose members reside in a specific locality, share government, and often have a common cultural and historical heritage." All the CIIP interns I guess sort of share a specific locality, and maybe you could consider Eli and Clarissa our shared "government." What is, though, our "common culture and historical heritage?" What really holds us together as a group and holds us accountable to the piece of paper at the front of the room titled "Community Agreements" that we made on the first day of orientation?
Admittedly, one of the things I noticed within the first five minutes of CIIP was the diversity of the people in the room. Several speakers throughout the week pointed this out as well. To me, this was exciting and refreshing. In group discussions, I heard perspectives I hadn't thought of and really intelligent comments from my peers, which were interesting but also somewhat intimidating and making me question whether I deserved to be a part of this CIIP community. Other interns challenged some thoughts I may have come in with and made me recognize the privilege I didn't even realize I had. Even more so, they made me think more about my own identity, to which I've previously somewhat ignored or been irritated by.
One of our speakers from the week told us to help people "tap into their agency," rather than "fix" them. For me, being with such a neat, supportive, and passionate group of students did just that. Hearing new ideas and honing in on others' energy made me feel more empowered to take the risk to think in new ways and really think more about my identity. I also learned other interns share many of the same fears I have about this summer, whether about how to handle privilege or how to really get to know Baltimore.
So, what holds our CIIP community together? I don't honestly know at this point. Maybe it's a desire to know Baltimore or a passion for social justice. To me, after sharing a week of thoughts, challenges, fears, and also fun with these 48 new friends, the CIIP community is a place to feel safe. It is a place where we have "permission to be messy," can "be generous with validation," and can "assume best intentions." For me, it is a place where I can learn more about myself and others and figure out the impact I want to have.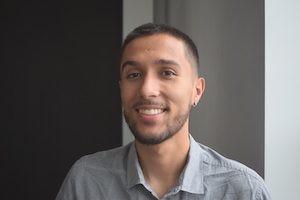 GABE SILVEIRA | JUBILEE ARTS
I think that some of the topics we discussed this week throughout our orientation were certainly not easy conversations to be had, however, it was super important that we did so. Before orientation started I was wondering what kind of programs our orientation was going to include that could properly educate and prepare a group of Hopkins students who are (for the most part) not from Baltimore, and going to be working directly with the Baltimore community. I was pleasantly surprised by the depth of content covered throughout orientation, and think it was a fantastic experience that really helped educate the cohort as a whole about the issues facing Baltimore, and where CIIP can help. I'm very happy about how welcoming and fantastic the environment fostered among the cohort throughout orientation was, and am beyond excited to spend the summer at my placement and continuing to get closer with my cohort!

Tags: 901 Arts, Arts, Baltimore Youth Arts, Community Arts Programs, Dent Education, Intersection of Change, Jubilee Arts, Liberty Elementary School, Sandtown-Winchester, Station North, Waverly, Wide Angle Youth Media