2019 Orientation: Education & Youth Advocacy
Posted: June 12, 2019
KEONE ALIPHIOS | MERIT
Phrase of the Week: "Edvengers Assemble!"
With the first week of CIIP finishing up, I've come to the realization that orientation follows the same storyline as Marvel's The Avengers. Crazy right? Now I know it's a fairly weird theory but hear me out.
It all started with the team name. Inspired by our theme of education and youth advocacy, the Edvengers provided a classic mix of cheesy and clever that is undeniable to most ears. It wasn't until dancing down the "first-day soul train" during the TAG workshop though did I connect the dots and was struck by the epiphany. Like the movie, six strangers/superheroes with diverse strengths and backgrounds come together for a common mission: to prepare to be in the community with the community. While it is not as outlandish as defeating Loki and his Chitauri army, it is definitely just as grand a task.
Similar to the Avengers, achieving our goal did not come easily. Faced with adversity ranging from breaking the ice the first day to reflecting about challenging situations during the scavenger hunt, it took the support of the whole team to overcome these obstacles and to say my team stepped up is an understatement. As the peer mentor or Iron Man of the group, I feel confident in my team's ability to overcome challenges and succeed in their individual placements. While the Avengers may have a Hulk, we have a Jamie.
As the first day of work approaches and our mission complete, the Edvengers will go their separate ways to serve their respective communities, but like the end of most Avengers, they will come together very soon. To be continued!
PS: If you have never seen the first Avengers movie, I apologize for all the references. You should go watch it though. It's a cool movie.
YVETTE BAILEY-EMBERSON | ROBERT W COLEMAN ELEMENTARY SCHOOL
I was nervous coming into orientation and was worried that I wouldn't bond with the cohort and I would be too introverted, but I immediately felt at home with everyone and quickly came to really enjoy my peer mentor group and everyone in the cohort. Being around people with the same interests and passions as me makes me feel like I have a real home within the Hopkins community and introduced me to so many amazing and inspiring people. The talks were really interesting and while they were difficult to discuss at times, I valued the fact that we felt comfortable enough to share our true opinions and have honest conversations. During the scavenger on Wednesday, a bottle was thrown at our group while we were waiting for the metro in Mondawmin. While this was a bit jarring and confusing, it opened an important discussion within my group. We realized that we looked like tourists in the neighborhood and it can seem like we are making the city turn into a joke by running around taking pictures with sites in areas that are valued by its citizens and by those who can't just take pics for fun and then leave. And while of course that was not our intention and we loved being able to learn more about Baltimore's history, it is important to recognize how we come across, which definitely was discussed thoroughly with the panelists. It was scary that someone had the intention of harming us because we were "outsiders," and it is important to recognize that there may be other scary incidents that occur during our time within the city during the summer, especially if we are by ourselves. Baltimore is a very segregated city and there is a lot of tension between those that clearly stand out, such as Hopkins students, and the city's residents. However, we also have to remember that a lot of people have good intentions and want more help within the city, even by Hopkins. A group of people sitting by us in the metro immediately told us to move in and apologized for the other person's actions, and when we were at Poppay's Bakery one man stopped and talked to us for a while regarding the sit-in and the history of Pennsylvania Ave, as well as inviting us to a community meeting. We cannot go into the city with the idea that we will be harassed and we have to expect the good in people. Remember: assume best intentions. We just also have to be aware and alert of how we may be perceived. I can't wait for the rest of the summer and to continue growing with this group.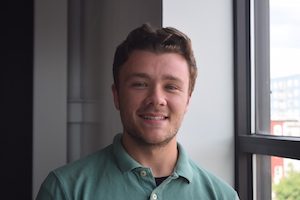 DEVIN LUCAS | THE INTERSECTION
Orientation this week presented me with lots of interesting yet challenging things to reflect on personally. The activities that centered around defining our own identities proved to be the most difficult for me. Because of various things in my life, I struggle with maintaining a concrete sense of self. When we were asked to label parts of our identity, I just sort of blankly stared at the paper. I began to write things down once the group started to discuss what they wrote, but it was somewhat disconcerting that I could not think of anything while brainstorming alone. This got me thinking about how do I define myself. Some of the words that were thrown around were brother/sister, daughter/son, and heterosexual. Many of the things applied to me, but they didn't feel like a significant part of my identity. This was challenging because I noticed that I did not have an actual definition of what someone's personal identity should be; is it about how they view themselves, how others view them, what things have had the most significant personal impact, or something else entirely. I haven't come to a real conclusion on this topic yet, but I am grateful that we discussed it. I will definitely continue to think about it throughout the summer in terms of what defines me and what role that plays in establishing my place in social groups.
The best part of orientation wasn't a specific activity or exercise. I think it was just getting to know everyone and be part of a group of people who were so accepting and genuine. For the most part, I never felt afraid or self-conscious about speaking up to express my opinions or discuss my experiences. I felt oddly comfortable with everyone, and it was strange to think that I just met most of them for the first time a day or two before. I felt like this allowed me to grow as a person from the experience and truly get the most out of the orientation as a whole. I am looking forward to how these relationships grow and develop throughout the summer!
MOUFI ADEDOYIN | CITY SPRINGS ELEMENTARY/MIDDLE SCHOOL
Coming into CIIP I did not know that their would be such a great focus on the cohort being a community of friends and networks. I enjoyed talking to all my peers and learning about people that I would see around campus but seemed liked I would never really cross paths with. I'm excited to continue to do things together throughout the summer and make deeper connections with the cohort. This week has really challenged me to think about why I'm doing service and what my own mission is. Learning from others about what they hope to get out of the program inspired me to go beyond the surface level but also to realize that I wanted to join CIIP to give back to the city that has given me so much. As I go through the program I want to learn more about my passions and what keeps me drawn to nonprofit work.
VICKY CHEN | CODE IN THE SCHOOLS
I wasn't sure what to expect coming into this orientation. While I was deeply interested in learning more about Baltimore and the social issues that surround it, these are not fields of study that I'm used to. But, I was instantly drawn to how warm everyone in the cohort was and how easy it was to have these big conversations with. I was very moved by the speakers and learned that Baltimore is a city of heart, where people work tirelessly and passionately to find solutions.

My biggest challenge of the orientation was the scavenger hunt. We spent much of the day learning about Baltimore and going to places we wouldn't normally, which we enjoyed. There was an incident at the subway station where a group of kids upstairs threw a water bottle down toward us while we were standing on the platform, with the water bottle luckily not hitting any of us and landing in the tracks. My peer mentor group and I initially didn't think much of it, but through greater reflection and conversation with each other we began to think about the context of that incident: how out of place we must have seemed, how inappropriate it must have been to treat these communities like tourist destinations. I discussed these challenges with friends when I got home to be met with the comment: "This is why I don't really believe in social entrepreneurship." What??? The comment was upsetting to me, and I started to wonder if there was a hint of savior mentality and unproductive impositions to all of the work we were doing. This is a question I'm still grappling with, but as I reflect on the week I still firmly believe in the initiatives that are being taken to find solutions. I'm excited to learn more as the summer goes on.

Tags: Bard High School, Child First Authority, City Springs Elementary/Middle School, Code in the Schools, Education, MERIT, Robert W Coleman Elementary School, The Intersection, Youth Advocacy