2019 Week 1: Community Arts Programs
Posted: June 20, 2019
SEHEJ PARMAR | BALTIMORE YOUTH ARTS
"We can do better than prison."
If you get off the JHMI at the Southbound Peabody stop and walk a little down towards Mercy Hospital until you hit West Mulberry Street, turn right, pass two street lights and walk to the end of the block, you'll hit a vibrant blue door. If you're lucky, you'll have the password, punch it in and then use your entire body weight to budge the door open. If it's after 11 am on a weekday, Leisha, Gianna, Warren, or Bomin will have unlocked the second door and you'll enter an art studio/office/classroom sort of area with a large, majestic window on the left side facing the street. This was all of Baltimore Youth Arts (BYA) in 2015. This was where the mission began – to provide artistic and professional opportunities to young people, specifically those involved in the criminal justice system. Fast forward 4 years to the present day and you'll be able to travel downstairs to find an office area that opens up into another art studio and you'll be able to travel upstairs to find a third arts studio. No matter what room you visit, you're guaranteed to find the words "We can do better than prison." You'll find it on the wall, on tote bags, on shirts, on paper, on anything and everything you can write on. I suppose it is meant to serve as an emphatic phrase of defiance for society to hear loud and clear about Baltimore Youth.
I've been thinking about that phrase a lot and consequently, during bites this week, we focused on Baltimore youth and the education system in Baltimore City. We talked about how it is set up so that kids who are poor, and very often black, are more likely to fail. This failure is due to no fault of their own, but rather due to systemic issues that followed the desegregation of schools, which was meant to be a good thing but instead lead to zoning in schools and neighborhoods, leaving many schools in Baltimore city, majorly underfunded and emaciated. It is not a kid's fault they were born in a low-income household headed by a single mother who is struggling to afford regular doctors visits, baby food, or other social needs that can affect early development in kids. It is not a kid's fault if going to school is a rare occurrence because the only school they can afford is many miles away which to get to, with no school bus in the area and no access to a vehicle, they must use untimely and unreliable public transportation. On top of that, this public transportation may pass through the more dangerous, crime-ridden areas of Baltimore where they feel unsafe – choosing between school and safety is not a decision any kid should have to make. It is not a kid's fault if their school is an unwelcome, maybe even hostile environment where teachers are constantly changing, infrastructure is crumbling, and the vibe is "you're not gonna make it anyways." The school-to-prison pipeline is real and weighs heavy on the shoulders of Baltimore Youth. And if anything, we need to stop blaming youth and start supporting them. This is the BYA mission I feel so in touch with.
June is prep month for BYA and July is summer camp month. I've realized that I am not so much of a fan of prep month and really cannot wait until camp month when I will be directly working with Baltimore youth. This past week of prep month, I have been working on grant writing, inputting data on the youth into large databases, and creating a job readiness curriculum. Prep month largely entails a desk job where I spend most of my time on a laptop and to be honest, my mind often feels numb from the repetitive nature of the work. I can only suppose that this is what happens when the work you do becomes so far removed from the direct purpose of your work. Hopkins students might relate to how constant pipetting during bench research can become mind-numbingly boring, but remembering the purpose of the research, whether it be to improve cancer drug treatment, shed light on the role of the gut microbiome on various psychiatric disorders, or understand the effect of sleep on adolescen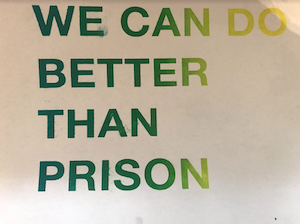 t neurodevelopment, is what is so gratifying about it and keeps you going.
That is why I am thankful for the walls, tote bags, shirts, paper, and anything and everything else that harbors the phrase: "We can do better than prison." Yes, it serves as a defiant declaration to society, but it also serves as my constant reminder of the purpose of my work. That phrase reminds me that the work I am doing, no matter how small it may seem in the short-term, is necessary because it plays a part in keeping this amazing community-based organization running and open for Baltimore youth, who need support amidst the systemic problems pushing down on them or a reminder that THEY "can do better than prison".
NIKKI GARCIA | LIBERTY ELEMENTARY SCHOOL
Bright and early Monday morning, I didn't know what to expect when I walked through Liberty Elementary's doors. I was immediately greeted with warm smiles from the parent volunteers sitting at desks at the school's entrance. Mr.Manko introduced me to all of them, including a lovely, older volunteer who he called the 'Liberty bouncer' thanks to her role of making sure that everyone walking through the school's doors is meant to be there. Mr.Manko and I were accompanied by another Baltimore City teacher who was tasked with shadowing a principal for a day as part of his Master's program. This Baltimore City middle school teacher shared his unorthodox experience with Teach for America with me. He offered some book recommendations including titles such as Ain't No Makin It, Why Johnny Can't Read, and Five Dysfunctions of a Team. They are now on my summer reading list, which I am not likely to get to until Winter Break, but I am looking forward to it nonetheless.
Each day I have compiled a list of topics, organizations, or theories that come up which might merit some further research. Some topics that made it on the list for the first week include Open Space Schools, Mindful Moment through the Holistic Life Foundation, Restorative Practices, City Year, and many others. During the few minutes of downtime I have during the day, I look up information on an item on my list.
Most of what I am learning at Liberty comes from sheer observation. I have been lucky enough to witness a peer mediation, the use of a program called ClassDojo in a 2nd grade classroom, and a meeting with Child First Authority as well as trained Reading Specialists. The Peer Mediation was unlike anything I had seen before. I have told Mr. Manko that, because I haven't worked at an elementary school before, I have been comparing Liberty to my own elementary school experience as a student in Miami. Liberty and my own elementary school have proven to be very different, however, I can't tell whether this is due to regional differences or simply that things have changed in elementary schools over the last 12- 15 years. Regardless, I am positive that my elementary school had never heard of, much less employed, peer mediation groups. I was so impressed by the decorum of the student mediators as well as the students in conflict who requested the mediation. It takes a certain level of emotional maturity to request mediation for an issue you are having with another person, so it was even more impressive to see elementary school students make that decision on their own. Yes, the mediation was somewhat scripted, but it was all very productive, and the two students who had been in conflict resolved their differences, shook on it, and signed the mediation form. It seemed to me a peaceful way to engage students in conflict resolution and not only to engage them, but place them at the forefront of the process.
Two afternoons out of the week, I visited Mr. Chandler's second grade class. They were learning about different artists including Marianne Anderson and Jackson Pollock. Mr. Chandler was also conducting individual literacy assessment so he often assigned work that the students could do without his guidance. On the SmartBoard, there were avatars with the names of all the students in the class. I noticed, after a while, that either a positive or negative sound would come from the SmartBoard's speakers. When I finally looked up to check what the sounds meant, I realized that Mr. Chandler was awarding or taking away points from his desk for things such as 'disrupting the silence', 'not doing assigned work', and other behaviors. Likewise, students got points for 'excellent behavior' and other things worthy of praise. When I talked to Mr. Manko about this program, he told me that there is an extension which allows parents to download an app onto their phones where they can see how their students are doing throughout the day. Not only is this program pretty clever, but it has the added potential of engaging parents' in their students' behavior throughout the school day.
On the topic of student behavior and discipline, I have noticed some key differences between the way Liberty administration handles disciplinary issues and the way my own elementary school did. When teachers notice that a student is beginning to behave a certain way and might have a break down soon, they call it into the office and a mindfulness specialist of some kind comes to get the student. They work on some breathing exercises with the student. In the week I have been at Liberty, I have not seen a single teacher give out a detention. I have, however, seen students in Mr. Manko's office talking over their choices with him. He walks them through what happened and allows the student to come to the conclusion that what they have done was wrong, and that they knew it was wrong. I have also noticed that when students are asked what they did or what happened to get them sent to the principal's office, they are impressively and objectively honest. They don't lie or try to omit information nearly as much as I would expect from elementary aged kids. I have a feeling that this honesty is a result of the way disciplinary issues are handled at Liberty. Students know they will have a caring adult talk through their situation with them and have no fear of harsh repercussions.
I could go on and on about all the new things I learned at Liberty in the first week I was there. I cannot wait to see what other new things will come my way. This is going to be a wonderful summer working with Mr. Manko, Ms. Krauss, and the rest of the team.
JEVON CAMPBELL | DENT EDUCATION
This week in my Bites of Baltimore session this Thursday it was led by Keone, one of the peer mentors in the CIIP program. In our Bites of Baltimore session that Keone led he presented on the education system in Baltimore city. Some of the information I already knew already but a lot of the information was new to me and useful but a bit upsetting to learn about. It was really alarming how drastically different the distribution of the budget is in Baltimore city compared to the other surrounding areas and how much less of a percentage of the money the education system gets. I also found it striking to hear how certain areas/schools can get better funding in the city than others and to hear one of my fellow CIIP interns, who was a Baltimore native, describe how it was no coincidence how her elementary/middle school, which was one of the best performing in the city was surrounded by like four private schools, meaning that there were richer and more white people in the area. These facts reminded me of a story I had seen not too long of a person who was struggling to pass classes in high school and then went to a community college and got a 4.0 and the difference was just that they finally had a bed to sleep on. A lot of times performance has nothing to do with intellect, as there are numerous students in Baltimore City that are as smart as students in other surrounding areas, but sometimes it is just the conditions and lack of access to resources that heavily effect the students performance and sometimes those challenges they are facing are not seen or accounted for when their performance is being assessed. This systematic inequality is especially upsetting when the causes seem to have clear racial undertones.
ZAKIYA CARTER| 901 ARTS
The importance of the arts within the school curriculum has been evolving for some time. Before there was a priority given to STEM-based learning, but now STEAM is realized to one of the best ways to give students a well-rounded education. This week, the drumline of 901 Arts was invited to the National Aquarium to perform for the Grade A student night. There they got the chance to have a tour of the facility and got to perform alongside some awesome stilts people. It was amazing to see how well they worked as a team and cooperated with one another even when not playing since they learned to work as a team during performances.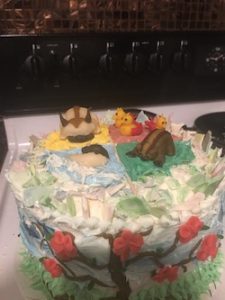 It was their creativity and love for music which brought them to this opportunity. However, some schools lack the resources to provide the chance to spark this excitement. There is an unbalanced distribution of wealth within schools which we learned about during our bite session. And even with the new proposed legislature, lots of the problems with these underfunded schools will not be addressed. If students aren't even getting the bare minimum then they will not have access to what some deem as elective subjects. Making sure all students have the ability to properly learn in a well-designed facility with well-equipped staff is essential for their development. As many people say "the children are our future" and we need to make sure it is a future built on a strong foundation. Art is something that is both abstract and tangible. Even after not doing a certain medium, there is muscle memory and one can translate skills used from art into other areas. Art is the foundation of all careers and there needs to be a greater importance placed on its role so students will continue to have access to space to create.
EMMA ELIAS | WIDE ANGLE YOUTH MEDIA
"You're not wearing the headphones?" The three recent high-school graduates I'd been working with looked at me standing next to the boom mic, the headphones slung around my arm. As we all started cracking up, they informed me that I was supposed to be checking the sound, which required that I actually listen to the sound being recorded. That made sense.
What made a lot less sense was the issue that the students were responding to in their video. They were recording their own discussion of a proposed Baltimore city budget that would allow rec centers in the city to all be open on Saturdays. One student saw this move as a step in the right direction and said it's "better late than never." The other two wondered why, after so many years of youth having nowhere to go after school, the city had taken so long to propose this type of measure. "Thanks, I guess," they wrote on their Instagram page.
I guess I was thinking more like the second opinion. Where does the city expect youth to go? When regional shopping malls impose curfews to prevent people under eighteen from entering malls without an adult or when police surround Inner Harbor because youth have caused, as reported by the Baltimore Sun, "ruckus," where do we expect Baltimore's young people to go when it's their city too?
Hearing and reading stories about the mall curfews, the police at Inner Harbor, the Central Park Five, and other stories of youth being stopped by police made me wonder- why are we treating our young people, particularly those of color, like criminals? It makes me feel not only frustrated and angry but really just heartbroken.
That being said, I feel motivated to do more for my organization, where the goal is to empower youth through artistic expression, and the students I've been working with give me hope. They gave me hope when I asked them to describe the social media campaign they're working on and they gave a beautiful response about their goal to rewrite the narrative about Baltimore youth and encourage artistic expression.
When we finished filming their conversation about the rec centers, they asked me how long the recording was. It was ten minutes. They groaned at the prospect of having to edit the video because Instagram could only let them post a one-minute video. Youth voices need more time than that.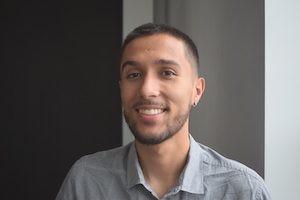 GABE SILVEIRA | JUBILEE ARTS
One of my tasks this week was to walk around Sandtown and hang free art-class coupons on people's doors. I know we've talked about Baltimore's vacancy issue before, however it was still pretty surprising seeing block after block of abandoned homes– especially in a city with a high population of people experiencing homelessness. Nonetheless, getting to walk around and talk to the community about Jubilee was really fun and helped me actually connect with the people in Sandtown a bit better. It felt completely different to be walking around Pennsylvania Ave actually doing my job rather than sight-seeing on a scavenger hunt.

Tags: 901 Arts, Arts, Baltimore Youth Arts, CIIP, ciip 2019, Dent Education, Jubilee Arts, Liberty Elementary School, Wide Angle Youth Media, Youth in Business