2019 Week 1: Environment & Food Access
Posted: June 20, 2019
CARRINE KING | STRENGTH TO LOVE 2 FARM
This week was not what I expected it to be at all. It's pretty crazy how much can happen in just 5 days. When I first walked onto the farm I expected to get some sort of orientation or speech about what was expected of me or what the day-to-day schedule was like— but no. I walked up to one of the workers and told them that I was volunteering for the summer and was literally handed a knife and led to a bed of radicchio lettuce (yes, this was the first time I had heard of it too) where I was taught how to harvest it. It was amazing because I got to jump right into the nitty gritty farming life.
By Wednesday I came to realize that there was no day-to-day schedule or routine that I would follow, I would just be told to go with someone and help them out. That's how I came to meet Tony, one of the workers who had been at Strength to Love for about 3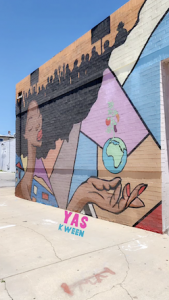 years. He decided to take me under his wing and start teaching me how to do a bunch of stuff around the farm. While many people decided to blast music and sing a little song or do a little dance while working, Tony and I just talked. He told me about his life and how he came to be in Baltimore (he's originally from the Virgin Islands). He told me how it was a culture shock when he first came to the continental U.S. because he hadn't experienced racism or discrimination before and how it was a pretty big culture shock for him as he navigated his way through all of that. We also talked about the current situation of the neighborhood that the farm is in. It's not the best area and at first all I could see were the negatives— the trash, the drugs, the "danger"— but as we talked I started to realize that it wasn't all bad. There were some good people doing their best to live their best lives.
The best thing about our conversations twas that we're we able to talk about some important issues but we also just talked about life. Tony would tell me about how he was lit back in the day and would emphasize that I should live it up while I can. I came to find out that Tony was going blind and that he was completely at peace with it because he lived his best life, experienced a bunch of things and had no regrets.
As I finished my first week at the farm I realized that it was nothing like I expected. I thought the best part about working there would be learning anything and everything I could about farming but I was wrong. The best part will be the people, the people working on the farm and the people in the community. It's amazing the impact they've already had on me.
TEAGAN KIM | BLACK CHURCH FOOD SECURITY NETWORK
Obviously, the most pertinent social issue that the Black Church Food Security Network deals with is food insecurity. But food security has to do with a lot of other social issues, like income inequality, land zoning, transportation, and redlining. One experience I had this week was with the intersection between food insecurity and income inequality. Every Wednesday, BCFSN tables at the Govanstowne Farmers' Market, located at York and Beaumont. We promote our volunteer opportunities, our own farmers' market, and our fledgling local currency, the BNote.
The Govanstowne Farmers' Market is run out of Loyola University's Public Safety Lot, and it sits just at the edge of Loyola's campus, right up against the Govans neighborhood. The Public Safety Lot has these big black gates and is filled with Loyola security vehicles, so I imagine it's a little imposing to the Govans residents that the market is trying to reach. And there seem to be other divides between the Govans residents and the few Loyola affiliates: the Govans residents come earlier in the day, and they pay with EBT, buying tokens from the front that they can use to pay vendors. The Loyola affiliates come in the late afternoon and use credit or cash.
Observing all this was incredibly interesting to me because it seemed like a solid, well-intentioned initiative, but there were still noticeable divides among the different groups that attended the market. What this means for our organization tabling there, I'm still not sure.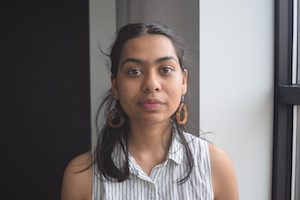 ADINA JAHAN | NO BOUNDARIES COALITION
The area that I work in — Sandtown, is in a food desert, meaning there is very little access to healthy food in this area. I knew this prior to starting my work there, but this became even more evident during my first lunch break at my site, when one of my coworkers told me he had to drive to a different neighborhood to find some fresh fruit slices. There are many places to eat on Pennsylvania Avenue, and the food is affordable and tasty, but it is not healthy. And there is a great deal of demand for healthy food. On Saturday, when the No Boundaries food stall opened at 9 am, called "Fresh at the Avenue," there was a wave of people, scrambling for the produce. By 10:30 am, many of the items at the stall had sold out. The people who came earlier seemed to be the more loyal customers who knew the drill. Throughout the rest of the day, many more people stumbled into the stall, many of whom were first time customers, attracted to the space because of the music blasting through the market from our speakers. The space gave off a great energy, and the people who came in were laughing and dancing and cracking jokes, even early on a Saturday morning. I also noticed on my first day at the stall that many of the people buying produce at the stall were EBT customers, which meant they received a 50% discount on their purchase. They were able to buy a huge quantity of high quality fresh produce for a very affordable price, and I am happy and proud to be working for an organization that makes it part of their mission to make healthy food so accessible, in such a welcoming, beautiful and inclusive space at the Avenue Market.
BENTLEY ADDISON | GREATER BAYBROOK ALLIANCE
The day before I began my internship, my boss emailed me a time and address for an event she only described as being attended by Governor Larry Hogan. In the next day or two, I received from her a forwarded invitation, proclaiming that the event was a celebration of "Project C.O.R.E."'s demolition of its 4000th "unit of Blight" in Baltimore City. I was a bit uncomfortable with this wording, as blight seems to connote the diminished humanity of those in or near the blighted spaces. However, my boss explained to me that this event was one of those things that, while she personally disagreed, was important to the organization. Plus, she added, people from all over the city who play important roles in community development and do work around housing would be there, so I'd put plenty of faces to names and make important connections.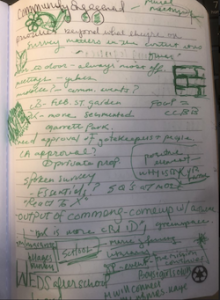 The event was at 11:00 on Thursday morning, so my boss said that I could just start my day by showing up there. The event was located in East Baltimore, in a neighborhood not too far from the Johns Hopkins Medical Campus called Broadway East.
I was dressed in my usual work attire, so I stood out from the people I saw as I walked to the address I'd been given. As I got closer to the address in an unfamiliar neighborhood, I began to field questions from residents who had correctly assumed from my outfit that I was going to Hogan's event. "What's going on over there?"
I gave my best brief summary of the event as I could, and continued on my way. This happened several more times on the block before I turned onto the street the event was located on.
As soon as I turned the corner, I knew why. I was expecting to see an office building at the address I'd been given, a place where I'd hear a bunch of men in suits patting themselves on the back for solving Baltimore's problems. Instead, I came face-to face with a huge bulldozer and a crowd of people.
The event wasn't a ceremonial "Congrats for demolition 4,000!," it WAS demolition 4,000.
An entire city block of row homes was slated to be destroyed that day, and the people living two blocks away had absolutely no idea.
This happens a lot in Baltimore. I've heard of residents of neighborhoods destroyed by EBDI hearing from the news that they'd be forced to leave their neighborhoods, and of residents of housing projects in Baltimore realizing that the city was demolishing their homes and offering them insufficient compensation.
In this space where the largely Black, largely poor, residents of Broadway East knew absolutely nothing about what was happening in their neighborhood, a gaggle of men in suits and ties knew exactly what was happening. Too often in this city are decisions, and even knowledge of decisions, left in the hands of people miles away-literally and figuratively- from those the decisions impact.
I think my work this summer is doing something to fight against this trend. My main project is going to be, through huge amounts of community engagement, to create a guide to community engagement as it relates to creative placemaking in the Baybrook community, hopefully helping to recenter the voices of actual residents. There's always that fear, though, that I am just another unimpacted man in a suit (even if I'm not wearing a jacket).These dynamics are something I'll be continuously returning to, as I try my best to erase the systemic decentralization of marginalized Baltimoreans this summer.
KIAHNA REVAN | BALTIMORE GREEN SPACE
After reading up on the papers that the founder of Baltimore Green Space has helped write, I have come to develop a deep appreciation for the work that the organization does which is provide land security to community gardens and urban forests. More often than not, gardens are birthed from a community member who is tired of seeing a vacant, overgrown lot. These lots then transform into something beautiful that unites the community and results in a lot of net positive benefits to the neighborhood, but, unfortunately, there is the risk of the owner of the lot selling it to developers. To avoid this, the green spaces can apply to be protected by Baltimore Green Space, which provides them the land security they need to ensure that this does not happen. The other half of the work that Baltimore Green Spaces does is preserve urban forests. These forests are sometimes spread across multiple lots meaning that it is split amongst multiple owners, increasing the risk of fragmentation if an owner decides to cut the trees off their lot. Because the regulations regarding forests only applies to those grater than 10,000 square feet these urban forests are usually forgotten, but thankfully BGS has done a lot of work to defend their right to be protected. In many ways, BGS is a trailblazer in the field of urban forests and I am super excited to stand as witness to it. BGS's work is based on the fact that these community gardens and urban forests provide an area of solace, community-gathering, and education. Multiple studies have shown the direct and indirect benefits gained from having accessible green spaces, such as improved health outcomes and reduced crime. Everyone should be afforded the right to be able to enjoy and access these spaces and BGS is working to make sure that this becomes a reality.

Tags: Baltimore Green Space, BCFSN, Black Church Food Security Network, CIIP, ciip 2019, Fresh at the Avenue, Greater Baybrook Alliance, No Boundaries Coalition, Strength to Love 2, urban farming