2019 Week 1: Family Wellness & Services
Posted: June 20, 2019
EILLEN MARTINEZ | ESPERANZA CENTER
On Monday, a mother of three comes to see us on her only day off of the week. She's had piercing headaches for months. With the kids and her job she just hasn't had time to come in. I tell her she is strong. She smiles, "Tengo que ser fuerte. Tengo que." She picks herself up. It's time to pick up her kids.
Tuesday, a 24 year old has the first doctor's visit of his life by coming to see us. 2 years ago he experienced a head trauma that left him unconscious for days in his home country. He couldn't afford to go to a hospital there. He's been gradually losing his sight and living with stabbing migraines for two years. He's a construction worker and has had steel nails puncture both his feet, giving him a limp. He came because he couldn't work anymore. We asked why not sooner. "Tenía miedo. No puedo pagar."
Wednesday, we only have one volunteer doctor. We turn away 13 people.
Thursday, a man arrives after 11 days in a detention camp. There's black under his nails. He's the kind of tan that means he toils under an unfriendly sun. He waits patiently for his turn to talk with our front desk staff. We've reached our maximum capacity for the day. But we can't bring ourselves to turn him away. Yani, one of our staff whispers to me, "Me parte el corazón. Le puedes ver las manos…es un señor que solo ha trabajado en su vida." All he's done in his life is work.
Friday, I attend an event hosted by ERICA. They put me in contact with one of their clients, a young man recently arrived from Guatemala. He's taken aback when I greet him in Spanish. A kind of surprise that tells you he maybe hasn't heard it in a while. He tells me of the loneliness of living in North Baltimore. There's tables of food at the event. He doesn't eat.
——
These encounters tell me there is work left to do to support immigrants in Baltimore. One of my coworkers this week said that the work we do is impactful, but it is only a bandage over a bigger problem. It is easy to feel discouraged in our work, to focus on those we turn away and the people who don't come back. Easy to get bogged down in the trauma and barriers that seem insurmountable.
I'm left now clinging onto something that Valeria Fuentes, an immigrant artist at the ERICA event said to me. She told me that too often we focus only on the trauma of immigrants. What of the celebration?
To do the work, it's necessary to remember to stay rooted in the hope we (as Esperanza staff members and Esperanza Center clients) impart to one another. Remember how the mother smiles when she talks about her toddlers she's picking up from school. How the man with the concussion laughs about the soccer ball that knocked him out. The fact that a man who's just been released from a detention camp feels comfortable to see us. We get to look him in the eyes and say, we see you.
EDWIN ARRIOLA | CENTRO SOL
This week I helped organize an event held by Centro SOL called "Breaking Barriers Step by Step". This was a photovoice exhibition, using photos to narrate the lives of Latinos in Baltimore and show the local advantages/barriers to Latino children in terms of food and obesity. It was an interesting exhibit because Latinos usually face a language barrier when trying to communicate concerns such as their experiences with child health and obesity. However, the photos that were at the exhibit were able to express these experiences visually. I assisted the event by taking pictures of some of the attendees with an Instax, one of those cameras that prints photos on the spot. The people who attended the event were extremely kind and spoke to me as if I were another member of their family. The kids chased me around the room to take photos of them and all said goodbye or gave me high fives as they left.
After the event, I stayed and cleaned up with the rest of the office. The thing is, our office is only made up of about 6 people. I remember reading about all the things Centro SOL does, educational events, healthcare support, and research. So I expected to join a huge team of people. However, many of my co-workers wear multiple hats and take on two to three projects at a time. I think it's impressive that they can take on so much. Being part of a small team like this makes my work feel like its making an overall larger impact in the organization. I'm also able to be closer to my co-workers, who are mostly recent graduates. And while sometimes my job for the afternoon is making calls or answering emails, I know that it makes a larger impact on the goal of creating equal opportunities for Latinos in Baltimore.

FATIMA KAMARA | MOMCARES
Week 2: As it was getting closer and closer to Monday, I started feeling more and more anxious about my official first day on the job. I had just finished orientation – a week jam-packed with tightly scheduled workshops, presentations, panels, and discussions – and I was preparing to enter the unpredictable world of nonprofit management as a new intern.
On Monday morning, I arrived at Dorothy I. Height Elementary School bright and early, greeted my supervisor, and got right to work. We walked into what turned out to be a meeting with school officials to organize the logistics of the MOMCares Young Mother Program. She introduced me to them and tell them they'd be seeing a lot more of me this summer; this pretty much set the tone for a lot of introducing myself to fellow colleagues, interns, volunteers, and more throughout the week.
The rest of the week was just as fast-paced as we hopped from meeting to meeting, getting work done in between them. I am so grateful that I was given the opportunity to listen in on these meetings because not only did it give me a better idea of what the organization entails, but it also gave me the chance to see exactly what it means to work in a community as an active member. Of course I was learning as I was writing notes, sending emails, making phone calls, and fulfilling other tasks, but I wouldn't have truly understood how the mission of Baltimore City WIC Office may intertwine with that of MOMCares for instance, or how important having influential connections are when it comes to getting doula compensation legislation in front of the right people was if it wasn't for being granted the opportunity to simply be present in the room. This has given me the courage to step out of my comfort zone by interacting more with people in my community because sometimes it takes a village to implement the change you want to see in the world, and I would really like to be a part of that village.
CHARLIE NGUYEN | EPISCOPAL REFUGEE & IMMIGRANT CENTER ALLIANCE
To be honest, this week started out a bit rough. One of my fears coming into the program was having never worked a full-time internship before, and it certainly took some adjustment to get used to my schedule. It also happened to be an abnormally busy week, with our annual fundraising event, Picturing Home, taking place on Friday. In a sense, this made for an unusual introduction to the internship. Rather than spending time getting acquainted to a typical day at ERICA, I immediately started with creating a program flyer for the event and printing out bid sheets for the silent auction. The rest of the week consisted of phone calls and crossing off tasks from our event to-do lists.
But on Thursday, in the midst of scrambling to make sure we had the correct values for the silent auction items and arranging last-minute AV equipment the day before the event, I was given the opportunity to take a break to get a brief introduction to one of ERICA's newest and most significant projects: the Gilead House. Located just outside of Baltimore City, the Gilead House acts as a place of refuge for asylum seekers. Cognizant of the intersection of hardships faced by asylum seekers and already-existing issues related to housing, ERICA and one of its church partners removes the housing barrier so that asylum seekers living there can focus on rebuilding their lives in the United States. I was able to accompany Betty to a small celebration at the house, where we congratulated one of its first residents' on graduating from the program. In doing so, I spoke to not only members of the church community who were dedicated to supporting refugees and asylum seekers, but also residents of the house themselves. Despite not having much time for conversation during my short visit, I found myself in the car ride home reflecting on the differences between how asylum seekers are often portrayed compared to the real stories I got to hear: the fact that asylum seekers are people, each with individual personalities and ambitions that can't be collapsed into a single label. The car ride also provided me with the opportunity to hear more from Betty with regard to why she continues to devote so much of her time to ERICA. Hearing her knowledge, passion, and even frustration as she was speaking about the stories she hears from our participants was inspiring, and I can't wait to hear more as the internship continues.
Freshly motivated, I ended my week with the fundraising event. The challenging start to the week became worth it, especially when it meant being able to enjoy delicious baklava and semolina cake from Mera Kitchen Collective, while listening to music from Conjunto Bruja, hearing insights from artist Valeria Fuentes, and seeing the faces of program participants, guests, and volunteers (shoutout to my peer mentor Eillen who was kind enough to come help out!) who were doing the same.
JACK SIMONE | CORNER TEAM BOXING
One of the things that we are working on at Corner Team this summer is cleaning up our side alley, it has long been a hotbed for prostitution and other illegal activity . Our goal is to turn it into a green space for growing vegetables and an outdoor workout space for Corner Team's patrons. It will be open to community members during the gym's usual hours.
On Thursday I was out working until late in the day taking measurements in the alley and starting the cleanup. While doing so a prostitute started walking towards the alley and then saw that I was there, stared for a moment and carried on. This was pretty heart wrenching for me for several reasons. Most of all it tuned me into the fact that regardless of how solid our mission is and how good out intentions are a cleanup effort like this one is going to displace people and disrupt lives. Maybe in the eyes of our society these people who we are displacing "don't really matter" or "are an obstacle to creating a safer community" but the reality is that they are still people. This experience has caused a lot of deeper thought and reflection for me and I'm still not sure where I stand. Knowing that I'm here to help but also realizing that we don't have the resources to help everyone that I encounter during the day has been hard.
Going forward I plan on looking for some organizations in the city that could potentially help these women. I'm also going to try harder to think about how there is no perfection in nonprofit work. There will always be something left to do but looking instead at what you accomplished in that day is a better path to take. Especially bearing in mind that you'll be doing it all again tomorrow.
ANGELA ZHU | ST. AMBROSE HOUSING AID CENTER
I am still trying to learn the ins and outs at St. Ambrose Housing Aid Center, but my first week here has already impressed upon me how crucial its services are to Baltimore residents. One of the programs that St. Ambrose has is Housing Upgrades to Benefit Seniors (HUBS), a program which provides home repairs to ensure that low-income seniors can continue safely living at their residences. I have accompanied my supervisor on several home assessment visits, in which she speaks with seniors to determine what repairs they need. Due to their health and/or financial situation, many of the HUBS clients have difficulty procuring repairs on their own. I found it especially heartbreaking to hear about several clients who tried to get hire unlicensed workers to fix their homes, only to have the repairman disappear with their money without delivering results. As a result, they had to turn to St. Ambrose for assistance. Previously, I never thought about the difficulty a senior would face if the home they owned, a large source of their wealth, became dangerous for them to live in.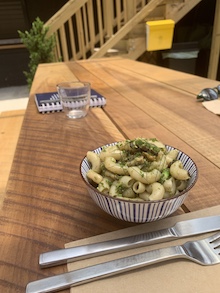 At orientation, one of Reverend Heber Brown's questions to us during his talk really stuck with me: In what ways is your work dealing with the White L and Black Butterfly (that is, the historic racial segregation lines that the city is split by). The reason White L and Black Butterfly formed was because banks considered majority-black areas to be poor investments, and as a result would not provide home loans in these neighborhoods. Meanwhile, majority-white areas received a great deal of investment and flourished. The discrimination of the past continues to have consequences for Baltimore City today. However, St. Ambrose's work is doing an important part in bringing resources back to communities that have historically been ignored. I've realized through the home visits that our clients really value St. Ambrose for its services. I hope that this summer, I can be a part of this work in ensuring that people can live safely in their homes.

Tags: Centro SOL, CIIP, ciip 2019, Corner Team Boxing, Erica, Esperanza Center, MOMCares, St. Ambrose Housing Aid Center