2019 Week 1: Healthcare/Health Policy
Posted: June 20, 2019
ROHINI VERMA | CHASE BREXTON LGBT HEALTH RESOURCE CENTER
If I could sum up my first week working at the Chase Brexton LGBT Health Resource Center in one word, I would choose the word: new. This week was my first week working a full-time job, my first week working in an office, my first time working for an LGBT-focused organization, and it was also the first time that I went to a pride celebration! To preface, whenever I'm in a new environment, it usually takes me a bit of time to come out of my shell. But, this week pushed me to change that. I think that might be the reason that I'm finding my placement so enjoyable. My goals for my first day were very simple: learn what the LGBT Health Resource Center (LHRC) does and memorize where the bathroom is. I've accomplished both of those (I think), and met many friendly faces along the way. In fact, I think that is what has stood out to me most since beginning my job. Every single person I have met in Chase Brexton has smiled at me, extended a greeting, and made me feel more at home. All the better to settle into the groove of pride prep. Although I learned that llamacorn (think unicorn but better) t-shirts are serious business when it comes to pride, my first week also gave me the opportunity to assist my supervisor, Kate, in a cultural competency training aimed at improving healthcare interactions between providers and trans patients. I loved seeing a room of adults excited to learn about turning potentially uncomfortable interactions into positive ones, and brainstorm about how their organization can be more inclusive. It also pushed me to reflect on my own potentially hurtful tendencies and think about ways to improve. I also had the opportunity to shadow Daurice, who among many other things, works with the Lunch and Learn program at the LHRC. Lunch and Learn is a program for LGBT elders. It provides elders a place to connect and just hang out while also learning about diverse topics and enjoying a catered lunch. It was a lot of fun! I got to learn about Baltimore's LGBT history while also preparing myself for running the Lunch and Learn program next month. And then came pride! On Saturday, I got to march in the parade with Chase Brexton, which was a wonderful way to experience my first pride parade. Just today, I tabled at pride in Druid Hill Park, answering questions, getting to know people, explaining what the LHRC does, and handing out free bags and pronoun pins. Writing this, I can honestly say that I'm tired… but SO happy. I can't wait to see what next week will bring!
SOPHIA LOU | KESWICK MULTI-CARE CENTER
During the community partner networking event at the end of orientation, my supervisor mentioned to me that I would be coming in during Keswick's staff appreciation week. At first, I thought this meant that I would be asked to help out with the events since I was an intern and didn't consider myself part of the staff, but my supervisor told me that I was part of the appreciation, no matter how new I was to Keswick.
As I expected, I was asked to help out with several events; on Tuesday, I checked in staff and handed them tickets to get ice cream from a local food truck; on Wednesday, I created posters for staff to sign up for ten minute chair massages; and on Thursday, I helped set up and participated in an event that involved Keswick staff receiving gift bags and assembling gift bags for dialysis patients as a collaboration with the National Kidney Foundation. Helping out with staff appreciation gave me the opportunity to be exposed and get to know the wide variety of staff and employees who work at Keswick, from the administrators whose offices I work alongside, to the incredible team of nurses and technicians who care for residents on a daily basis, to the hard-working security team whose friendly faces are the first to welcome me to Keswick every morning. It was a huge privilege to get to serve and celebrate the amazing employees as I got to know them and the hard work they do for the center and its residents this week.
However, staff appreciation at Keswick did not always include contracted workers, of which there are many at the organization. People who work hard at Keswick day in and day out, such as our security team and dining service providers, were not always on the lists that I checked staff off of as they received food during the week, and when I went to try to bring a gift bag to the security guard of the Wise & Well Center since he could not typically leave his post, the staff in charge told me the bags were for staff only but that I could bring him some of the food at the event. For me this drew out the inequalities that exist in job opportunities based on educational background; lower-paid workers often end up being treated unequally to other employees who may have worked there for just as long but began with higher educational background. I hope to continue to learn how I can use the educational opportunities I have been given to serve and lift up those around me.
REAH VASILAKOPOULOUS | BALTIMORE HARM REDUCTION COALITION
I really enjoy motivational quotes–covering my walls, my camera roll, any decorative spaces–to keep me moving forward. "Today I will make things happen"; "My future self will thank me for this"; "Bloom where you are planted"; "#ProudlyResisting." While these phrases can motivate me to finish writing an essay or push forward for social justice in some way, sometimes they just seem like empty words. Often, I feel like I am not living up to that motivated side of myself.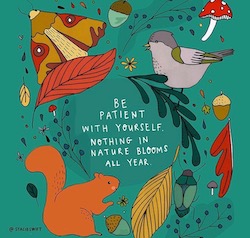 I keep one important quote saved as my phone background: "Be patient with yourself. Nothing in nature blooms all year." This is my consistent reminder of what it feels like to recognize my mistakes and truly grow. I intentionally remind myself that I cannot and will not be perfect, and that is entirely expected. Even with this reminder, I am still learning to be okay with imperfection, criticism, and the occasional mistakes.
Coming out of Week 1, I am feeling ready for the rest of the incredible work that will come out of this summer. My excitement aside, I am still feeling impatient with myself. I am impatient with both my self-doubt and my extensive awareness of everything else that needs doing. I am the type of person to say yes time and time again, but I am also the type of person to second-guess my ability to do the task that I've agreed to. Questioning my ability and knowledge, plus mentally listing all of the projects I am supposed to progress with, equals seemingly-unsolvable stress.
Can I help out with a grant? Yes. Did I sit in front of my computer for 30 minutes rewriting the same two sentences? Truthfully, it was more like 45 minutes. Can I support the demonstration overdose prevention site with supplies and resource connection? Yes. Did I get overwhelmed and confused when I had 3 incomplete forms from 3 different people and they were already leaving? Definitely.
Reflecting on these moments now, I am holding closely to the fact that sometimes things just need finishing. Perfection isn't attainable: nothing in nature blooms all year. My time is wasted if I'm doing one task perfectly at the cost of three others. I am learning to trust myself, just like my colleagues do, to do what I can as best I can. Patience, for the growth and learning I have to do, is the only way to move forward.
This summer will be full of patience, learning, and some balance of accomplishment and imperfection, and that's perfectly fine by me.
HILENA GEBRE | JOY WELLNESS CENTER
"Is this a new face I see?" a Shepherd's Clinic patient asked with a warm smile as she entered the Joy Wellness Center. "What's your name sweetheart?"
Oddly, I wasn't expecting to hear these words as I was seated at the front desk; it was only my first day on the job, and my perception of what working the front desk would entail excluded most casual friendly interactions. I was expecting to be a mere administrative figure, there to simply make and answer phone calls, organize the daily schedule and make program flyers from time to time. To my delight, I was extremely wrong. Here I was, being seen and welcomed so kindly and genuinely by a longtime community member—and many more in the days that followed.
Something that's been on my mind this week (cushioned in admiration) is the cost of the services that Joy Wellness provides. They're free! I'm talking the Yoga for Life Balance classes, the Meditation Made Easy classes, the Nutritional Education Classes and Cooking Demos…they're all free. It's not the mere fact of them being free that sticks with me—it's the immense difference that this makes in terms of the accessibility of tremendously health-altering services that are otherwise seen as privileges that only the wealthy can afford. It's expensive to see a nutritionist or dietician, and it is especially costly to routinely attend fitness classes. In my opinion, having access to services like these makes all the difference in being able to maintain a healthy lifestyle and prevent diseases. Preventable health conditions are unmistakably more prevalent in lower income communities, due in large part to the lack of access to health education among other things. By providing these services for free to the uninsured, Joy Wellness is taking strides towards mitigating this health disparity that exists between the upper and lower income classes in Baltimore—or, more fittingly, between the populations in the "White L" and those in the "Black Butterfly."
KRISTIN KNIGHT | SHEPHERD'S CLINIC
This week I discovered a lot of flaws in the MTA and in the safety of Baltimore transportation in general. During this week's Bites session, Claire gave a thorough presentation on the factors that affect the education of Baltimore's youth and two of those were safety in neighborhoods and transportation.
Many Baltimore public school students feel threatened by unsafe surroundings and therefore do not feel comfortable taking public transportation to school. My coworkers at Shepherds Clinic were telling me about a man who lives behind the clinic who holds a rifle as he sits on his porch and I couldn't help but think of that as a reason one would feel unsafe in their own neighborhood. Confrontations can escalate in situations where someone is holding a gun and I can understand why some children may be afraid to even leave their homes if they were to be confronted by someone like that. I am not saying that the man is innately dangerous but holding a gun that looks like a rifle while sitting on your porch can be a sign of aggression.
In addition to children feeling unsafe, the MTA is also not very reliable. In the morning, on my way to work, the bus is primarily filled with children and the elderly. My bus, which supposedly comes every 10 or 15 minutes shows up almost 30 minutes late some times so I prepare to go to work 45 minutes in advance. Another bus I was taking on my way home broke down completely in the middle of a dangerous intersection and wasn't able to move for another 20 minutes. I, personally, was not upset that it had broken down, but I did see it as another reason for why children may have difficulty finding motivation or even having the ability to get to school.
All in all, the presentation just made me think of different aspects that affect me on my way to work and how those factors could greatly affect children who are already attending underfunded schools.
CHANEL LEE | STAR TRACK
This first week meant a lot of settling in and adjusting to the workplace culture and rhythm at STAR TRACK. I spent most of my time this week helping to prepare for Pride, which took place this past Saturday and Sunday. On Saturday, I worked a long 9am-9pm shift, tabling the arts and crafts section and running the photo booth in the Youth Zone. I loved interacting and spending time with kids and people from all over the community. Admittedly, it was a very tiring but all the while meaningful day as it was my first Baltimore Pride. I had the chance to wave as paraders marched down North Charles, watch as beautiful contestants in glamorous outfits gave their best walk down the runway at Kiki Ball, and even sang along to some songs at the energetic block party and concert. Living in Charles Village, I often forget the vibrant gay community in Baltimore, and to stand alongside and be surrounded by such a lively and unapologetically gay group of people for the entire day made me reflect on the history of Pride and how queer people of color were at the forefront of LGBTQ rights activism in the face of so much adversity, discrimination, and violence, which unfortunately still persist today. To be in that space all day made me feel so empowered and proud. I truly felt Pride. To recap, this week was more-or-less a hodge-podge of odds-and-ends tasks, mainly for Pride, and at the moment, I don't feel like I am contributing to a larger, more impactful body of work, but now that Pride is over, I am hoping to delve myself into more meaningful projects this summer that will help me to widen my knowledge, develop my skills, and ultimately grow as a person.

Tags: Baltimore Harm Reduction Coalition, Chase Brexton LGBT Health Resource Center, CIIP, ciip 2019, Harm reduction, Joy Wellness Center, Keswick, Pride, Shepherd's Clinic, STAR TRACK