2019 Week 1: Neighborhood Improvement/Community Organizing
Posted: June 20, 2019
TURQUOISE BAKER | WAVERLY MAIN STREET
Having completed my first week of work at Waverly Main Street (WMS), I can safely say that my "first week butterflies" have dissipated. I now have a slight morning routine: I walk for about 15 minutes to the office turn on the lights and fans, sweep the storefront and answer emails. However, this is where the routine stops. Each day of the week brings a new challenge or opportunity that I am eager to experience.
Last week, I attended an evening meeting hosted by the Waverly Improvement Association at the Enoch Pratt Library. A few days later, I walked a few blocks to the Charles Village Benefits District meeting and met a few WMS board members. Later I was coordinating with website project managers to revamp the Waverly Main Street website. All of this happened in the first four days! However, my favorite day this week was Friday.
I've been living in a row house adjacent to Waverly for the past year, but don't know Waverly well at all. Sure, I'd walk through and go to Giant, maybe peek into a store every now and again, but that was about it. So when we put a table outside the office with free bags, waters and pens to hand out on Friday, I was excited, but extremely nervous. I'm a fairly awkward person, especially in new environments. Most people had never seen me before, and seemed a bit skeptical about my agenda and even the agenda and goals of the organization.
But after speaking to a few people, I became much more comfortable.
I met one woman, 75 years young, who lives in the same house that her mother bought over 25 years ago, who has dozens of grand- and great-grandchildren. She and her friend pointed at surrounding buildings, reminiscing about the time the one on 34th was a convenience store, or when Black people didn't walk through this part of town. I met a young man who wanted to start a car wash a few blocks down. I spoke with a Vietnam Veteran who had been struggling after the loss of a loved one. A few hours later, I saw him smile when he introduced me to his friend who was "like a son to him." I even met the man I always see outside of Giant, and after a year of walking past each other, we just talked.
I did not meet everyone in Waverly on Friday, but I'm glad I got to meet a few. Day to day, it's easy to get sucked into the administrative routines of meetings and spreadsheets, which are undeniably important. But it's also important to know the people you are working alongside and those who will be impacted by your work. I'm so thankful that I was given that opportunity
I have a lot to learn. And while I my "first week" butterflies are gone, the "second week" butterflies well on their way, and that's ok. I will keep challenging myself, and continue to do what I can to help and work alongside members of the community, and am looking forward to it.
BARAE HIRSCH | UNITED WORKERS
There are nearly 40,000 vacant buildings in Baltimore City (United Workers, Duncan and Zhang 2019). Unsurprisingly, the vast majority of those vacant homes are concentrated in East and West Baltimore — areas populated mostly by black residents — reinforcing a dynamic of inequality known as the "black butterfly," wherein the city's resources are disproportionately accessed by residents of the "white L" of central Baltimore as opposed to the city's east and west (Abello 2016). While thousands of homes stay vacant for years, still many Baltimore residents cannot access affordable housing, or are priced out of their previous neighborhoods by new development. If vacants are addressed, it is often through city-sponsored demolition, in an effort to reduce what is characterized as crime attractants and threats to surrounding property values in the form of vacant houses.
At United Workers, my placement for the summer, there is a different vision for the dual issues of vacant homes and lack of affordable housing. United Workers is working to create community land trusts, currently focused on East Baltimore, to establish community ownership of land, secure permanent and deeply affordable housing, and pursue fair development driven by resident needs and premised upon equity, universality, participation, transparency, and accountability. In the United Workers office — the basement of a church moonlighting as a collectively-managed organizing space — a sign reads, "what could a community do with a vacant house?" The possibilities are endless: a community center, a worship space, child care, recreational space, deeply affordable housing… so many opportunities for needed services could be fulfilled by utilizing vacant spaces beyond just demolition.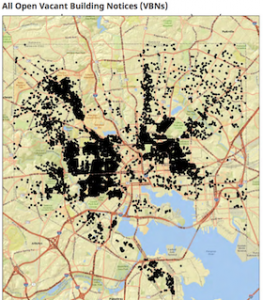 United Workers follows up with new members and people who have attended organizing events by making home visits, where organizers meet community residents at their homes to have a longer conversation about residents' experiences, concerns, and desires for their community. On one such home visit, my supervisor and I were near the Middle East neighborhood of East Baltimore when we met an older woman who had lived in the neighborhood since 1988. As she talked to us about the abundance of vacant homes around her neighborhood, how hard it is to own a home because the prices of houses for sale right next to her own are far beyond the reach of a working-class income, her older brother emerged to talk to us as well. He has been waiting for housing assistance since 1977, yet still has not received any aid in housing assistance or understanding the bureaucracy of government assistance. Poor residents of Baltimore are acutely aware of these manufactured problems, like homelessness and lack of affordable housing while tens of thousands of homes remain vacant and inaccessible, and are also aware that resources exist to support them. Yet poor residents are often structurally shut out of the conversation by way of confusing and complicated processes that make it difficult to access those resources, as well as the diversion of attention and funds towards other issues.
True to its name, United Workers is working to unite and organize these Baltimore residents and poor people to provide housing as a human right, hacking away at structural injustice through taking back the commons and building movement together. I am inspired by these organizers' tireless efforts, and the resiliency and vision of Baltimoreans. As a current resident of Baltimore, I am honored and excited to participate in the struggle for a more just city.
Sources:
https://nextcity.org/daily/entry/baltimore-vacant-properties-program-working
https://www.baltimoresun.com/politics/bs-md-ci-vacant-demolition-20190214-story.html
http://www.unitedworkers.org/principles_of_fair_development
JACOB TOOK | MADE IN BALTIMORE
From the first day of my placement, I went straight to work alongside my boss, diving right into Made in Baltimore's ongoing activities. I've learned a lot already about running a nonprofit, specifically in Baltimore, because I've seen the challenges that our organization grapples with up close. The team at my placement has been honest about difficulties like finding affordable space in the city, coordinating such a various network of members, and maximizing use from the resources accessible.
One thing I realized this week which will challenge me personally and professionally this summer is that nonprofit managers wear an ambitious number of hats. Just this week, we met with other local nonprofit leaders to discuss ongoing projects, potential partnerships, grant applications and more. We also dedicated time to coordinating our members, touring vacant retail space, managing the store, and building out my work plan for the summer — and that's just what I see. There are plenty of sides to running Made in Baltimore that I don't need to worry about, and I'm coming in after a number of people have spent years getting the organization to where it is today.
Specifically while building a plan for my main project this summer (engaging retailers in the membership network), I had to reflect carefully on just what I would feasibly be able to accomplish in such a short period of time — a few weeks feels like nothing when there's so much work to be done. I'll have to balance my position as an intern, staying focused on my own tasks while also paying attention to learn more about the other parts of running an organization like Made in Baltimore.
JANAYA BROWN | FRANCISCAN CENTER
I found a baby bird on the sidewalk this week as I walked to work on a gray rainy day. Initially, I believed it was dead and was going to keep walking by, without another thought. In a moment, the little bird kicked out its leg, so I rushed to its aid. Many people could have just walked by, but that is just not something that I could do. I rustled through my bag for a napkin or anything to pick up the little bird. Ironically, it was a pamphlet for the Franciscan Center that I received at the beginning of my work week.
As I gingerly walked through the rain, with this fragile package, I feared what my coworkers would think. How would they look at me for even picking her up? To my surprise, as soon as I walked in, my boss gave me a box to put her in and went to find a towel to help keep her warm and dry. This little bird nearly brought several of my coworkers to tears.
An hour passed, and my little bird began to open her eyes and flapped around the box. I began to think that by the end of the day, I could bring her back to the tree where I found her and return her to her home. Due to the busy nature of the center, I stepped away to do work elsewhere, letting my coworkers watch after the bird. An hour later, I came back to discover my bird had passed away.
Despite knowing that the baby bird was in bad shape when I found her, I still felt like I failed. I felt like I could have done more, moved faster, or thought differently at some point to save her. My emotional side took over and I was saddened by what happened. My coworkers, in this moment, gained so much more of my appreciation. As I moped about not doing enough to save the little life, a coworker told me something that will always stick with me.
The situation with this bird is an analogy to nonprofit work. Everyone who does this work sees people come in during the worst times in their lives. For our part, we take them in as they are and try our best to help in any way we can. We hope that our efforts allow them to succeed and live a better life, but there will always be times where that may not be the case. But in the moments that we spend with them, we give them a chance to feel heard, seen, and, most of all, loved.
KENNY VITTY | BY PEACEFUL MEANS
For peace camp there was not much to do this week, as the kiddos have not gotten out of school yet so the peace camp has not started. But I have been helping out as much as possible and in any way I can. My boss, her assistant, and I brainstormed a lot of really cool ideas for the camp which got me really excited for the summer to begin. I also went to blue bag Baltimore with Willah, her assistant, to talk with that organization to get the kids and their families some healthy food options. However, even with all I tried to do, there was a lot of unexpected free time which I spent by trying to do some of the reading that CIIP peer mentors recommended that I do. I spent all of Wednesday reading Between the World and Me and it was an incredibly visceral and emotional book for me to read. It definitely opened my eyes a lot. Also PRIDE was an incredible experience as well. Hanging out with CIIP friends and celebrating the LGBTQ community was an experience I will never forget.

Tags: By Peaceful Means, CIIP, ciip 2019, community organizing, Franciscan Center, Made in Baltimore, United Workers, Waverly, Waverly Main Street