2019 Week 1: Nonprofit Management
Posted: June 20, 2019
SOFIA CUENCA | CENTRAL BALTIMORE PARTNERSHIP
Creating Opportunities for Renewal and Enterprise (C.O.R.E) is a city-state partnership aimed at revitalizing Baltimore by clearing the way for new green space and affordable and mixed-use housing. This week I had the opportunity to attend Project C.O.R.E.'s Anniversary — removing 4,000 Units of Blight from Baltimore City.
I really do not know how to describe this experience, but so many aspects of it were definitely surreal. When I got the calendar invite in my email for this event, I was expecting to go to a conference room or a more formal luncheon to celebrate the program's progress and successes, but instead I found myself in Broadway-East, right smack in the middle of a demolishing site.
Driving through the city and looking out the window, I saw what was expected: vacant homes, corner stores, old cars, people sitting on their stoops. But suddenly, looking out the window I saw the unexpected: men in suits, rows of luxury vehicles, commercial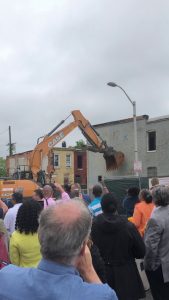 cameras… "You know we're getting close when we start seeing white people." We didn't make it far after parking our car before a community member stopped us and asked, "What is going on here?" One block later and we were in the presence of Governor Hogan, Mayor Jack Young, and Housing Secretary Holt. We were in the presence of public officials, government workers, community development organizations, nonprofits, and what should have been a community celebration simply felt like one big networking session.
This project is something to be celebrating, vacant buildings are often linked to urban crime and I believe that demolishing them allows for a strong foundation for redevelopment. However, I couldn't help but ask, "Would these individuals be here if it weren't for this event?" So much of what we learned in orientation was to go into communities and build relationships, but today I walked into a community and the space was filled with individuals that didn't belong. Whereas I got an invite to this event, community members were only able to make it as a result of their curiosity. It felt like the classic example of people with power showing face in a community, smiling for the camera, and leaving soon after.
As the bulldozer dove in and broke down a wall, I couldn't help but think — This was once a home.
As the debris tumbled to the ground, I couldn't help but think — I hope the right person has access to these vacant lots.
SARAH KIM | IMPACT HUB
When I first learned that I was going to be at Impact Hub this summer, I was excited, but I didn't know what to expect. In most of my previous work experiences I've worked at cubicles, surrounded by the exact same people everyday and doing routine tasks. Growing up in Korea, I was taught to be constantly mindful of rigid (and problematic) hierarchies and to respect boundaries with superiors. It never occurred to me that work would be a place where I could be comfortable or where ensuring that other people felt comfortable should be a priority.
When I first met my supervisor Michelle this past semester, I was surprised and thrilled to see the space I am now grateful to enter every weekday. Impact Hub is unlike any place I've ever worked at, full of more open space than enclosed office spaces. The doors are unlocked, inviting community members to make themselves at home. The people are warm and approachable, and never distant. The coworking space is a shrine of sorts to the city, with local art all over the walls, tables made of wood from old Baltimore rowhomes and an exhibition on the history of redlining. I quickly suspected that I would have to unlearn everything that I had learned my whole life about work culture or how to approach people at work.
Sure enough, I was told exactly that on my first day of work. At lunch with Michelle and her team, Alanah, our Digital Media and Space Activation Manager, told me to unlearn the rules I'd grown up with, like not talking to strangers. She encouraged me to be open and casual, to get to know as many of the different people who used the space and learn about them and their diverse initiatives, even if doing so might not necessarily be related to tasks I'm assigned.
That prospect thrills me, and it's what drew me to Impact Hub. But being somewhat of an introvert, I have to admit that it also scares me. That will be a challenge that I'm determined and excited to overcome. As the summer progresses, I know that I will constantly be asking myself: Am I doing enough to break boundaries between myself and the community members around me? What more can I do? And lastly, what more can Impact Hub do to break boundaries? What more can Impact Hub do what it aims to be: to be a much-needed space for everyone in our community?
AIM WONGHIRUNDACHA | FUSION PARTNERSHIPS
On my first day of work, I received a purple T-Shirt for the inFusion Community Grants Program. The back of the t-shirt is printed with "Resident Led. Resident Driven. Resident Approved". The words are a faithful to the spirit of the program which is based in C.A.R.E, McElderry Park and Middle East. Grants are given to projects led by residents of these neighborhoods and approval of the grant is decided by a committee of residents. The approach is radical particularly when considering the neighboring Eager Park was subject to the vision of "revitalization" of EBDI. Fusion's work as a fiscal sponsor and inFusion's work in participatory grantmaking allow the community to drive themselves.
I was tasked with evaluating the various programs that were funded by the inFusion grant by looking through their applications and final reports. While it seemed like straightforward work, I began to grapple with the larger question: what is impact and how do we measure it? The task becomes especially difficult when considering the fact that some programs are block parties, neighborhood cleanups and summer camps. The positive effects of this work are challenging to quantify. From the achievements on the report, it is clear that the impact on the community is real but how do I best capture this for funders of the grant?
Fusion does this is by allowing residents to tell their own stories. On Saturday, I attended a workshop for grantees at MICA Place. The workshop taught grantees video skills on their smartphones so that they could record and document the projects that they were working on with the goal of stitching the footage together in September. After a week of icebreakers at CIIP orientation, I had to participate in yet another. Everyone was asked to introduce themselves and their projects along with a superhero name. The Organizer. The Connector. The Clone. I poorly introduced myself as "The Intern" and the grantees chuckled at my incredibly uncreative name while welcoming me as the one who clearly knew nothing at all.
My first week at Fusion was delightful and fulfilling. Curiously, I look forward to more staff meetings as it has become the strangely rich site of learning for an inexperienced intern, where I can lean in and just listen.
CLAIRE ZOU | BALTIMORE CORPS
I had heard Mondawmin float around in conversations about the 2015 uprisings, but I hadn't ever really absorbed the significance of the community until just this past week. Deliberately situated in the Mondawmin mall complex, the TouchPoint office has, as I learned, a mission-driven history that pervades the culture of the three non-profits it houses: Thread, Center for Urban Families, and Baltimore Corps (my placement!). Through a one-on-one with the Touchpoint manager, I found out that back in 2015, during a meeting about fixing broken windows from the uprisings, BGE CEO Calvin Butler turned to Whiting-Turner CEO Timothy Reagan and said: "This is about so much more than broken windows." Ongoing discussions eventually led to the creation of TouchPoint as a step towards breaking down isolation between West Baltimore (specifically Mondawmin) and the rest of the city, which Calvin and Timothy both saw as the root cause of 2015. The three non-profits chosen to occupy TouchPoint were simply mandated to "work hard and make Baltimore better," and they all continue working tirelessly towards that mission every day.
It was both surprising and encouraging to hear that TouchPoint was the brainchild of two corporate CEOs— surprising because I rarely hear "corporate" and "community-building" in the same sentence, encouraging because it reminded me that there are more people who care about our city than it sometimes seems. Working in a space that was built as a direct response to the 2015 uprisings and serving an organization that strives for justice daily has helped me put into perspective just how significant and insignificant my role in this city is. I'd like to think that the energy my coworkers and I are putting into Baltimore Corps makes our work indispensable right now, but I also know that the solutions to building up our city require many more years and many more actors than just ourselves, Thread, Urban Families, and a couple CEOs. Rather than an earth-shattering revelation, my first week at TouchPoint has been a humbling reminder that I am lucky to be surrounded by mission-driven people, working in a mission-driven space as I keep growing and serving in this city I call home.
MADELINE AMONICK | STATION NORTH ARTS & ENTERTAINMENT DISTRICT
Colorado is a beautiful state. Between colorful sunsets and snow-capped mountains that appear as if from nowhere, it is practically impossible to not appreciate the physical beauty. I was home this past weekend to attend a friend's wedding and spend time with my family. The wedding was hosted by the groom's grandparents whose house was perfectly nestled in the foothills of Boulder. In each toast made by the groom's family they too mentioned the majesty and wonder of living in such a beautiful place. This part of the toast was familiar, despite not having been back in Colorado in six months, the easy-going, Colorado-loving lifestyle feel back into place as if I never left. Over my two-plus years in college, Colorado has become the primary symbol of relaxation in my life. Which made returning to Baltimore feel like a freight train of responsibilities, friends, and humidity. However, it wasn't an unwanted welcome. Well maybe the humidity part, but I digress. While Colorado offers a reprieve from many of my obligations, I couldn't help but equate the sense of familiarity with stillness. Stationary. This is not just the busy, unsatisfied mindset which I have developed as a victim to striving for better and the next thing. It is a turning point. While I have roots in Colorado, I have branches in Baltimore. New opportunities for growth and experience that I cannot find in Aspen tree forests. Feeling concrete beneath your feet is harder than bathing in a multi-colored canopy of clouds. But growing often is.
LYLE CARRERA | FREESTATE JUSTICE
In my first week on the job at FreeState Justice, I was given a lot of time to orient myself within the organization — to figure out my place in assisting them with their broad organizational mission. As my role will mostly see me complete tasks related to external communications and internal development, a large part of this onboarding process was to get to know the recent programmatic history of FreeState Justice. One thing that stood out to me was the large operating budget of several hundreds of thousands of dollars per year.

Over the course of the first week, I started on progress reports for grants totaling over $37,000, and I also helped in processing and tracking donations. So, of course, I was starting to get familiar with the varied revenue streams from which FreeState Justice derives its operational budget. We sought grants such as those that I was drafting reports for. We reached out to donors and activists across Maryland, including many of the same volunteer legal professionals on our pro bono panel. We even, as I soon learned, came across public funding which helped us in expanding our legal services and our internal staff over the past year.

We were founded via the merger of Equality Maryland, a statewide LGBTQ+ advocacy organization, and the Free State Legal Project, a nonprofit assisting LGBTQ+ Marylanders with any legal services that they may need. Naturally, as an organization that rubs shoulders with politicians, lawyers, and other community leaders, it makes sense that we'd have access to certain networks that facilitate more donations.

Of course, I'm extremely grateful for and awed by the great generosity of all these organizations and individuals. Without them and people like them, it would be nearly impossible to affect the type of positive change that we who work in nonprofits aspire to bring about. That being said, in coming into contact with these large budgetary figures, I couldn't help but think how many of the nonprofits around Baltimore City aren't as fortunate as we are at FreeState Justice to have access to so many resources. This bleeds over into a great many social issues in Baltimore; as unfortunate as it is, it often falls onto the nonprofit sector to cover up for the failures of the private market and the government by filling in service and resource gaps. When other organizations don't have access to the same networks that we do, it becomes even more critical to build robust cross-issue partnerships and coalitions.

Tags: Baltimore Corps, Central Baltimore Partnership, CIIP, ciip 2019, Freestate Justice, Fusion Partnerships, Impact Hub, Station North, Station North Arts and Entertainment District