2019 Week 1: Policy/Law/Government
Posted: June 20, 2019
FAITH BROWN | YOUTHWORKS
This first week of my internship has been a good mix of fast-paced and slow-paced work. So far, I have done a good job keeping up with journaling each day to reflect on what I have done, and how my feelings about my position develop.
Day 1
Very hectic first day, but that was to be expected so I wasn't particularly overwhelmed. There are so many names to learn already, but so far everyone is extremely kind (and busy). I helped do odd jobs to prepare the two YW worksite supervisor trainings that the YW Office staff hosted at Morgan State for the first half of the day, and then we returned to the office for the second half of the day to administer the same training to a bunch of representatives from various banks around the city. The first half was interesting because many of my fellow CIIP interns were at the training with their own supervisors, and the second half was fun because I got to watch bankers complete a budgeting game that is intended for kids. This first day definitely met my expectations of what an intern does: lots of random tasks and running back and forth to help everyone else who needs an extra hand. Very excited to get to know the members of the YW staff more because they all seem like wonderful people. Also, personal shoutout to Ms. Sheila who works at the front desk of the building because she is hilarious and so sweet.
Day 2
Today we started off in the office for the first couple of hours, and I got my desk, computer, and phone. The computer doesn't actually have any nearby outlets for it to be plugged into, but luckily I brought my laptop and just plan on using that. I am getting a bit better at remembering people's names so far. Ms. Sheila and Ms. Morris downstairs had me laughing throughout the entire day whenever I would enter or leave the building. We did another YW orientation presentation for all of the worksite supervisors from Baltimore Recreations & Parks (yes, they say Rec & Parks, not Parks & Rec). It was really hectic because the supervisors had many questions and there was a limited time to answer all of them. Jon taught me what an arboretum is, which is apparently different than a conservatory, so I guess I got smarter in some way today. I also started going through the orientation documents from Indu and Malika which are all very helpful and got me really excited about the Youth Analysts' arrival in two weeks. I created a new orientation schedule because this Summer the week of orientation falls on the same week as the Fourth of July, so I am getting creative fitting 25 hours of content into 20 hours.
Day 3
June 12, 2019
Today I looked more in-depth at the orientation presentations to see what big questions that I had about them that I couldn't figure out on my own. I am quickly learning that, although Jon is always more than happy to help, he is so busy, so it is best to try to figure things out on my own first and only bring the big picture things to him. Jon also remembered that I mentioned a passion for disability advocacy and inclusivity, so he has asked if I would be interested in looking into ways in which YW could be better in its accommodations for Youth Workers who have disabilities. This is tricky because, as an employer, it is illegal for YW to directly ask if an employee or candidate has a disability, so questions about potential accommodations typically don't occur until the interview process or later (as I understand it). Will be calling my mom soon to chat with her about that since she's my local expert. I also got to make preliminary phone calls to the 5 youth workers assigned to our Youth Analysts Team which was exciting. Hopefully the next week and a half flies by so that I can meet them soon!
Day 4
Today was another full, in-office day where I did some more research on how to incorporate more inclusivity of people with disabilities into the YouthWorks program and at specific sites. I am using several pre-existing resources in and around the city for guidance on what questions are best to ask during the worksite interviews. I plan to flesh it out in more detail before Orientation so that I can introduce the concept to the Youth Analysts as well. I got to help with small project today that involved basic data entry, but after all of the reading and notetaking that I have been doing over the past few days, it was kind of refreshing to switch it up. I am learning more names (thanks to a hand-made diagram from Jon), and beginning to get the hang of how people move in and out of the office space. Today I have felt more comfortable moving about the office and like I belong and like I am being of use. I also went home for lunch for the first time today. I was actually excited to go home and eat leftovers. Like really excited. I wonder if this is what the adult life is supposed to be?
Day 5
It's Friday!! I feel simultaneously brand new and like I have worked here forever. Today I did about 4 hours of reading different reports and research on what YouthWorks has done over the past 3 years and what I can learn to help suggest improvements in ADA compliance as well as inclusion of all Baltimore youth. After lunch, I worked on more data entry for the financial education sessions, and I also learned that I will be the one training (not sure whether independently or co-teaching) the Money Mentors on how to do their job when they get here in two weeks. I am starting to feel slightly more confident in Excel after having so much practice today.
All in all, a pretty solid first week! I am excited to see how my duties change as we get closer to the time that the Money Mentors and Youth Workers arrive, but I am also appreciating the relative calmness of the desk life for now.
JOSH LEE | BALTIMORE CITY PUBLIC SCHOOLS
My first week with the Parent and Community Advisory Board (PCAB) at the Baltimore City Public Schools (BCPS) was not as I expected it to be. As an intern with relatively little work experience and skills, I was expecting to be doing the typical, menial intern duties that people around the office needed to do, but couldn't find the time to complete. To my surprise, I was almost immediately thrown into the deep end of the pool, despite not quite knowing how to swim yet. From the different laws that were enacted in the past that created PCAB, to the different court cases that have shaped the policies and administrative regulations of the committee, I've had to catch up in a short period of time on all the information regarding PCAB. On Tuesday night, I attended a long, heavy Board of Commissioners meeting that was full of reports and presentations that were both informative and difficult to comprehend without the full understanding of the current situation. I was also plunged into the development of an internship-long project that would help to streamline communications and help PCAB build stronger with relations with its stakeholder groups: parents, the community, and students. This entailed creating an entry plan typically designed for principals for the first 100 days of their job, but rearranged for the first 2.5 weeks of my internship. In the creation of this plan, I am required to schedule meetings with people all throughout the office, in different organizations, and the board members themselves in order to continue gathering information, with the goal of informing my project development due by the end of the summer.
The task at hand seems daunting—it seems there is too much information to be learned in too little time and too many people to talk to and learn from. The workplace is fast-paced and I sometimes feel that I do not have enough understanding or experience to keep up with what my supervisor expects of me. Regardless, everyone has been extremely friendly and welcoming to me and have made an otherwise overwhelming start to the internship more enjoyable. While I feel that I was thrown into the deep side of the pool without proper training or technique, I have found that I am still able to keep afloat. Some parts of me were hoping that I would just be asked to do menial tasks stereotypical of an intern position, but I am grateful that I am being challenged to develop important work skills while also being treated as a coworker with ideas to contribute to the team. In several casual conversations with parents and community members this past week, I've gotten the impression that PCAB has not been doing the best job of communicating with them, so I am glad to be faced with the opportunity to help the board improve their relationship with the community throughout this internship.
GRACE REN | MARTHA'S PLACE
Ada lives in house 1, Pam and Diane live in house 2. House 3 is empty, but Kim, Linda, Sue, and Diana live in house 4. The key to the front door is on the first hook in the key box and the key to the offices is diagonal from it with a piece of tape stuck to the front. Taking the Gold route is faster in the morning, but in the afternoon it's easier to take the subway home.
In one week, I have accumulated so many random facts about Martha's Place and my general schedule, like which houses to go to when one of our residents needs something, or when the best time to call our partner organizations is so that someone will actually pick up the phone. But at the same time, I've become very aware that there is so much I will probably never get near to understanding. Fine lines exist not only within Martha's Place itself, but within what one experiences during the recovery process.
To be eligible to apply as a resident of Martha's Place, one must be at least 6 months sober (or close to it) at the time of application. During a phone intake this week, my supervisor and I interviewed a woman who said she had been clean for 2 years; however, when she came in for her in-person interview, she admitted that at her previous housing center, she had had such a terrible experience that she ended up relapsing 1 month ago. Suddenly, her entire application was thrown into question and I felt a little angry watching my supervisor discuss the matter with the on-site addictions counselor – how could we turn away a woman who had relapsed for reasons outside of her control and who clearly was taking active measures to continue her recovery? I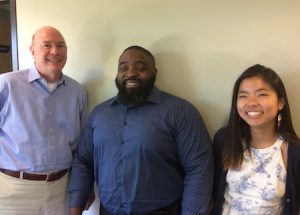 brought it up with my supervisor later that day and we had a frank conversation about dealing with recovering addicts individually vs. in a community. "The risk we take every time we accept a new resident," he said, "is whether she will impact the other women in a positive way." He explained that If we accepted the previous woman post-relapse, how would we know whether she would relapse again, or transfer similar feelings to the other women (who were very stable at this point) and affect their recoveries?
Recovery is a fragile thing. Each woman I've talked to at Martha's Place has told me that nothing is ever certain through the whole process and unpredictable things can lead to unpredictable consequences. The lines are thin and throughout the next few weeks, I hope to gain better knowledge of how we can still operate and make change amidst them.
ALYSSA WOODEN | OFFICE OF SUSTAINABILITY
I never realized how little I knew about Baltimore until I started working at the Department of Planning.
My first week in the office I went with my coworkers on a couple field trips, and as we drove there they would talk continuously about the history of the street we were on or the neighborhood we were in. As someone who still uses Google Maps to get around the city, I was needless to say impressed.
Not only did my coworkers know everything about Baltimore's infrastructure, but some of them had a hand in creating it. I didn't really know what city planning was before I started this internship, but it seems like such an interesting job – especially in Baltimore, where issues like vacant housing, waterfront development, and flood-prone areas are major issues.
One of the highlights of my week was getting to go on a boat tour of the harbor. We saw the docks where cargo ships get loaded and unloaded, the Domino Sugar factory, the Under Armour building, and a stunning view of Fort McHenry. I learned that the Port of Baltimore generates $2.6 billion in business revenue annually and supports 37,300 jobs. The city's top export countries are India, Japan and South Korea, and its top commodities are automobiles, coal and agricultural equipment. I've been to the Inner Harbor dozens of times, but I'd never seen the nearby Port in person or ever really thought about how important it is to the city.
My own job is a lot more small scale than cargo ships or international trade. I'm working on Baltimore's Food Matters program, which aims to reduce food waste in the city. The Office of Sustainability is partnering with the Natural Resources Defense Council, which is funding grants for local organizations to assist with implementing composting programs. I've been working to input and analyze composting data and generate social media content for the Food Matters program. But if my first week has taught me anything, it's that everything is connected – food waste, sustainability, city planning, even port activities. Everyone who works for the city is dedicated to making Baltimore a better place, and I'm fortunate enough to play a part in that.
NATALIA WOO | OFFICE OF THE STATE'S ATTORNEY
My first week exceeded my expectations. As soon as I stepped into the office, I was greeted by the employees' running toddlers. As an intern in an attorney's office, to be honest, I was expecting to be handed clerical tasks, such as printing, photocopying, or data entry. Instead, I was immediately challenged to prepare a mock trial for our upcoming JSA program for Baltimore students. Forming the mock trial reflected the assignments I had completed during my forensic psychology course, the course that had fueled my passion for the criminal justice system. We collected sample evidence, streamlined the sample case, drafted the mock trial script, and created the case materials packet. As a student who has never been exposed to the law, I learned a lot while researching legal terminology and constitutional laws.
Besides preparing for the upcoming JSA program, I have the opportunity to help curate Friday PopUps. Every Friday, the State's Attorney's Office hosts community events from 6-9PM, an interval of time that has been reported to be the peak of juvenile crime. Attending meetings to brainstorm activities and community partners was very fun. I even got to attend my first baseball game at the Camden yards, where I soon realized that everyone was a Boston Red Sox fan. During one of our meetings, one of the community partners our office potentially wanted to work with provided a very thought provoking perspective. Regarding youth crime, many people may wonder where the adults are to "parent" their child from illicit activities. What are they doing while their kids are running around? To which the answer points to the overcrowded prisons and jails. Because the parents are locked up or abused by the police, there lacks parental guidance in youth in this pervasive systemic violence.
On that note of police brutality, I also was able to watch one of the security camera footages of one of the attorney's closed cases that ended with an officer's conviction. Police accountability is a critical issue in Baltimore. Interestingly, I learned that many of the cases are brought to the prosecutor's attention through police departments themselves. I would have thought that the stereotypical police culture would attempt to cover all indications of abuse. However, I also learned that although the cases were investigated by the State's Attorney's office, the ultimate decision to go to trial still remained at the institution's hands. Overall, this week provided a very exciting opportunity and first-hand experience to complement and apply my academic studies and interests.
SAM MOLLIN | MARYLAND TRANSIT AUTHORITY
When I walked into my office for the first day of work, I wasn't quite sure what to expect. This summer, in fact, was my first time working in a real 9-5 job in a real office with a real cubicle. One thing I certainly wasn't expecting was the reading assignments (complete with written responses!) that I received on my first day. These readings ranged from an article about the history of transit in Baltimore, to interviews with residents of Reservoir Hill chronicling their neighborhood while on the cusp of gentrification, to an account of MTA public engagement and a couple of academic papers on the best ways for a government agency to interact with the public. While I initially wished that I would get my feet wet on work a little faster, one unexpected thing that the readings gave me was providing a solid understanding of how public engagement should work and how the MTA sought to realize that goal from day one.

The first week at my internship, through these readings and through many of the experiences I had, taught me how important it is to really be taking people's opinions into consideration enough that you are willing to sacrifice any power that you have in order to ensure they are being included. An important distinction that one of the papers I read drew was that between participation and inclusion when doing outreach with the public. While participation is the measure of how many people are able to be in a process, inclusion (ultimately, a study found, much more important) is the means in which an engagement process allows citizen participants to alter the process itself and how things are done in a community. The readings, among other things, gave me a perspective on how Hopkins had (and continues to) fail so spectacularly with interfacing with the community on private police; all of their outreach and public meetings, while participatory, fundamentally failed to sacrifice even one small part of the power that Hopkins has in the power dynamic between Hopkins and the city. Any engagement process that fails to include people will only result in an angry public without their needs met, and I'm excited to learn more from the MTA Programming office's commitment to inclusive participation. Ultimately, the lesson I've learned this week is that to really fulfill a mission of public service, you must be willing and ready to humble yourself and accept that what you think may be best for the community is, much of the time, less important than what the people who actually live in that community think will happen.

Tags: BCPS, CIIP, ciip 2019, City Schools, Martha's Place, Maryland Transit Authority, MTA, Office of Sustainability, Office of the State's Attorney, Youthworks