2019 Week 2: Community Arts Programs
Posted: June 26, 2019
EMMA ELIAS | WIDE ANGLE YOUTH MEDIA
This week, I felt lonely. Maybe we can call it "independent" to put a more positive light on it? Every day this past week there were usually only about four people, including me, in the normally crazy busy office. I listened to music, answered the phone, put together chairs for the new computer lab, performed a few tasks for people in the office when they had things for me to do, and did a lot of reading. I found that when I am stuck in my own world for so long, hanging out with myself is not very fun.
Most everyone was gone because the organization rightly dedicated the week to being a self-care vacation week because the staff works so hard all year. All week at orientation we had talked about how important it is to listen to community members. I felt so eager to listen and learn from others, but I didn't think about what to do if there was no one there to whom I could listen.
I finished all the work I needed to do for the week by Wednesday. That left two full days for me to try to figure out what to do with my unsupervised self. Here are some of the things I did during those two days:
I discovered the perfect timing for eating snacks at work. If I get to work at 9:30, then I can eat a snack at 11, lunch at 1, and another snack at 3. I really like snacks.
I found that I can go to a 7 a.m. workout and feel much more alert when I arrive at work.
I realized I could come home from work and spend time with my friends every night.
I started reading Coming of Age in the Other America, a book co-authored by a Hopkins sociology professor about a decade-long ethnographic research study about youth outcomes in Baltimore.
I read many articles about youth programs in Baltimore and how we measure youth outcomes.
For about an hour, I looked through a black history calendar made by Wide Angle students because I couldn't stop admiring the portraits the students had made of Baltimore community leaders.
In retrospect, all these things represent a few ideas for me. First, even on the days I have work, I found the things I need to do for self-care. Maybe work was a bit slow this week, but I know it'll be crazy once YouthWorks starts. Now once work gets a bit more hectic, I'll have ideas on how to keep my footing. Second, I found other ways to learn about youth in Baltimore, even though the youth at Wide Angle weren't here for the summer yet. I learned about them through their stories in research articles and reports, and I also learned about them through their art.
All in all, I adjusted to being more independent and less directed. I learned how to care for myself and also learn more about Baltimore on my own. That being said, the highlight of my week was still getting to meet one of the high school students, waiting for her parent with her, talking about the TV shows we both liked, and learning from her about moths, her personal passion. I'm glad I had this week to learn by myself, but now I'm so ready for our forty high school students this summer.
SEHEJ PARMAR | BALTIMORE YOUTH ARTS
"Are you an artist?"
That's the question I've gotten all week when I meet someone new at BYA. My answer is always the same – "Um not really…I mean I dance a little, but besides that not really." The next question 4 out of 5 times is some rendition of "Well, what are you studying in college?" I answer with molecular and cellular biology and public health. The puzzlement on the other person's face is unmistakable. The next question doesn't need to be asked. The expression says it all: "What does working at BYA have to do with your career goals?" If I am being honest, that was my first question too when I was matched here. I mean I am studying health and medicine and BYA teaches arts of different forms to youth, particularly those who have been involved in the criminal justice system. That has nothing to do with health, right?
Wrong. So very very wrong once you zoom out and look at a more macro view of health. Many of the social determinants and environmental/circumstantial exposures that have been shown to be the largest contributing factors to poor health and mortality are systemic and ubiquitous social justice issues within communities. To name a few, there is poverty, homelessness, race, LGBTQ status, sexuality, substance use, the criminal justice system, immigration, etc.
This summer I am working with youth ages 14-22 who have been involved in or directly affected by the criminal justice system. It is a well-known fact that the Baltimore criminal justice system in particular has the highest rate of incarceration in the US, which has a 5 times higher rate of incarceration than other developed countries. On top of that, the re-incarceration rate is close to 70% within 5 years of release. This points to the fact that too many people are being "locked up" and not a good enough job is being done to keep them from going back. Rehabilitation and transitioning back into society post-release is not a service that is readily provided. The last thing I would like to point out is that most of these people who are being "locked up" and "locked up again" are young black men. Young black men who often have mothers (sometimes single mothers) and younger brothers and sisters who depend on them. Young black men who have wives and children who will grow up without them. The criminal justice system affects more than the individual being "locked up". It affects families, entire communities and in a city like Baltimore, an entire race.
How does that relate to health? There are so many ways I can't even count. Here are a few to begin with: Health care for those in prison is the poorest of quality it nears the brink of being considered inhumane, People involved in the criminal justice system are more likely to commit suicide, enact homicide, or contract HIV/AIDS, Mothers who are left to take care of their children on their own are more likely to have mental health issues, Children of imprisoned parents are more likely to grow up more impoverished with limited access to health care and be involved with substance use, etc – there are so many more. If more people in the health care field recognized the criminal justice system and other systemic social justice issues as a cause of poor health, maybe then we can stop treating patiences with bandaid solutions that treat their symptoms and start using a more holistic approach to communities that address the root causes of their lower quality of health. Let's recognize this and be proactive about it.
NIKKI GARCIA | LIBERTY ELEMENTARY SCHOOL
Week 2 at Liberty Elementary was wonderful. The end of the school year allowed me to see Pre-k and Kindergarten closing ceremonies as well as a fifth-grade graduation. Coincidentally enough, the theme of the fifth-grade graduation was the same as that of my fifth-grade graduation 10 years ago. A large banner that read "The Climb" was hung up on the stage of the Liberty Elementary gym, referencing Miley Cyrus's song about appreciating the journey you take to reach your goals rather than focusing on the destination. The fifth-grade graduation was pretty elaborate. They had a group of four students share their end of year reflections. A common theme was a love for the fifth-grade science teacher, an appreciation for the 'strictness' of teachers at Liberty, and memories with friends made at school. After the students' reflections, the guest speaker, the aforementioned fifth-grade science teacher, came to the front to deliver his heartfelt speech. He talked about those things which are most important to him- faith, family, and his students at Liberty. When he elaborated on the faith piece, many of the parents in the audience cheered and offered up an 'Amen!' or a 'mmmhm.' He also quoted Frederick Douglass's famous call for courage, "If there is no struggle, there is no progress." I had heard this quote before but it really resonated with me when I heard it at this fifth-grade graduation. I have been struggling academically for a while now and grappling with my understanding of my own skills and capacities, often wondering whether I'm simply not 'Hopkins Material.' The Douglass quote reminded me that while some goals are objectively difficult to tackle, only facing those struggles head-on can bring us progress. It was interesting to hear the quote in an elementary graduation seeing as I find it so fitting for my current situation. I guess the Liberty 5th graders who received their diplomas on Tuesday and I are not very different in this regard.
The closing ceremony for the pre-K students was also very exciting. It was refreshing to see so many families coming to support their students and the smiles on the students faces as they sang songs they learned with their teachers. One of the teachers even designed graduation caps made of paper for her students. They all looked so cute. Parents brought balloons and flowers and love and support and it was all really wonderful. Mr. Manko stopped to congratulate one of the teachers of the pre-K classes on her first year of teaching, praising her for a job well done. She seemed excited and relieved at the comment. I can see how, as someone in a supervisor/manager/principal role, it is important to reward teachers when they have done a great job, especially when teaching sometimes feels as if no one is appreciative. I'm sure the comment meant a lot to this teacher.
As Mr. Manko would say at the end of each day, this was yet another great week at Liberty. I can't wait to see what the rest of the summer has to offer.
JEVON CAMPBELL | DENT EDUCATION
My week was pretty good. Still like my bosses. They are all pretty chill. One of my supervisors took me out for lunch on Friday and I really enjoyed it. We got to know each other a little better. I also got free lunch, which was great. We went to XS by the University of Baltimore. The food was really good. I got a Kobe Beef Burger with bacon on it. It tasted fantastic. We also got a few rolls of sushi on the side. I was a little unsure about having sushi because I only had sushi once years ago and never had it again because I had a bad experience and felt nauseous. However, this experience was so much better. The sushi tasted pretty good and I didn't feel like throwing up. Overall, the lunch was just great because it tasted good and I got to know that supervisor better and that was the supervisor I felt the least close to so I liked getting to know them better.
In terms of challenges I faced this week, everything was good overall. It was just hard sometimes because we were having people come in next week and we had so many tasks to do and sometimes one supervisor would have one task for me to help with and another supervisor would have another task for me to do and I wasn't always sure how to approach it or which task to do first. Despite that though I felt like I was able to manage the tasks pretty well. My supervisors were very receptive to any questions I had and gave me good feedback when I needed it to complete a task. Also, this week was my first time creating a slide deck for like a whole week of programming. It was challenging but I felt like I did a pretty good job. It was a lot and it came out to like 400+ slides but my supervisors seemed to like it.
ZAKIYA CARTER| 901 ARTS
This week we had a potluck with the Fusion Partnership cohort and that was a bit of a challenge. Most of the people who attended seemed like they had been with their organization for some time and I was not sure what I could contribute. So, in the beginning, I just stayed quiet and listened to what others had to say but eventually I thought that it couldn't hurt to contribute. When I contributed
everyone was receptive and we had a great dialogue about what we thought would be best for the partner action council. This activity though was a bit unexpected as many partners were thrown aback by the realization that we'd be choosing how we wanted it to be formatted that very day. However, with the meshing of minds we were all able to put together something we found to be a feasible plan of action. Not associating age with competence is something of a challenge I'm facing because I generally think others know more as they get older. Notwithstanding, I am coming to realize that everyone offers a different perspective regardless of age. Everyone has a wealth of knowledge that they could only get by living their life and not solely through aging. In the next couple of weeks it will be an adjustment to have more people constantly around the facility as the camp will be starting soon and we will be having the YouthWorks interns around. Although I've worked in a supervisor position of people my own age, this will be a new adjustment to build a good work relationship with a host of people in such a short period of time. Looking forward to meeting them though. Can't wait to see what the future has in store for this summer.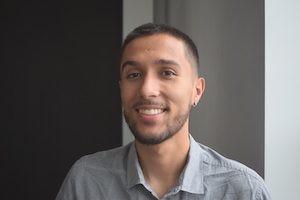 GABE SILVEIRA | JUBILEE ARTS
This past week I got to work more on redesigning the Jubilee Arts website. I didn't think that's the kind of work I was going to be doing, but I've been really enjoying it and learning a lot about web design. I also got to help out screen printing shirts, which was really cool, and have been helping develop a marketing campaign to sell custom mosaic street address signs.

Tags: 901 Arts, Baltimore Youth Arts, Dent Education, Jubilee Arts, Liberty Elementary School, Wide Angle Youth Media