2019 Week 2: Education & Youth Advocacy
Posted: June 26, 2019
MOUFI ADEDOYIN | CITY SPRINGS ELEMENTARY/MIDDLE SCHOOL
A challenge that I faced this week is calling potential business partners to join our Strive for Under Five Initiative. Last year City Springs and four other partner schools started a Strive for Under Five initiative as a way to provide incentives and rewards for students having less than 5 absences during the school year and striving for perfect attendance in most school months. In the first year, they were able to secure 5 businesses at each school but my work during the summer will be working to add 5 more businesses to City Springs' contribution to the initiative. In the first week, I was compiling information from the previous academic year's businesses and adding new potential businesses in the community. This week I was tasked with actually reaching out to the businesses through phone call and that is when I felt the most challenged. For one I am already awkward when speaking to people on the phone but now my performance doing a call can affect whether or not we secure a business for the initiative. While I know that I will hear a lot of no's I want to try my best to find a couple of yeses'. During my first two calls, I was very nervous to be speaking to managers and trying to sell our pitch, but I kept my calm. I think I did well even though I did not get any businesses, I got a chance to practice speaking to people professionally over the phone. I hope that I get better as the summer progresses where I can also progress to calling corporations more confidently. This is a small challenge but one that I work towards during my week at my placement site and the ultimate goal of the initiative and why I am doing this program help give me a boost! Talking to other people who face a similar challenge at their sites helped encourage me as well from Tuesday on. So thank you to both CIIP and Ahmad from City Springs!
VICKY CHEN | CODE IN THE SCHOOLS
I've been thinking a lot this week about what it means to support the work that community partners are doing. Does it mean I come in making promises and presenting my own ideas? Or does it mean listening and taking orders?
I'm used to the idea of showing initiative. Employers are always looking for the hungry, self-starting intern with fresh ideas. This was something I've worked really hard over the past couple of years to develop, but I've found it to be less relevant here. Usually, tasks are handed to me and I have to be flexible as I go, and by the time I finish the tasks, the day is over.
The nature of nonprofit work is a little more chaotic and unpredictable than what I'm used to. You definitely don't work with unlimited funding or resources, so you spend a lot of time thinking on your feet and adapting to situations rather than having full control over them. I think it also puts me in my place as an intern learning about the community rather than showing up to run things the way I think they should be run.
On the other hand, I've found it difficult to find a voice. When my supervisor asks my opinion about things, I'm finding it difficult to come up with a coherent opinion. I think I'm overthinking things.
I'm beginning to feel the stress of running such a large program because I see all of the little things that haven't come together yet. My biggest fear is the youth noticing the cracks and feeling like they're wasting their time. At the same time, I know how hard people in this organization work to make sure everything is running smoothly. This next week will probably be the most intense yet, but I feel ready.
YVETTE BAILEY-EMBERSON | ROBERT W COLEMAN ELEMENTARY SCHOOL
One issue that I often talk about regarding disparities within Baltimore city public schools is the turnaround of teachers and employees within the schools, especially within the underfunded schools in lower-income and neglected neighborhoods within the city. Teacher burnout and lack of funding are major issues that affect the students, the teachers, and the schools themselves in a negative way and only widen the opportunity gap for children. Students are not able to form bonds and trust with teachers that leave within a year or two, and it is hard to have a safe space at school when adults that you are supposed to turn to for help are constantly coming and going like a revolving door. Kids are so trusting and will often open up to you very quickly, but that trust and hope is gone when you do not stick with them and do not show that you are there for them for the long run. And it is not the teachers or the other adults' fault; it is simply a fault within our education system. When a couple of students I was working with more closely this past week asked me if I was staying for the next school year and I had to tell them no, I realized I too have taken part in this unfortunate cycle. I was yet another unfamiliar face showing up and telling them what to do and watching over them, only to leave within a few months. Within only two short weeks I grew such a fondness for the students at Robert W. Coleman and I was so excited to get up in the morning to go and see them. Once school ended on Thursday and I knew I wasn't going to see most of them again, I couldn't help but feel quite sad and miss them and the short time we spent together. I'd like to say that I bonded with a couple of them and I got to know several of their full names from doing attendance. I'd also like to say that they liked me and began to trust me too, as some would confide in me about a kid bullying them or a sick mother in the hospital. I am so grateful for the opportunity to work with RWC and CIIP, but I know that I cannot rely solely on Hopkins to connect me with my community and to be yet another revolving face. I need to take it upon myself to continue to stay connected with the school and Child First Authority, and if I want to help make a difference, I cannot take part in the problem that I so commonly address as one of the major issues within education. Even if it may be the case for now and I do not know in what capacity I will be able to work with the school in the future, working within the school and with the students has inspired me to stay in contact and continue doing work with Child First Authority and to not just do what I am paid to do and leave. This may be just a small part of my life, but it is these student's entire lives.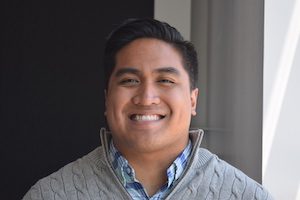 KEONE ALIPHIOS | MERIT
Week 2: "Ohana means family."

When I was younger, Lilo taught me how to be brave in an environment ruled by majorities. I learned to be open-minded by watching her embrace change and other's differences. But perhaps the greatest lesson she taught was the importance of family. As a Pacific Islander myself, I saw pieces of my identity in Lilo and grew up in a culture that also honored community. Whether they were kin or friends, everyone was either auntie or uncle to me. Being a part of a family was always having a seat at any table, and a concept I used to only associate with being home.

Fast forward a couple of years to week 2 of CIIP and I'm eating dinner with the MERIT team, celebrating the start of another summer. Surrounded by both familiar and new faces, I leaned back in my chair and just enjoyed the company. Laughter from left and right followed by that temporary silence made when the food/drinks arrive. It was a beautiful song, one I hear all the time back home.

The feeling took me back to last summer. When I arrived my first day, the program director welcomed me to the MERIT fam and warned me once initiated, there was no going back. No forgetting what you witness or experience. Throughout last summer and these past weeks, I've realized she was right. I found myself back where I was, supporting the next generation of healthcare leaders alongside the same group of driven individuals that welcomed me with open arms into their family.

So, as I literally sit in my seat at the MERIT table, I feel more like Stitch than Lilo, finding a family in people I've met through my journey in this foreign land called Baltimore. Is this the true meaning of ohana? Yeah, I think so too.

Tags: Child First Authority, CIIP, ciip 2019, City Springs Elementary/Middle School, Code in the Schools, Dent Education, MERIT, Robert W Coleman Elementary School