2019 Week 4: Community Arts Programs
Posted: July 10, 2019
NIKKI GARCIA | LIBERTY ELEMENTARY SCHOOL
This past week was a short one. I only came in for a full, scheduled, day of work on Monday and Tuesday at Liberty Elementary. The YouthWorkers started on Monday, July 1st. It was a busy and confusing morning because our roster didn't exactly match the students who were seated before me until we realized that they had actually been assigned to the Rec Center which is adjacent to Liberty. Once we got that all straightened out the rest of orientation went well. The second day I was able to hold one-on-one meetings with each YouthWorker to get to know them better and learn how to better support them. I asked each of the YouthWorkers about their short-term plans and goals whether that was graduating from high school, applying to colleges, or getting a job. I also asked them to share their strengths and areas for improvement with me.
During the first one-on-one meeting I phrased the 'areas for improvement' as weaknesses but then decided to change it. I think this made it clearer that I was simply trying to determine how I could be supportive as their supervisor rather than just wanting to know where their weak points are. I wasn't particularly surprised by some of the areas for improvement they mentioned to me. I was, however, surprised by one YouthWorker who said that his area for improvement is that he's "too soft." I asked him to elaborate because I didn't understand what he meant by that. What I understood from his explanation is that he doesn't like confrontation. When I brought up that this could actually be a good thing, that this means he prefers peace over conflict, he countered my thoughts by explaining that this isn't necessarily a strength when you grow up in a city like Baltimore, that he got bullied a lot when he was younger because he didn't defend himself, and that other students picked on him even more because of it.
While I know that someone's upbringing in a certain environment can make their experience and perspective very different from that of someone else, and while I have thought about this in the context of Baltimore on other issues, I hadn't considered what he was explaining to me. It made me think about the power of asset based thinking and reframing thoughts. I've only been working with this YouthWorker for 3 days at this point but I wonder whether this is something I should encourage him to reflect about. I'd like for him to feel that he is not weak because he is not quick to fight. That, in fact, he is strong for being able to approach conflict in other ways. I look forward to seeing how I can address this and be of support to him throughout the summer in this respect.
JEVON CAMPBELL | DENT EDUCATION
My week was pretty good. On Monday we had our Kick-Off event for Dent Education's Bet on Baltimore program, which is our flagship program that works with Baltimore youth for five weeks over the summer. On that day we met all the YouthWorks students that we would be working with over the summer. The students were great and we had a great level of attendance. It was nice to finally get a chance to interact with the students and I liked it a lot. On Tuesday we went to our individual sites. I am working as a site support coach/fellow at our Dent Media site, which is held at Maryland Hall at Loyola University Maryland. For Dent Education's Bet on Baltimore program we have six sites around Baltimore City where the students will be working at. Another of our six sites, Dent Fashion, is also pretty close to our Dent Media site, as it is at the library that Loyola University Maryland shares with Notre Dame, which is a ten to fifteen minute walk from Maryland Hall at Loyola University Maryland. Due the proximity of our Dent Fashion site to our Dent Media Site I ended up dealing with logistical stuff for both sites for most of the day. In the morning I helped direct the students arriving at the intersection to the place on campus where we would be working for our site. Then I got the food from the company that was delivering the food for the YouthWorks students for both sites and packed the food in the fridge and got his contact information. In the afternoon I brought the lunch for the students and set up for our speaker that we had to talk to the students. For the rest of the day I mostly spent it meeting our food contact person and ESS/YouthWorks monitor along with one of my supervisors and getting a better sense of what we needed to do in terms of logging the students consumption of the food and their hours worked. It was a bit disappointing that I did not get to work with the students as much directly on Tuesday but I was happy to be able to help in a significant way outside of the classroom. Beyond the relationships I desire to develop and the skills of mentoring and planning I wanted to build on this summer a new goal I got this week is to be able to be really organized and responsible when dealing with the YouthWorks related paperwork and be able to get comfortable communicating and being a point of contact for multiple things.
ZAKIYA CARTER| 901 ARTS
Before the summer started I had set a goal for myself to work on my communication skills. Given that I'm on several exec boards for clubs one would think I've gotten a hold of that but I still find it difficult to communicate effectively to those around me. Given the soft nature of my voice, it is even more difficult to get my points across. Thus I wanted to embark on a journey to increase the volume of my speaking as well as perfect on the clarity of the message being given.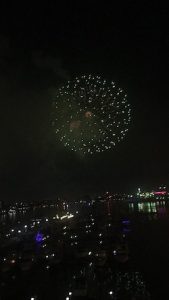 My supervisor thought this would be a good goal as I would be supervising some YouthWorks interns and would need to efficiently give them instructions to follow. At first I was nervous as I forget something or give them incorrect instructions but I remembered something my violin instructor told me, "it's better to be loud and wrong than to be completely incomprehensible. I mustered up the reserves of courage I had and spoke to the room of interns as well as the staff that would introduce themselves and the floor did not cave in. Everything went as smoothly as it could even with an unstable schedule. I think that each day I get better at speaking and having people hear me but I need to find ways for others to understand the material I discuss by referencing things that I talk about. I hope that I can meet my goals this summer but I am a work in progress and constantly growing so I don't want to put too much pressure on myself. I know it will work out it the end tough because I have a great support system at work, in CIIP, and with with my different friend families. Also happy belated Independence Day.
EMMA ELIAS | WIDE ANGLE YOUTH MEDIA
The summer food service coordinator at St. Vincent de Paul of Baltimore probably hates me. She has received at least two or three emails from me everyday this week about how lunches for our youth workers didn't come with orange slices or how we didn't get any plates with the delivered meals. It's funny to me how my daily goals have become making sure all of our forty youth workers fill out their timesheets, turn in their field trip forms, and have a lunch to eat. I honestly love the chaos.
This week was a major shift relative to the work I'd been doing for the three weeks prior. On Monday morning, forty youth workers came through the doors at Wide Angle for our MediaWorks summer program. One of my personal goals for this summer was to jump outside of my comfort zone, and for the first few weeks at my placement I was definitely confused and doing things I had never done before. Ironically, the arrival of our forty mostly high-school-age students made me the most comfortable I've been at Wide Angle.
The day-to-day hectic nature of running a summer program feels familiar to me. My mom has directed several music camps my entire life, and this week I kept thinking back to memories of her running programs, saying she was too tired to run camp another year, and continuing to direct the camps year after year anyways. My mom has been my inspiration in a lot of ways in terms of caring about service and working with young people, so being able to walk in her shoes this week helped me understand why she has continued to run camps for almost thirty years. Being tired is worth it.
I spent my days this week running back and forth between classrooms trying to track attendance, meet clients, and, when I could, sit in on a class and see what the students were learning. It may seem like I am not accomplishing my broad goals for this summer of serving Wide Angle and the community and empowering the young voices of Baltimore by making sure the food delivery comes and the YouthWorks paperwork is done, but it all feels important to me. I've learned that serving an organization can mean doing whatever you can to make its mission closer to a reality. Just seeing a split second of students learning how to use a camera or ask their clients a question makes hunting down orange slices and paper plates all worth it.
SEHEJ PARMAR | BALTIMORE YOUTH ARTS
The first week of YouthWorks came and went. Monday one of my supervisors, who also happened to be my co-facilitator for career readiness training, was hit by a car on his way back from lunch. He felt alright despite the accident and even completed the walk back to BYA with tire tracks smeared across his shoes so he could come work with the young people…but it was obvious he needed to recover and we made sure he went home to rest for the day. This left me to run the first career readiness training by myself. Luckily I had created this specific lesson plan myself and knew the material inside-out. It went a lot better than I thought it would honestly – the young people got really into it, asked questions, and I quickly realized that they were willing to engage with me the more I talked through my own experiences and examples, allowing me to talk with them rather than at them. Tuesday I spent the morning inputting youth information into our database and in the evening I visited the Baltimore Hostel International (HI) with youth in the mural project team to inspect the area they would be painting. Wednesday I was off for out midpoint CIIP reflection retreat and Thursday, July 4th, I was at Inner Harbor for fireworks. Friday I found myself at Press Press for the first half of the day with youth in the mixed media team, learning how books are made and bound – both spiral and perfect bound. I helped each young person make one of each book. In the evening I got to sit down one on one with 2 young persons for an interview for the studio apprentice spotlight while they were working on their own independent art. One of the young persons talked about being black and his interest in Japanese culture as his inspiration. The other young person talked about being transgender and experiences in foster care as their inspiration for art and passion for social activism. I went home after interviewing them and that was Week 1 of YouthWorks.
Now it's the weekend and I'm left thinking that I only have four more weeks left with this group of young people. That means 4 more days of career readiness trainings + mock interviews, 16 more days of art classes, a couple more field trips, and 8 more individual interviews. I won't even get a chance to individually interview half the young people here and to be honest, there's not a lot of time left with them. And now that I've realized this I want to make the most of my time here even more so than I have thus far. That means eating lunch quickly so I can fit in a few games of uno during our mutual lunch break, asking young people about their artwork and what inspires them outside of interviews, and just being a present and open resource for anyone to talk to. On Friday, one young person shared with me that his grandma died. I was shocked he had chosen to share with me rather than anyone in his art project team, who he was with all the time almost everyday. I sat with him for another 20 minutes and we talked about his grandma and what she meant to him. He shared that she was the one who took care of him for days when his mother was not around. The rest of the day he spent with his head down and headphones in his ears, sharing a soft smile here and there. More than anything else, my Friday was marked by this news that one young person had shared with me about what was going on his life outside of BYA.
Coming into this internship I knew my time at BYA was limited to 8 weeks and I promised myself I wouldn't unnecessarily spend time worrying about my impact on BYA as an organization because I know that I am temporary – at least for the time being through this CIIP internship – whereas BYA is, hopefully, permanent for groups of young people to come. I know the best I can do is support endlessly during this summer where needed and when needed and I would have to say I've done a decent job of not worrying too much beyond that. However, what I have found myself worrying about after this first week of YouthWorks is being able to provide the support I hope to provide for these young people, build the relationships I hope to build with these young people, and leave the lasting impact I hope to leave in their lives and they in mine after our shared temporary time at BYA.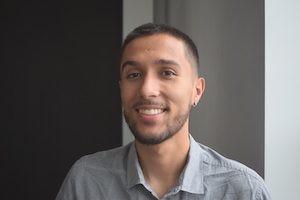 GABE SILVEIRA | JUBILEE ARTS
This week has been very fun. As the Youth in Business program continues, I've started to form better relationships with the youth at my placement. It is very fulfilling and wholesome to get to teach them about things I'm passionate about, while also learning so much from them. Earlier this week one of the youth showed me a Baltimore rapper named Shordie Shordie and I really like his music!

Tags: 901 Arts, Baltimore Youth Arts, CIIP, ciip 2019, Dent Education, Jubilee Arts, Liberty Elementary School, Wide Angle Youth Media