2019 Week 4: Environment & Food Access
Posted: July 10, 2019
ADINA JAHAN | NO BOUNDARIES COALITION
I feel as if my goals have definitely changed since the beginning of the summer. When you start an internship, you really have no idea what it will be like until you dive head first into it. It feels like once you finally have the hang of things, the internship is already half over. Looking back at my CIIP Intern Goal Sheet from back in May, my personal goals for my internship were to: gain a better understanding of how community organizations operate, put into practice / apply the knowledge of food equity and justice that I've gained from my Public Health major, and to gain more knowledge of how to run a local business / gain business management skills. Furthermore, in terms of what I wanted to learn about my organization and the community I am working with, I wanted to gain a deeper understanding of what it means to work at a nonprofit / in the public service sector. I definitely feel as if most of my expectations for the internship have been met. For example, I had a really interesting experience this past week, as the directors at No Boundaries had a meeting with a funder — it was definitely informative, and I learned a lot about how nonprofits are organized / run from an administrative standpoint, and how they raise their money. I felt like a fly on the wall in the middle of their meeting — I did not feel as if I had anything to contribute, but it was valuable listening in on their conversation. Thinking back on it, I was so nervous at the start of my internship, because I felt like I did not have the skillset to serve the specific needs of my supervisor and my site. I feel as if an important part of any internship, however, is just to be flexible and adaptable.
BENTLEY ADDISON | GREATER BAYBROOK ALLIANCE
On Tuesday, my supervisor decided to take me on a whirlwind tour of some of our organization's projects in the area. We saw the Filbert Street Garden, whose brightly colored structures and brand-new waterfowl habitat we helped to create and purchase. We saw the vacant lot on Inner Circle becoming a vibrant green space, and we saw newly manicured hedges surrounding a new sign that proudly proclaimed "Olde Brooklyn Park."
We saw a row of fire-damaged houses on Hazel Street that GBA and the South Baltimore Community Land Trust have been working together to turn into community affordable housing for years and discussed the roadblocks standing in the way of this process- permits, kerfuffles between state and city, miscommunications run amok.
Then we got back into her Subaru and rode over to Fair Haven African Methodist Episcopal Church in Curtis Bay. We saw, for the fourth time this hour, a newly manicured lawn, a new fence, some cool rocks, a beautiful greenscape. It became a little harder to feign a "wow, it's amazing," when we'd seen this over and over again.
What even was the point of silly beautification projects like this when people are hungry, dying of opioid overdoses, uninsured and without healthcare, undocumented and terrified of deportation, subject to police brutality, or unable to travel downtown to finally get a birth certificate for their child? These are all very real issues that affect tons of people in Baltimore- what does it matter if a church looks a little prettier?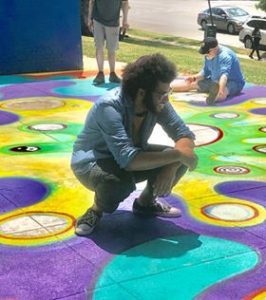 Just as I was beginning to brood over this for the umpteenth time this week, a voice called out to my supervisor and me. It said some unintelligible words from across the street, and we crossed the street to hear more closely.
The voice turned out to be a man, who introduced himself, and told us that he'd been going to Fair Haven AME for over ten years. He'd told the pastor informally that he'd watch out for the church when she was gone, and that was what he was doing. We talked a bit about the improvements- the new white fence, and the beautifully manicured lawn, complete with giant, interesting rocks that two teenage girls were taking turns snapping pictures atop, and I began to see my work, and GBA's work, around beautification and spruce-up projects like these in a different light. While we weren't putting food in people's stomachs, or preventing them from overdosing, we were helping them to cultivate a sense of pride in their communities.
CARRINE KING | STRENGTH TO LOVE 2 FARM
When I first started the summer I had a few simple goals. Get to know the parts of Baltimore that I was unfamiliar with, learn how to be more assertive when I am given authority and to be more social. Throughout the first half of the internship I feel like my goals haven't changed. I feel like I have been working towards my goals and growing as a person as I am doing so. My whole freshman year of college I just stayed inside of the Hopkins bubble, which means I stayed in the white L. So that was the only part of Baltimore that I was familiar with. However, my internship is in Sandtown. Sandtown is in the black butterfly and is a completely different side of Baltimore than I had experienced. I truly feel like it's the real Baltimore and my eyes have been opened. As I'm on the bus or walking to my internship I get to talk to people in the neighborhood about any and everything. I've been able to hear their perspective on Baltimore and just life in general. If it weren't for this internship that never would have happened. This internship has also worked on my assertiveness. Now that I have been on the farm for a little bit I have been put in positions where I have had to tell some of the newer people what to do. At first I felt weird and I felt like it wasn't my place but now I recognize that I can tell them what to do and sometimes it's necessary for me to step up and be assertive. And since day one I have been socializing and talking to everybody that works at the farm and the people who walk by the farm everyday. I'm no longer intimidated my talking to new people or being friendly with strangers. I really love meeting new people now. I hadn't expected to grow so much so quickly but I have and i'm excited to continue to reach my goals and make some more.
KIAHNA REVAN | BALTIMORE GREEN SPACE
It was not until the site visit that I was reminded of my summer goals and I was pleasantly surprised to realize that I have been pretty much achieving a lot of the goals that I had for myself. One of the goals in specific that I feel like I have been very good about is working independently and taking it upon myself to be very self sufficient. When I entered Baltimore Green Space, the organization was in the process of transitioning their Executive Director (ED) so there was a lot of work and stress placed on the new ED, my supervisor. This created the perfect situation for me to work independently because I did not want to be an additional source of stress for her. This meant that every-time she gave me a task, I not only made sure to pay close attention to what she was saying by taking notes, but I also made sure to think about and ask any potential questions that I feel like would have come up while I was completing the job. This allowed me to meet another one of my goals, which was to be on top of my A game always. In an effort to work independently I have been able to complete my work effectively and efficiently, allowing me to focus more on supporting the organization as opposed to figuring out how to do things. This has led my supervisor to trust me with big tasks allowing me to hit another one of my goals of doing jobs that create a direct impact. Some examples of the work that I have been able to do includes reviewing applications, sending emails and making phone calls to VIP associates of the organization, proofreading/editing the newsletters, and volunteering in a community garden by managing the volunteers to name a few. All of this makes me excited to continue to meet my goals and develop new ones in the next four weeks.
TEAGAN KIM | BLACK CHURCH FOOD SECURITY NETWORK
This week, I'm reflecting on today. Today was the Network's monthly Soil to Sanctuary Market. The Soil to Sanctuary Market aims to connect local black-owned businesses and vendors to black communities by hosting farmer's markets in black churches. My role in planning all of this was a little bit of everything: contacting vendors, doing outreach in person and online, creating flyers, setting up, tearing down, and helping with the financial stuff.
Wearing all these event planning hats isn't new to me. I used to be the event director for my sorority, which meant that I planned date parties and formals. I had to reach out to the venue and the transportation company, plan the menu, contact the DJ, plan the theme, announce the event to the sorority, etc. There was a specific feeling that I would get in the days leading up to the event, and it was the feeling that everything was going incredibly wrong. My predecessor, the former event director, told me that I shouldn't be fazed while planning events because "something always goes wrong."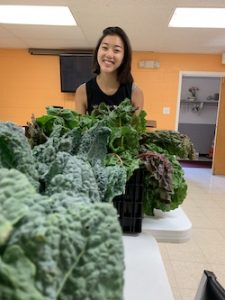 Her words were ringing through my head today. Yes, the market was a success! It was the biggest market the Network had ever had. But seemingly a million little behind-the-scenes things went wrong: meat juices got on the basil and we couldn't sell it. One of the judges for the grill-off showed up too late. We couldn't figure out our inventory record system.
Each time something went wrong, I became a little more frazzled. But each time something went wrong, something else went right. Sure, we got meat juice on the basil, but almost all the meat sold out within 2 hours. A judge for the grill-off showed up too late for the competition, but two more people eagerly stepped in to take her place. And as for the inventory record system, we're (hopefully) implementing a new record-keeping software by the end of this year.
All in all, the Market was an incredible success. I'm sad to report that this was the only Market happening during my time as a CIIP intern. But I'll definitely make sure that the Market in August is even better than this one.
ZE OU | WHITELOCK COMMUNITY FARM
Week 4 has been quite a lay-back week. We had the midpoint event on Wednesday, Fourth of July on Thursday, and 4 youth workers coming in. Though there is always something to do at the farm, I did find more patches of time to relax and restart at this midpoint, which is exactly what I needed at this point.

Coming into the second month of CIIP, I now feel more like a part of the team and know my ways around the farm and the neighborhood. I finally have the key to our sheds, which is a big deal to me. Now I can just come early in the morning, open up the sheds, and take all the tools out, while before I had to wait for my supervisor to come and run me through the list for the day. This period of time also sets me up for the day and helps me think through what I want to accomplish in a day's time. I also learn more about my physical limits and how to pace myself. Since now I do not need to constantly ask questions and follow what my supervisor is doing, I have more freedom to chat with people from the neighborhood and share my experience with them.

We also hosted an herbal medicine class on site during our farm stands on Saturday. I always have an interest in herbal medicine, and in fact I am going to be studying traditional Chinese medicine in August, so I was super excited to meet Son and Life. We learned how to make repellents and allergy tonic using water, vinegar, and alcohol. At some point, a person asked what are the differences between water, vinegar, and alcohol as the solvents, and even though Son can describe the physical differences between the solutions but he wasn't quite sure about the chemical mechanisms behind. I happened to be taking a break from the stand and overheard the conversation, so I came around and explained that vinegar and alcohol contain carbon, so they are organic solvent and can dissolve more organic compounds in them. It might sound nerdy, but I was super glad that I can use what I learned in class in a real life setting. And Son said, "Thank you! We got a real Hopkins student here!" It makes me very proud and hope I can keep "bending my privileges to the side of justice" in the future.

Tags: Baltimore Green Space, BCFSN, Black Church Food Security Network, CIIP, ciip 2019, Greater Baybrook Alliance, No Boundaries Coalition, Strength to Love 2 Farm