2019 Week 4: Family Wellness & Services
Posted: July 10, 2019
EILLEN MARTINEZ | ESPERANZA CENTER
At the start of the summer some of my goals were to learn most roles in the clinic, to learn how we could amplify community voices, make new relationships with other folks at Esperanza and in the community.
I am now able to hold my own in nearly every capacity of the clinic; when extra hands are needed I fill in. When even more hands are needed, I become an octopus. Because, you know. Multiple hats. Or hands, I guess. Tentacles? Everyone is an octopus here.
Our customer satisfaction survey is currently on hold, but I'm now in communication with our survey team so I'll be involved when we begin this process. This project excites me because it gives us a chance to hear feedback from our clients– how we can serve them better, what other services they are looking for, what barriers they face outside the clinic that we are unaware of. The first step in amplifying voices and empowering the community is to listen. I see this survey as a direct, accountable way of doing that and continuing to move in the direction of having our services driven primarily by the community.
The fact that our services (clinic, ESOL, and client services) are in such close quarters (literally there are no walls at the moment) has facilitated the relationship-building goal. We all endure the days without AC and the ice machine counting down like an impending explosive and the rainy day crowds together. I've gotten a chance to connect a little more with people in client services and ESOL and I hope to continue this. Now that I am working with specific cases, I am getting to know some folks in the community as well. For example, today, I was able to speak with a mom and her son who has tetralogy of Fallot, a rare heart defect. Having arrived just a month ago from Guatemala, we are one of the first places she is connecting with here in Baltimore. I'm glad I get to be a witness to this process.
Now other goals have been added: training our new year-long project serve intern, making detailed notes of my progress so that incoming interns and volunteers can keep the work going smoothly, applying for MTA bus passes, getting more involved in immigrant advocacy in Baltimore. It's easy to make the goals, I just have to remind myself that even an octopus only has 8 arms.
EDWIN ARRIOLA | CENTRO SOL
Before starting my internship, my personal goal was to be a reliable figures for my mentees. I hoped that my experiences as a first-generation Latino student would help them open up to me and look to me for advice. I've only seen the girls for three days, but in those three days I've started to grow close to many of them.
Something that I've noticed many of these teenagers share is that they're afraid of being unprepared for life after high school. Many of them let me know that they want to learn things that they don't learn about in high school. This includes building a resume, budgeting, and even filing their taxes (as odd as that sounds). After speaking to some of my colleagues, we decided to commit an entire section of our program to professional and college readiness, which will teach the youth many skills to thrive after high school, regardless if they decide not to pursue college. And while this required me to change a large chunk of the curriculum that I already worked on, I thought it was important for the youth to have some say in what they'll be learning about this summer.
Beside the goal I initially made, I also made it a goal to use Centro SOL as a resource to get to know the Latinx community in Baltimore and many of the issues they face. I've had the pleasure to become involved in a research project with a fellow at the Bloomberg School of Public Health to investigate the way that rhetoric usually used to describe immigrants affects the way the local political leaders implement federal policies.
I've grilled ALL my co-workers on places to visit in Highlandtown, a center for Latinx immigrants. I've met so many amazing people along the way and have even made a few friends at some local bodegas and restaurants. I remember an activity during orientation where we determined how well we thought we knew Baltimore. I said I was a 3 out of 10. I'm hoping that before the end of the summer, I can confidently say I'm around a 7ish.
FATIMA KAMARA | MOMCARES
It didn't really hit me that we are halfway through our summer internships until our midpoint reflection this week. Where has the time gone? It feels like just yesterday we were eagerly sitting in FastForward U participating in a week full of orientation programming. To be back there again felt much different, in a good way. I appreciate the opportunity we were given to reflect on what we've took part in within our individual placements and as a unit as well. From talking about our money struggles and efforts to meal prep healthy food to participating in exercises that reflected on our dynamics at work with wonderful folks from Theater Action Group, I got to take part in a gathering of like-minded people with relatable issues that we can help each other navigate through. This further emphasized the importance of maintaining a support system of family and friends outside of the people you work with.
Throughout the midpoint reflection, we touched on a wide array of topics regarding not only adulting and work life, but real issues such as food security, education and unionizing with the amazing Diamonte Brown. Her talk gave me much insight on what it's like to be a child going to school in Baltimore City, depending on the school. One of the points she made referring to the middle school she attended offering a multitude of foreign language classes retrospectively unearthed how underprivileged I was as a child in the public school system in Clayton County, Georgia and it amazes me that I didn't even realize it until now. To see how far I've come given such disadvantages is something to be proud about. Although it didn't involve interacting with any children at all, I understand more of the type of struggles these children may face and I feel more equipped to not just interact with them, but connect with them on a deeper level and not as someone who's there to save the day either. Although it is not entirely applicable to my placement, it is useful to know considering that my placement offers childcare for mothers in our program; if a something ever arises that involves childcare for children older than the toddlers and babies that I usually see, I would definitely use this discussion as a reference in my head.
JACK SIMONE | CORNER TEAM BOXING
I wanted to use this blog post to reflect on my experience over the last week with my YouthWorks interns. I am working with 5 kids aged 15-19, two are boys and three girls.
I have a lot of experience teaching and working with middle school-aged students. The first big difference I noticed between the two age groups was how polite and quiet the group of high schoolers was being. I'm sure the fact that I am a stranger who doesn't look like them was a factor but it was immediately clear that their level of self-awareness was far higher.
Another key difference between the two age groups is that the YouthWorkers are all old enough that they have their own firmly set opinions. For example, I was hoping that the YouthWorkers could help me organize Corner Team's National Night Out. National Night Out is a nationwide campaign where on the second Tuesday in August neighborhoods and police officers get together in order to promote a night of no violence while fostering relationships between the two parties. After describing our goals with the night I asked the kids what sorts of activities they think we should offer along with the movie that we will end the night with. Their immediate response was "nothing" because they all had no interest in interacting with police officers. This immediately caught me off guard because it was also the first time I saw all 5 of the kids vocally agree on something. With this in the air, I decided to put a plug in the National Night Out discussion for the time being and talk a little more about the relationship between the police and Baltimore City. I asked the group what has to change in order to improve relationships between police and residents. When I was met with silence I suggested, "What if there were more officers from the neighborhoods that you all grew up in? Do you think that would foster a better sense of community and safety? The reply I received was " It doesn't matter where they come from once a cop is a cop he's going to be racist."
This is a subject that I hope to dig more into the YouthWorkers and I grow more comfortable with each other but I have been thinking about this interaction a lot. I know about the corruption and heinous acts of the Baltimore police force but had never talked to a group where it is a constant force in their life. This raises the question of am I really qualified to be having these discussions. Ideally, I'd like to get to the point where I am just the moderator in discussions between the YouthWorkers but until we get to that level of comfort I think I will look into getting someone better versed on the subject to come in and speak.
ANGELA ZHU | ST. AMBROSE HOUSING AID CENTER
I am working at the St. Ambrose Housing Aid Center with one of its programs, called Housing Upgrades to Benefit Seniors (HUBS), which provides home repairs to ensure that low to moderate-income seniors can continue safely living at their residences.
As life expectancies increase, birth rates decline, and the baby boomers reach their senior years, the health of Americans over the age of 65 is becoming a bigger Public Health priority. As I learned in Clinical and Public Health Behavior Change, many seniors value maintaining physical health, independence, and active engagement with life as they age. Many of the seniors I have met with likewise are trying to maintain an independent lifestyle and stay in good health. This is not easy, and through my work I am learning about the variety of challenges that seniors face in attaining the paradigm of successful aging. The seniors I have met with have experienced everything from falls, to the loss of a spouse, to struggling to climb up the stairs without assistance, to bankruptcy. However, research also demonstrates that older adults can not only compensate for declines, but also develop in new ways. I am seeing this in my work as well.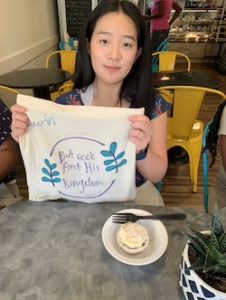 For instance, one woman I met this week was nearly 70 years old. She mentioned, to my surprise, that she was teaching weekly youth lessons at her church, as part of a program to help the children whose mothers had substance use disorders.
I wish I could have asked her more questions. After all, one of my stated goals for the summer was to get to know the clients that St. Ambrose serves. Now, I will be able to form more meaningful relationships with some of them through a new project. This will involve meeting with some of the seniors who received home repairs from St. Ambrose in one-on-one interviews and writing their stories. These stories will provide content for St. Ambrose's social media platforms and be used to apply for grants. But most of all, I am excited to hear about the experiences they've lived through, what challenges they have overcome, and how they are staying engaged with the world. While I know what the research says about aging experiences, it will be even more powerful hear seniors' personal testimonies first-hand.
CHARLIE NGUYEN | EPISCOPAL REFUGEE & IMMIGRANT CENTER ALLIANCE
One of the most important things I've had to understand throughout this internship is the fact that immigrant and refugee issues do not exist in isolation from other conditions and struggles that people must confront simultaneously. Race and gender issues are two such issues, but what I've had the opportunity to learn about the most during my time here at ERICA was the interaction between immigrant status and housing, which I'll be able to explore through two projects about the emergency shelter system and finding housing. The latter involves creating a workshop to teach participants about the basics of finding a place to live, and in the process, I've had to confront the fact that there was a lot I never had to think about growing up with parents who are willing and able to provide me with a place to live—and with parents who are willing to potentially jump in to help me pay rent if I find myself not able to do so. Being a college student, having been born in this country, having worked here for years, and having a credit score meant that my initial attempts to create an outline for the presentation just wouldn't cut it. My supervisor reminded me that although some topics seemed basic and simple to me, they would not be to many of our program participants. I never would have even thought to talk about housing discrimination and tenants' rights, topics that immigrants must navigate frequently. Likewise, to assume that everyone in the audience would have an apartment lease would be ignorant to the variety of other situations that folks find themselves in, like house- and room-sharing.

Of course, getting things wrong should not be a source of shame to dwell on—and we learned this in our discussion of privilege with the Theatre Action Group at midpoint training—rather, it's a reminder to do better and seek ways to change. How can I ensure that my presentation is inclusive and actually helpful to the people we talk to? Their input is crucial, and I plan to ask my supervisor for advice on how to do this.

Tags: Centro SOL, CIIP, ciip 2019, Corner Team Boxing, Erica, Esperanza Center, MOMCares, St. Ambrose Housing Aid Center