2019 Week 4: Healthcare/Health Policy
Posted: July 10, 2019
REAH VASILAKOPOULOUS | BALTIMORE HARM REDUCTION COALITION
Having worked with BHRC for two (amazing and beautiful) summers puts me in a great position to compare my goals between each experience.
By the end of my first summer, I was hoping I would be fully naloxone trained, serve as an effective naloxone trainer who can speak to the necessity of harm reduction, look into partner organizations to see the different ways nonprofit work happens, and learn about tailoring BHRC's work to different communities. Around my first Week 4, I was finally feeling settled at BHRC. I knew what I was doing (most of the time) and saw myself taking the initiative to support the organization in different ways. I had co-facilitated a few successful trainings.
In the following school year, I started to realize that I love community-based work too much to see myself doing anything else after I graduate. Seeking out my space within the Baltimore nonprofit sector brings me comfort–from the positive experiences and wonderful people I've already met–and even more excitement for the memories I have yet to make.
Coming into my second Week 4 at BHRC, I felt a different kind of settled — a sense of place, comfort, and continued excitement of work I love doing. I am definitely more confident in my work at BHRC and my role as a naloxone trainer. That being said, I still have just as many questions and goals as I did last summer. My goals, which used to be mostly focused on work, are now focused on the future and more personal questions of where I fit in. Somehow, they've gotten bigger, less tangible, and even harder to "accomplish" in the traditional sense.
The best kind of goals (or, really, the only kinds of goals I can write) seem to be questions to reflect on. I'll end with the questions I'll be thinking about for the next few weeks and beyond the program's end:
-What are my own areas of skill and growth within harm reduction work? Within community-based work?
-How can I continue supporting my organization post-CIIP, while also ensuring that my work this summer is sustainable in some way?
-What kind of organization(s) do I want to work with moving forward? Is harm reduction my space to be in?
-How do organizational practices and policies change with expansion and growth?
-How do I build relationships with other Baltimore organizations without necessarily committing more time than I have available?
-Where am I lacking education or knowledge within social justice movements?
HILENA GEBRE | JOY WELLNESS CENTER
For this blog post, I want to take it back to my first week working at the Joy Wellness Center. On my third day, I was able to sit in on a Yoga Nidra class. Yoga Nidra, aka "yogic sleep," is a type of guided meditation in which the body enters a completely relaxed state while the mind remains alert. Benefits include: decreasing anxiety, alleviating stress, and reducing chronic pain among other things. When I entered the room—the only novice among experienced clients who swear by this yogic practice—I had no idea of what to expect, and that was the state that I wanted to be in. With no expectations, there are no limits to what you are able to absorb from and emit to an experience. I sat at a mat, clothed with a blanket and pillow for optimum comfort, and I hoped to blend into my surroundings. I closed my eyes and tried to ground myself.
It was then that Kerry—the esteemed instructor and former Joy Wellness Center Program Director—began to soften the atmosphere in the room with her soothing words.
She began our meditation by telling an anecdote. With this personal story, she introduced the theme of reflection for the class: belonging. It's extremely easy to feel as if you are on the outside looking in, as if you do not belong where you have been so intentionally placed. Whether the context is familial, social, or work-related, it's oftentimes difficult to be able to say, "I belong here." "I fit." "This is where I am supposed to be." And this feeling of displacement and absolute difference is sometimes the only impediment that blocks you from what you are meant to give and receive from where you are at the moment.
Kerry's words struck a chord with me. "You belong," she said so fervently as if she knew it to be an absolute fact. The room was silent, yet a wave of relief engulfed us as we all released our own self-doubt. We were gifted these words to take with us into any context we deemed necessary according to our own complex lives.
Almost four weeks later, I've kept these words close to me. Day by day, I increasingly feel their significance, and I believe that Kerry appropriately relayed them with such conviction. My sense of belonging at the Joy Wellness Center is a testament to the overwhelming warmth of the clients that cultivate the atmosphere of love and healing, as well as to the unwavering guidance and mentorship offered to me by Tracy (JWC Program Director) and Sina (JWC Program Coordinator). While it is great that I feel so overwhelmingly part of the community, it is arguably even more significant that the clients do as well; and this is the real magic of the Joy Wellness Center.
Everyone who walks through the doors of Joy Wellness is made to feel that sense of belonging, that they deserve to be nurtured and cared for through health and wellness services—regardless of whether they have health insurance or not. Not having health insurance is a real deterrent from seeking healthcare, and living in such a state is dangerously conducive to feeling unworthy. When you've been actively told that you cannot be treated in so many words, you inevitably start to believe it. And at that point, your sense of belonging in the American healthcare system is completely diminished. With nonprofits like the Joy Wellness Center, patients (especially those who are uninsured) are reminded of their worthiness and their belonging, and they are able to seek what they need to take care of themselves. This is why I love this place.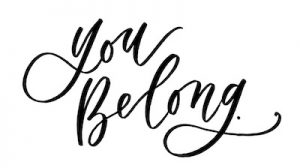 KRISTIN KNIGHT | SHEPHERD'S CLINIC
This week I began to understand the role I play in making an impact on the community I serve a little bit better. This was due to the midpoint conference that we had on Wednesday and TAG. When we discussed privilege, and how we use our privilege to help those in the community I struggled to think of any direct ways I was able to do so. Many people were able to share ways in which they empower youth through their work, or help families to feel more comfortable by creating a mutual understanding.
I came to understand that at Shepherd's Clinic, I don't really interact with patients as much as I thought I would. I don't get to have that direct interaction even though I work at the front desk because most of the patients have questions that I am unable to answer and because I am so busy doing spreadsheets and organizing. I don't particularly hate having to do this kind of work and it's not like I never talk to patients. I still make phone calls and in those short conversations, I try my hardest to get to know each patient. I've been remembering some of their situations. Just the other day I received a call from a girl who always calls in for her mother. I remembered her and immediately knew what she would need and she was so shocked that I knew who she was without having to ask for her name. People are starting to recognize my voice and I rarely get requests to be transferred to someone else.
If there were a way for me to be more active in in-person patient interactions then I would be really grateful, but I understand that people are coming to the clinic for help with medical issues and that I do not have much understanding of those kinds of things. I try my best to be as welcoming as I can be and help out as best as I can by informing the right people of a situation and being out of the way of the doctors who need to see their patients. Honestly, right now my strength is training new volunteers at the clinic and directing them on how to do certain tasks. Although patient interaction is not very abundant, there is still tons of grunt work to be done around the office. All of that work requires that you are familiar with the computer systems and office resources. I am completely comfortable screening and scheduling patients now and I help other volunteers to be comfortable doing those things as well.
CHANEL LEE | STAR TRACK
As 4th of July was this week, my supervisor along with some other staff members were out this entire week. Because of this, I didn't have too much work on my plate. I finished up the LGBTQ 101 Jeopardy game and started working on a survival guide for future summer interns at STAR TRACK.
Now that I have reached the halfway point of my internship, I want to take this time to reflect on the work culture and dynamic at STAR TRACK. My supervisor describes STAR TRACK as "an anti-establishment of professionalism". Something I learned right off the bat is that no one shows up to work wearing anything close to a suit or tie. People dress and look in ways that make them feel comfortable: cutoff shorts, tank tops, snapbacks, glitzy dresses, tattoos, piercings, dyed hair – you name it. There isn't a certain way to dress or look, which, I think, aligns closely with the organization's philosophy of being yourself and being proud to be yourself.
As a general mission, STAR TRACK seeks to empower Baltimore's black and brown youth and young adult community by providing comprehensive health resources and services, including queer-affirming care. This mission is reflected prominently by its team, which is comprised almost entirely of black and brown individuals ranging from young adult to adult, most of whom also identify as LGBTQ+. STAR TRACK's very existence goes against the cis-hetero-patriarchal, white-supremacist, male-centered view of what it means to be correctly professional and successful. And I love it. STAR TRACK is a lively and goofy environment. You will always hear music blasting in the background, expletives flying across the room, and people belting high notes throughout the office. Any time someone passes by me or my cubicle, they always wave "hi," give fist bumps, or just stop and chat for a little while, which always makes me feel welcome, acknowledged, and visible in this space. People here work hard and fast, and they do it all while looking glamorous and while having a good time.
Working at STAR TRACK has taught me that you don't have to be serious, stoic, and uptight to communicate how passionate or how much of an expert you are about an issue. You can be loud, goofy, and even a little messy and still be just as extremely competent. Most of our events are well-attended and very successful, but even when they aren't, sometimes, even just doing something is a success. Starting from who works here to what we do, STAR TRACK is in a unique class of its own, and I am grateful to be a part of this wonderful community and experience.
SOPHIA LOU | KESWICK MULTI-CARE CENTER
On Monday, I was signed up to volunteer and help with a food distribution hosted by Action In Maturity, a partner of Keswick that has their office on Keswick's campus, with food donated by the Maryland Food Bank. Action In Maturity aims to provide access to transportation, outreach, and social services to Baltimore seniors. Many volunteers were organized and many seniors were gathered early at the center in preparation; the cafeteria was the most packed I had ever seen it with older adults and the mini carts they had brought to help them transport the food. However, when 10 AM rolled around, the food truck and food still hadn't arrived, and we discovered that the truck wasn't coming that day and wouldn't be until August 5. The seniors were delivered the bad news, and many people went home without the food they had expected.
The situation was far from ideal, and it made me think about how seniors' access to healthy food may become significantly more impacted by finances as they age and their incomes drop. We know socioeconomic status has a significant impact on health, and although some seniors may not technically be considered to be in a food desert because they may be somewhat close to a source of healthy food, their access to this food becomes much more impacted by their physical and financial ability to transport themselves to obtain this food. Seniors may rely more heavily on food that perishes less easily because they may be less physically able to get to the grocery store, and thus they may be less willing to buy and eat fresh fruits and vegetables. This can have serious consequences for seniors who already have developed and are trying to manage chronic health conditions. Events like what Action In Maturity tried to provide are invaluable in helping to ensure access to healthy foods for older adults.
ROHINI VERMA | CHASE BREXTON LGBT HEALTH RESOURCE CENTER
This week was a really short one in the office, thanks to our midpoint training event and the Fourth of July. In fact, looking back on this week, Monday seems so far away. I actually only spent Monday and Tuesday working at my desk in the office. Most of the staff in my office were off on Friday, so I worked from home instead. I think working from home might have been the most important thing that I did this week because it taught me a lot about my working style. That being said, the main thing I learned was that I am no good at working from home. I found it hard to stay motivated and focused for long periods of time, being that I had a pantry full of snacks that I kept getting up to choose from. However, I did get everything done that I needed to, and although this week was very short, it was productive. I finally picked up a project that I can work on in the background for a while, instead of just doing tasks as they come up. I'll be updating some binders that the LGBT Health Resource Center has in the waiting room. I think it's a really cool project because the binders were actually put together by another CIIP intern a few years back. It's also really great to gain exposure to the networks of support in Baltimore and the DC area, and I find myself learning a lot about new organizations, as well as seeing how quickly databases and resource lists can become outdated. The first binder I'm working on is the legal and financial binder, which is something I'm not really familiar with, but I'm enjoying the challenge of figuring out what literature is useful, what literature is not, and where I can request more literature from. I'm looking forward to a full week of work next week!

Tags: Baltimore Harm Reduction Coalition, Chase Brexton LGBT Health Resource Center, CIIP, ciip 2019, Joy Wellness Center, Keswick, Shepherd's Clinic, STAR TRACK