2019 Week 4: Neighborhood Improvement/Community Organizing
Posted: July 10, 2019

JACOB TOOK | MADE IN BALTIMORE
In my goal sheet, I identified a handful of personal goals to focus on this summer — build connections with Baltimore community members, gauge community perception of Hopkins, and understanding how nonprofits both uphold and subvert destructive capitalism. I did write this before starting at my placement, so I wasn't entirely sure what to expect, but I have a few takeaways reflecting back on those goals after my first month down.
For one, I've already met and worked with a number of community members. Getting to know these people and the projects or passions that they dedicate their whole lives to has been a real privilege, particularly because the Made in Baltimore network brings together such a diverse group of Baltimoreans who all seek the same community-led economic empowerment. My goal on this front doesn't have much room to change — I told my boss on my second day with him that I wanted him to introduce me to as many people as he could, and it's still a (more abstract) goal of mine to just make the most of those introductions.
Let's take a more complicated one — gauging community perception of Hopkins. What did I mean by that? Not super active language, which makes me think I wasn't exactly sure. I'm always interested to know what people in Baltimore think about Hopkins, by "gauge" strikes me as too targeted and too clinical a verb. To put just a few more words on this, I was hoping that my experience this summer would just complicate my understanding of Hopkins' role in the city, which isn't as black and white as I sometimes think when I get complacent.
So far, mission accomplished, as much as I resist anything that's not totally damning of Hopkins. I've been surprised to be challenged largely by community members who aren't at the margins of hating Hopkins, and having difficult conversations about the institution has loaded my understanding of what it means for me to represent the Hopkins brand. So I guess I'll keep at that one.
Lastly — whew boy. Nairuti called me out during my site visit on the lofty wording I used on my goal sheet, but I stand by it. I'm naturally skeptical of the utility of capitalism (despite Liz Warren's best efforts) and felt that the nature of this internship, not just given the focus and structure of CIIP but specifically at Made in Baltimore, would give me an entirely new perspective on what it really means to (struggle to) thrive under capitalism as an individual.
Having front-row seats on how a nonprofit is run, I'm still skeptical — are nonprofits just a subsidy for government-backed socialized programs? Doesn't the idea of "investing" in a nonprofit seem like an oxymoron? Do we need to adapt to a system that would encourage success in welfare for people doing nonprofit or humanitarian work? Surprise — I'm not smart enough to structurally re-imagine American capitalism (Liz Warren, on the other hand…) But what I do know is that every day I'm learning and thinking more about these questions.
So to check back in with my goals, and whether anything's changed—nothing major, but I've been adjusting the scope of those goals given the limitations of the internship. It was naïve of me to think that after a few weeks in this work, I'd magically be more in touch with Baltimore. I don't know why I thought Made in Baltimore would be a useful space to talk to community members about Hopkins. I certainly don't know why I even bother worrying about capitalism when I'm pretty much doomed to live within it regardless.
One useful thing to take away from my internal rambling has been keeping the future open and not limiting myself to these eight weeks. Sure, it's great to have concrete, internship-long goals (and I have those, they're just boring and work-related). But it's more useful for me to think about CIIP as giving me a new perspective to reframe the way I've previously engaged with the aforementioned questions that can then continue to inform my understanding long after the program has ended. That approach frees me up from thinking too much about my incremental goal progress and lets me just soak up every moment, every meeting and conversation so that I can keep trying to just get the most out of the summer's introductions.
SARAH ABDELLAH | 29TH ST. COMMUNITY CENTER
Although my official title is an intern through CIIP, I found myself adopting a handful of other roles quite early on. With my supervisor as the only other person permanently working at the center, I have had several hats to put on this summer. Although it is difficult juggling several tasks, I am grateful for the various opportunities to interact with community members, listening to their experiences, and future hopes for the center.
After one of our YouthWorkers supervisors is considering leaving the center, I unexpectedly became one of the supervisors of the YouthWorkers we host at the center starting July 1st. As one of the YouthWorks supervisors, I found myself constantly planning tasks and programming – from engaging with neighbors of the center during our community walk to college preparation and financial literacy. Throughout our first week of YouthWorks, I saw first-hand the stark difference between the education system here in Baltimore City compared to my home in Howard County – less than 30 minutes away. The YouthWorkers expressed the lack of support for applying to college, affording college, and not to mention the lack of basic facilities such as heat, A/C, clean water, and the list, unfortunately, goes on. This led me to change my planned SAT/ACT information session PowerPoint to include methods on paying for the exams through Fee Waivers as well as compiling free online resources, collecting donated SAT/ACT books, and printing out a practice exam for our 11 Youthworkers.
My goal for this year's Health and Wellness Fair has stayed the same: to connect members of the previously mentioned surrounding communities to services and non-profit organizations that can improve their quality of life – from access to affordable health care and mental health services to food security and nutrition and self-expression through a healthy medium (art, music, theatre, etc).
As of today, I will be working with many mission-driven organizations along with my fellow CIIPers including, but not limited to: Baltimore Harm Reduction Coalition who will be holding interactive naloxone administration sessions, ERICA, Jubilee Arts, Martha's Place, United Workers, among several others. The health fair not only hosts these amazing organizations, but will have free healthy lunch for all, moon bounce for the kids, and raffle prizes generously donated by local businesses.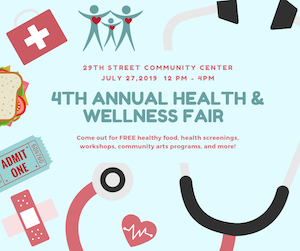 In order to make the health fair truly a community event, I sought to speak with the people we are serving. I was filled with anxiety and excitement, the opportunity to speak one-on-one with citizens of houses neighboring the center allowed me to fulfill my passion to compose a program that will actually address the issues community members are facing and allow their voices and concerns to be heard – from preferences on healthy catering options to community partners tabling at the event. My venture received very positive reactions, I found myself laughing and smiling in every interaction – filling me with determination to continue these conversations. Overwhelmingly, community members wanted sessions regarding affordable mental health services, which led me to reach out to Behavioral Health System Baltimore, FORCE, and the Baltimore Community Meditation Center.
In short, I believe what I was most surprised about so far is how welcoming everyone has been at the center and the surrounding communities – from the children screaming hello to me in the hallway: "HIIII MS. SARAHHH!!" to the waves and smiles of parents who came to see me as a familiar face at the center. My experience thus far has not been what I expected in the slightest – as I had to assume many more roles than anticipated – but I am glad for the experience and ability to work with various types of people and hope the health fair meets and exceeds my community's expectations.
TURQUOISE BAKER | WAVERLY MAIN STREET
It's hard to believe that we are already halfway done with the program! This week, we had our midpoint event and training, featuring numerous speakers and presenters including the Theatre Action Group (TAG). Through theatre inspired games and activities, TAG helps participants and community members to explore and better understand the complex issues that impact them. My favorite leadership activity was called "Colombian Hypnosis."
There are two phases of the activity. In the first phase, everyone partners up. One person in the pair is assigned the letter "A," the other, the number "1". "A" must hold their hand about six to eight inches from "1's" forehead. Person "1" must follow person A's hand with their head entire body, as they are able, as if "hypnotized." In phase two, two pairs will join to form a group of four. One person with hold out two hands, and "hypnotize" two people in the group. One of the two will, while being controlled, hold their hand out to "hypnotize" the remaining individual.
I was being "hypnotized" in both phases. In the second phase, I was hypnotized by one of the two people being controlled. The activity was amusing, and borderline absurd. I don't think I stopped laughing for more than 10 seconds as I was following my partner's hand, contorting myself in bizarre angles, my head mere inches from the floor at one point.
During the reflection after everyone had settled down, I couldn't help but consider how neglected I felt in phase two compared to phase one. In phase one, the hypnotist was much more concerned with my comfort, as I was the only subject of his influence. In the second phase, I was forgotten, since the person controlling me, understandably, prioritized following his hypnotist's hand and did not mind his own. So what does this have to do with leadership?
Everything, in fact. Leadership involves multitasking and being aware of those who are leading. However, that is difficult to do when one is busy following a leader themselves. Furthermore, the people with the most influence may forget entirely about the second group of people being controlled by those they are directly controlling. Their negligence may harm someone (or in this case, cause their head to be inches from the floor of FastForward U.)
But should those leaders, whose style and conduct hurt other groups, be let off the hook, just because the job is difficult? In my opinion, the answer would be no. Everyone makes mistakes, and that's ok. But taking a leadership role mandates taking responsibility for one's actions: it also involves accepting and considering feedback from others, especially those one influences and leads. It's easy to be blinded by power and preoccupied exclusively by those, one can see, but one must do everything they can to be considerate of all parties affected by their actions.
I love to move around and to experience what I'm learning, so the few hours we had with TAG were phenomenal. I am thankful to have had the opportunity to explore so many topics with such a great group of people, and hope to run into them again someone in the future!
BARAE HIRSCH | UNITED WORKERS
It's hard to believe we're at the halfway point of this internship. Summers can seem long, especially as we anticipate them so heavily during the stress and long nights of the school year. But in reality summers are short and the terms of our jobs are even shorter: we are but a blip on the screen for these organizations that work long, arduous hours year-round doing thankless tasks that often go unrecognized. For these two months, the time I spend entering names into NationBuilder might allow other staff members to accomplish more or work on another project, and the people I talk to while canvassing add potential new members and important information to the organization. But in general, my stint at United Workers is extremely minor in comparison to the work they are constantly doing.
That being said, I am noticing some shifts in the way I do my own work. I am definitively more confident in canvassing, in articulating the work and its intersections, in connecting with people even on experiences I don't share. I go canvassing with youth organizers from the communities we work and canvass in, and am comfortable guiding them in the art of knocking on doors and talking to strangers. At workdays I try to make myself useful, painting the new trash/recycling/compost containers the youth organizers have created, picking up trash on the United Workers lot and around the neighborhood. At the office, I can pick up odd tasks and participate in more meetings as I gain proficiency in the work and the language.
Even outside of my actual job time, I end up thinking about and connecting the work to other issues and topics. At a neighborhood party, I found myself reciting my phone banking/canvassing spiel, recounting the successes of United Workers' organizing and gathering RSVPs for an upcoming rally. Noticing these changes in the way I think and talk about the work I'm doing, and recognizing its importance, is a heartening realization to arrive at halfway through the job — I certainly am learning, whether it's what I expected to learn or not.
KENNY VITTY | BY PEACEFUL MEANS
I got to meet the kiddos! These kids are absolutely amazing children and it has been incredible going into to work each day. To be perfectly honest, however, I was very scared going into the week because I was going to be meeting the kids for the first time and how the kids, as much fun as they are, would suck the energy out of me. But that was definitely not the case. Although I come home exhausted, I wouldn't have it any other way. The kids give me so much energy throughout the day and they are just incredible human beings! But throughout the last week what has been the most worthwhile experience for me has been the conversation I have been having with the kids. I have the most honest conversations with them and just generally they are the most authentic human beings on the planet. Some conversations have been very deep and have dealt with some traumas these kids have faced. Those conversations have definitely been extremely difficult but I remember one instance where the kid I listened essentially said thank you. In peace camp, we do this thing called sunshine where you essentially compliment and give them sunshine at the end of class. This kid after we had this conversation gave me the most heartfelt sunshine and I was kinda taken back just because of a stupid assumption that I had kids that young couldn't express emotions. I love kids and I look forward to going to work every single day!

Tags: 29th St Community Center, By Peaceful Means, CIIP, ciip 2019, Made in Baltimore, United Workers, Waverly Main Street