2019 Week 4: Nonprofit Management
Posted: July 10, 2019
SARAH KIM | IMPACT HUB
For work on Monday, I played with Legos.
I was at Fast Forward U for Impact Hub Baltimore's annual retreat with my supervisor Michelle Geiss and her team: Michelle Antoinette Nelson, Pres Adams, Joe Tynes, and Alanah Davis. The team holds these retreats to celebrate their accomplishments each year and to envision where they want Impact Hub Baltimore to go from there. I was there as a "process buddy," to take notes on what the team discussed.
Going into the retreat, I was expecting something a little more formal: a series of speeches and facilitated discussions. Instead, Legos were the first order of business.
"Make a duck," our facilitator David told us, handing us bags with small yellow and red pieces. A little bewildered (and nostalgic for simpler Lego-building days) I made something that vaguely resembled a duck.
When our time was up we compared our ducks. Every single one of us had a different duck. Mine had a fat red bill, another was in flight, another had wings tipped with red.
That surprised me. There were only so many pieces, and a duck was a duck — how did we all end up with such different versions of the same thing?
We then set the ducks aside and got different bags with more pieces of different colors. "Now make a tower," David said.
We made our towers. These bags came with little Lego people, whom we all perched on top of our towers. Again, none of our towers were the same. David told us that every time he facilitated this activity, he had never seen the same duck or the same tower. You could get 100 people to do this activity, he said, and you would get 100 different ducks.
The message was clear: people are irreplaceable. No one is the same. Each person has unique ideas and talents. That's something that I think Impact Hub understands more than any place I've worked at. During my first week my supervisor sat down with me to understand what I wanted out of my internship, and what my skills were. My role is something that I can shape on my own to my liking.
Here, the people approach others in the space as people. Here's a culture that prioritizes self-care, that uplifts the individuals in our space and their ideas. There is always a sense of understanding and trust for every person, and above all, community. That's something I'm very grateful for.
CLAIRE ZOU | BALTIMORE CORPS
Not to be dramatic but my heart felt like it was slowly being injected with hurt and anger and grief as I watched the first episode of When They See Us. A hodgepodge of emotions welled up inside of me as each young boy was brought into an icy interrogation room and harassed by racist and coercive detectives. The terror in their parents was palpable when they discovered their fourteen-, fifteen-, sixteen-year old sons were suspects in a rape. And the blonde prosecutor—oh my, this lady—I just wanted to yell at her until my voice gave.
I can't help but wonder what the reaction Ava Duvernay was hoping her mini-series would elicit. Obviously, she wanted to shed light on the blatant injustices that these five boys—now men—had to endure. She definitely executed her goal well if it was to work up her audience and make them feel restless with indignance on behalf of all the black and brown youth whose childhoods are stripped by law enforcement. I understand how these kinds of documentaries light a fire under people, as if the time is suddenly ripe for becoming an activist, a public defender, a community organizer. But I wonder if that's what Duvernay is trying to inspire. Because for the victims of our broken systems who have been fighting for so long, the reality in When They See Us is nothing new.
It's something I've been grappling with for some time now and I'm not expecting to find closure. Am I—the person who grew up in a New Jersey suburb, who is trying to fit into the fabric of a city with a history apart from my own, who feels so many feelings watching the Central Park Five boys because I see them mirrored in the children here—am I authentic enough in my lived experiences to want to be a leader in a city I have come to love? Leader almost feels like a taboo word in CIIP because we're always told to be serving and listening and not putting ourselves at center stage. Which I agree with, especially considering that I've only lived in Baltimore two years now. But I guess at times I'm just not sure what to do with all this pent-up energy inside of me that wants to do more than just follow. No need for an answer or advice, just some thoughts that I've been having…

MADELINE AMONICK | STATION NORTH ARTS & ENTERTAINMENT DISTRICT
It was a slow week in Baltimore for me since I only really spent half of it here. It was the Fourth of July if you recall and many Americans take off for the national holiday. I am one of many Americans. I took a few friends and headed down to Annapolis to see the Bay and get out of the city. Classic American summer move. Though it was funny to be asked what I was lobbying from peer mentor, Nikki Garcia. Social justice never rests right? That's sarcastic of course because if I have heard the one thing that every guest speaker we've had through CIIP, from orientation to midpoint this past Wednesday, has agreed upon is that self-care and preventing burnout is a whole aspect of doing the job and working in the social change space. But in all unfortunate fairness, change never really takes a pause to go the pool like we do. Think about the history of the holiday and its entrenchment on the glorification of a country with an atrocious history of quite literally killing values on which it was founded. In what ways no one can agree, but I guess that further illustrates the point of the setting on the American empire. But let's face it, we were never great.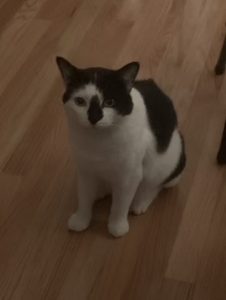 But I had a great time in Annapolis, thanks for asking. Because of course that the idea is that as activists, community members, and organizers must run themselves into the ground to prove their education to the cause is outdated and broke. In the wise words of RuPaul, drag superstar, "If you can't love yourself, how the hell are you gonna love anyone else?" Tailored to this situation: how the hell are you gonna make change, you have to be able to function. Reminder: self-care is not selfish. It's necessary. To prove it, last night I made brownies, watched the series finale of an amazing TV show (Crazy ExGirlfriend made me cry), taking a nice, long shower, and getting into a freshly made bed with my cat Morris (picture included). I woke up at 11 the next morning after a wonderful night's dream and restful sleep to a lovely conversation with my mother 1500 miles away (she's my biggest fan). I think the whole self-care thing worked. I feel refreshed for the second half of my internship. 10/10 would recommend.
LYLE CARRERA | FREESTATE JUSTICE
When I first joined the debate team here at Hopkins, one of our first practice exercises was to help develop our ability to generate warrants for our arguments — essentially, statements saying why what we're asserting to be true is actually true. The exercise was just that; we started from a broad statement ("Brexit is good for the UK") and thought of reasons why that might be true ("Brexit would make it so the UK doesn't have to follow EU regulations"). For each of those reasons, we were then asked why that reason itself might be true or good ("the UK can control their own work permit laws"), then the same for that reason, and so on and so forth.
Of course, with most of us being freshmen and many of us having had no prior debate experience, the argument that we developed didn't end up being all that great. To be honest, the whole exercise felt quite a bit like when a young child keeps asking you "why?" for fifteen minutes straight. But I've found that, as annoying as it is on some occasions, that process of continually asking "why?" is incredibly useful, not only for debate but really for a lot of life.
For me, it's important that everything I do have a purpose, whether it be incredibly short-term and localized like playing a video game so I can wind down over the weekend or long-term and big-picture like applying for an internship in DC so I can find myself working on Capitol Hill someday. Having my "why?" as a North Star helps me guide myself in how I do what I do, as well as how I think about it after the fact.
Initially, my "why?" for CIIP was to learn how to have a hand in nurturing a healthy and complete community. I want to someday be able to go back home to Las Vegas and fight for the community that raised me using the tools I learn here in Baltimore. To be sure, I certainly feel as if I've furthered that aim. With FreeState Justice, I've learned so much about what it takes to affect real, positive change for underserved communities both at the individual level and at the statewide level.
But almost as soon as CIIP started, I found that this program wasn't just about the internship that I'd be working at. Just as important as the work I'd be doing was who I'd be doing it alongside — the rest of the cohort. The dozens of people that I've had the luck to be surrounded by this summer have already done so much with their lives and have what is, to me right now, an indescribable something about them that tells me that they'll go on to do so much more.
So now, a second "why?" for this summer has been to put a name to that indescribable something. I'd like to learn as much as I can about the world and how I might be able to conscientiously and beneficially fit in it from as many people as I can here in the cohort. Every single one of them is a person with a story as infinitely rich as any I've heard, with so much wisdom and wonder alike to be gleaned. There's not enough time in the world to hear every single part of their stories, but I feel as if I've started that journey and grown so much from it. With any luck, I'll be able to make my way towards figuring out what that "indescribable something" is and growing to make whatever it is my own.

SOFIA CUENCA | CENTRAL BALTIMORE PARTNERSHIP
A couple of weeks ago some businesses in the Station North Arts District experienced a series of public safety concerns, ending with violent threats to a store owner. Considering the private police force conversations being had on campus and the emphasis on Baltimore City Police Department's history of corrupt practices that were highlighted in the last CIIP reflection session, I was highly intrigued by how merchants and stakeholders would respond to this safety concern. The merchants initial reaction was to weigh the benefits of hiring private security, but after a meeting with the police department, the merchants were encouraged to hold off and allow BPD to do their job in the area.
Central Baltimore Partnership recognized the merchants' want for immediate action, and so even though this project was not under my direct responsibilities I was pulled in to help arrange what we coined a "de-escalation meeting." I was quickly tasked with reaching out to Mosaic, a local behavioral health provider, and the Mayor's Office of Human Services' Homeless Outreach Team to coordinate a meeting where the merchants could be trained on how to de-escalate aggressive situations and better interact with those experiencing homelessness or mental illnesses. Personally, I respected the decision of the stakeholders in this situation. Baltimore City police engaged with community members, participated in their conversations and addressed their needs in a timely manner. Central Baltimore Partnership was able to leverage their connections and not only coordinate with the police department but also thought about how the merchants could themselves improve their approach by offering tips and advice on how they could treat marginalized people.
While the meeting is set for a future date, I am proud that this public safety concern was addressed in a relatively holistic manner. After conversations that occurred in my peer mentor group during CIIP's midpoint event, however, I was left wondering how these seemingly positive relationships could be replicated in other areas of Baltimore. While this is one example on how police and community members worked together to address a common concern, there are other places in Baltimore where mistrust limits the pursuit of these relationships. This week I have been thinking about how we can use these small pots of goals and victories to improve areas of the City where victories don't occur as often.
AIM WONGHIRUNDACHA | FUSION PARTNERSHIPS
It has been a short and pivotal week. Last Monday, I started to feel stability in work and routine in life. I read a report about the Byrne Criminal Justice Innovation Grant (BCJI) in McElderry Park and hoped that the report would provide some guidance to evaluating the inFusion grants program. The grant funded a community-based approach to crime reduction in the neighborhood led by the McElderry Park Revitalization Coalition. While the process is significantly different from inFusion's, the report remained compelling because of the evaluation strategies that emerged from collaboration with BNIA-JFI. Even with the expertise of BNIA, the difficulties of creating and measuring outputs were apparent. Despite success in the programs according the measures, there was no reduction in crime. It is becoming more obvious that measures and metrics serve an important purpose but social impact measurement remains incredibly challenging. The problem becomes even more complex when the success metrics of Fusion and those of the grantees are not necessarily the same when Fusion is willing to let residents decide for themselves what is important. While Fusion might strive for social justice, a grantee might simply seek to clean the neighborhood and both objectives will require a different set of measures. Quantifiable data is increasingly used to make decisions but small non-profits and community organizations tend to lack the capacity to develop and maintain quantitative measures of impact. Instead, they are forced to rely on the impact that they can see. They have to trust people and their stories. Such trust does not seem so bad.

Tags: Baltimore Corps, Central Baltimore Partnership, CIIP, ciip 2019, Free State Justice, Fusion Partnerships, Impact Hub, Station North, Station North Arts and Entertainment District