2019 Week 5: Community Arts Programs
Posted: July 17, 2019
JEVON CAMPBELL | DENT EDUCATION
This week was pretty cool. I feel like I am getting a much better handle on how to do the paperwork for the food and the timesheets for our YouthWorks students. I still like my coworkers and I feel like I am getting to know the students a lot better. The students are all talented and I think that a lot of them are funny and entertaining. Some of the students are or were shy but I notice that a lot of them are getting more confident in our workspace and coming out their shell around us. They are talking a little more and very willing to engage with us and with the tasks or activities that we have them doing. One of them was even telling me that they were coming out their shell and talking more and felt like one of the coaches were now not calling on them enough and was slightly upset, which I thought was funny. I love seeing them grow and gain confidence sharing the thoughts and talents that they have, especially because they are usually producing really impressive work and making for very good discussions. It was also fun this week when I went to support a different one of our sites and I got the opportunity to interact more with some of the other coaches we have in the program, including Irene who was a CIIP alum, and also interact with more of the students in the program. The site I usually work at is our media site so the students being really good artists, while impressive was not as surprising, but the students I was working with at this site, our social innovation site, were also really good artists and even had a poet too, which was really impressive to see.
EMMA ELIAS | WIDE ANGLE YOUTH MEDIA
If I were to break down the things I learned about Baltimore this week, they would fall into two categories, one perhaps a little more meaningful than the other–
1. Heat in the City
At Wide Angle, our Youthworkers met with their clients for whom they are producing videos, photos, and other promotional materials. I was only able to sit in a few of the meetings, but I learned the most from a presentation by journalists from the University of Maryland on the effects of climate change and heat in the city. They talked about how the summer heat has its greatest effects on lower-income communities from hot row homes with poor circulation to the searing pavement of the streets without greenspaces. I had seen the extreme heat of the last couple weeks mostly as an annoyance that I could escape by walking back into my air-conditioned apartment, but this presentation made me rethink how my privilege even impacts my thoughts about heat. I learned of people who get on the bus and ride all day because there are no other reprieves from the heat. One of our young people told me that kids will open up fire hydrants because community pools are too crowded. Then, when we were shown graphs of temperatures and tree cover around the city, the all-too-familiar black butterfly and white L showed up once again. Heat is a human issue.
2. Food (one of my favorite topics)
This was a great week of eating for me. I learned how to eat crab, though it took me around an hour to eat two crabs, and I'm still confused about what you're supposed to do about the Old Bay being on the outside of the crab shells.
I also went to Bmore Licks for the first time. My ice cream and I got drenched in the Baltimore rain, but probably what was more stressful was choosing from the myriad of flavors posted on the wall.
One of the most amusing things I learned about food this week was from some of the young people at Wide Angle. We were discussing pickles, as one does, and they asked if I'd had "onion pickles." Onion pickles? Pickled onions? It took us a minute to figure it out until I realized they weren't just talking about the slices of pickled onion I'd had as a topping before but literally the entire onion pickled. An onion pickle. Apparently, as we were informed by one of the teachers, this is a Baltimore thing that you can get at corner stores. Being a fan of pickles myself, getting a jar of onion pickles may very well be my next Baltimore goal.
Between these two contrasting topics, heat in the city may be more meaningful at a deeper level. That being said, learning something as simple as the food in Baltimore made me feel much closer to the city. I find it easy to start feeling gloomy about some of the issues that exist in Baltimore, whether the heat, housing, food security, or education, so for every issue I learn about, it helps me to pair it also with a positive part of the city– the people, the community, and maybe an onion pickle.
ZAKIYA CARTER| 901 ARTS
This week was a very big week for my organization. This Friday we hosted the Bedlam Brass Band at the Homestead Green Space for the annual 901 Arts cookout. This was a pretty big event for our organization as we were inviting members of the community and extended Baltimore as well as having the drum line play at this event. One of my first tasks when I started was to Put up fliers for this event but it was a bit easier in the beginning. At the time there wasn't much to do and I was just getting into the swing of things. Putting up these fires allowed me to get more familiar with the area and now I'm able to give directions about Better Waverly like it's my neighborhood back home.
At the cookout there was much to do. Some people were obviously cooking food while others were directing the children in activities such as corn hole and water balloon fight. It was my job to sign people in. With this job I was able to get to know some of the people in the neighborhood and their connection to 901 arts and the importance it has in the lives of their children. It was also really encouraging to see if any people really happy that 90 was going to have A mural. It makes me feel like what we're doing will really improve the community.
The more time I spend at 901 the more I learn about why the people started it, how they started the facility, and the heart behind their mission. Each person that works there truly believes in encouraging children's exploration through art and music. I think this community center serves as a representation of why steam teaching is important and I hope that this is something that will continue in the future.
SEHEJ PARMAR | BALTIMORE YOUTH ARTS
"If the problem of the twentieth century was, in W.E.B. Du Bois's famous words, 'the problem of the color line,' then the problem of the twenty-first century is the problem of color blindness, the refusal to acknowledge the causes and consequences of enduring racial stratification." – Naomi Murakawa
This past week, we field tripped to the National Museum of African American History and Culture (NMAAHC). We walked through history with our young people learning about slavery, then the Civil War, then segregation, and finally the never-ending fight against racism and all the social, economic, and health problems it has caused for African Americans. I felt this experience was just as much for me as it was for them, maybe even more so. With the corner of my eye watching over our teams of young people exploring the museum, I found myself immersed in the history of African American people…this history of all people told from the African American perspective.
There was one specific portion of the museum that stuck with me as I continued up to the ramps. This portion talked about the construction of political and legal systems designed to disenfranchise and criminalize black life following the aftermath of the Civil War, one of those systems being the criminal justice system. At that time, a convict labor system was put in place, in which African Americans were incarcerated for petty crimes and then leased by the state to private employers for free labor, quickly serving as a substitute for slave labor, for which America had already fought and won an entire war to end. Further, even as recent as the 1980s, when segregation had legally been outlawed and many African American families finally had the chance to live and thrive peacefully, the Reagan administration abandoned key social programs, closing down services that kept children supervised and off the streets and introducing cheap drugs into black communities, leading to violence and incarceration.
This knowledge was a shocking revelation to me of just how deeply entrenched the criminal justice system is in our history of slavery, racism, and continuous, targeted policies enacted by our own government. How can a government so blatantly fail its own people like that and this fact be so easily swept under the rug? I now understand that America and our government not only took on a passive bystander role in the destruction, disenfranchisement, criminalization, and incarceration of African American people and culture, but was an active player. This fact has made me begin questioning just how much organizations like BYA can realistically do to solve the issue of mass black incarceration if it has such entrenched roots in the way our society and laws have been set up.
In one of my classes, I was introduced to the notion of being on the "verge of crisis". The phrase refers to organizations (typically humanitarian organizations working in a global setting, but it also applies here at home in this case) working to bring to an end an already occurring crisis by providing surface level, temporary aid that addresses the immediate, very visible concern rather than addressing the root causes that resulted in the crisis in the first place: unstable government, unevenly distributed resources, religious persecution, etc. Similarly, BYA is working to intervene at the surface level of a crisis that is already occurring in the lives of young black people in Baltimore to empower them amongst the ubiquitous threats of criminalization and incarceration. While this is important work, trust me I know it is, it is a downstream approach working on the "verge of crisis", and it makes me wonder what is being done upstream, where the root causes of this crisis are – a history of slavery, racism, and targeted government policy. What is happening at the larger scale so that there is no crisis of mass criminalization and incarceration of young black people in the first place…so that organizations such as BYA are not necessary? What do we need to do at the larger scale, upstream to right such a deeply entrenched history? CAN anything be done to right such a deeply entrenched history? It's a brooding thought and it has chosen to stick with me for the time being.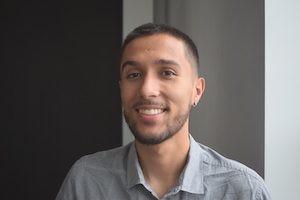 GABE SILVEIRA | JUBILEE ARTS
This past week was very productive! The portfolio class I teach went very smoothly and I got all the youth to have their websites established and running! Also, one of my goals for this summer was to get 15 sales for the YiB Mosaic Address Signs; Over the past week we undertook a new marketing campaign and today we noticed that almost 50 orders were placed over the weekend.

Tags: 901 Arts, Baltimore Youth Arts, CIIP, ciip 2019, Dent Education, Jubilee Arts, Wide Angle Youth Media