2019 Week 5: Education & Youth Advocacy
Posted: July 17, 2019
YVETTE BAILEY-EMBERSON | ROBERT W COLEMAN ELEMENTARY SCHOOL
After 5 weeks at my placement, I have built great relationships with the people that work in the school. I really love working with them and they welcome me into the community and make me feel at home at the school. When I walk in, the janitor yells out "hey buddy!" My supervisor drove me to the store when I needed to pick up "feminine products." The Vice Principal talks to me about school and how I have to come back and visit their new space. The cook brings me lunch before I even mention I'm hungry. I feel like part of their team, and they make me feel useful and never fail to acknowledge how I am helping them. Working at the front desk, I get to speak directly to the families in the community, and while I mainly just answer their questions about transferring schools or when report cards will be sent out, I still get to understand a lot more about the issues they face in their neighborhoods. Our school is truly a community school and serves so many families in need, and I am glad to be a part of that work.
However, even though I have built these relationships, I still feel very disconnected from the community. This past week I was able to walk to the Mondawmin mall with the YouthWork students for a presentation at a local organization, and I got to see more of the neighborhood than I usually do. But, most days, I simply drive to and from my school and do not explore the neighborhood. To be completely honest, I don't feel safe enough to walk around on my own. I realize how unfair it is that I get to drive in to this neighborhood, work behind a desk, and drive back to one of the richest neighborhoods in the city. I work in this neighborhood with hopes to give back and better it, but yet I do not live and experience the same things I want to "fix." I isolate myself to areas that I am familiar with, but how hypocritical is it that I am so passionate about community work and activism if I am only in Mondawmin because of my placement and I don't even stay after I am done my shift for the day?
I am going to be sad to leave, and the short time I've had working in Mondawmin has really opened my eyes to this hypocrisy. I am only working here and I have only built these relationships because of an involuntary placement through my university. If I am truly passionate about community work, I have to actually go out and learn more about the city I call home. I cannot stay within Roland Park and Charles Village and then preach about the injustices within the city. I have to seek out those relationships and get to know the neighborhoods of Baltimore myself to know how to truly be a resource. While my internship is ending, my connection to Robert W. Coleman and Mondawmin doesn't have to.
I feel like I preach similar things in all of my blog posts—the idea that I feel bad about coming into the community and then leaving and questioning how I can do more. I might be getting too repetitive and preachy, but I think I am slowly finding these answers and realizing what it is that I want to do. I am building important relationships and building bridges that will help me continue doing this work in the future, and I know I have a home here.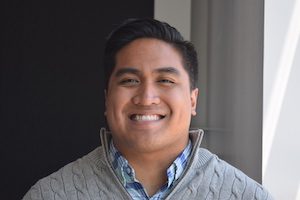 KEONE ALIPHIOS | MERIT
Week 5: "Hooked on Science"
On Monday night, WBALTV featured MERIT's summer programs and interviewed some of the Scholars. Since I don't watch the evening news, I read the article published on their website and was caught off guard. The title was "MERIT Academy helps students hooked on science advance their education." Instead of excitement, I was disturbed by WBAL's word choice.
"Hooked on science?" my co-worker said. "So just because they're minority students they have to be hooked on something. Not interested or captivated. Hooked."
I think we sometimes forget that youth of color are children too. The stereotypes society has towards minority groups and using words with strong connotations, like "hooked," threaten the rest of their identities, the qualities that MERIT tries to uplift. When we utilize reckless language, we deter from celebrating their race, age, gender, and all other characteristics that make them awesome. Sure, it's easy to argue that it was just playful wordplay, but what was the harm in using words like "interested" or "captivated"? Words are powerful, and when used irresponsibly, have the potential to be dangerous.
I write all this while in the classroom with the very students who are "hooked on science." Some are eating their lunches while others are getting a head start on the homework due tomorrow. You got the corner who is always gossiping and the other side of the room where some are watching Netflix. Cheesy jokes followed by outbreaks of laughter. The intense stares you see after someone accidentally cusses. The sassy remarks you hear after giving back their graded quizzes. They're just children. Let them be children.
MOUFI ADEDOYIN | CITY SPRINGS ELEMENTARY/MIDDLE SCHOOL
This week I got the chance to meet a new volunteer at my worksite so now our team is expanded to 3. From meeting her, I learned a lot about her project on public development specifically focusing on the housing redevelopment projects at Perkins Homes. Perkins Homes is a public housing community and is the community that many of our young scholars come from. It was very interesting seeing various different viewpoints and the reaction the community is having about the redevelopment. Some residents in Perkins do not believe that the project is really meant to benefit the people of the community and may just be another sign of impending gentrification although the redevelopment will move families back to their homes after the new homes are built. After discussing the neighborhood we took a walk through it to meet another community partner. We talked to a few kids we met on the way and families sitting on porches. It always surprises how well my community coordinator knows the neighborhood and the people in it and how as we went through our attendance spreadsheets another community programmer also knew the names, families, and stories of the students. It shows how much they care about the community and make an effort to be a familiar face not an unknown outsider. They know or know of most of the kids in the neighborhood and most of the kids know them. Perkins Home as a structure made me think about the design of public housing to look like barracks that are in history books. Just as the city has many abandoned buildings, Perkins also has abandoned units that face similar conditions as any other abandoned Baltimore city house. With the development in process, many families are moving around and this can pose a challenge for attendance at our school but the ideas that we are coming up with are giving me more hope.
VICKY CHEN | CODE IN THE SCHOOLS
I've started leading a discussion session with 12 kids this week. I don't know anything about coding, so the best I can do is discuss topics surrounding computer science and the tech sector as a whole to the best of my ability. We've talked about the inequities of facial recognition, the implications of the Mark Zuckerberg Senate hearings, and Kingdom of Hearts. It's been very interesting to hear the students' take on certain issues. They talk about their ambitions and attitudes toward their world and how the experiences in their own communities relate to them.

On Friday, I gave students a presentation on my BME design project (a project to fix some of the flaws in the bone-healing process) to give them some of my insights to designing, engineering, and entrepreneurship. I asked them the question, "Why do you think we failed?" The ideas I had in mind were technical: we didn't do enough prototyping, we would have a hard time overthrowing the gold standard, etc. One answer that a student gave was particularly striking to me. "How much did you really care about that kid playing soccer that broke his arm?" She went on to explain that passion and personal motivation were important in any solution-driven work, an idea that I hadn't thought much about. In one breath, she talked about gun buyback programs, AI taking over the world, and climate change. She also talked about how she wants to be the one pitching ideas and pulling at people's heartstrings. She stood at the front of the class to pitch my design project as an example with stunning pathos. At the end of class, one of our instructors who was watching the presentation said to me, "I've never seen that side of her. I need to harness some of that energy."

It was a lesson on what we can learn when we take the time to learn people's strengths and ideas and let them act on them.

On the other hand, in our long-winded, somewhat off-topic discussion, someone said, "Well, we can't really solve these issues on our own." I told her there are people that single-handedly changed the world, to which she replied, "Yeah but what race are they?" The rest of the kids chuckled and the conversation went on, but I've been thinking a lot about that comment. This is an attentive, bright student, and I find it pretty remarkable that she is as talented and excellent as she is while having to deal with these kinds of doubts.

Tags: Child First Authority, CIIP, ciip 2019, City Springs Elementary/Middle School, Code in the Schools, MERIT, Robert W Coleman Elementary School