2019 Week 5: Environment & Food Access
Posted: July 17, 2019
BENTLEY ADDISON | GREATER BAYBROOK ALLIANCE
I got to the garden, running a little late as always, at around 10:20. A man in a blue shirt looked downright surprised to see me, expecting only those who had made a longterm commitment to Filbert St Garden to show up to the Community Workday. He introduced me to a woman who reminded me of an incredibly garden-savvy version of my grandmother, who hurriedly improvised a sign-in sheet for volunteers.
"Bentley Addison" was the only name on the list that whole day.
I then went back to the man in the blue shirt- Charles- and asked what I could do to help. He, like all the other people in the garden, was standing and chatting, not especially eager to get started, but consistently mentioning all the work that had to get done. He pointed to a huge bed that looked to me to be filled with weeds. Those were, in fact, potatoes, and they had flowered several weeks ago. That meant they were ready to be picked.
He warned me that they were a little bit prickly, but that his familiarity with the uncomfortable stems meant that he no longer needed to wear gloves.
I took this as my cue to try to uproot a stem and immediately recoiled in pain- my lesson had been learned, and I grabbed some gloves.
What's interesting about potatoes is that when you pull up the stems, nothing much happens. You pull up the stem, toss it aside to be thrown out (not composted, as the stems are poisonous and can mess up the soil), and see…nothing. After you've uprooted all the stems in a particular area, you take off your gloves (it's easier that way) and comb your fingers through the soil.
Your fingers brush up against something that refuses to budge. You dig away at the dirt caked around the sides of the tuber, and you pluck it out of the ground and into a Home Depot bucket full of its compatriots.
Up till here, it's an interesting metaphor for community. To effect real change, you have to get your hands dirty. You have to truly work to ensure that you see the assets hiding under the soil, remove them from the soil-esque mindset of deficits, and see the potential these spuds have for making the whole plot amazing.
Then, it started to break apart for me a bit. We dug through the buckets of potatoes, looking for any that were smaller than a lime. We then stuck these right back into the soil, covering up their assets, making the plot once again look like a community viewed through the lens of deficit-based thinking.
Then I realized something. Those seed potatoes, in the ground, weren't the assets, and the soil wasn't the deficit mindset.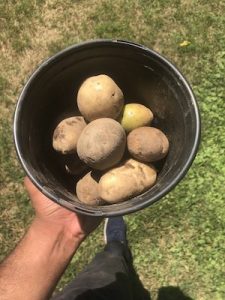 The soil was the asset. Even though it's ugly, and feels weird, and is the literal inspiration behind the word "dirty," it is the asset. I have vague memories of learning about the nitrogen cycle at school, and while I'm not incredibly sure what that exactly does, I do know that every organism, including us (!) would have nothing to eat if not for the nutrient transfer happening constantly in the soil.
Sometimes, assets can look like deficits.
Diamonte Brown, our midpoint speaker, touched on that when she discussed an asset-based view of the community. Corner stores are often looked at as a blight in communities- they're hubs for unhealthy food, people end up loitering there, they sell very little fresh produce. But Ms. Brown reframed this, pointing us to the fact that these can be welcome centers for the community, pointing out that the owners of the shop will build real relationships with those around them, some even allowing those going through rough financial waters to buy things on credit. If you just look at the worndown facade and the myriad flavors of Cheetos and Takis available, you'll see a deficit. But if you look deeper, you see the communal nourishment (relational if not in the form of the sodium content of Takis) it provides to the communities.
Corner stores can be like soil.
Oh, and by the way, I took a flowerpot full of actual potatoes home, made baked fries, and they tasted better than anything I'd ever eaten. I picked those!
TEAGAN KIM | BLACK CHURCH FOOD SECURITY NETWORK
Something I've learned about Baltimore this week is the receptiveness of the community towards initiatives like the Soil to Sanctuary Market. Before CIIP, I didn't really understand why people would choose to get their food from one farmers market over another. But I feel like there's a difference in receptivity towards the Soil to Sanctuary Market versus somewhere else like the Govanstowne Farmers Market. I think it has to do with trust.
People will automatically trust things that come from their people. An initiative like the Govanstowne Farmers Market, run out of Loyola, takes years to form. That market, and the York Road Partnership as a whole, are making a pretty solid effort to engage the community. But there's not a whole lot of customer loyalty. People mostly come to buy crabs or shrimp salad and then leave.
I was thinking on this during my weekly tabling shift at the Govanstowne Farmers Market. I had been chatting with the woman running the market that week, who happened to be the Eli of Loyola, or the person who runs their CSC equivalent and the person in charge of the York Road Partnership. I asked her what it was like working for universities in Baltimore while working in the nonprofit space. She said that forming relationships with community members is critical for building trust.
This was nothing completely new or revolutionary. Building trust by building relationships was something I understood on an abstract level, but I'm starting to see it play out in front of my eyes. A lot of the time, whenever my coworker and I are planning for an event, and we need someone specific, we'll ask Pastor Brown. He'll immediately say something along the lines of "oh! I know I guy. Give me five minutes." And then magically, the person will agree to do whatever it was we needed, because Pastor Brown happens to be friends with all of Baltimore City.
This is what I've learned about Baltimore this week: without trust, any nonprofit or initiative is DOA. You might as well just not start it because it'll do more harm than good. And it is so much more effective to have organizations start from a community that's already full of trust and relationships, rather than from an institution coming down into a community.
ZE OU | WHITELOCK COMMUNITY FARM
Though I have gotten pretty close with my supervisors on the farm, I never expected we would have a two hour long conversation after work. However, I have to say it is one of the most heart-warming memories I have in my life.
It started just as a normal conversation about the schedule for next day, but the topic gradually shifted to what my plan is after the summer internship ends. When I said I'm going to be studying traditional Chinese medicine in August, Ms. Kimberly got very excited because she's being using turmeric and cumin to treat her allergy but she does not understand how they work. She wants me to learn and document as much as I can, and bring that knowledge back to the farm so we can plant more kinds of herbs next year. And that's exactly what I was thinking of. It surprises me sometime how similar our though processes are!
We also talked about what's happening to this country right now and what can we do to bring it back to the right course. When Ms. Kimberly asked me to share my perspective as a foreigner who has lived here for sometime, it was such an honor to me because I feel like my viewpoint, though sometimes differs from the mainstreams, is still validated. Though I tried my best, it was hard explaining my observation of this nation on a call, so we agreed to get lunch and talk more about this topic some time later.
CARRINE KING | STRENGTH TO LOVE 2 FARM
This week was very good. My boss was out of town this week so I felt like I had more responsibility around the farm. Instead of my boss being there to facilitate everything and constantly tell me what to do, I felt like I was able to step up and feel what it was like to kind of run the farm. Everybody that worked on the farm just came together and did what they had to do. Although this week was a really good week, the weather was horrible. It rained a lot on Monday which made everything really muddy and unnecessarily messy. So it wasn't the best start to the week but I still did what I had to do. It felt good knowing that even though the weather was horrible I was still able to accomplish all of my goals for the week. The rest of the week was just really hot, which almost made things unbearable. But everybody just did what they had to do and I kept telling myself that I was sweating out my toxins. It was nice to know that everybody on the farm was dedicated to what they were doing and they wouldn't let a little dirt or rain or heat stop them. A lot of people would be tired and stop working but they didn't and it made me proud to work with them. The best part of the week was Friday. We set out some extra produce so that anyone that drove by or walked by could take the food for free. Someone drove by and saw what we were doing and he went to the store and bought extra things like bread and water and set it out with our produce so that people could take it too. It was just really nice to see a random person do that.
KIAHNA REVAN | BALTIMORE GREEN SPACE
I can't believe that in 3 short weeks I will no longer be an intern with Baltimore Green Space. Participating in CIIP this summer has been an eye-opening and life changing times of my life and I know that it is a bit too early to be discussing this, but the end of my internship is something that has been on my mind lately. Just as soon as I have begun getting comfortable and working independently the program is approaching a halt- a time that both my supervisor and I are not prepared for. My supervisor is constantly expressing her gratitude and appreciation for me and my work ethic especially since she has been recently appointed the Executive Director and has a lot of work on her plate. I am extremely grateful to have entered the organization at this transition phase, a time in which the organization is at its most vulnerable. I have been able to see a side of the organization that I feel like many are not afforded with and I feel like I entered during BGS's beginning phases. I feel as though I am apart of and a supporting pioneer of the new era of Baltimore Green Space and the Executive Director's vision for the future of the organization, which is very exciting for me. As I have begun to learn more about my organization, I have also been able to learn more about being in a work environment and also realizing where my strong suits are and what areas need a bit of improvement. I am very lucky to have a supervisor that is constantly giving me feedback, advice, and affirmations. Something that my supervisor has allowed me to realize about myself is that I "have the skill of both paying attention to the detail and being able to realize the bigger picture." I am excited and enthusiastic to continue to grow and develop my skill sets as well as the organization itself.

Tags: Baltimore Green Space, Black Church Food Security Network, CIIP, ciip 2019, Greater Baybrook Alliance, Strength to Love 2 Farm