2019 Week 5: Family Wellness & Services
Posted: July 17, 2019
EILLEN MARTINEZ | ESPERANZA CENTER
"A name is something weightless yet carried forever, like a heartbeat."
-On Earth We're Briefly Gorgeous, Ocean Vuong
Eyes encased by purple sclera
nails bruised indigo gray
a tempest sky buried beneath skin
lips like they're thawing
from generations in ice
this a boy with a hole in his heart
a boy with a name
murmurs
a heartbeat
here a heartbeat without a name
breathes
releasing
its home
whispers
do not forget my name
seeps through
the cracks of memory
like that of a glacier
anchored by a cold mountain
inverted submerged
where frozen voices urge
do not forget your name
—
This is a reflection of the boy who recently arrived from Guatemala with a rare heart defect, tetralogy of fallot. I have high hopes that we will get him medical care. I wonder about his growing up, if he grows up here, how will he reconcile the loss of his home and the gaining of another? What is left to memory and what is left behind, forgotten?
There are so many like this boy who are unnamed in the political discourse that can oftentimes smother human voices behind the issue.
EDWIN ARRIOLA | CENTRO SOL
"Hey Edwin, can you proofread this for me?" One of the students I mentored passed her laptop to me with an email she drafted. It was to a doctor who spoke with our group earlier that day, a pediatrician that worked at the Johns Hopkins Hospital. She took initiative after we met him to ask for his business card and was writing to him to see if he would have any availability in August for shadowing experience. I was impressed, to say the least. I know that if I was in her position, there was no way I would be confident enough to send an email to a doctor I just met, much less ask someone else to proofread it for me.
"Well, I don't have anything to lose. After all, the worst he could say is no."
My mentees have impressed me many times in just the first two weeks of our summer program. They have proved that they are more than capable of taking what is in front of them and making the best of it. I'm so glad that I can work in a site that provides these youth with resources to become amazing physicians someday.
While the thought of my mentees taking advantage of our program lifts my spirits, the recent rhetoric of fear and intimidation against the immigrant community has reminded me that these students still have many challenges ahead of them if they plan to work in healthcare in the United States. The announcements of ICE raids in Baltimore has stricken fear in them and countless other youth that Centro SOL works with. Many of the workers at Centro SOL are heartbroken that even the concept of these raids has been brought up by the US government. Whether or not they happen, the immigrant population has been hit with a wave of fear that they may be separated from their family or deported.
Centro SOL has worked to let the immigrant population know their rights if they encounter ICE, but other than that we don't have any other way to assist them. I hope that the immigrants that call Baltimore home do not have to worry about raids like this happening again in the coming years and that our mentees can live without the fear of being forced to leave the United States, the land of opportunity.
FATIMA KAMARA | MOMCARES
Instead of talking about my entire week like I usually do, I want to do something different and reflect on a specific experience. This past Friday was definitely one of the most memorable days of MOMCares' Young Mothers Program this summer. It was a day that I think deserves recognition because so often, it is easy to get caught up in what may not have gone according to plan instead of just being appreciative of what is happening in the present moment. I partly attribute the eventfulness of this day to how sensual it was, from beginning to end. This gave me a chance to indulge in the beauty of the program from a different lens, outside of the scope of just my regular tasks such as taking attendance, watching children, or capturing moments for social media. Friday's agenda consisted of learning about natural ingredients to keep stocked at home while making DIY shea butter "multipurpose concoctions" as I like to call them, as well as tuning in to a guest speaker who informed us of the dangers of smoking and second-hand smoking for both adults and children.
Throughout the day, all I could smell were whiffs of essential oils such as lavender, lemon grass, and eucalyptus as we discussed their properties and benefits. Our moms mixed them into small jars of shea butter and tested them out afterwards, giving them a chance to feel the soft butter melt into their palms. Our guest speaker invited us to feel the effects of smoking on our bodies and we got the chance to touch a tumor in unhealthy lungs, comparing it to the feel of a set healthy lungs. Having this visual aid on site was extremely helpful because we could actually see the difference between the pink and black lungs or how much tar enters a child's body via secondhand smoke. See the smiles and reactions on everyone's faces throughout the day was delightful, and it was almost as amusing as it was trying to stop toddlers – who love to put any and everything in their mouths – from trying to scoop up the mixtures with their fingers to get a taste. Hearing the constant exchange of questions and answers, whether about smoking cessation from our guest speaker to our moms or between the mothers themselves about home remedies that they prefer, brought me joy as I watched the community that Ana intended to create come into fruition. We ended the day with affirmations, as usual, but it didn't really feel like an ending to me… It felt more like the beginning of many more wonderful program days to come and I'm super grateful to be able to help make it happen.
JACK SIMONE | CORNER TEAM BOXING
This week I had a guest speaker, Lowell Larson, in to talk to our YouthWorks interns about the history of East Baltimore Midway. Lowell Larson is a key organizer in the neighborhood association and has been giving his time to the people of Midway for over 15 years. The main topic of his talk was redlining, which is where banks give bad (or no) loans or insurance to residents living in certain areas that are deemed financially risky. This process is one of the main forces that shaped what Baltimore looks like today and a way that institutional racism is perpetuated.
From Mr. Larson, I learned that in 1937 the East Baltimore Midway neighborhood was over 99 percent white. It had great property values, community pools, and a neighborhood association that was adamant that in order to keep their vibrant neighborhood thriving they had to prevent people of color from moving in. However, they were powerless to do so and watched on as more and more blacks with good industry jobs moved into Midway. By 1947 the community was 80 percent black and had the highest percentage of black house ownership in the city. At this point, Lowell showed us paradisiac images of black kids playing in the community pool and black families sitting on the porches of well-maintained houses. This all looked so different from the Midway that I bike through every day on my way to work. So what changed in the 70 years separating these pictures and what I now know to be Midway? This is where redlining and the institutional discrimination of people of color leaves its mark. Banks were quick to recognize the demographic switch that was occurring in Midway and loans for house ownership and house repair became harder to get and harder to pay off. This intentional switch in lending tactics along with a decline in the number of well paying industrial jobs meant that houses were being vacated or left in a state of disrepair by homeowners. In less than a lifetime, one of Baltimore's most prosperous communities turned into one of the most downturned, all because the color of the faces of the average homeowner changed. This is redlining and a stark example of how the powerful stay powerful by manipulating and disenfranchising the powerless.
ANGELA ZHU | ST. AMBROSE HOUSING AID CENTER
I've visited a lot of houses by now, but this one was definitely my favorite. The wall on my right was covered in landscape paintings, and the other side was a mosaic of bright red and blue. Objects with no particular theme decorated the shelves, from Madonna icons to wooden African sculptures to a large print in the style of Persian illuminated manuscripts. The owner of the house, a thin woman wearing leggings with Charlie Chaplin prints, explained that she had been a stay-at-home mom for most of her life. In her spare time she painted and made mosaics, which was why most of the walls were covered in glass and tile. As a hobbyist artist myself, I couldn't stop looking around and marveling at the wonders in every corner. Later I told her that I dabbled in art and I thought her house was beautiful. She beamed, saying, "An artist can do anything with their home."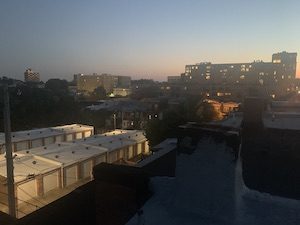 When I'm not going with my supervisor on home visits, I'm at my computer. Writing a report to the city government about the demographics of our clients, looking up clients' deeds online, recording in Microsoft Excel the kinds of home repairs that our clients requested – all in a day's work. Maybe not the most interesting tasks, but I've realized how important they are. It's easy to get stuck on the repetitive work and lose sight of the end result: home repairs for seniors to ensure that they can age safely in their residences. This week I read a report that Green and Healthy Homes Initiative (GHHI) wrote about our program Housing Upgrades to Benefit Seniors (HUBS), the home repair program that they and St. Ambrose both participate in. They found that seniors who received repairs from HUBS had a lower risk of falling, greater ability to move around their homes, and less anxiety about their health. What's more, whole communities also benefit from the home repairs. For one thing, abandoned homes are a huge problem in Baltimore. Once one house is abandoned, the adjacent residences experience declines in property values, and vacancy can spread across the area. By reducing the safety risks seniors encounter in their homes, our program helps them stay in their houses and supports neighborhood stability.
I feel proud to be a part of this work. All of these little tasks help my supervisor process our clients' applications more quickly, and thus deliver the home repairs that they need, whether it's a stair lift, a new furnace, or patches on a leaky roof. The woman who made mosaics has a back stairway that's so unstable she can't walk on it. It's more than enough reward for me to know that my internship benefits her, and all the other seniors I've met.
CHARLIE NGUYEN | EPISCOPAL REFUGEE & IMMIGRANT CENTER ALLIANCE
I've come across the names of emergency shelters for those experiencing homelessness fairly often during my time in Baltimore, especially having volunteered at Health Care for the Homeless downtown, whether it be Weinberg, Baltimore Rescue Mission, or the several (but not enough) other places in the city and the county for those who find themselves without stability. But in my head, these names have always been just names. I knew nothing about the havens that transform into fleeting homes for a small subset of the thousands of people facing homelessness in Baltimore each night, and I couldn't even conceptualize what the shelters even looked like.

This week, we continued on our project to enhance ERICA's understanding of these crucial resources, with the objective of being able to make more informed referrals participants who experience homelessness, rather than relying on information from the outdated websites or the Baltimore Street Outreach Card. The bulk of this involves visiting shelters in person and having conversations with directors and managers to truly grasp what shelters have to offer and their experience with immigrants and refugees. After having visited the Helping Up Mission a few weeks ago (which still has me in awe!), my supervisor and I were grateful to have the opportunity to visit Loving Arms, a small, homey, three-story house transformed into shelter for youth. Aside from the immaculately-made bedrooms, the inviting brown sofa, and the emotionally passionate co-director we were able to speak with, there was one thing we learned that stuck with us for the rest of the day: these eight beds are the only emergency shelter for unaccompanied youth in the state of Maryland.

I find so much value in helping with this project not only because I'm learning about each shelter's character—that some have Spanish-speaking staff and offer job training while others have strict photo ID requirements and are shamelessly homophobic—but also because I get to hear about Baltimore issues that I never would have considered if it weren't for these conversations with community members that strive to tackle them. Next week, we plan to visit four more shelters, and I'm looking forward to hearing some more insight.

Tags: Centro SOL, CIIP, ciip 2019, Corner Team Boxing, Episcopal Refugee and Immigrant Center Alliance, Esperanza Center, MOMCares, St. Ambrose Housing Aid Center