2019 Week 5: Nonprofit Management & Development
Posted: July 17, 2019
SOFIA CUENCA | CENTRAL BALTIMORE PARTNERSHIP
Friday, I had the opportunity of going to the Baltimore Lights of Liberty protest against the current administration's practices toward immigrant communities. More than 400 individuals from all over the city met in front of City Hall, marched to McKeldin Square to honor the Jewish Sabbath, and ended outside the city's ICE offices. This was the first protest I have ever attended and to say that it was moving is quite an understatement. It was such a beautiful sight to see so many individuals banding together to support those being oppressed and speaking out against injustices.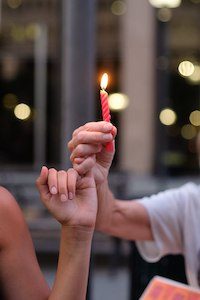 I was most in awe of the tangible sense of unity as people from different religions, ethnicities, and positions of power all came together in this one space to support one cause.
At the end of event we all held hands, read a poem together, and sang. With my right hand I held a friend's hand, the women to my left was holding up a candle so we instead held pinkies, and in an attempt to leave no one behind I offered the women behind me my elbow. Outside of a few friends, this was a crowd of mostly strangers and although we had never met before we all made a clear effort to be connected and exude unity. These gatherings, actively lifting other's voices, and being a part of Baltimore is what community looks like. This summer, I have been so grateful for the opportunity to know the city on a personal level. To make Baltimore my own and not just the city I go to school in. No matter where my future takes me, taking the time to become invested wherever I am, for however long I am there, is a lesson I will definitely continue to take with me.
Photo Credits: The Uncensored City – John Patterson
LYLE CARRERA | FREESTATE JUSTICE
We're getting to the time of year when temperatures are starting to border on "hot." I hope that doesn't sound as sarcastically arrogant as it might come off as; it's genuinely what I think about the summers here in Baltimore. As I write this blog post, it's 90 degrees outside my building. At the same time, I've been in temperatures 20-30 degrees hotter than this, which doesn't sound too bad, unless, like me, you actually prefer wet heats to dry heats. And I know that view is more than a little controversial, but it's something I could rant about for far longer than would be useful here.
In any case, you can probably tell that I've thought way too hard and way too long about the weather — which is the point I'm trying to make and, really, one of the more important things I've learned about the city of Baltimore. See, as many of my friends could tell you, I've turned my being from Las Vegas into way more of a personality trait than perhaps could ever be justified.
With all the talk we've had recently in CIIP about why we're in this program, what our goals are for this summer, and how those goals have changed over the weeks, I've had to ask myself how authentic I've been to myself with regards to setting these goals. In confronting that question this week, I've come to a conclusion that surprised me a lot more than it probably should have: that I don't think I'll ever be able to see Baltimore as my home — that I don't think it's where I'm supposed to be, at least in the end.
When I first applied and interviewed for CIIP, I went in telling myself and anybody who would listen that my goal was to foster a deeper connection to Baltimore. Even when I was first applying to Hopkins, I'd hoped to build that kind of connection if I got lucky enough to be able to attend this school. To me, that made a lot of sense. If I was going to be at Hopkins, the city of Baltimore was going to become a part of my story, and no matter how minutely, I would become a part of its story, at least in theory.
But earlier this week, I was talking to one of my coworkers, trading stories about various birthdays that we'd had. I told him that my friends wanted to go to Las Vegas after graduation, which is also around when I'd turn 21. We then started trading stories about our hometowns, and somewhere it that conversation, it hit me: Everything that I do, I do so that, some day, I might be able to return to Las Vegas and give it the same love that it gave me.
And while I'd accepted that for a long time, I never thought about how that is fundamentally at odds with some of the goals of this summer program. During orientation, one of the community leaders that we had the opportunity to speak with lamented that people just don't want to stick around in Baltimore. Both people who grow up here and those who find their way here as a part of their professional or personal development tend to leave, and that's left a bit of a hole here in the city.
I can't help but think that, as a matter of definition, I'm a part of that problem. This city is home for so many other people, and I can't help but feel as if I'm using it as a "training ground" of sorts, like a tutorial level in a video game. Some of my other blog posts have touched on the idea that I seek to learn lessons here that I can take back home and use to bring about positive change there. While I know that the fact that my intentions are (hopefully) noble should give me some comfort, doesn't that seem almost Machiavellian in a way — to look at impacting people's lives as a means to an end, a stepping stone to some broader goal?
To be sure, I'm thankful for everything that this city and this program has taught me. My time here has caused me to grow as a person infinitely more than I ever thought could be possible, and asking questions like this of myself will only help me grow even more.
It's just that the idea of home is the strongest motivator I've ever had. It's probably always been true, in fact, that for me, all roads lead to home. But it's also probably always been equally true that for me, "home" has only ever meant one thing.
SARAH KIM | IMPACT HUB
At Impact Hub Baltimore, we host an annual event series called SOCAP 365. Impact Hubs across the world host them. Here, the series consists of three different events with their own unique themes. Each of them address different ways that we build community wealth here in Baltimore, and feature diverse panels of entrepreneurs who tell us how they grew their businesses and how they got involved in the work they do.
Each of them are early in the morning— set-up begins at 7 a.m. and speakers arrive at 7:30. But members and residents come from across the city, fully alert and filling the open space by the entrance. Those who couldn't get seats stood, leaning against our long kitchen island (made from demolished rowhomes).
This past Wednesday was the final SOCAP 365 of the year, and the second one that I've attended. The theme was "Co-Creating with Community." It addressed a question that people in this space are constantly grappling with, one I've been examining constantly since coming to Hopkins: how can we encourage investment and foster community wealth in Baltimore without further marginalizing our city's residents? How do we include community?
The panel consisted of several speakers: Candace Chance, board chair of B-CIITY (Baltimore City Intergenerational Initiative for Trauma & Youth), Elise Liberto, private equity analyst at Brown Advisory, and Ben Siegel, the City of Baltimore's Opportunity Zones Coordinator. The panel's moderator was also Pickett Slater Harrington. An IHB member, Pickett is the founder of Joltage. He's also involved in gathering community input on development plans for Lexington Market, which have raised some familiar questions and concerns from residents: sure, renovations of the historic market might help draw in more customers, but will this development be at the expense of the residents who've always used it?
What I've realized over the past couple of years is that the answer to such questions are not as clean-cut as I thought they would be, and at the end of the event I had more questions than answers. One guest had a pressing concern about opportunity zones. How can we ensure that these investments really benefitting the community? Can we really be building community wealth, she questioned, if we are indebted to investors who may know very little about the community?
This is a recurring theme that I'm beginning to witness and examine at IHB. I know that I'll continue to examine it in my final weeks as I interview IHB members. I wonder what sort of answers they'll have.
CLAIRE ZOU | BALTIMORE CORPS
Anyone who knows me knows that I'm always down to rant about American capitalism. Four semesters of political science, history, and sociology classes have ingrained in me more than a healthy skepticism of our economic system. From readings on the decimating effects of the Washington Consensus on developing countries to seminars on the inextricable relationship between prisons and profit, the market failures of capitalism seem more like market calamities if you ask me.
That's why working for Kiva Baltimore this summer has been a kind of mind-shifting experience. Kiva's whole mission is to make capital more accessible to minority and female entrepreneurs who are typically excluded from conventional lending institutions, like banks. These entrepreneurs don't always have the perfect credit score or existing collateral, but they have ventures that are supported by their social networks, and to Kiva, that's enough to get on their platform. Through the power of crowdfunding (perhaps crowdlending is a better word), Kiva is equipping unconventional entrepreneurs with microloans to jumpstart small businesses, which in turn will hopefully start a domino effect of creating generational wealth. Essentially, it's using capitalism to undermine itself, or at least transferring the power of capitalism to those who are historically excluded from holding it, one entrepreneur at a time.
Last Wednesday, as I was biking back home, I stopped by the Druid Hill Farmers Market and tasted some granola from a stand. Since working with Kiva, I've found myself buying from small businesses more intentionally, so naturally I ended up buying a whole bag of granola even though I had two unfinished bags in my pantry. The next day, I emailed the lady running the stand to let her know that I thought she might be interested in applying for a Kiva loan if she wanted to expand her business. To be honest, I was somewhat unsure about sending that email because I didn't want to sound like I was just trying to sell her my own product, like I had bought her granola just so I had a reason to tell her about Kiva. But she responded positively and said she'd call me to ask for more information! Receiving that short email caused my previous anxieties to melt and reaffirmed that I could participate in our capitalist system without necessarily feeding its worst parts. It's something that I am continuing to reconcile, but I'm grateful to Baltimore Corps and Kiva for sparking this mentality shift.

MADELINE AMONICK | STATION NORTH ARTS & ENTERTAINMENT DISTRICT
Remember how I said last week I was starting this one with refreshed energy and a fresh head? All of that flew out the window Monday morning when I walked through the rain. Some other trenches of the week include a power outage and a blaring fire alarm, two meetings were "rescheduled" because of the lack of attendees, and digging through unhelpful forum pages of our domain provider.
Don't worry. Here are some highlights: I had an amazing conversation with one of our community artists, finished my first grant report, tried a local restaurant for the first time, ate lunch with fellow CIIP interns (shoutout to my Station North homies) and considered starting a Tik Tok based on the enticing insights made by the NASA astrology app, Co-Star.
I don't want to lie and say that there aren't bad days and that everything is going just peachy. In my experience, there's always some slight pressure to have an amazing internship and be spending your summer doing mind boggling things, like saving a city, making millions, or solving that new scientific problem. I've loved my CIIP experience but that doesn't mean it's all rainbows. They are there certainly, they just hide behind dark clouds.
While I enjoy the good gripe and moan, a whine if I'm feeling frisky, know that they are only a simple way to part the skies as it were. A little complaining never hurt anyone.
AIM WONGHIRUNDACHA | FUSION PARTNERSHIPS
I attended Baltimore Data Day, a workshop organized by BNIA-JFI for community leaders and non-profits. I went to sessions which discussed digital equity, mapping and endangered data but the most interesting workshop was about community-engaged data. While the panelists presented on different aspects of community data, the questions directed towards them were focused on 311 call data. 311 is the way in which residents report problems and request services from the city which are not deemed an immediate emergency. Dan Hymowitz from the Mayor's Office of Performance and Innovation spoke about the new interface to access 311 call data and encouraged everyone to get the app which can track completion of the services. Tonya Nashay Sanders from Morgan State University elaborated on problems with 311 in her research to improve neighborhood health in Franklin Square. Sanders explained that some residents did not know how to use 311 while others did not see the problem fixed after reporting. The concerns were echoed by community association leaders in the audience. One association president explained that it is particularly confusing to see that a problem has been fixed on the mobile app when the issue has only been passed onto the relevant department. Another resident had the same concern, complaining that a particular pothole was still not fixed after several reports. They explained that this led to "complain fatigue" where residents would no longer bother to report problems and exacerbated the general sentiment of a broken system. In the BNIA Vital Signs report, one of the measures of cleanliness is 311 reporting of dirty streets and alleys. Knowing all the problems with the 311 system, the number is likely an underestimate. The panel highlighted the difficulty of community-engaged data which is incredibly important neighborhood improvement at a local level. Perhaps most disheartening was a resident who explained that these problems with the system meant that residents would have to elevate the issue in other ways through personal connections and contact with people in power. She said that this was unfortunate but necessary in order to get things done.

Tags: Baltimore Corps, Central Baltimore Partnership, CIIP, ciip 2019, Freestate Justice, Fusion Partnerships, Impact Hub, Station North Arts and Entertainment District