2019 Week 6: Community Arts Programs
Posted: July 24, 2019
SEHEJ PARMAR | BALTIMORE YOUTH ARTS
If there is one thing I have struggled with this week at my internship, it is maintaining a balance – a balance between empathy and authority. I would have to say that if I were to take one of those personality tests, the results would come out to be highly skewed towards empathy over authority, the scale would probably read around 85% empathy and 15% authority. I know for a fact they are not mutually exclusive as I have had many mentors who have been more than sufficient in both. I think it has more to do with me and my ability to find the balance. Knowing and hearing about the realities (and often trauma) our young people are dealing with on a day to day basis at home, in the neighborhood, at school, with friends, etc. tugs at my empathetic side. I want to be understanding towards a young person having a bad day or bad days and so is not participating in activities. I want to be a source of comfort for a young person who needs someone to talk to. I want to be helpful to a young person who needs help in that moment. In general, I have been focused on connecting, supporting, and empowering always.
However, I can tell that my willingness to empathize has at times sacrificed my ability to facilitate my job readiness class and in general when supervising because I am seen as a friend or someone who is too nice and doesn't need to be taken seriously. Regularly I have to ask 2-3 times if I want help moving a table or picking up trash, I am faced with shrugged silences when I ask questions, and I find myself walking around the room to give out lunch or pick up papers. The one big thing I realized about our young people from the start is that they are intuitive. They know how to work smart and get things done using the least amount of energy. They question everything rather than accept readily. They give respect where it is earned. They listen and respond when they connect with what you are saying. At times they feel entitled. They do not like the idea of authority. I know that in most cases these behaviors are very fair and I don't take them personally, only aim to do better with gaining their respect and make those connections for them in order to earn my authority as a teacher and supervisor. Yet I also know that these behaviors won't run at most other workplaces once they leave BYA, where authority is more highly valued and expected to be readily accepted – a fact that I see as problematic in our society but also a reality.
I sometimes feel like I am working in a paradox. Essentially I have to teach our young people about professionalism and job readiness in work places that largely function very differently than BYA. BYA works hard to maintain an environment that is open, inclusive, and rejects power dynamics due to the specific population we serve, Baltimore Youth who have been affected by the criminal justice system. On the other hand, other jobs strive on power dynamics in the workplace and readily fire employees for not being "agreeable". So while part of my job (the more favorable part for me) is to be empathetic, the other part is sustainability, which means getting our young people ready for future life situations, jobs, and careers in the typical, power-hungry workplace where they will have to accept authority without questioning it. And I find myself struggling in class to not sound hypocritical at times when asked: "Why do I have to do this?"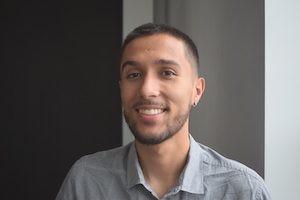 GABE SILVEIRA | JUBILEE ARTS
This past week has been a great experience. With Artscape coming up, the Youth in Business team was prepping for our booth at the festival. Having never been at Artscape before, and knowing how much we had to do to prep, was a little stressful. On Wednesday we went to City Wide Youth Development to use their screenwriting facility to produce our shirts for Artscape and for our partnership with the Baltimore Orioles. They are having an even coming up where it is the first time they throw a concert at their field, and it's going to be for Billy Joel. The Youth in Business team mocked up prototypes and ultimately decided on a "Piano Bird" design with an oriole referencing Billy Joel's "Piano Man". We also screenwriter various other colorways and designs for Artscape, and managed to get a headstart on all of our Mosaic Address Sign orders. I'm super proud of my team and feel like this has a been a great experience!
EMMA ELIAS | WIDE ANGLE YOUTH MEDIA
"How do you spell awareness?" I was helping three different students write their first resumes this week, and spelling was becoming an issue. One student, a rising high schooler, could write full sentences with correct grammar and spelling. Another, a recent high school graduate, was close on many words, and I made her figure out the words on her own with spell check. The third student, a current high schooler, needed help on almost every word as his attempts were unrecognizable to both spell check and Google. As they completed the "Education" section of their resumes, it then came as no surprise that the rising high schooler, a better speller and writer than both of the other older students, went to private school while the others went to the city's public schools.
Looking back, it is really quite poignant to me that the student asked how to spell awareness. I had seen the statistics about education. I had read a report that said that about 60% of high school juniors in city schools were at a fifth grade reading level or below. There was something different about being asked by a student who is very much taller than me and not much younger than me how to spell words that I can't remember not knowing how to spell. This is what awareness is to me- awareness of my privilege, especially with education, and awareness that every single statistic may represent a child, a teenager, or a teacher living in the same city.
Of course we didn't start CIIP this summer thinking that Baltimore's problems could be resolved in two short months. We learned about the city and dedicated ourselves to listening to community leaders and those making the fate of Baltimore their life's work. As CIIP nears its closing ceremony, though, how do we make this not feel like the end? I know we still have two weeks left this summer, which I guess is 25% of the internship, but it feels like not enough time. I don't want to have just dropped in at my placement for the summer because I know that working with young people means building relationships and supporting them for longer than just two months. I want to be able to continue with Wide Angle and for CIIP to go on for much longer than a summer, but I also keep remembering that when September comes so does homework, classes, and very little sleep. I'm at a loss for where to go from here.
I've learned so much in such a short amount of time about young people and Baltimore. I don't want it to stop, but I'm unsure about how to keep going and to keep learning, not just from the Sun, official reports, or classes, but actually from the people who live here and have lived here their whole lives. I learn so much every hour I spend in school, but maybe I never truly learned how to spell "awareness" until now.
NIKKI GARCIA | LIBERTY ELEMENTARY SCHOOL
The tail end of this week has brought me much personal growth. I have straightened out some things in my personal life which I think have a great impact on my professional life. During one of our debriefing sessions, Mr. Manko, my supervisor and the principal of Liberty Elementary, made sure to emphasize that my position this summer, while in the field of education, was really exposing me to the role of leadership and management. Every now and then, he asks me to tell him what one take away might be from that day or week. This week the common theme has been the importance of productive team dynamics. We all hear others saying that communication is key, but we do not realize just how crucial it is to the completion of everyday tasks in a smooth and timely manner. Communication also makes parents of the school feel more comfortable and secure knowing that their children are attending a school which runs like a well oiled machine. My conversation with Mr.Manko about this reminded me of my first week at Liberty at the beginning of the summer. There was a man (whose name I cannot now remember) who was shadowing Mr.Manko as part of his principal training. He told me that he has been to many schools and has observed many principals, and that he was very impressed with how well Mr.Manko leads and manages Liberty. He said that in many schools, principals are constantly running around 'putting out fires' while Mr.Manko seems to be at ease and handling situations as they come quite deftly. He attributed Liberty's success to the amount of trust that Mr.Manko, as a leader, places in his teachers, staff, and parents. I can see how this would be a factor that encourages and empowers people to be as productive as they can possibly be. Even as a student, and as an employee, I feel that I work better when my boss or my professors trust in me and rely on me. Of course, I have to work hard to earn that trust but once it is established, there is nothing I cannot do.
This week, I also got to do the CIIP Instagram takeover. I led our @jhuciip followers in a play-by-play of my day, leaving out the mundane and unnecessary details, of course, or rather, highlighting the amazing work the students do and comments from teachers and members of the Parent Teacher Organization. Something that really stuck with me was when Ms.Gomez, president of the PTO, said "Something Liberty does have is love, love, love." She elaborated on her comment by emphasizing how much love the staff and parents have for the students at Liberty, how they look forward to greeting them each morning, and how much love the staff and parents have for each other. It is easy to see this after spending just a day at Liberty, so these last 6 weeks have been a broad example of love in action. This is the kind of environment that students thrive in. I can't wait to be a part of creating this environment for students when I go into the field of education as a certified teacher.
ZAKIYA CARTER| 901 ARTS
My placement is at 901 arts and this is a partner of fusion partnerships Inc. as a result of 901 arts being underneath fusion partnerships I was able to meet some of the other organizations that fall underneath this management business. Unbeknownst to me another CIIP intern Worked at Fusion partnership Inc. that's when I went to the yearly partners barbecue I met them there. It was nice to have someone that I already knew there in an unfamiliar setting and it made me more bold in speaking in a room full of people much older than myself. This additionally made it easier for me to ask questions about the business since I could direct them toward the intern that works there. Even though there is this connection fusion partnerships game is an exactly collaborating with 901 arts toss it would be better to say that it is an avenue for I don't want arts to connect with other nonprofits underneath their business. I do you see the potential for collaboration in the future possibly with corner team boxing which also has a CIIP intern. As I manage the Instagram account for my placement, I see that corner team boxing is one of the friends on this account. This lets me know that for the team and 901 have possibly run into each other in the past and they are on friendly terms which means they could possibly have some sort of collaboration in the future. The initiative which Jack is promoting through education at their facility could be a nice complement to the arts focus work that 901 Arts has and as I manage the Instagram account for my placement, I see that corner team boxing is one of the friends on this account. This lets me know that for the team and 901 have possibly run into each other in the past and they are on friendly terms, which means they could possibly have some sort of collaboration in the future. The initiative which Jack is promoting through education at their facility could be a nice complement to the arts focus word that 901 Arts has. This could create a very great alliance which will help the youth that they cater to be focused on steam education.

Tags: 901 Arts, Baltimore Youth Arts, CIIP, ciip 2019, Dent Education, Jubilee Arts, Liberty Elementary School, Wide Angle Youth Media