2021 Week 3: Community Arts Programs
Posted: July 7, 2021
YVETTE BAILEY-EMBERSON | GREATER BAYBROOK ALLIANCE
My days have been long in front of my computer. I do not start going to my site in person until next week, so I am still entirely virtual. I have been enjoying the work I do on my own, but I am looking forward to being more involved with the organization as a whole and get to meet with the rest of the team. I am copied on many of the emails sent between my supervisor and other GBA employees discussing the different projects they are working on, though, which has helped give me some insight on all that is being done and understand how important collaboration is to GBA. I have mentioned in previous blogs how interconnected everything is especially as I worked with other organizations, but it is becoming increasingly apparent. My supervisor jokingly says, "steal, steal, steal." Of course, we only use things from partners with permission, but in this work, we often are doing such similar things it doesn't make sense to remake the wheel. This has helped me feel less alone and less stuck. The work can feel very overwhelming, and I often feel like I have to consider a million things with each task, but relying on others and being comfortable doing so is helpful.
I've begun to move on from research about program development and now am digging into the vacant houses and pulling data about them for developers to have readily accessible. I look into who owns the property, when it was bought and when it was determined vacant, any unpaid taxes on the property, etc., and put it into a spreadsheet. I also try to find the owner's contact information; it is a little creepy how much information is available to the public. But, from this, I have noticed that several properties are owned by investors in places like Miami– which is very interesting and shows how deep some of these issues are. It's not just a problem of Baltimore city not investing in neighborhoods, but a problem of exploitive groups and stakeholders in other places with no interest in our city and neighborhoods–just the land and how they can get some money. It's important for community development organizations to make the programs like our new Housing Developer Incentive Program to renovate vacant homes to allow for more investment in the community by the community, but it's all so complex. Renovating a home is not always an easy fix. I can see how people get disheartened.
Moving forward I want to better understand how this type of ownership affects communities and what the process looks like to take it back. I want to talk about this more openly and often, especially with community members outside of my computer screen. My relatively loose schedule makes way for this, and I hope as I begin to go into my partner's neighborhoods more I can make room for these relevant but separate conversations.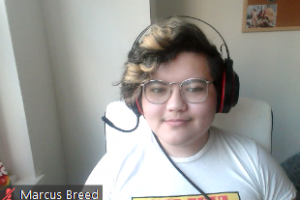 MARCUS BREED | ART WITH A HEART
This week was interesting! The program that I am facilitating started this week, so I was finally able to get some more teaching experience. I have never taught on Zoom before, so that was strange. I am used to teaching in front of a classroom of kids where I can see their faces and gauge how much they are understanding the material from that, but on Zoom, most of the participants have their cameras off. I obviously do not want to force them to turn their cameras on, but it definitely makes teaching more difficult.
Still, I am having a great time teaching this class! The class is in partnership with YouthWorks, and I am helping my supervisor teach graphic design and 3D modeling. Graphic design and 3D modeling are two of my passions, so it is very fun teaching them to the class. Since it is only the first week of classes, we haven't been able to go over much material, but I am so impressed with the designs they have made so far! They are really funny kids and it is so nice getting to know them. I hope this week I can connect with them more and teach them even more.
Since I'm helping teach two Zoom classes a week entirely online, I now have a hybrid work schedule. It is a bit weird not going to the office everyday. I enjoyed being at the office, since it allowed me to talk to the team and bond with them more. However, I will not say that I dislike staying in the comfort of my home twice a week. After the Zoom class, I still have around three hours of work to do, and being at home allows me to stay concentrated on the design work that Ali has given me, where at the office I might get distracted with other tasks that people need help with. I will see in the future how this new schedule works for me.
CAROLINE COLVIN | DEWMORE BALTIMORE
Wednesday morning, I spring instantly from my mattress, adrenaline rushing with nervous-excitement. My dress is lightweight, chosen specifically with today's humidity in mind. I pop a bagel in the toaster, spray on some sunscreen, and fill my water bottle at the sink. As I run out the door, I cannot help but grin. Today is not the average workday, but the first of three in-person events for DewMore Baltimore's 2021 Artivist Apprenticeship Program.
I make my way over to DewMore's office at ImpactHub, arriving promptly at 8:30 to begin setup. Ninety minutes later, our artivists start filing in. It is my job to direct these participants, age 14-24, to our program's first location– the adjacent Ynot Lot.
Once all together, we form DewMore's traditional opening circle. Slangston, DewMore's Artistic Coordinator, poses today's reflective question: "If you could go back in time and change any event, which would it be and why?" We are instructed to each give two answers: one from world history, and a second from our own personal histories. Over the course of this activity, it becomes clear that DewMore has taken great care in fostering a safe space for their youth. Each artivist shares openly, vocalizing personal experiences without hesitation.
After some question-answer programming and a quick pizza break, I begin covering tables and dispersing materials for an afternoon painting class led by Baltimore artist Maren Lovey Wright-Kerr. The piece of choice is a visual homage to Mother Earth, originally designed by Lovey herself. At the end of the workshop, we each give our painting a blessing, choosing one word to 'carry forward' within the canvas.
Ultimately, I settle upon the word 'community.' From start to finish, my day with DewMore was palpably communal. Words can't do it justice, but there is something inexplicably wonderful about the DewMore way. And me? I simply feel fortunate to be along for the ride.
SIGRID EDSON | STATION NORTH ARTS DISTRICT
I wake up and check my email. It's taken me three weeks and many more missed replies to adjust to my placement's implicit expectation that I'm ready for action 24/7. On my phone I see that someone has finally written me back — they'll be meeting me at the Ynot Lot this morning at ten. I reply: "I'll be by the sign at the entrance in a blue baseball cap. See you soon!"
Two hours later, I'm waiting on the corner of North Avenue and North Charles Street, regretting that I chose to walk to work in the hundred-degree heat instead of taking the Circulator. While I'm waiting for the programmer I'm meeting, a gentleman calls me over from his folding chair under a tree and asks me if I'm in charge of the space. I recognize him — he's one of the folks who often spends time at the lot when there isn't an event going on. He wants to know how to reserve the space to hold a rap performance featuring a few of his friends. I don't have a pen or paper on me, but I tell him that after my meeting I'll run to the office and bring him back my supervisor's contact info. Chance encounters like this make up a significant portion of my work. I'm more comfortable with this now than I was during my first few days, when I would practically hide behind my coworkers when community members approached us. These days, although I don't always have the solutions folks are looking for, I'm not afraid to step up, introduce myself, and build a rapport.
My programmer shows up, and I show her the space and how to get into the shipping container that holds all our supplies and audio equipment. When I ask if her organization has done an event at the Ynot Lot before, she smiles and says, "We love this place." After giving her a key and running to and from the office to write down and deliver the contact information for the gentleman under the tree, I finally sit down at my desk in CBP's air conditioned suite. The desk-job part of my work is just beginning. I take a minute to breathe before I start.
Tasks for today: Research workarounds for creating directories on SquareSpace without having to pay a third party. Read a collection of requests for grant proposals to see if any might be good fits to fund Ynot Lot maintenance. Begin outlining slideshow content for an artist info session we're hosting later in the summer. Meet with my supervisor to discuss next steps for our rapidly-approaching youth and family event.
I like when the office is quiet, but I also like when one coworker brings in the puppy he's pet-sitting, or when another does laps around the cubicles, literally singing about how glad he is to no longer have to work from home. A lot of my work feels isolated or hypothetical, so moments like this, along with helping at the Ynot Lot, remind me that we're doing this for an actual community of people and that it's something worth being excited about. I go home tired every day, but I haven't yet had to drag myself out the door in the morning. For every spreadsheet I reformat or email I write, there's also a cool new person to meet or an event to go to. The ebb and flow keeps me going.
ZARA HAMID | BALTIMORE YOUTH ARTS
This week was the first time I've had the opportunity to interact with the youth. With the start of our summer programming, BYA staff has been entirely focused on getting the summer program running. Because the schedule and activities change day-by-day, but not week-by-week, I have just started adjusting to my new weekly schedule.
I start off on Mondays with a meeting with my supervisor, going over the work I had done the previous week on social media and grant research, before discussing my plans for the rest of my week. After, I spend time creating graphics for the social media, proof reading blog posts to post to the website and getting ready for career readiness on Wednesdays.
Tuesdays start with a meeting with the head of career readiness, going over lesson plans and my role in them. I get to provide input on the lesson plans, adding some slides and activities that i think that the youth will find helpful. We're always looking for ways to make resume writing and learning about networking fun! Afterwards, it's back to social media work: making sure the blog is posted and immediately sharing it on the Facebook, Instagram, Twitter, and their respective stories.
Wednesday is probably my favorite day of the week because I get to work directly with the youth on job readiness. So far, we have explored topics like goal setting, networking, and resume writing, and the youth are eager to engage in our class, despite having to be on zoom for 4 hours straight. With the little activities that we do throughout the class, I'm beginning to see how each youth has their own unique art style. For example, as part of goal setting, we asked them to draw themselves in 10 years, and the art that they made is truly astounding (and posted on the Instagram if you all want to check it out).
Thursdays, I attend community meetings and staff meetings, the former of which are geared towards building a community between the different apprentices in BYA through icebreakers and games like Kahoot. After all that is over, I finalize blog posts and Instagram posts to be put up on Friday.
Fridays are my most self-directed days. I almost never have meetings, so instead the day is spent drafting social media posts and doing grant research.
Overall, I have felt myself learning so much everyday, and with a packed schedule to accompany it, I have really enjoyed my time at BYA so far. I can't wait to see what the next five weeks bring.
KATHY TIEN | WIDE ANGLE YOUTH MEDIA
Since starting work in-person, I have had the opportunity to spend time with my supervisor, Keiona, and the rest of the programming team at Wide Angle. I got to learn more about how Keiona started her career in social work and advocacy, and (not to be cliché) it was nothing short of inspiring. She is a church pastor, a mother of three, and an entrepreneur, and somehow, she manages to show up for her staff every single day of the week.

The common thread connecting all of her professional experiences in social work and nonprofit management is learning how to have difficult yet productive conversations. In Jamaica, Keiona worked with survivors of sexual assault and domestic abuse, and she worked to break down the cultural norms of the women being lesser than men in the household. These discussions were met with disapproval and anger from the local communities, and whenever Keiona would attempt to have such conversations, groups (men and women included) would dub her views as the "American" perspective and refuse to listen. This goes back to something I had mentioned in my first blog about takeaways from orientation – regardless of how difficult or complex a topic of conversation may be, it requires both parties to be willing to listen and collaborate to find a solution. Without explicit open-mindedness, conversations with people who do not share your beliefs are near impossible.

I have also been able to chat with Beth, a collage artist and art teacher, over the past few days at work. Beth's family is from Kentucky, although she now has family all over the South and Northeast. Conversation was just comfortable and natural with Beth. We talked about our love for service, travel, and the wonders of the animal kingdom. It was so refreshing to get to know her – although we seem to come from very different backgrounds, our passions and interests coincided (almost to the extent of us both having déjà vu when we were chatting).

Tags: 2021, Art with a Heart, Arts, Baltimore Youth Arts, Community Arts Programs, DewMore Baltimore, FORCE, Greater Baybrook Alliance, Station North Arts and Entertainment District, Wide Angle Youth Media