2021 Week 4: Community Arts Programs
Posted: July 13, 2021
YVETTE BAILEY-EMBERSON | GREATER BAYBROOK ALLIANCE
I didn't really know what my project was going to be when thinking of my goals for this summer, so my personal goals mostly revolved around how I engage with my partner and their neighborhood. I wanted to understand the needs of a new community, develop skills in partner outreach, and actually spend time in the Curtis Bay and Brooklyn neighborhoods that my partner organization works with aside from just coming and going from my site. As I look back on my set goals now, I have seen them shift and take new forms.
I only just started going to my site and its neighborhood this week. First off, I was SO productive, but that's beside the point. But, this also means that I haven't been able to really get to know the neighborhood on a deeper level than what online data tells me. Digging into vacant housing in the area has helped give me some context, and when I visited the office my supervisor gave me a driving tour of the neighborhood as we went to a local park to document the dumping there. It was very interesting to be able to put a visual to the research work I have been doing, but I still am lacking community voices. I am looking forward to getting to know the community better, which should happen soon as I begin to do some fieldwork to physically document the vacant homes I have been researching. I will be conducting the fieldwork with a coworker too, which I hope will help me feel more connected to the organization as well as the community to meet this goal of mine.
I have, however, been able to delve into networking and understanding housing development in Baltimore, which was unexpected but valuable. I met with the Small Developers Connective this week to create a partnership with them on our Housing incentive program. I was representing Greater Baybrook Alliance, which gave me confidence that I am truly learning a lot about this field and actually understanding it—enough to have a conversation about housing development with other experts. Although housing development in the scope of real estate and contractors is not my exact interest, it is very interesting to delve into this area of community development and housing policy. Creating affordable housing is essential in housing equity and talking to the stakeholders in charge of ensuring housing quality and development has taught me so much more about housing policy than I expected. For the rest of the summer, a new goal is to continue building these conversations and laying the groundwork for a partnership with these developers to move our program along. It is exciting to see something that I began entirely from scratch a few weeks ago really take shape. I just have to keep the momentum going.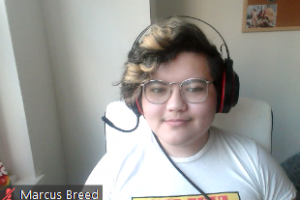 MARCUS BREED | ART WITH A HEART
This week was much shorter, so there wasn't as much material upon which to reflect. We had Monday off due to the holiday and I took Friday off to move, so I only spent two days in the office and one from home. The class I am facilitating went well, though some of the students are struggling – teaching graphic design sense is much more difficult than my supervisor or I realized it would be. We spent much of the lesson focusing on one-on-one feedback. I hope this helps them understand the concepts more deeply. I suppose I misjudged how much of my graphic design sense is learned, and thus I assume that others should innately have this knowledge. That is wrong, of course, and teaching is making it much easier to see that.
I also had the pleasure to teach a class for Itineris, a group that helps autistic adults and their caregivers with a myriad of different tasks. Much of the Art with a Heart staff is busy right now, so they were not completely prepared to handle the Itineris group and weren't sure what art project to give them. I decided to speak up. Since I am also autistic, I better understand what other autistic people might enjoy, so I suggested we teach origami. It can be very simple and the design I chose was not too difficult, but the list of tasks to follow and fun textures of the paper make the process very satisfying to me and other autistic people. It also allows the teacher to give more challenging origami patterns to people while others may need help finishing. I was surprised when not only did they like the idea, but they also let me plan the whole lesson and teach it! It was great getting to know the group and teach them an art project that I love to do as a hobby. I hope I get to work with Itineris again
CAROLINE COLVIN | DEWMORE BALTIMORE
I often feel like a spiderweb– expanded in all directions, constantly at the ready. Over the course of my internship, I have worn many hats: administrator, graphic artist, notetaker, vendor coordinator, PR specialist, event planner… the list continues. As DewMore's human 'catch-all,' I am prepared to assume any and all unclaimed tasks at a moment's notice.
Sometimes, my assignments are pre-planned, delegated in advance of a specific deadline or event. Most days, I wake without prior directive on the day ahead. Much like the spider, I cast a wide web, ready to assist wherever needed. Overwhelmed co-worker? My day will be spent filing invoices and check request forms. No advertisements for an upcoming event? You can find me with a tablet in hand, sketching out poster designs to share with the Baltimore community. Only two people available to set up tents? Consider these arms ready for lifting. Need a thorough meeting transcription? Hand me some paper and a pen!
Although initially anticipating a more focused internship, this breadth of experience has proven invaluable. In viewing each of my experiences as a 'building block' of DewMore's mission, I am beginning to develop a holistic understanding of both DewMore and the nonprofit sphere at large. With nonprofit work, nearly every job is mission-critical. If even one deadline is missed, future ramifications are bound to ensue. While interning with DewMore, I aim to alleviate this threat at all costs, ensuring that – to the best of my ability – no tasks inadvertently fall through the cracks.
As I look to the second stretch of my internship with DewMore Baltimore (we are now officially at the halfway point), I hope to maintain this web mentality, latching on to all that flies my way. No two days are exactly alike, and I wouldn't have it any other way..
SIGRID EDSON | STATION NORTH ARTS DISTRICT
Things really picked up at my placement this week — or maybe I just finally have enough general knowledge and competency to keep up with the pace things already were at. I've been working independently to put together slides and content for a series of info sessions we're hosting later in July targeting artists who live in the Cork Factory, the Copycat Building, and City Arts. The goal is to make the independent artists who already live and work in the district aware of who we are and what resources, opportunities, and programming we can connect them with. My supervisor gave me a general idea of what to include at the start and has given great feedback throughout, but the majority of my time working on this project has been just me reading and researching on my own. The challenges of searching for grant opportunities only to find that after ten clicks down the rabbit hole they actually closed in 2018, trying to understand the most recent update on the eviction moratorium, and discovering that the deadlines for every good teaching job in the district just passed are a window into what it would be like to be an artist trying to make a living and further their career in Station North. Gathering this information has been the most significant learning experience of my internship so far.
Still, while I am learning a ton, the phrase I find myself writing over and over in my notebook this week has been "I know nothing." I don't know which blocks in the neighborhood have more families and which have more seniors. I don't know what kind of dressing the parents of Greenmount West will want with their catered side salads. I don't know what the needs of this community are, and I don't even know who to ask or how to ask them. There is still so much I can't help with simply because I don't have the relationships. This isn't so much a problem to be solved as it is a lesson to carry forward. I've always heard that "it's all about who you know," but this is the experience that is driving the point home for me.
ZARA HAMID | BALTIMORE YOUTH ARTS
This past week, I've been able to engage with youth more, sitting in on classes and facilitating conversations between returning members to BYA (senior apprentices) in career readiness class. As I go through my week, I'm able to see how my goals for this summer have really impacted the way I interact at BYA.
I spend a lot of time researching social media, trying to find the way to "hack" the Instagram algorithm to help our Instagram account gain more views. So far, I've been unsuccessful. Whether it's youth headshots or artwork, or showing what's happening in classes, the Instagram has had very low engagement. In the coming weeks, we're hoping to post more reels. Since Instagram has announced that it's switching to a video platform, I'm hopeful that this will help increase our engagement.
Another one of my goals was impacting the journey of the youth. With the college panel that I am currently organizing, I'm hopeful that the youth will receive insightful information that'll help them decide whether they want to apply to arts school, a 4-year university, trade school, or community college! In this regard, I'm confident that I can fulfill my goals, especially given that many schools have agreed to attend.
My final goal was to help BYA bring in more money with grants. I've found this to be quite a bit trickier than I originally thought because many of the grants that I find are either no longer accepting applications, or they are already on BYA's radar. I've tried varying search terms and talking with my supervisor to work on finding more grants to help fund BYA. Overall, I've made some progress towards my goals, and I hope that by the end of Summer '21 CIIP, I will have met them.
KATHY TIEN | WIDE ANGLE YOUTH MEDIA
Working at Wide Angle these past few weeks has brought me more fulfillment and stability than I ever expected from a summer internship program. I truly feel like I have found my place within the organization; my team and their mission-driven work motivate me to be present, show up for others, and get work done. Before writing this week's reflection, I took a look back at the goals I had on my CIIP Goal Sheet. On it were a few vague points about understanding the facets of nonprofit management and most importantly, listening to other people's stories. I have gotten my foot in the door for all of the goals I originally set, and I unknowingly have been adding to the list of goals as Keiona, my supervisor, delegates weekly tasks to me. I have already elaborated on the wonderful people and conversations I have had at work in my last reflection, and this week I get to start on tackling my goal of learning the ropes of nonprofit management.

A main component of nonprofit management is partnerships with other community organizations. The next project for me to work on is reaching out and maintaining contact with organizations that Wide Angle can collaborate with in future campaigns. The core of Wide Angle's mission is reflected in its partnerships – a nonprofit and the community it serves exists in a mutually beneficial relationship. Wide Angle offers marketing and branding materials for an organization while educating students about prevalent issues in the community. Keiona has given me a list of prospective organizations that I need to find contacts with and propose a partnership.

On a personal note, being surrounded by passionate people at Wide Angle has given me mental stability. I continue to feel more mentally prepared to take on my personal goals, and I feel supported by those around me.

Tags: 2021, Art with a Heart, Arts, Baltimore Youth Arts, Community Arts Programs, DewMore Baltimore, FORCE, Greater Baybrook Alliance, Station North Arts and Entertainment District, Wide Angle Youth Media