2021 Week 5: Community Arts Programs
Posted: July 21, 2021
YVETTE BAILEY-EMBERSON | GREATER BAYBROOK ALLIANCE
This summer I have grown tangible skills in program development and networking. I helped design a program to incentivize the renovation of vacant houses in Curtis Bay and Brooklyn without any previous knowledge of program development or things like renovation standards or contractor qualifications. Although I am now walking away with important experience and concrete knowledge of what to consider in creating a program or the inner workings of vacant rehabilitation, my most important takeaway is how to trust myself and just go for it. I would second guess everything I said or did for the project because I felt like I knew nothing, but to be honest my supervisor had too many other things on her plate to double-check every detail. This isn't to say that I made errors or slacked off, but I had to just trust my judgment and assume I was right. That can be hard for me; I'm not scared of being wrong or making a mistake, but I think imposter syndrome can be really present when you're thrown into a field you know little about. I think that's relevant to all of nonprofit work, though. You often have to wear so many hats you don't have the time to gain all this experience in everything you do. And how else will you get that experience if not by just starting?
Networking has also been a large part of this summer for me. Jumping into projects is less daunting when you realize you don't have to do it alone. I didn't know anything about renovation standards, so I talked to people who did. I have been able to see how supportive and collaborative the nonprofit and community development world is, at least in Baltimore, and it is so inspiring. Networks are always expanding and reaching out to a stranger to get feedback on a program idea has been met with the most welcome arms. Most recently, I've been reaching out to leaders of local community associations, principals of local schools, and local council members to get feedback and promote collaboration for a public art initiative GBA is starting, which has also been very interesting. I have never had to do this level of networking and communication, which is a skill that is extremely important for any type of community organizing work. I may have spent 20 minutes on each email racking it for any mistakes, but it will be easier with practice.
I have gained such useful experience and skills that will aid me in my future career, both concretely and intangibly. Working from home has been a big challenge for me, but it is reassuring to look back and see how I have grown even while feeling like I'm not going anywhere. I feel more prepared to enter the housing world after college and am confident that I can just jump in and be okay.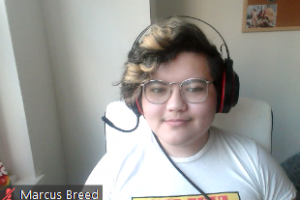 MARCUS BREED | ART WITH A HEART
This week was hectic. Late Sunday night, I was asked to be an assistant for an in-person class at Enoch Pratt on Monday morning. No problem – I try to be as flexible as possible, and I love working with students. I went into the class in the morning to find out that my supervisor had to sub in for the teacher because the teacher's flight had been delayed and he was unable to come in. Half of the students who were supposed to be in-person decided to stay online, so we had to change our lesson plan at the last minute to better accommodate the hybrid class. Even though this was unexpected, everything went fine and we were able to have a good class. However, we were supposed to have check-ins with the YouthWorks class, and since my supervisor had to substitute, this meant we had to cancel half of them.
Since we canceled half of the check-ins, my supervisor decided to hold them Tuesday morning, so I was allowed to come up with the lesson plan for Tuesday's YouthWorks class. It was very exciting to be able to teach an entire class myself, but it was also a bit nerve-wracking. I was very thankful for the opportunity, however. That night, I got a call from my supervisor – the teacher of the Enoch Pratt class got into a car accident. Though he was okay, I was asked to come in to assist him on Wednesday.
Unfortunately, on Wednesday morning I found out the teacher had resigned due to his accident, and that another substitute teacher was on her way. To add even more chaos into the mix, my supervisor had jury duty on Wednesday, so she was attempting to coordinate with me from the court. Thankfully, the substitute teacher was able to come in time and the class went well.
I never realized how much can go wrong during nonprofit work and the amount of flexibility and hard work that goes into making everything run smoothly. I was amazed that my supervisor was trying to hard to stay on top of everything, even in such a tough situation. She is incredible to me, and I want to learn so much more from her.
CAROLINE COLVIN | DEWMORE BALTIMORE
Art imitates life; life imitates art.
Throughout history, art has played a crucial role in interpreting popular culture, illustrating where a society was, is, and could be. Art is power, capable of both reflecting and shaping culture. Artist-activists (colloquially: 'artivists') understand and harness this power, using art as a tool of community engagement and advocacy.
In fighting social inequities, art provides a uniquely accessible means of communicating ideas. Not everyone has a formal education or background in 'standard academic' writing. Most people, however, are versed in some form of art (poetry, music, dance, etc). Evidence overwhelmingly supports artivism, especially as a means of youth engagement. Students who study art are four times more likely to be recognized for academic achievement (The National Endowment for the Arts). Low-income students with arts-rich experiences in high school are also ten percent more likely to complete advanced-level courses and more likely to have planned to earn a bachelor's degree (74%) than students with little-to-no arts exposure (43%).
As such, artivism is central to the mission of DewMore Baltimore. DewMore's programming uses poetry as a tool of civic engagement and communication, amplifying and uplifting Baltimore youth voices in decision-making spaces. In DewMore's summer Artivist Apprenticeship Program (D.A.A.P), the cohort's primary task is creating a mini-documentary chronicling lived experience as Baltimore youth. This project will parallel TT The Artist's recently-released "Dark City: Beneath The Beat," a musical-documentary on Netflix "reimagining the narrative of Baltimore City through its home grown sound and dance known as Baltimore club music," (darkcitybmore.com).
Each day at DewMore, I learn more about 21st century artivism, and the associated weight of art-making. As someone intending to pursue the arts professionally, it is important I remember this creative responsibility. Each piece of art tells a story, conscious or not. As storytellers, we must constantly evaluate subliminal messaging: who does this story uplift, what ideals are being promoted, and – most importantly – which voices are left unheard?
Note: "Dark City: Beneath The Beat," features a phenomenal poetry performance by my supervisor, Olu!
SIGRID EDSON | STATION NORTH ARTS DISTRICT
When the District holds big events, like our upcoming Art Walk, we ask unhoused folks who have set up temporary structures on the wide sidewalks or near public parks to take down their tents and go somewhere else for the night. For "appearances." I learned this on Friday, and I think it should have surprised me less than it did. In my five weeks at my placement, a lot of my interactions outside have been with people without permanent shelter, and spaces like Ynot Lot or Red Shed Village create a sense (from a naive, outsider's perspective) that there is a place for them in the neighborhood, that they are an equal part of the neighborhood. I definitely was aware that, for instance, many homeowners sharing the block with Red Shed Village disapprove of it, claiming it lowers their property values. However, I was naive in thinking that my organization, Station North Arts District, "only" contributed to this negative dynamic in a roundabout art-to-beautification-to-gentrification-to-displacement route and that in our day-to-day operations we were doing good, whatever that means.
Yes, we leave on the power at Ynot Lot so folks can charge their phones, and we "let" them spend time in the space when there is no event going on (as if this is an actively good deed instead of the absolute bare minimum). But when there's an Art Walk going on we can't have a tent set up on North Avenue; we ask people to pick up their lives and move so… what? So we make a better impression? So visitors are more comfortable? So the event markets better and gets us more grant funding in the future? I don't want to speak for my coworkers but I will guess based on conversations I've had with them that they would likely agree that asking unhoused folks to move for the event is wrong in principle. And yet even when the distance between the organization's image and the values of the people who work for it is miniscule — SNAD has three employees besides me, and there is no voice from above forcing this decision — the organization can still make an unjust, harmful choice for what to me seems like no good reason. I know that saying that there is no good reason is probably also naive of me, but it's so disheartening to see that even in such a small organization where everyone is more or less on the same page about the "right" thing to do, the wrong thing still gets done.
Meanwhile, CBP and community leaders are fighting so hard to keep affordable artists' housing in the District. The part of me that comes from a family of artists and believes that art is essential to our survival and humanity wants to cheer on this effort, but another part of me is growing disillusioned. It's not that artists shouldn't have every support they need to live dignified lives where they are free to create whatever and however they are compelled to; it's that everyone should have that support. The fight to save Area 405 is amazing, but I wish that that energy and attention could also go to folks who live in the District but don't have the chance to "create value" for it in the same way that the "real artists" do.
ZARA HAMID | BALTIMORE YOUTH ARTS
This summer, I have learned many skills that will be essential to my plans in the future. With planning the college panels, I've learned event planning. From researching and contacting schools to designing a schedule for the day, I have come to understand key components to putting on an event, which I'm sure will be useful in the future. At the very least, it's taught me some important organizational skills including how to follow up with people to make sure they receive the information that I have sent out.
More importantly, however, is the importance of stepping in and stepping out, as we discussed in orientation in relation to conversations and different spaces. During orientation, this was more of an abstract idea to me, the metaphorical stepping in and stepping out I understood in theory, but never in practice. However, working with the youth and listening to their stories and backgrounds, I've learned how to step out of the conversation and just listen as they describe various aspects of their life and background. This has also afforded me a glimpse into the city of Baltimore and how the different policy changes we talked about during orientation really impact the individual. From things like youth discussing the lack of support they feel in school to issues with the justice system, I have learned so much from the youth, as these are issues I understood on the macro scale, but never in relation to the individual. I plan on continuing to use "stepping in" and "stepping out" not just in my personal life, but also in my professional life, as discussions of race, class, gender, etc. are inevitable. Knowing when to step in and out allows for these conversations to happen and for me to gain a greater understanding of how different events shape people's lives.
KATHY TIEN | WIDE ANGLE YOUTH MEDIA
I felt especially supported by my supervisor Keiona this week – I was in a mental funk this past week and noticed a drop in my energy. I was not as communicative as I should have been, and it took more time for me to complete my weekly tasks. Keiona checked in with me and immediately asked how she can better support me; I was prepared to apologize about my slacking off these past few days but instead was comforted by the support she gave me.

As I continue to reflect, I find myself returning to the lessons I learned from the stories I have listened to along the way. This first lesson connects back to Awoe's presentation about finding purpose in what you do during orientation. Finding in fulfillment in life and in work is rarely a linear path. As much as you want your experiences to connect in an interrupted chain of events, you often stray from that predetermined path. In reality, life experiences are not at all supposed to make complete sense in the moment. Conversations with my team have reaffirmed the lessons I took away from orientation, and I have already seen these truths reflected in my own life. Steve Jobs' quote during a commencement speech at Stanford captures this idea perfectly: "You can't connect the dots looking forward; you can only connect them looking backwards. So you have to trust that the dots will somehow connect in your future." This sentiment is the common thread through all of my conversations thus far at Wide Angle. Whether it is Keiona's experiences working abroad with victims of sexual assault, or Beth's collage work and art career, they did not subscribe to the belief that they should be able to draw lines between each event and decision in their personal or professional lives. It is a wonderful reminder for me that curiosity should drive my decisions to try something new, regardless of how it fits in with the path I'm taking.

Tags: 2021, Art with a Heart, Arts, Baltimore Youth Arts, Community Arts Programs, DewMore Baltimore, FORCE, Greater Baybrook Alliance, Station North Arts and Entertainment District, Wide Angle Youth Media