2021 Week 6: Environment & Food Access
Posted: July 28, 2021
SIENA DEFAZIO | NO BOUNDARIES COALITION
Intersectionality is at the basis of community work. One concept I grapple with is how collectivism and individualism coincide. The conclusion I came to is that the individual, made up of many unique characteristics, builds upon the community BECAUSE of their uniqueness. We each have lived different lives that have shaped us into different people with diverse identities that fall into many different categories. This is where intersectionality comes in. Since the success of community work lies in how the individual sees their role in the community, it is important to think about who you are and all of us are many distinct identities. Thus, it is inherently necessary to think about how those identities play together. What does it mean that I come from a family of immigrants, but also grew up among very proud patriots in rural Florida? How does that affect my interactions with people at work and the people I market to?
Besides intersectionality being important to think about relative to the individual, it is also important to build together multiple communities. I collaborated with Julia, the intern for BHRC, to bring a Naloxone training to one of our events. I felt very good to have them there because it has been a missing piece in our outreach. I recently found out that Baltimore has the highest overdose fatality rate of any city in the US. The fact that we specifically have the highest death rate struck me. I connect it back to the systematic removal of the community in Baltimore. I feel there is a bit of desensitization. That is why when building a community meant to lift each other up, you cannot only focus on food. You must think about what a person sees, feels, thinks, loves, and feels numb to. People experience the world all at once, so why should community organizers try to isolate the fight to one element of a person's life?
NICOLA SUMI KIM | BIKEMORE
During my final check in with Bentley and Clarissa, my supervisor, we reviewed some of the things I still wanted to work on in the last few weeks. The one that came up for both Clarissa and I was: to interact more with the community. I had been to programs like community meetings, protests, and Mobile Bike Shop before, and really enjoyed my time at each event. But I still wanted more — I wanted to continue to talk with the community, to bond with them over neighborhood changes, to educate them about our issues, to learn about their lives and values.
This past Friday, I got one such opportunity — I went to one of our programming events called Friday Night Lights, which had Mobile Bike Shop, yoga, and a community bike ride. At MBS, I was greeted cheerily by our programming coordinator and our mechanics who were already surrounded by a small crowd of people. I had a great time not only chatting with them (I was quizzed about the mechanical parts of the bike, all of which I knew embarrassingly little about), but also interacting with those who came — my highlight was a group of young boys who came loaded with questions and energy. Even though their questions were simple, I was happy to answer them. Their sheer enthusiasm, gratitude, and joy was enough to power me through the rest of the event. This past summer, I have done a lot of research and produced a lot of materials for Bikemore about why we do what we do. But small interactions like that reinforce why our programming is important, and the direct impact it has on people's lives.
Upcoming, I have a Bike Leader's breakfast, more community meetings and, of course, more Mobile Bike Shops. I'm looking forward to attending every event — I want to savor my last couple weeks in Baltimore by connecting with the community as much as possible.
NEETIKA RASTOGI | BLACK CHURCH FOOD SECURITY NETWORK
This past Friday evening, I had the pleasure of interviewing Anita and Thomas Roberson, the farmer-owners of Botanical Bites and Provisions, a small farm in Fredericksburg, Virginia. Anita and Thomas had a completely different life previous to farming — prior to founding Botanical Bites, Anita worked as a Human Resources administrator and Thomas was a Physician's Assistant. Thomas waxed poetic about the many cardiac perfusions he performed as a PA in the military, and I was enamored by his life in medicine previous to his life as a farmer.
I am also interested in a life in medicine, so hearing about Thomas' life was really inspiring. Something I have struggled with this past summer — and indeed most of my college career — is how I can balance the demands of a career in medical research and clinical care with civic engagement and specifically food justice activism. Thomas is a good example of how one can live such a life; the Robersons are not merely farmers, but also active contributors to their community in Virginia. Much of their unsold produce gets donated to local food rescue and food distribution centers, and most of what they sell goes to a worker-owned food co-op in Fredericksburg. It was exciting to see how the life of a dedicated clinician transformed into the life of a farmer, activist, and environmentalist.
Talking with the Robersons during a time where I am reckoning with how to best spend my final year of college reminds me that I have my entire life ahead of me to accomplish the things I want to accomplish and involve myself in the things I want to involve myself in. This is not unique to the Robersons — the people that make up the Black Church Food Security Network had many different lives in many different cities prior to joining.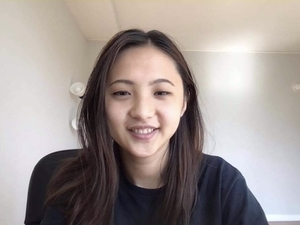 ELLY REN | FARM ALLIANCE OF BALTIMORE
My time with the Farm Alliance is quickly coming to an end, and I can't help but think back to the beginning of the summer before the internship and orientation. One of the goals I set for myself was to avoid burnout. As someone who has interned for nonprofits and been part of advocacy groups on campus, I struggled, like most people, with burnout and compassion fatigue caused by the demanding and draining nature of the work. Social justice work also seems never-ending since there's always more that one could do. Yet surprisingly, I did not struggle at all with burnout, compassion fatigue, or a sense of hopelessness during my time with the Farm Alliance like I did with other organizations in the past.
I'm sure there are many factors involved, but I think the main reason I didn't suffer from these things has to do with the nature of the work. The act of growing one's food is a revolutionary act. Not only are you taking power away from corporations (agricultural, insurance, and medical, to name a few) when you grow food, but you're also taking care of your body, creating life, and connecting with the land. Supporting the farms and community gardens of the Alliance allowed me to witness these powerful efforts bringing us closer to achieving food sovereignty. Of course there were struggles and setbacks, such as Cherry Hill Urban Community Garden (CHUCG) being kicked off their land or the Blues of the Greener Garden having to pay thousands of dollars for their irrigation line, but because these farms are grounded in their communities, each time people showed up and pulled through with their support and money. At the Black Yield Institute's Grand Harvest rally for CHUCG, so many people came together to celebrate the outcome of the petition as well as the larger movement for Black land and food sovereignty. Through this reflection, I am reminded of the importance of celebration and joy (although not in the form of toxic positivity) in making social justice work sustainable. It's also helped me realize that I prefer more positive and uplifting work instead of work focused on suffering and pain.
LAÍS SANTORO | WHITELOCK COMMUNITY FARM
This week, I really started to feel like I had fully adjusted and been onboarded at the farm. A few new things happened that had not happened before, and it was interesting to see and to just go with the flow of the ways of the farm and make new communities with different groups we interacted with. I attended a webinar with the Black Yield Institute and the Farm Alliance of Baltimore entitled "Sankofa Series: The People's Demand for Land Reparations in Baltimore City". It provided such an intensive background on what has been happening with the city and it's history of urban farming and land ownership, especially for Black residents of the City. One interesting connection was that as Black folks kept getting pushed out of spaces through redlining, racial covenants, and other forms of racist segregation by the City, so did open spaces of land that were available to farm and so came the development of the City. Racial covenants were areas or zones where Black/ African-American residents were not permitted to purchase or even rent land or homes in, so they were restricted to certain areas of the City while white communities had the ability to go anywhere and not be subjected to those covenants. Redlining also played a major role in restricting where Black folks could reside and therefore their access to land and green space. Land was power, and racist legislation and policy made it possible so that power did not live with Black communities. In the webinar, we also talked about gentrification and institutional power, as well as the Black Butterfly where there is a higher population of Black people, but a lower level of essential resources (healthy food, green space, grocery stores, safe schools, etc.) I've talked about this in a previous blog post, but the Cherry Hill Urban Community Garden (CHUCG) was at risk of being evicted by the city, since their land is owned by the Baltimore Housing Authority and they decided they don't want that land to be used as a community farm anymore. This isn't the first time this has happened, though, and folks from the Farm Alliance of Baltimore brought up how Filbert Street Garden faced the same risk a few years back and were luckily able to keep their land after intense community organizing and advocacy work.

To continue talking about the Black Butterfly, there's a program run by the Farm Alliance called the Black Butterfly Urban Farmer Academy to specifically educate and train folks from the Black Butterfly on sustainable agriculture practices in the City and gain hands-on experience. Raven, the other apprentice, is friends with a few of them and they were mentioning that they wanted to visit Whitelock in person, so they came this past week. They were so excited to get their hands dirty! Raven gave them a few options of what they wanted to do, and they chose the tiller to prepare the area for a pumpkin patch that we're going to have. It was so interesting to hear about what they'd been doing in the program and learning- it reminded me of myself when I first started this internship, just genuine curiosity and desire to learn more. We even started talking about investments and stocks and other random things totally not related to urban farming and when you're in such a diverse space, it's important to be able to have those fun conversations.

Another instance where I saw that was when we had the Dreamer Academy come by and visit the farm as well. They are a group of younger students who have been doing virtual classes, learning about farming tools and techniques and the basics of growing food! This was their last week, and they came in on Thursday to tour the farm and also to eat lunch. Crystal came and did a cooking demo with produce from the farm and boy was it delicious. She's come once more before and this time she made two kinds of salad, a cucumber one and then a kale one. Everyone had to get at least seconds, it was that good. And one of the best parts was seeing the younger folks be so interested in learning about the produce and actually enjoying it!! It's hard to get kids to eat green things, but Crystal made it pretty easy and enjoyable for them. Ms. Kim was also talking a lot about the healing properties of food and also the history behind it, how their ancestors would use foods like Red Sorrel to help with headaches and any inflammation and other foods for different properties. It's so true and such a holistic way to think about food as healing, not just for individuals but for entire communities as well.

That same day, I stayed later because we had folks from another organization called Repair the World come and help us out for a few hours. They come once a month and also go to Cherry Hill on other weeks apart from Farm Crew. Ms. Kim went to another conference this week, and while I wanted to go to The Greener Garden to help Ms. Lavette again, she had a doctor's appointment and would not be there. Instead, she randomly called me on Tuesday for about an hour to just talk and also ask me some questions about Excel that she is having issues with. I was home and just simply relaxing on my bed after coming back from the farm. It felt so natural, to just have a conversation with her and help her out from afar.

There were so many different groups and people that I interacted with outside of just Whitelock folks and I think that's one of the most beautiful things about this summer so far, is just how natural and kind everyone is and how easy it is to make connections with people that center community so strongly in their lives. And not all these groups are even focused on food!! Sometimes it's youth and education, or health, or sustainability itself, and so the collaborations across groups is incredibly important in this instance in creating something that is sustainable and equitable for a community.

Tags: 2021, Baltimore City Office of Sustainability, Bikemore, Black Church Food Security Network, CIIP, Environmental Sustainability, Farm Alliance of Baltimore, Joy Wellness Center, No Boundaries Coalition, Whitelock Community Farm