Student Group Spotlight: Alpha Phi Omega
Posted: November 15, 2016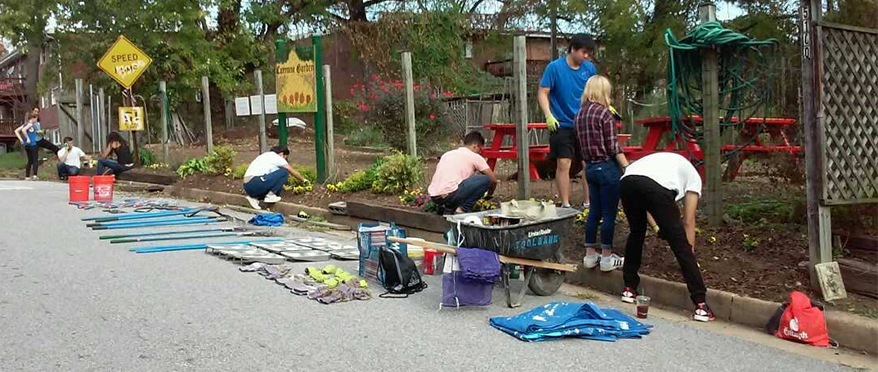 Alpha Phi Omega provides service to our surrounding communities, the Hopkins campus, the fraternity, the nation, and the world while fostering a sense of community and friendship within their brotherhood as they develop into servant leaders. APO focuses on service projects within the Baltimore community such as: Our Daily Bread, Remington Homework Club, tutoring and mentoring children, city clean-ups and much more. APO is our largest service fraternity on campus with over 200 joined members.
Carmine Garden – West Baltimore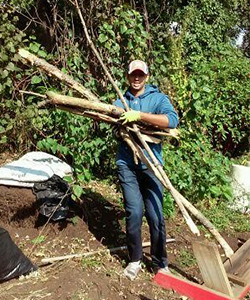 Through this year's President's Day of Service, APO volunteered at Carmine Garden located on the west side of Baltimore. Initially, the garden which had once won several accolades including "Best Vegetable Garden in Baltimore" in 2000, was completely overrun by a forest of vegetation. Rotted railroad beams, old tires, and various pieces of scrap metal were scattered, many partially buried throughout the garden. Inspired by a successful PDOS trip where APO members cleared much of the larger plants and some trash, they agreed that the garden would require several more trips for the garden to be functional once more. APO Leadership made sure to maintain contact with John and Iris, the two community members most closely engaged in the maintenance and renewal of the garden. Since PDOS, APO has returned with 50+ different members to unearth remaining railroad beams and metal, paint designs on the garden's perimeter fence, revive and turn over the soil, and remove invasive species and weeds.
The volunteers performance was above any of our expectations. They managed to revive a neglected overgrown community garden into a clean safe place with happy colors. In particular, we were amazed by their team work, exceptional vision, planning, and perseverance. Like magic, the garden started changing. People and cars began stopping by and admiring all of the changes. These volunteers were the best of the best and their generosity has given so much to our community. Carmine Garden members will now be able to grow vegetables and flowers again. The garden has a new life. – Community Partner
APO's Future Plans
APO intends to continue working with Carmine Garden. APO Service Vice Presidents, Lizzie Crespi and Will Wisner-Carlson, intend to commit to Carmine on a regular bi-monthly basis to ensure that the garden continues its growth and Gwynn Falls community members reap the benefits of a healthy, safe green space. In the spring, we intend to drain, clean, and re-fill a small pond in the garden as well as funding a plot or two of our own, with produce potentially donated to/available for community members.