Community Bulletin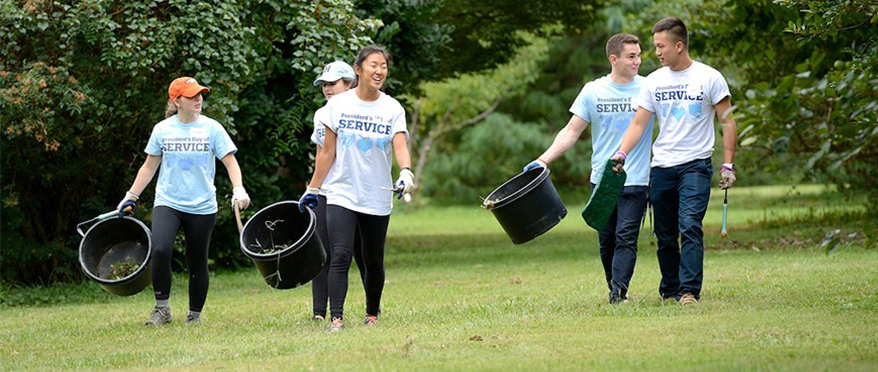 The Center for Social Concern's Community Bulletin is a place where we will be sharing individual volunteer opportunities and community related events. The purpose of this page is to:
provide individual volunteer opportunities for those looking to get involved.
share community related events.
remind you of important deadlines that may be of interest to you.
We are working with our community partners and local organizations to create this page that we hope can become a valuable resource for the Hopkins and local communities. The Community Bulletin will constantly be changing and updated as we learn of new opportunities.
Check out the opportunities below and please contact volunteer@jhu.edu or (410) 516-4777 if you have any questions or suggestions on how we can make this page better.
Students looking to get involved or volunteer on a more consistent schedule, can always get involved with a CSC program instead. Otherwise, check out other other engagement opportunities and ways to strengthen our communities.
How to Post Events/Opportunities
If you are a community partner or a local organization who needs help promoting an event, have a resource that you think may benefit our community, or perhaps you are looking for some volunteers to lend a helping hand at your organization, please complete our Volunteer Opportunity and Event Form. A staff member will follow up with you within approximately 2-3 business days to help you post your opportunity on this page. During longer term partnerships, the Center for Social Concern may ask you to sign a Memorandum of Understanding and submit a Certificate of Insurance (PDF Document: PDF Document: view sample Memorandum of Understanding).
If you have any questions, please email volunteer@jhu.edu. We look forward to your partnership and thank you for your work with our community!
Upcoming Volunteer Opportunities
To learn more about other opportunities that provide clinical exposure and experience, please refer to the Pre-Professional Advising Office's website. Note: any shadowing/observing opportunities do not qualify as volunteering so cannot be counted towards HopServe50 or Track it Forward.
Living Classrooms Foundation strengthens communities and inspires young people to achieve their potential through hands-on education and job training using urban, natural, and maritime resources as "living classrooms." Founded in Baltimore in 1985, Living Classrooms Foundation has grown into an educational and economic force that combines one of the city's most cherished assets – its beautiful and historic harbor – with some of its most overlooked: the thousands of bright, ambitious children and young adults who are struggling to succeed against terrible odds. What began with one program in one city has grown into dozens of programs across a region that now encompasses Washington, DC, Virginia, and Maryland.
Living Classroom's Game Changers Initiative is a program focused on health and wellness. The idea is to provide programming to students when Baltimore City Schools are closed due to holidays and/or professional development days. Volunteers can expect to act as camp counselor for the day; supervise and support different activities such as sports, games, arts and crafts; set up, serve, and eat lunch with students; and have fun!
Shifts: Several dates over the course of the school year. Typically 8am – 4pm, but may be shortened around specific holiday dates. Volunteers may also sign up for just a morning (8am – 12pm) or afternoon (12pm – 4pm) shift.
Number of volunteers needed: 25
Location:
The UA House at Fayette operated by Living Classrooms
Baltimore, Maryland 21202
How to volunteer: Please contact Erin Myers at emyers@livingclassrooms.org. If you are interested in signing up or seeing what dates/times events are taking place, visit the signup page.
The Waverly Improvement Association will be taking part in the Baltimore City National Day of Service, a community cleanup event where people who live in the community shows pride in their neighborhood by helping to clean it up. Students, youth, and young adults get an opportunity to acquire service learning and community service hours for their efforts and display of sacrifice on Saturday.
Date: Saturday, April 28, 2018, from 10:00 am until 2:00 pm
Number of volunteers needed: 10 – 20
Location:
Melville Ave. and Old York Road
Baltimore, MD 21218
How to volunteer: Call Mona Addison at (443)730-4375 or email her at Mpaddison605@icloud.com.
Waverly Main Street and Tree Baltimore are planting 10+ trees at the 32nd St. Farmer's Market!
Do you want some shade at the Farmer's Market this summer? Do you enjoy seeing big, beautiful trees in your city landscape? Trees are imperative to a healthy environment: they provide us with oxygen, improve air quality, and increase property values!
Arrive at 11AM to watch a planting demo with Tree Baltimore and organize into planting groups. We will start planting trees at 11:30AM.
(This event follows Tree Baltimore's Tree Giveaway, which will be happening alongside the Farmer's Market from 7AM-12PM. If you have space for a tree of your own, come early to grab one! For more info, go to treebaltimore.org)
Shift: Saturday, May 12, 2018, from 11am – 2pm.
Number of Volunteers Needed: as many as possible
Location:
432 E 32nd St.
Baltimore, MD 21218
How to Volunteer: Register here!
Upcoming Summer Opportunities
The Franciscan Center serves as a "one stop" shop for families and individuals in crisis, providing a broad range of programs and service designed to help them achieve stability and build self-sufficient lives. The following weekly opportunities are available:
Community Dinner Volunteers: Monday evenings from 5pm – 7:30pm; groups of 8 – 15 people needed; help serve dinner to neighbors in need
Clothing Room Volunteers: Mon – Fri 9:30am – 1pm; groups of 5 – 10 people needed; commit to one day per week/month; ability to lift 10lbs.; receive, sort, dry , bag and hang clothing
Truck Task Force: 2nd and 4th Friday of each month; 5 – 10 volunteers needed; assist with unloading items and stocking shelves; ability to lift 50lbs.
Shifts: Varies based on opportunity
Number of volunteers needed: Varies based on opportunity
Location:
Franciscan Center
101 W 23rd St
Baltimore, MD 21218
How to volunteer: Contact Angela Hall, Volunteer & In-Kind Coordinator, at ahall@fcbmore.org or 410-467-5340 for more information and how to get involved! Fill out a volunteer application here.
Moveable Feast is a non-profit organization that home-delivers nutritious meals to those living with HIV/AIDS, cancer, and other life threatening illnesses. Their kitchen is open 7 days a week, and can accommodate groups up to 15 volunteers – perfect for the next office or department retreat! Operating since 1989, Moveable Feast serves nearly 5,000 clients annually across Maryland. Moveable Feast also offers medical transportation, nutritional counseling, and culinary arts training.
Shifts: Choice of hours anytime between 8am and 4:40pm, Monday through Friday.
Number of volunteers: Up to 15
Location:
Moveable Feast
901 N Milton Avenue
Baltimore, MD 21205
How to volunteer: Check out how to volunteer–either as an individual or in a group–on the Moveable Feast website, under the "Volunteer" tab. For additional information, please contact Angie Elliott at 410-327-3420 Ext. 31 or aelliott@mfeast.org.
Soccer Without Borders is looking for volunteers who are 21 and up to help pour wine at the Canton Wine Fest. All volunteers will get a free admission ticket, free drink, and souvenir glass. They will pour wine and talk to people on their shift, and as a result, the organizer will donate $500 back to Soccer Without Borders, which works with refugee and immigrant youth.
Date: June 16, 2018, volunteer's choice of either 11-3pm or 3-7pm.
Number of volunteers needed: 10 volunteers per shift
Location:
Canton Wine Fest
Canton Waterfront
Baltimore, Maryland 21224
How to volunteer: Please contact Stephanie Wolfe at stephanie@soccerwithoutborders.org for more information.
The U.S. Dream Academy seeks to inspire and transform the lives of children of incarcerated parents and vulnerable young people. Through high performance relationships with caring adults, we build dreams, perseverance, skills, and strengthen character.
Mentors must be committed to developing a supportive, developmental relationship with one at-risk middle or elementary school student. They are expected to make a one year commitment to developing and maintaining a Mentor relationship with a student in an after-school program context; attend Mentor orientation and training session before meeting Mentee; attend ongoing Mentor training and support sessions; meet one hour weekly with Mentee cultivating developmental competencies through prescribed activities, conversation, and interactive projects; assist Mentee in enhancing his/her self-image through character building and dream building; keep time logs and other information as requested by Mentor Coordinator.
Shifts: Dream Academy is a Monday through Friday program, from 2:30-6:00pm. They are an on site mentoring program, and most mentors visit their mentees between 3:30 and 5:30pm.
Number of volunteers needed: 50
Location:
3910 Barrington Road
Baltimore, MD 21207
or
4849 Pimlico Road
Baltimore, MD 21215
(starting July)
How to volunteer: Please contact rangelo@usdreamacademy.org or call 410-937-2595.
Ongoing Volunteer Opportunities
To learn more about other opportunities that provide clinical exposure and experience, please refer to the Pre-Professional Advising Office's website. Note: any shadowing/observing opportunities do not qualify as volunteering so cannot be counted towards HopServe50 or Track it Forward.
Community Donations, Events, and Resources
Many of our community partners seek support throughout the year. Consider making a donation, contributing to their wish list or volunteer with them. Continue reading about how your contribution can make a difference.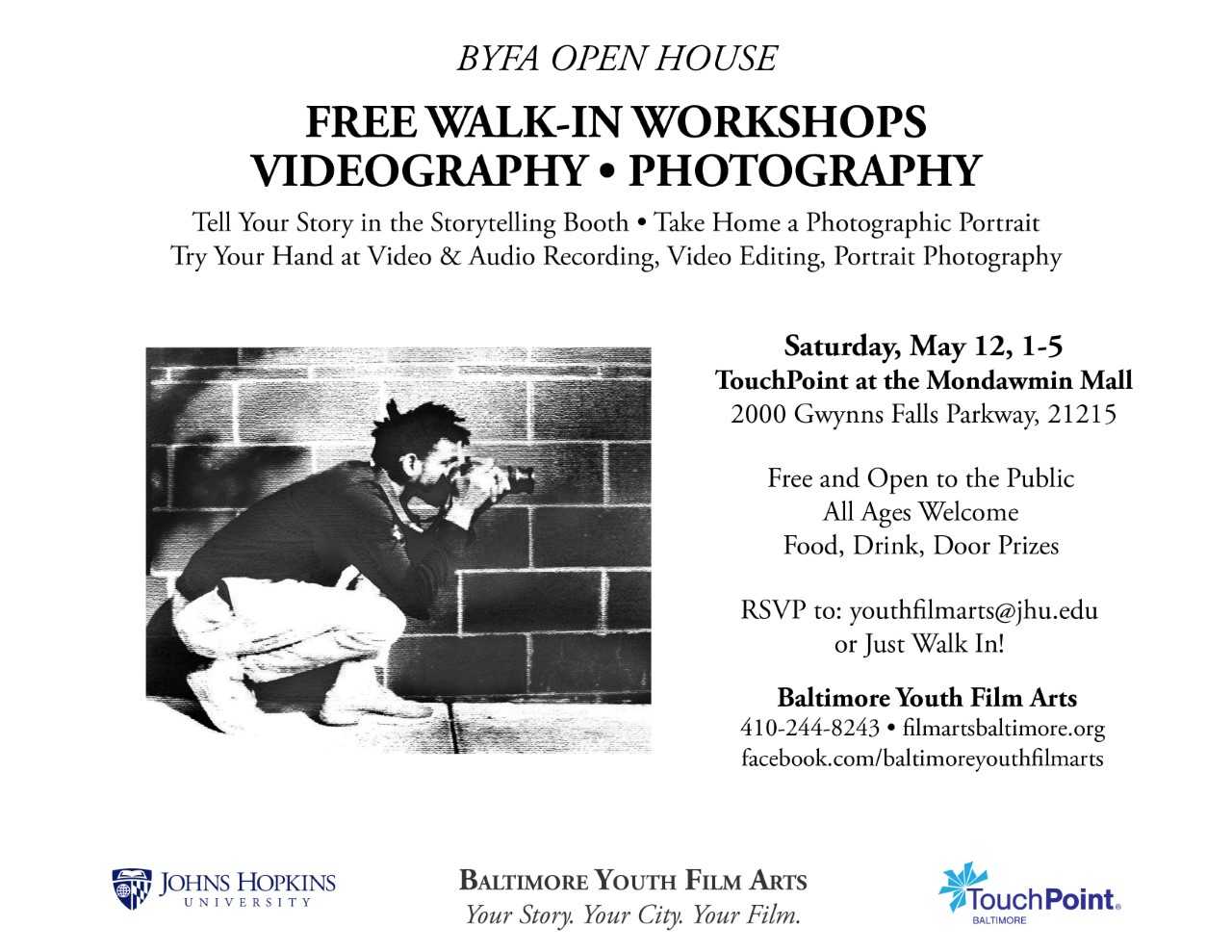 Baltimore Youth Film Arts (BYFA) offers city residents ages 16 to 29 the opportunity to learn camera skills, refine storytelling techniques, and create films and photographs to be shared at public screenings and exhibits and on the program website. Participants are paid stipends and receive certificates for successful completion.
The Baltimore Youth Film Arts Program is made possible by the support of the Johns Hopkins Film and Media Studies Program and a generous grant from the Mellon Foundation.
On Saturday, May 12, from 1-5pm, BYFA will be hosting free videography and photography workshops at Mondawmin Mall's TouchPoint. There will be food, drinks, and prizes!
Support FORCE's work to end rape culture by making a donation today. Every donation made to FORCE supports critical work like the Monument Quilt, Gather Together's survivor skillshares or art actions like the self care graphics to reclaim spaces for survivors.
How to attend/contribute: You can donate online here.
The mission of the Franciscan Center is to provide emergency assistance and supportive outreach to persons who are economically disadvantaged in an effort to assist them in realizing their self-worth and dignity as people of God. Everything they do at the Franciscan Center is dependent upon generous donations from our community.
Donations:
View the Franciscan Center's Amazon Holiday Wish List.
For more information, read about the donations that they accept or contact the Gift-In-Kind Coordinator Angela Hall, at AHall@fcbmore.org or 410-467-5340 ext. 113.
BABY ITEMS
Baby Food
Baby Powder
Clothes (new or gently used)
Diapers (various sizes, 1 – 4)
Formula
Shoes
Wipes
CHILDREN'S BOOKS (NEW OR GENTLY USED)
The Mary Lacy Fetting Children's Library is located on the second floor of the Franciscan Center. It is a safe space for children to read, draw, or play games while their parents/guardians wait to receive our services. All books are free for children to take home, and do not need to be returned. Help us encourage literacy by donating new or gently used children's books.
CLOTHING & SHOES (NEW OR GENTLY USED)
We are happy to accept gently used, seasonally appropriate clothing – including shoes – for men, women, and children in all sizes. New and unwrapped underwear, undershirts, and socks are needed year-round.
In the warmer months we need:
Jackets
Pants (light weight)
Sandals
Shorts
Short sleeved tops
Sleeveless tops
Sundresses
Etc.
In the colder months we need:
Boots
Coats
Flannel Shirts
Gloves
Hats
Jeans
Pajamas
Scarves
Sweatpants
Sweatshirts
Thermals
Etc.
FOOD
Beans (canned or dry)
Canned fish (regular and water packed)
Canned fruit (regular and low sugar)
Canned meat
Canned vegetables
Frozen meat (ground beef or turkey)
Frozen vegetables
Hot or cold cereal (regular and low sugar)
Macaroni & Cheese
Milk
Pasta (regular and whole grain)
Peanut Butter & Jelly
Rice (white and brown)
Spaghetti Sauce
Soup (regular and low sodium)
Vegetables (fresh or frozen)
HOUSEHOLD ITEMS (NEW OR GENTLY USED)
Bedding
Blankets
Dishware
Small appliances
SCHOOL SUPPLIES
Backpacks
Colored Pencils
Compasses
Composition Notebooks
Crayons
Glue Sticks
Large Pink Erasers
Loose Leaf Paper
#2 Pencils (pre-sharpened)
Pencil Cases
Pencil Sharpeners
Pocket folders
Safety Scissors
Subject Dividers
3×5 Index Cards
Three Ring Binders (2" – 3")
Tissues
SUITS (NEW OR GENTLY USED)
Our Attire-4-Hire program provides men with free professional clothing for funerals, graduations, job interviews, or other formal occasions. All sizes are needed, but especially big and tall/extra large sizes.
Belts
Blazers
Dress Shirts
Dress Shoes
Dress Socks
Suits
Ties
TOILETRIES/PERSONAL CARE ITEMS
Adult Diapers/Depends (needed for both men and women in various sizes)
Deodorant
Disposable razors
Feminine hygiene products
Hairbrushes & Combs
Hand Sanitizer
Hand Towels
Lotion
Nutritional supplements (Ensure/Boost)
Shampoo & Conditioner (regular and travel size)
Soap
Sunscreen
Toothbrushes
Toothpaste
Washcloths
Paul's Place is a catalyst and leader for change, improving the quality of life in the Southwest Baltimore communities. Paul's Place provides programs, services, and support that strengthen individuals and families, fostering hope, personal dignity and growth. With health and wellness programs, case management services, and after-school and summer programs for children of all ages, Paul's Place is the only resource of its kind that meets the full spectrum of needs – always with dignity and respect and always at no cost to our guests. Your generosity makes that possible.
How to contribute:
Soccer Without Borders (SWB) uses soccer as a vehicle for positive change among newcomer (refugee and immigrant) youth through year-round soccer programming, academic support, mentoring, and leadership opportunities. Students come from a variety of countries, such as Syria, Nepal, Eritrea, Honduras, Mexico, DRC, Sudan, etc.
How to contribute:
SWB is looking for Ambassadors who would be interested in running the Baltimore 10-Miler as part of the SWB Team on June 2. Runners just need to fundraise at least $100 and donations can be doubled through an organization called Positive Tracks for anyone 23 and under! Come out to support refugee and immigrant youth while being physically active! SWB will help provide students with fundraising material to achieve their goals. Learn more about the Baltimore 10-Miler and sign-up here!