Community Bulletin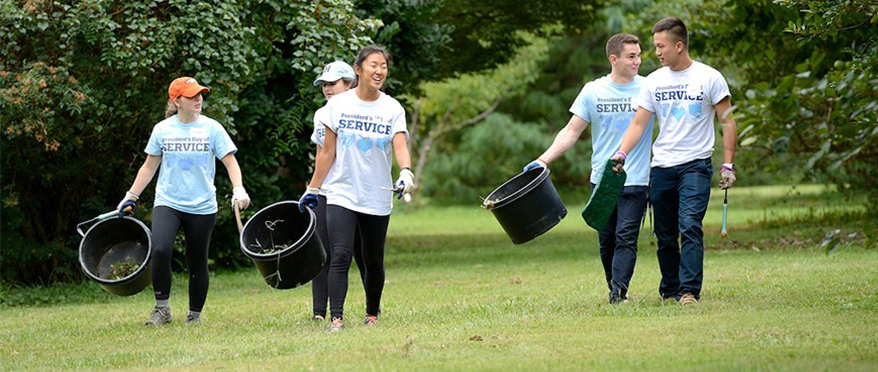 The Center for Social Concern's Community Bulletin is a place where we will be sharing individual volunteer opportunities and community related events. The purpose of this page is to:
provide individual volunteer opportunities for those looking to get involved.
share community related events.
remind you of important deadlines that may be of interest to you.
We are working with our community partners and local organizations to create this page that we hope can become a valuable resource for the Hopkins and local communities. The Community Bulletin will constantly be changing and updated as we learn of new opportunities.
Check out the opportunities below and please contact volunteer@jhu.edu or (410) 516-4777 if you have any questions or suggestions on how we can make this page better.
Students looking to get involved or volunteer on a more consistent schedule, can always get involved with a CSC program instead. Otherwise, check out other other engagement opportunities and ways to strengthen our communities.
How to Post Events/Opportunities
If you are a community partner or a local organization who needs help promoting an event, have a resource that you think may benefit our community, or perhaps you are looking for some volunteers to lend a helping hand at your organization, please complete our Volunteer Opportunity and Event Form. A staff member will follow up with you within approximately 2-3 business days to help you post your opportunity on this page. During longer term partnerships, the Center for Social Concern may ask you to sign a Memorandum of Understanding and submit a Certificate of Insurance (PDF Document: PDF Document: view sample Memorandum of Understanding).
If you have any questions, please email volunteer@jhu.edu. We look forward to your partnership and thank you for your work with our community!
Community Resources
Don't see what you need here? Check out other Baltimore events and resources through Johns Hopkins' Government and Community Affairs.
The YMCA of Central Maryland, PNC Financial Services, and McCormick & Company have partnered to launch "Y On The Fly" – an innovative mobile Y program delivering games, activities and healthy food options to children in Baltimore's surrounding neighborhoods. Each visit is expected to last 90 minutes and will incorporate 60 minutes of active/physical play as well as, a 30-minute in-depth demonstration focused on creating healthy snacks. Activities can include innovative games, obstacle courses and relay races incorporating water for those hot days. Following programming, children are provided a nutritious snack, which they will assist in creating, and finally, are given the recipe to replicate at home.
"Y On The Fly" will deliver this dual programming to two locations per day for a total of 10 site visits per week during the summer months (10 weeks total). Moreover, their mobile Y van will be staffed by two professionally trained YMCA counselors and equipped with a variety of sporting equipment, toys, and an audio system!
That said, with the summer months less than days away, requesting "Y On The Fly" to visit your location ensures a summer children will never forget. Their ideal time slots are between 10-11:30am, or 1-2:30pm and dates include June 26th – August 25th excluding Saturday and Sundays. Additionally, their programming age demographic falls between five to fourteen. Be advised that visit dates and times are currently being booked and filling up fast. Learn more about Y on the Fly now.
How do I book a van? Contact Jordan Brown at jordanbrown@ymaryland.org or at (910) 778-3479.
Students Consulting for Non-Profit Organizations provides pro bono consulting services for nonprofits in the local Baltimore community. Their teams of students are able to aid nonprofits to address issues in the following areas:
sustainability
finance & accounting
fundraising & capital
business operations
marketing strategy
organizational strategy
Based at Johns Hopkins, their mission is to help their clients achieve their goals and objectives while offering professional development opportunities for their consultants. PDF Document: To learn more, view .pdf flyer now. .
Application Process:
Client Application Period: August 15th – September 7th (The application has been extended to Thursday, September 7th)
Second Round Interview Period (if applied before Sept. 1st): September 5th – September 8th
Second Round Interview Period (if applied after Sept. 1st): September 11th – September 15th
Projects can be expected to begin at the end of September and last through mid-December.
Have questions?: Email jhuscno@gmail.com.
Upcoming Volunteer Opportunities
Empowerment Through Integration (ETI), a nonprofit that is committed to the development of an inclusive society by transforming the social stigma against disabilities across the globe. One way that we achieve our mission is through facilitated, blindfolded dinner discussions with organizations and corporations. We have one coming up at Exelon in Baltimore on September 28th and would love to have some of your students help us out! We are looking to recruit 15 volunteers to help out us guide the attendees into the dining area from 3-6 PM. We will give them the necessary training to be sighted guides, and so prior experience is not needed!
For more information on the layout and a bit of what it looks like, check out this video and the description below:
ETI's Dining in the Dark is a unique and unforgettable experience that utilizes blindness as a tool to encourage and enable participants to shed their preconceived notions by challenging their assumptions and changing attitudes about themselves and others. Formatted as a room-wide facilitated discussion surrounding issues of diversity and inclusion, the purpose is not to offer an accurate portrayal of what it is like to be blind, but rather to place our guests into an environment that facilitates reflection and discussion concerning biases and creates opportunities for learning and personal growth.
Shift: September 28th, 3-6 PM.
Number of volunteers needed: 15
Location:
Exelon
1310 Point Street
Baltimore, MD 21231
How to volunteer: Please contact Alexis Smith at asmith@etivision.org.
The Color Run Baltimore is donating $40 per volunteer shift worked back to Soccer Without Borders. Soccer Without Borders is recruiting multiple volunteers to sign up for a volunteer shift on September 29 or September 30.
Shifts: The dates are September 29 and 30. Students who volunteers on September 29 will get a free entry into the Color Run. To learn more about shift details and to sign up, please refer Shift details can be found at the link below. Learn more about shift details and sign up now.
Number of volunteers needed: 1-50
Location:
Camden Yards
333 West Camden Street
Baltimore, MD 21201
How to volunteer: Please contact Stephanie Wolfe at stephanie@soccerwithoutborders.org.
The Community Resource Connections Program seeks to provide youth and young adults aged 13 – 26 residing in the Waverly and NE communities opportunities to become youth leaders, gain education and guidance to offset juvenile delinquency, and skill development to enhance community living and remove urban blight.
The event being hosted is entitled – "So You Think You Can Dance" Open Mic Block Party, a community celebratory event to galvanize and champion the talents and abilities of the youth in the communities. Youth learn to believe in themselves and understand process of community outreach and personal development. They also learn to overcome societal self fulfilling prophecies of failure and undermine chaotic systems of unfulfilled potential.
Shifts: 3pm-7pm, October 21st
Number of volunteers needed: 25 (additional youth volunteers needed as well, aged 13 – 26)
Location:
800 34th street and Frisby Street
Baltimore, MD 21218
How to volunteer: Please contact Donté Wiley at dwylie3@jhu.edu.
Ongoing Volunteer Opportunities
To learn more about other opportunities that provide clinical exposure and experience, please refer to the Pre-Professional Advising Office's website. Note: any shadowing/observing opportunities do not qualify as volunteering so cannot be counted towards HopServe50 or Track it Forward.