Community Bulletin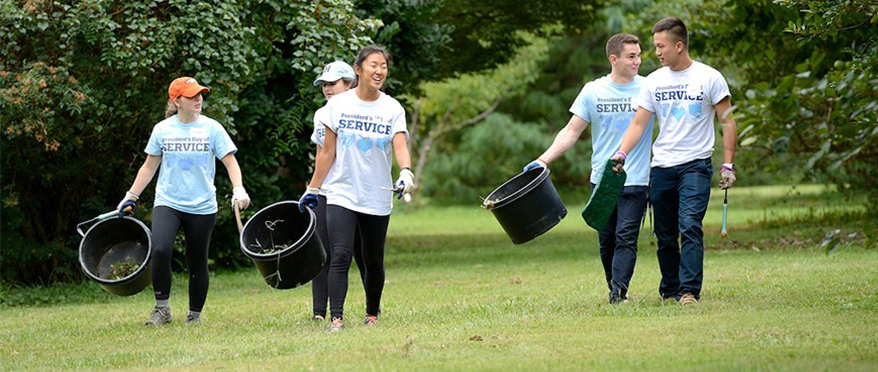 The Center for Social Concern's Community Bulletin is a place where we will be sharing individual volunteer opportunities and community related events. The purpose of this page is to:
provide individual volunteer opportunities for those looking to get involved.
share community related events.
remind you of important deadlines that may be of interest to you.
We are working with our community partners and local organizations to create this page that we hope can become a valuable resource for the Hopkins and local communities. The Community Bulletin will constantly be changing and updated as we learn of new opportunities.
Check out the opportunities below and please contact volunteer@jhu.edu or (410) 516-4777 if you have any questions or suggestions on how we can make this page better.
Students looking to get involved or volunteer on a more consistent schedule, can always get involved with a CSC program instead. Otherwise, check out other other engagement opportunities and ways to strengthen our communities.
How to Post Events/Opportunities
If you are a community partner or a local organization who needs help promoting an event, have a resource that you think may benefit our community, or perhaps you are looking for some volunteers to lend a helping hand at your organization, please complete our Volunteer Opportunity and Event Form. A staff member will follow up with you within approximately 2-3 business days to help you post your opportunity on this page. During longer term partnerships, the Center for Social Concern may ask you to sign a Memorandum of Understanding and submit a Certificate of Insurance (PDF Document: PDF Document: view sample Memorandum of Understanding).
If you have any questions, please email volunteer@jhu.edu. We look forward to your partnership and thank you for your work with our community!
Community Events and Resources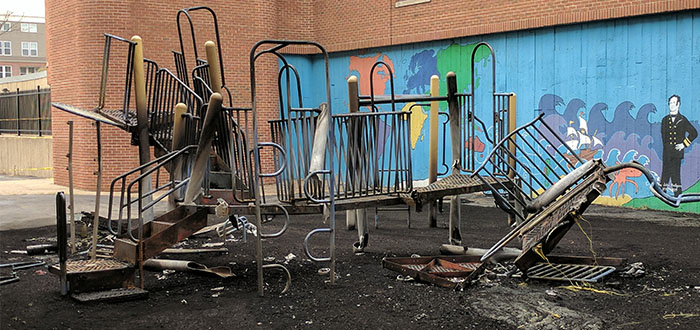 Commodore John Rodgers Elementary/Middle School lost their playground due to a fire this past summer. The loss has been devastating for their students. On November 28th (Giving Tuesday), they will be launching an online donation page to raise money for their New Playground Fund (NPF), in the hopes of raising $150,000 for a safe, fun, and transformative play space for all of their 900 students.
But they're not waiting until the 28th to get the fundraising started! On November 18th, they will be celebrating the launch of that donation page with an event at Canèla, a neighborhood-based coffee shop and bar in Fells Point. The cost of entry is $25 and 100% of sales will go directly to the New Playground Fund. In addition, a percentage of sales from beverages that night will also go to the Fund.
To learn more about the 100% Project and what Commodore has been up to lately, feel free to check out this WBAL piece, this Sun article, or this District Administration article.
Date: Saturday, November 18th (5pm-9pm)
Location:
Canela (Fells Point cafe)
1801 E. Lombard St.
Baltimore, MD 21231
Cost:$25 online tickets or $30 at the door.
How to attend/contribute: Purchase tickets now. If you can't attend, don't worry–the online donation page will be up soon–but it would be great to see many of you there at the launch event to help us get things started.
If you have questions, please contact Michael Glenwick, Community School Coordinator, The Commodore Johns Rodgers School, at mglenwick@gmail.com.
Persons who receive SNAP benefits can qualify to participate in this program. But, they abide by the established criteria mentioned in the call for applications form. Persons must submit a 250 word letter of interest explaining why they are applying for the program and how the participation in the learning academy will advance their role. Persons must submit a proposed SNAP E & T Project proposal of 250 words or less, and persons must commit to attending the two in-person workshops as well as virtual sessions. Organizations can only endorse one candidate.
Dates: Letter must be submitted by 5pm ET on November 27, 2017. The Learning Academy will go from February 2018 to September 2018, with some limited pre-work in January 2018.
Location:
1400 Independence Avenue, SW
Washington , District of Columbia 20250
Learn More: Find out more about this opportunity and how to apply PDF Document: here.
Contact: Questions about the application process or the Academy should be directed to Marcie Foster at Marcie.Foster@fns.usda.gov. If you need local assistance preparing your application, contact Donté Wylie at 410-516-4843 or email him at dwylie3@jhu.edu.
The Community Resource Connections Program will provide youths, young adults, men and women with job training and job placement opportunities. Minimum requirements for applicants and training track personnel apply.
Dates: Every Tuesday at 1pm. The program starts November 21st.
Location:
Waverly Elementary/Middle School
3400 Ellerslie Avenue
Baltimore, MD 21218
Contact / How to apply: Call Donte Wylie for an initial interview and Pre-screening Monday, Wednesday, and Friday 9 am – 5 pm at the phone number above or Call and make an appointment to see him on Tuesday and Thursday at Waverly Elementary Middle School from 12 pm – 4 pm at 410-396-6394.
Prescreening for proper ID and paperwork is done before this meeting. Afterwards applicants are given directions to the Baltimore Center for Green Careers and information on bus routes and subway routes to get there.
Upcoming Volunteer Opportunities
To learn more about other opportunities that provide clinical exposure and experience, please refer to the Pre-Professional Advising Office's website. Note: any shadowing/observing opportunities do not qualify as volunteering so cannot be counted towards HopServe50 or Track it Forward.
Health Leads is currently accepting applications for volunteers for Spring 2018! Volunteers with Health Leads serve as Patient Advocates, helping connect patients to community services.
Number of volunteers needed: Undetermined
Location:
The Johns Hopkins University
How to volunteer: The application can be found here. Simply use the drop down menu to select Johns Hopkins University. If you are interested in learning more about Health Leads and the Advocate role or have any questions please contact the Program Associate, Celeste Hamre at chamre@healthleadsusa.org.
Living Classrooms Foundation strengthens communities and inspires young people to achieve their potential through hands-on education and job training using urban, natural, and maritime resources as "living classrooms." Founded in Baltimore in 1985, Living Classrooms Foundation has grown into an educational and economic force that combines one of the city's most cherished assets – its beautiful and historic harbor – with some of its most overlooked: the thousands of bright, ambitious children and young adults who are struggling to succeed against terrible odds. What began with one program in one city has grown into dozens of programs across a region that now encompasses Washington, DC, Virginia, and Maryland.
Living Classroom's Game Changers Initiative is a program focused on health and wellness. The idea is to provide programming to students when Baltimore City Schools are closed due to holidays and/or professional development days. Volunteers can expect to act as camp counselor for the day; supervise and support different activities such as sports, games, arts and crafts; set up, serve, and eat lunch with students; and have fun!
Shifts: Several dates over the course of the school year. Typically 8am – 4pm, but may be shortened around specific holiday dates. Volunteers may also sign up for just a morning (8am – 12pm) or afternoon (12pm – 4pm) shift.
Number of volunteers needed: 25
Location:
The UA House at Fayette operated by Living Classrooms
Baltimore, Maryland 21202
How to volunteer: Please contact Erin Myers at emyers@livingclassrooms.org. If you are interested in signing up or seeing what dates/times events are taking place, visit the signup page.
Ongoing Volunteer Opportunities
To learn more about other opportunities that provide clinical exposure and experience, please refer to the Pre-Professional Advising Office's website. Note: any shadowing/observing opportunities do not qualify as volunteering so cannot be counted towards HopServe50 or Track it Forward.