Engage and Strengthen Our Communities
Posted: November 9, 2016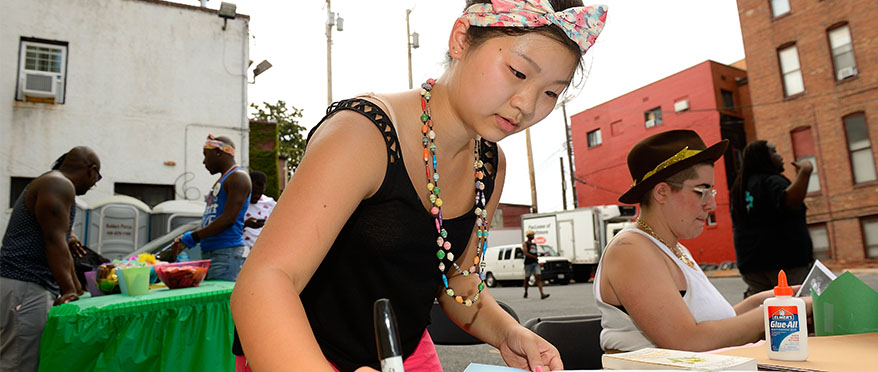 Be the change that you wish to see in the world.
-Mahatma Gandhi
The Center for Social Concern emphasizes the value of serving with others, rather than the commonly accepted concept of service to others. Our office provides advocacy and awareness, particularly focused on our Baltimore community. We strive to create a "better community" in and around the Johns Hopkins campus. It is in community where we find our strength.
We provide outlets for students who would like to get involved and promote civic participation. It is important for our student population to be able to connect with our community partners, which allows for each to learn from each other and engage in a learning process. We've also created a Community Bulletin which we hope can provide a resource for the Hopkins and Baltimore Communities.
Engage and Strengthen Our Communities
Below are some ways to get involved and connect with our community.
If you are interested in getting involved over the summer, consider applying to the Community Impact Internships Program. It is a competitive, paid summer internship, that pairs JHU undergraduate students with nonprofit organizations and government agencies to work on community-identified projects in Baltimore.
The main goals of the program are:
to give undergraduate students an opportunity to gain real-world experience while being directly involved in the Baltimore City Community
to support local nonprofits, community groups, and government agencies in achieving their missions
Some of the organizations that the Community Impact Internships Program Cohort worked with last year include:
The application is now open and applications will be accepted until January 6, 2017. Learn more about the Community Impact Internships Program and apply to become an intern.
Ongoing Advocacy Events and Opportunities
Students who are interested in getting involved in a particular cause or policy should consider joining the following local organizations:
Consider getting involved and participating in a local advocacy event:
In light of hate speech and hate crimes across college campus in the wake of the 2016 presidential election, the JHU Students for an Inclusive Hopkins invites you to join them in calling for Hopkins to firmly condemn bigotry and hatred on campus by signing a petition to "Make Hopkins a Safe and Inclusive Campus." Add your signature today.
Anyone who is interested in participating in an anti-racist teacher discussion group, email hallie.herz@gmail.com.