Student Group Spotlight: Hopkins Students for Homelessness Alleviation and Awareness
Posted: November 8, 2016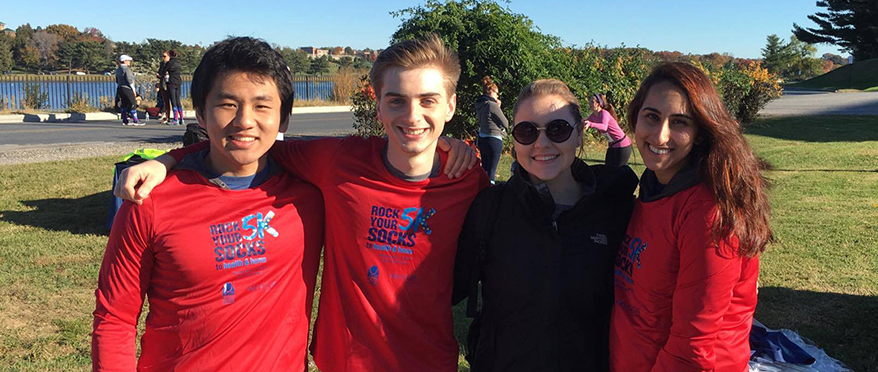 Hopkins Students for Homelessness Alleviation and Awareness (formerly Hopkins for the Homeless) has been extremely active both on and off campus since 2012. They seek to bring awareness to and alleviate homelessness in Baltimore and achieve these goals by coordinating both on and off campus events throughout the year. By partnering Hopkins students with various homelessness advocacy groups, they work to make significant steps in resolving an often misunderstood and crippling issue in Baltimore. The group has partnered with organizations such as Healthcare for the Homeless, United Way of Central Maryland, Maryland Hunger Solutions, and the Youth Empowered Society.
This year, Hopkins Students for Homelessness Alleviation and Awareness is partnering with Faces of Homelessness. They've identified a critical need for a higher level of awareness of homelessness in Baltimore and a need for alleviation efforts, typically in terms of healthcare and employment. By providing opportunities to students to learn more about homelessness on a first-hand basis Hopkins Students for Homelessness Alleviation and Awareness hopes to alleviate the stigma surrounding homeless individuals in our community. Then, they can work to organize larger community events to crowd source support for their target audience, the homeless population of Baltimore. Additionally, this year they hope to get Hopkins students more heavily involved in generating unique and innovative ideas for tackling multiple facets of homelessness.
Below is a list of the some of the projects that Hopkins for the Homeless has been a part of this year.
Hygiene Kit Preparation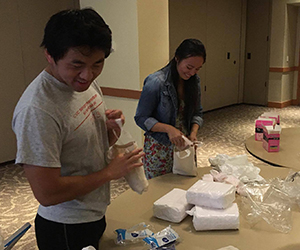 HFTH made 75 hygiene kits that included shampoo, sanitary pads, tampons, soap, razors, deodorant, washcloths, and other items and donated them to the Youth Empowered Society (YES). The Youth Empowered Society is a Baltimore group that seeks to alleviate youth homelessness and help youth find what they need. Their hygiene kits will be distributed to the youth that come to this establishment.
Rock Your Socks to Health & Home 5k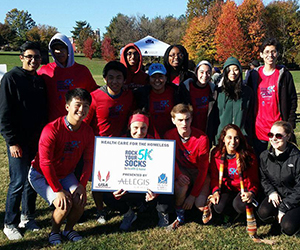 The group worked as Race Marshalls (volunteers that directed traffic, guided runners, and cheered them on) and helped get the word out about the Healthcare for the Homeless sponsored Rock Your Socks 5K that raised money for the organization. Donations and money raised from the event will be used to fund more resources at the Healthcare for the Homeless organization. The resources at Healthcare for the Homeless include, but are not limited to—health-related services, education, and advocacy.
Project Homeless Connect-United Way of Central Maryland
Project Homeless Connect: Hopkins for the Homeless volunteered at Project Homeless Connect, a United Way expo for the homeless to provide them with basic needs, legal care, housing opportunities, and health examinations. Our volunteers worked as guides and walked around with a homeless person(s) to guide them from station to station depending on what they wanted.
Sandwich Donation to HOPE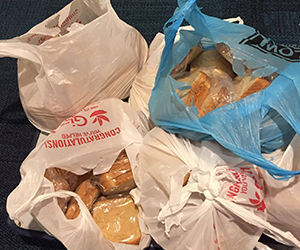 Collaboration with SASH: Donation of 100 PBJ sandwiches to an organization called HOPE (helping other people through empowerment) which is a wellness & recover center with resources that will help enable the homeless population living with a mental health issue transition back into society.